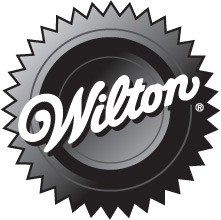 If you told me a year ago that I'd be making a character cake from scratch instead of buying one from the grocery store I would have laughed at you. I used to think that in order to make a cake for your child and have it look half way decent meant you had to go through lots of training and practice. Really all it takes it taking a course or two from Wilton like I did.
So, when Gavin asked me to make his SpongeBob Cake I was a bit nervous. I took a look at the SpongeBob SquarePants™ Cake Pan and while I love the new style of the pan I was really nervous over all the detail work.
Everyone's favorite seafaring star will make a big splash at the party.
One-mix pan is 11 x 12 x 2 in. deep. Aluminum.
Before I started I made sure to have everything on hand. I came ready with the SpongeBob SquarePants™ Icing Color Set and a big tub of icing. I prepped my icing in advance but I was disappointed this kit didn't have black in it as black is one of the main colors you'll need. So if you make this you  must purchase black coloring first.
Includes four .5 oz. jars: Yellow, Red, Blue and Brown. Certified Kosher.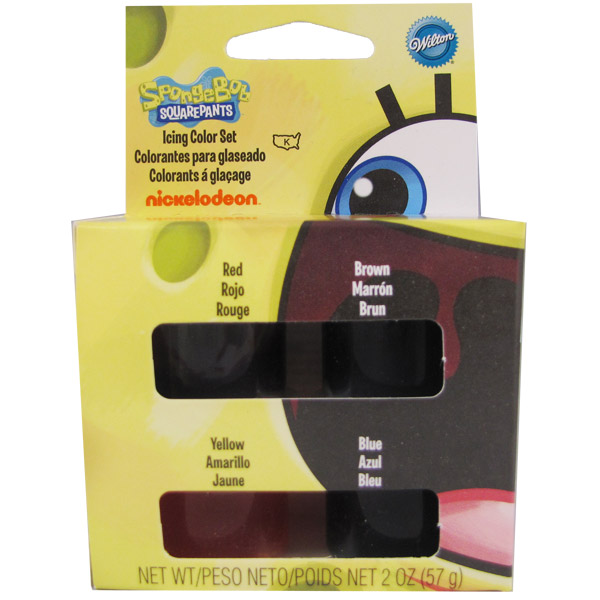 In the end I think it came out pretty darn good. I posted all about my SpongeBob cake experience here but overall it went pretty well. It took a really long time but I was also doing a few other projects in between. In the end it was a lot of work but worth it in every way!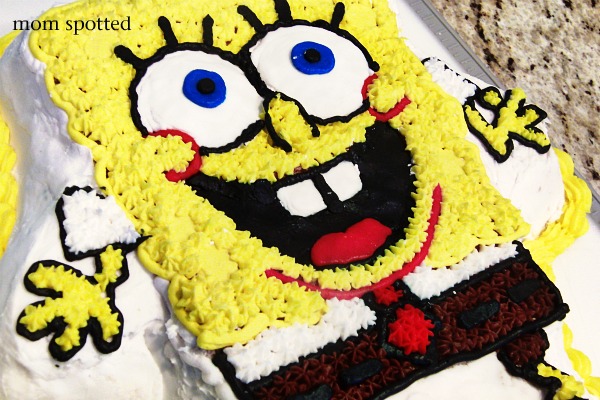 I knew the cake wouldn't be enough for all the guests we had coming so I made cupcakes too. Since I was spending so much time on the cake I wanted my cupcakes to look good too so I made sure to use the SpongeBob SquarePants™ Cupcake Stand to display them nicely. It was super easy to put together and only took a minute.
A party is always in the making when you have the SpongeBob SquarePants Cupcake Stand on hand. In minutes, you can create a bright and colorful 3-tier cupcake stand with a decorative topper. Your cupcakes and treats will look perfect for the party. 3-Tier Cupcake Stand– 11.75 in. Wide x 1.25 ft High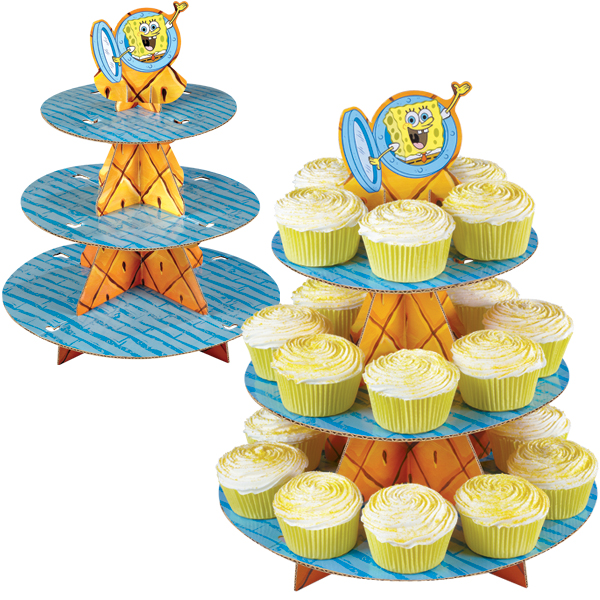 I also used the SpongeBob SquarePants™ Baking Cups on my cupcakes to pull them into the rest of the dessert theme. I even made Cream Cheese Cherry Brownies and used the cups.
Standard size, microwave-safe paper.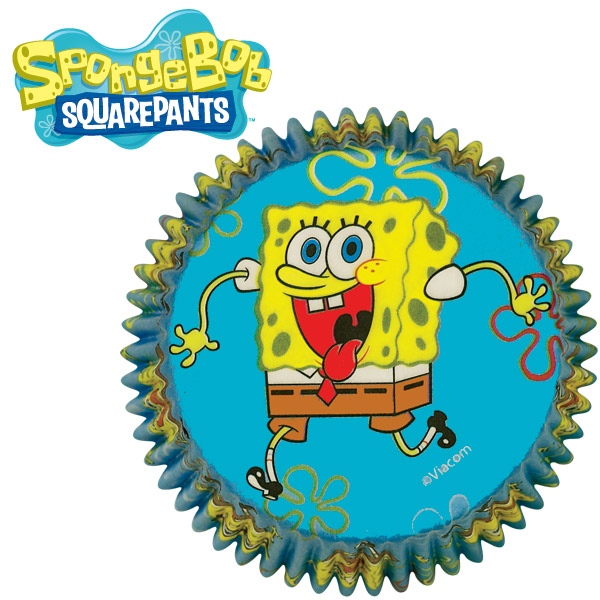 I wanted something fun and birthday related on them but wasn't sure what to use and then at the Tent Sale I stumbled upon these SpongeBob SquarePants™ Party Toppers and new they'd be perfect.
He's surfing your party goodies on these cool handpainted toppers. Food-safe plastic to use on cupcakes, brownies, cakes and other treats. 2 in. high.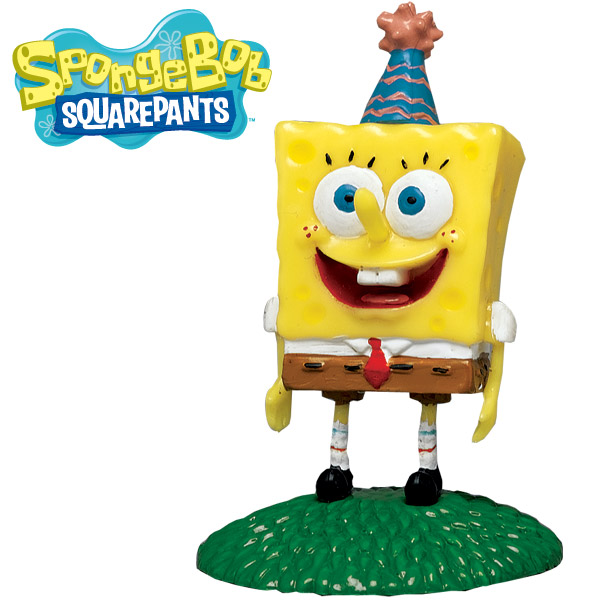 When you put them all together this is what I ended up with. Pretty cute? They were a hit at the party and were gone before I even finished cutting up the cake.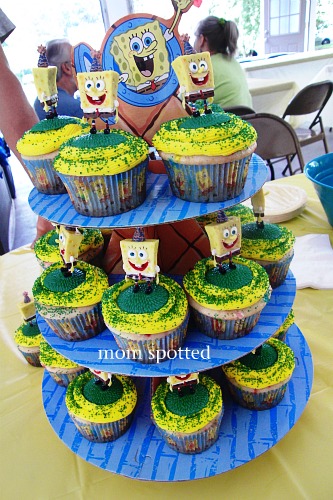 When the party is over you'll want to hand out some cute goodies and the SpongeBob SquarePants™ Treat Bags are perfect. We actually used these to catch all the candy that fell out of our Plankton Pinata and then the kids put them in their goody bags.
Fill with cake, fruit and other goodies! Great for gifts and surprises too! Includes sixteen 4 x 9.5 in. bags with twist ties.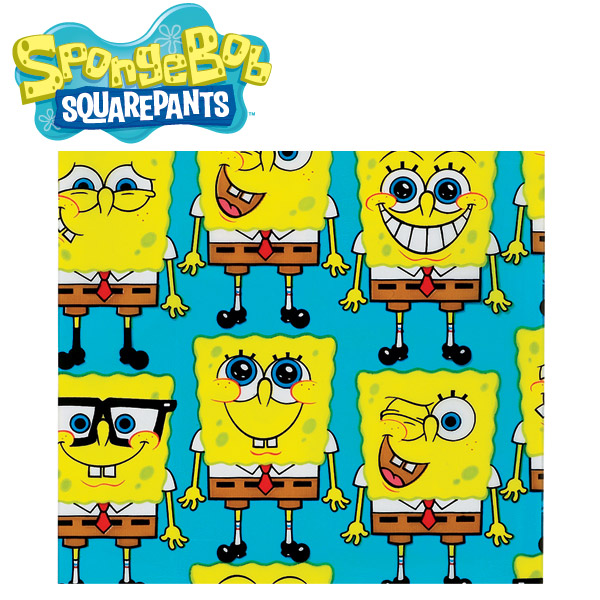 In the end all the special SpongeBob decor was perfect. It definitely took some effort on my end but as someone who has never done anything like this before I can tell you if you're patient and take your time you can do it. Gavin was so proud of his cake and made sure everyone saw it before we put the candles in it.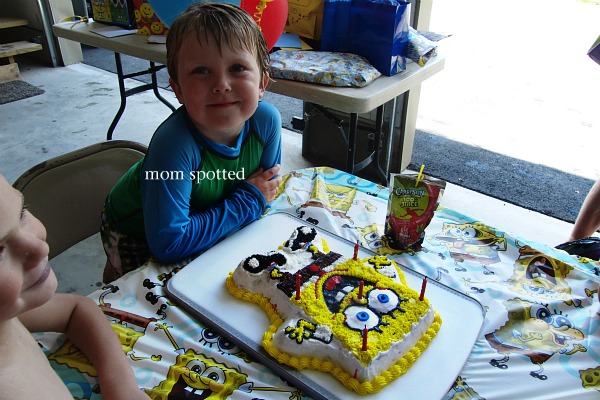 Wilton has offered one of my readers everything SpongeBob that I used to make my birthday extra special.
Here is everything that this set will include: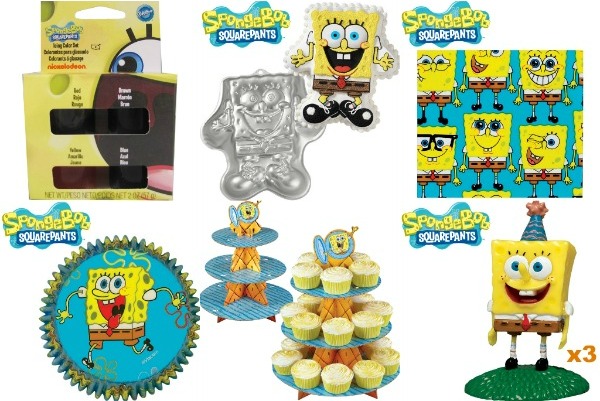 Wilton has offered one Mom Spotted Reader everything shown above!!!

How to Enter:
1.) Visit
Wilton
and tell me what
your favorite idea
you want to try is.
Mandatory
How to earn additional entries:
2.) Become a follower on my blog (publicly- privately does not count)-leave another comment (or let me know if you already are) – 2 entries
3.) Subscribe to my blog by EMAIL (not feed) – 2 entries
4.) Blog about my giveaway- with a link back to here AND
Wilton
4 entries (get two more if you include a photo of the giveaway).
Post YOUR blog entry first and then the comment (please include the link directly to it not to your front page, and make an additional comment then the ones above.)
5.) Add my Mom Spotted button to your blog
6.) Follow
Wilton
on Twitter
7.) Follow
Mom Spotted
on Twitter AND Tweet about this giveaway-
Copy/Paste:
Win a SpongeBob Birthday Prize Pack from @WiltonCakes & @MomSpotted #giveaway ends 8.14 http://wp.me/p18qpn-3CA
~this can be done once daily (leave link in comment)~
8.) Become a Fan of Mom Spotted on Facebook– leave me a comment
9.) Become a Fan of Wilton on Facebook! – Tell them what you love at their site
10.) Post on your facebook home page (1x daily):
Win a SpongeBob Birthday Prize Pack from @Wilton Cake Decorating & @Jennifer MomSpotted Giveaway Ends 8.14 http://wp.me/p18qpn-3CA
(Make sure it links to me and Wilton Cake Decorating & put link in comment)
11.) Leave a relevant comment on any non-giveaway post (reviews are ok)
(Make sure to check out all my other giveaways!
Check the side bar to the right for list!)
That's many chances to win a SpongeBob Birthday Prize Pack!!!
Contest ends August 14th at 11:59pm!
***USA Only***

Mom Spotted Review Policy: As a Wilton Mom Ambassador I was provided with the the same bundle package at no cost from Wilton in order to test the products abilities and give my own personal opinions on it. The opinions I have given are mine and may differ from others but it was not influenced in any manner by monetary means.