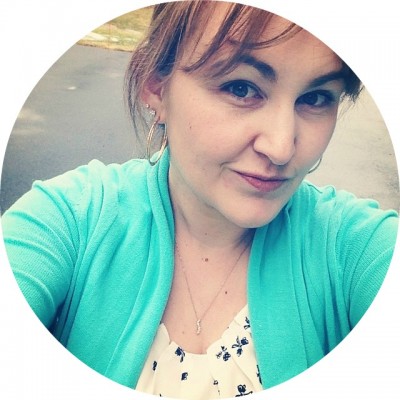 Hi, I'm Jennifer. I'm 33 years old and live in Western Massachusetts. I'm a New England girl who loves the ocean and dreams of being a Southern girl. I love being with my kids and chances are you'll find them with me 99% of the time. I love taking photos. I'm always trying to take pictures of the people and items in my life and Instagram has to be my most used app on my iPhone.
I love to cook but my real love is crafts. I'm a crafter at heart and actually ran my own Etsy store. I started my blog as a way to showcase my crafts and it has taken a change over the years but one of these days I'll start that craft only blog I've been dreaming about.
Three things you might not know about me:
I have two different colored eyes.
I have suffered from severe psoriasis since the age 14
I love my minivan- even though I went into it screaming & kicking.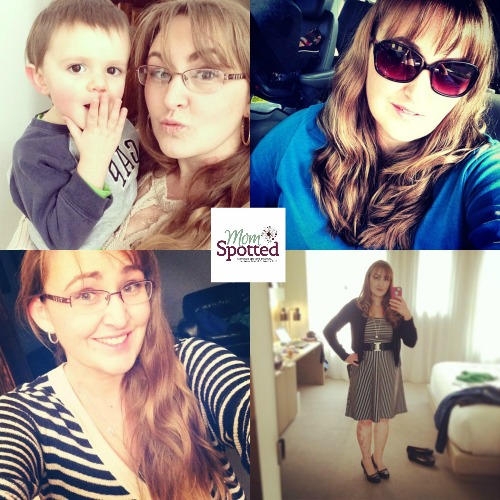 My better half has been around for quite some time. And by quite some time I mean since I was 13. He's a smart man and snagged me young. We've seen a lot; from a teen pregnancy to our losing our home to a house fire but we've gotten through it all together. He manages the family business Mengel-DaFonte Auto Body and truly loves what he does.
He tries like crazy to stay out of my photos but occasionally I manage to talk him into one… or two. In his spare time you'll find him either cheering Johnny on at soccer or playing with the boys in the backyard. In the winter months he tries torturing me with seeing how many NBA Celtic games he can get me to watch in one week.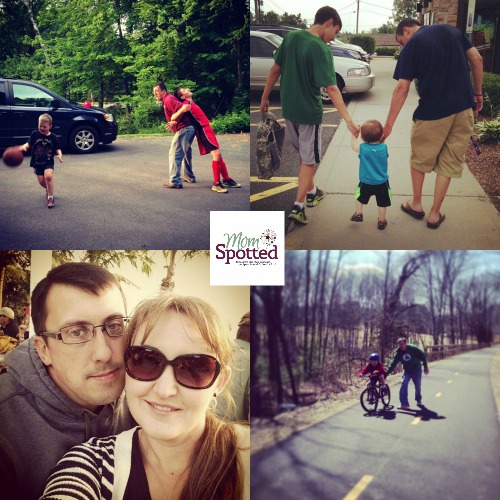 My oldest of three boys is Johnny. He's thirteen now and in the 7th grade. I can't believe I'm a mom to a teen already. He's an amazing kid with a passion for soccer, playing the drums, or gaming out on his Xbox Live. He's a great older brother and a huge help to me. If you're looking at a review on here and it needed to be put together somehow you can bet he did it. He also does half the baking and helps out with some of the crafts.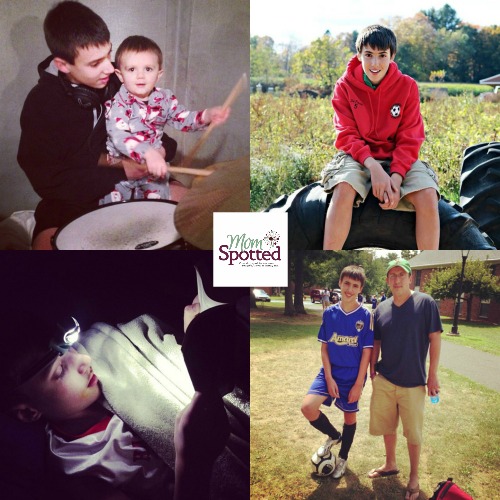 Gavin is my fun-loving almost eight year old. He's currently in the second grade and loves school. He prides himself on getting the best grades he can and makes it a personal challenge to be in the highest reading level for his grade. He's a total gamer at heart and loves playing Disney Infinity, Minecraft & Skylanders. He also loves drawing and art. When we're outside you'll always find him drawing with chalk or riding his scooter. He's also my #1 cuddler and is always down for a good movie.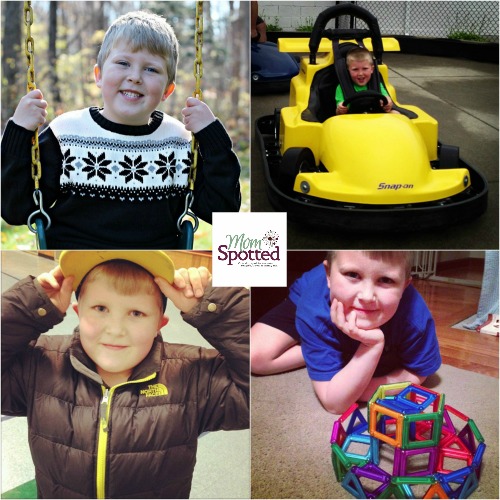 Sawyer is the baby. My miracle baby. After years and years of failed fertility treatments and finally being told it was impossible he proved us all wrong. He's two now and he's grown up front & center on this blog. He is my ball of fire child. He's the one that keeps me on my toes and is into everything. He loves being on the go and he loves the outdoors. He will drag you outside the moment he can, if he can't, he'll talk you into building train tracks for him or drinking the coffee he just made you in his play kitchen.
This boy plays hard but loves harder. He looks up to his brothers and makes it impossible for anyone to get frustrated with him. Those big brothers of his melt like putty when he needs something and the love these boys have for each other just melts my heart.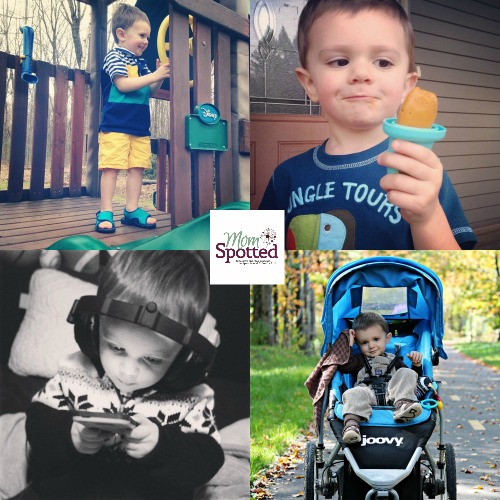 I can't forget Charlie. He's my forever baby because he'll never outgrow my arms. I was strongly against getting a dog (especially at 8 months pregnant) but the kids wouldn't stop asking and when I saw his face I just fell in love. Now, as the one most against getting him, I'm his biggest fan. He's a Morkie. That's a designer breed of a Maltese & Yorkshire Terrier together.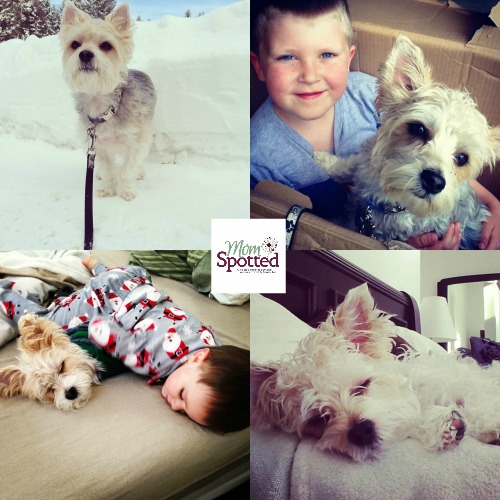 Since becoming a home owner I've discovered a love of gardening. I love being able to produce vegetables in my own backyard. I love taking all the fresh fruits, vegetables, & herbs and making great recipes my family loves to eat. Each year we try new plants and right now we're actually cutting down a bunch of trees to help with sunlight and will eventually be revamping our entire process to multiple raised beds. I'm so excited!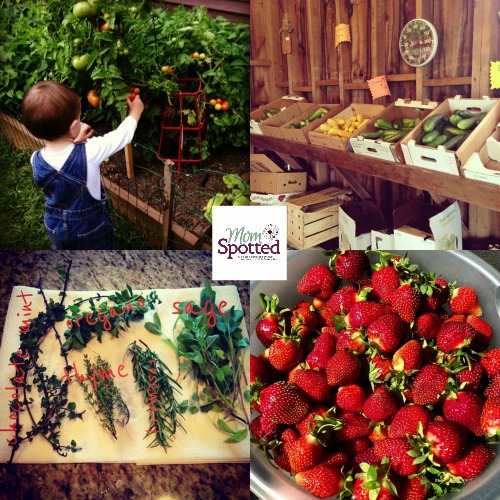 Last year I hit a wall with my weight. I finally took a hard look in the mirror and realized that I had gained a lot of weight. Instead of hoping I could lose weight I finally decided to get up and do something about it. We live next to the Manhan Bike Trails and I've discovered a whole new love out there. As long as the temperature is above 50 you'll find me out there with my Joovy stroller and Sawyer. Last year I lost a total of 38 pounds and this year I'm on a mission to lose the last 35. I know I can do this and hopefully I'll be back to sharing my fitness journey soon.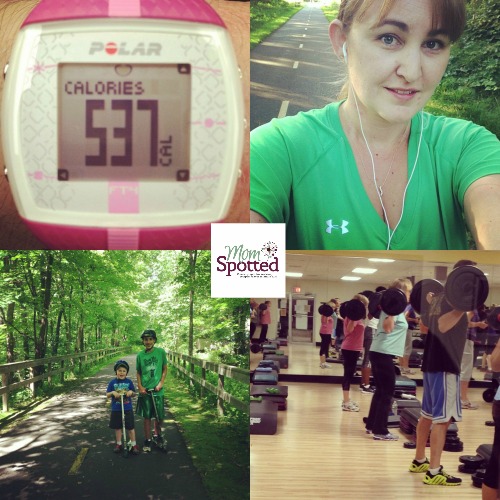 With summer approaching you'll start seeing lots of great vacation photos again. My family loves taking off on a road trip (or two! or three!) each summer! We often end up in either New York or New Hampshire and every August you'll find us in Maine. I try to escape to Florida every chance we can. I have family in the Daytona Beach area and a place in Fort Myers. If I could sit outside the Mucky Duck every night for the rest of my life I'd be in heaven.
I just love to travel. While many find airports anxiety filled I find it exciting and get restless if too much time goes by without having a reason to jump on a plane. My dream vacation is a trip to Greece and my current bucket list adventure is finally taking a cruise. Right now we're currently planning a family vacation to Disney for late 2015.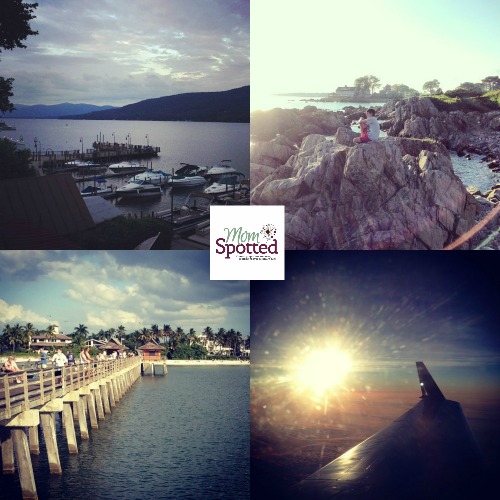 Thank you for taking the time to get to know more about me and my family. If you'd like to reach out please feel free to email me at momspotted@gmail.com.