Have I told you about my best friend? I know I have, but again I have to tell you just how awesome she is. I just told you how she got married just a couple weeks ago. She just got back from her honeymoon and here she is the day before the party all hands on deck making our DIY Birthday Pinata! She is a behavior specialist elementary teacher and had this great idea to make Gavin's pinata. I had no clue where to even begin so she said she'd come and do it while I worked inside and got things going on other things.
I did tell you she rocks right?
Well, she completely had the boys attention and with all the newspapers I buy for coupons she had all she needed.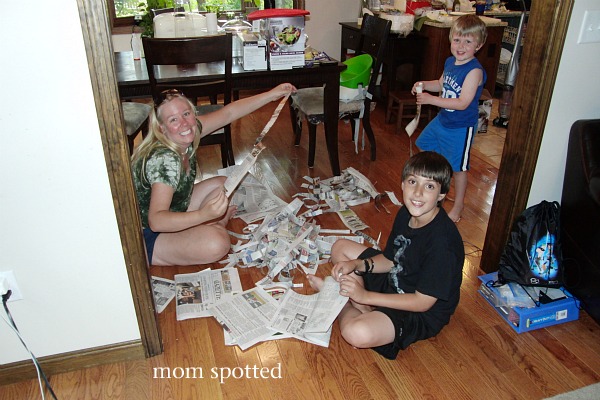 After you have long strips of newspapers ready you want to take two balloons and tape them together. You can use masking tape or even painters tape.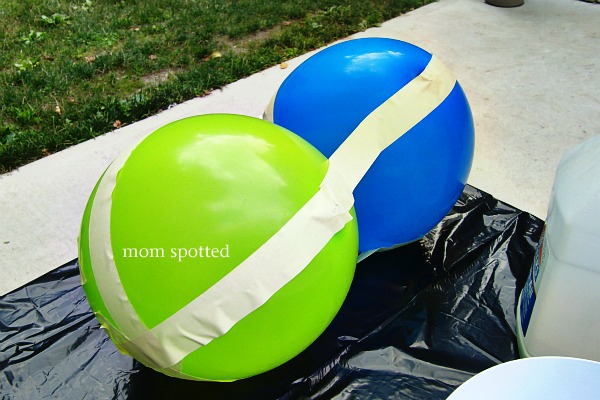 Next mix your water and glue. Be generous.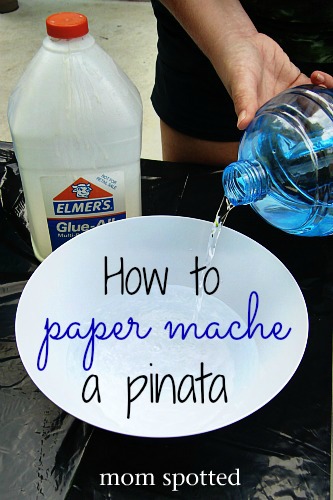 In the end, you want it white but watery.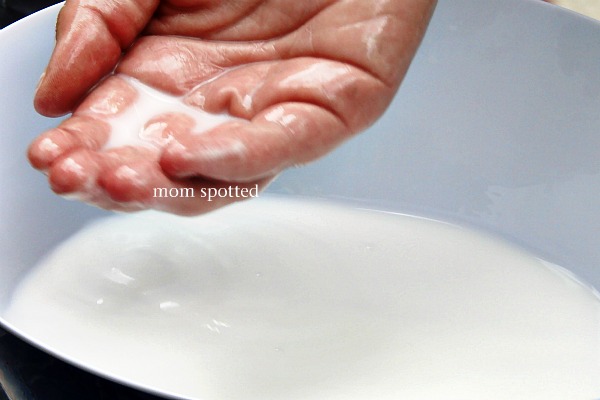 Then you want to ball up the paper and try and round your shape out. Feel free to use tape to do this. It will all be covered.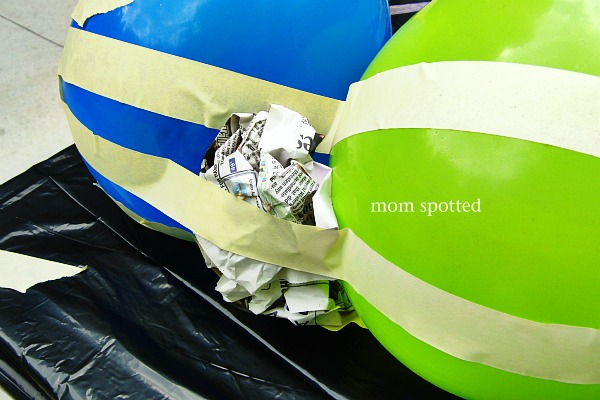 Now the fun part of your DIY Birthday Pinata. Make sure you have all hands on deck. Start dipping your long strips in the mixture and lay them lengthwise over the balloons.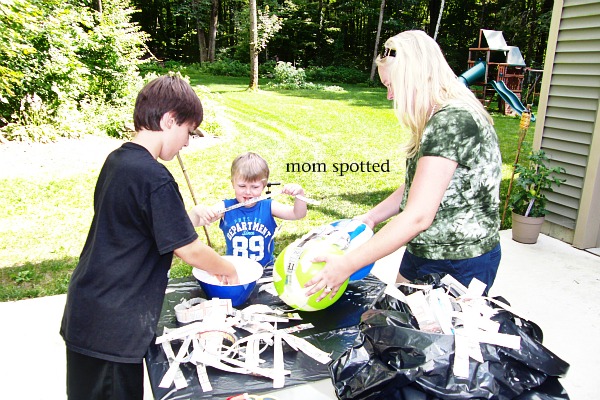 Like this.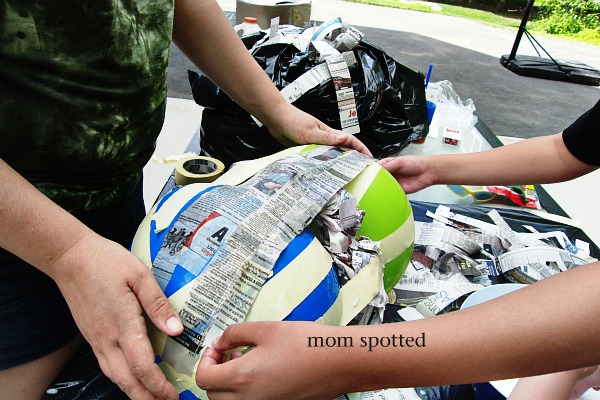 Continue until it's covered and you have something like this.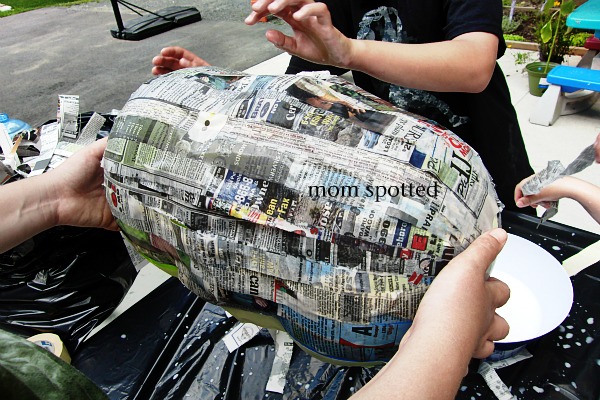 Let dry. To speed up the process we laid it out for a fan. It was also a very hot day.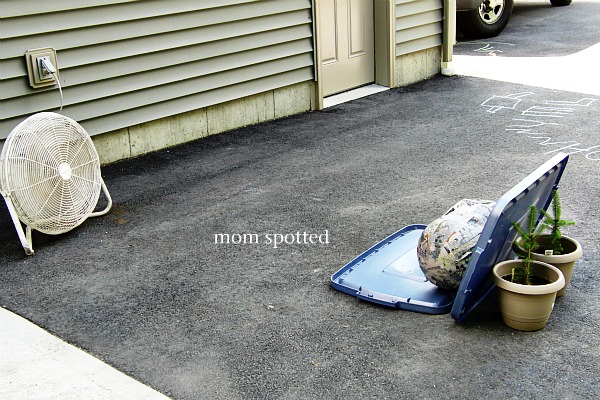 At this point, we lost Gavin.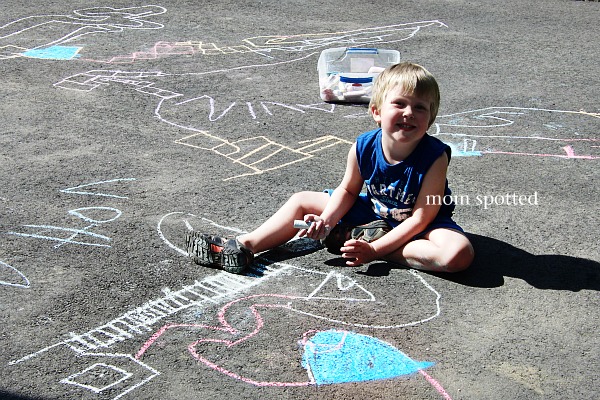 Cover two more times, letting it fully dry in between each layer. Then "paint it" with straight glue. Make sure to cover all areas. This is your hard shell outside. Let dry over night.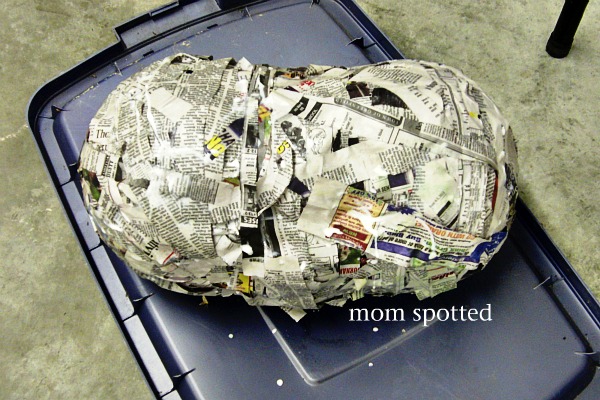 Now take some old toilet paper and paper towel rolls along with some large cardboard pieces (we cut up cereal boxes) and paint them the colors you need. We also had a sheet of black, cut at an angle to make two triangles, and rolled into the antenna. Let dry over night as well.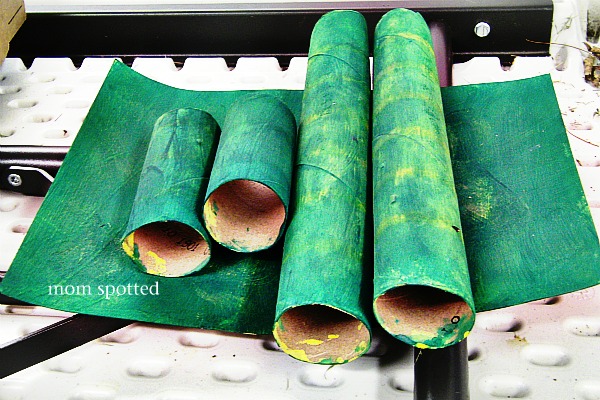 The next morning you can start attaching everything. Cut slits in the bottom of all your pieces so you can spread them out and tape them down. Repeat with arms and legs. We used the toilet rolls for arms and the paper towel rolls for legs.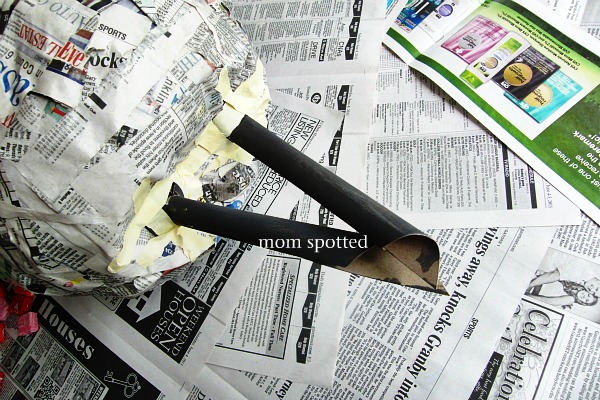 Next take a pin and POP the balloons inside. They can stay in there you just want the space they used. Cut a hole in his back. Keep it small, just big enough to put your pieces of candy in. It may take awhile so bribe your kids with a few pieces and have them do it. Then tape the hole shut with masking tape.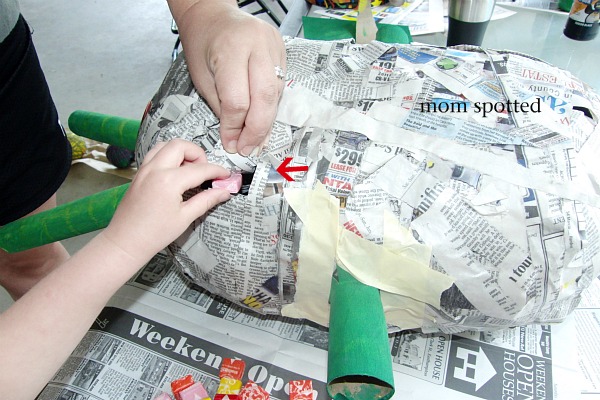 Paint the entire body to match arms and legs. Let dry completely.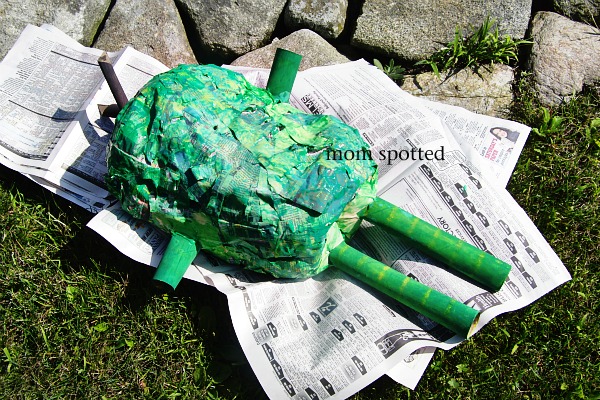 I made the eye out of card stock and attached with glue. To hang take three long pieces of ribbon or twine. Fold in half and make a knot. Take all the pieces (six total) and wrap them around the body like you see here. bring to top and knot them all together. then knot again around two inches higher than that. You can then use more rope or ribbon to attach it to a swing set or anywhere else. We used our basketball rim.
Looks good, huh? Gavin was thrilled and laughed and said he was funny.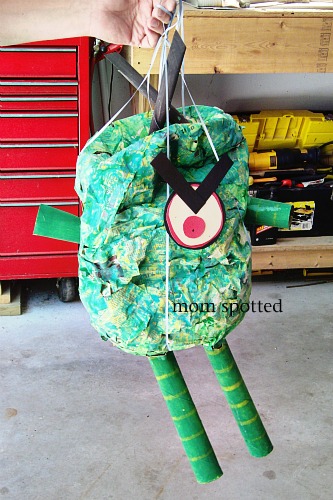 Just remember after all those hours it will result in this. So take pictures!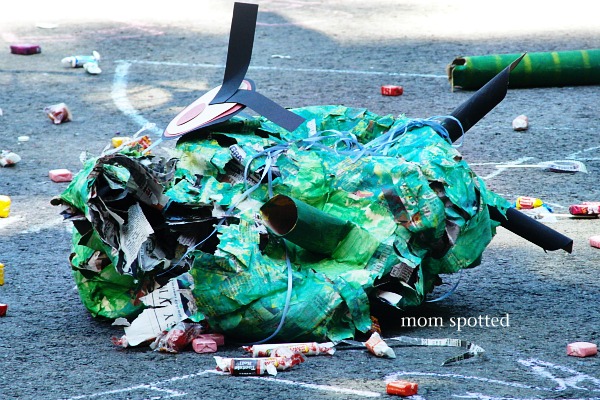 So what do you think of our DIY Birthday Pinata?