One thing I've learned about having kids is that leaving the house can be a nightmare when you've left unprepared without the proper travel essentials. Here are my top 14 items that I've found to be most useful!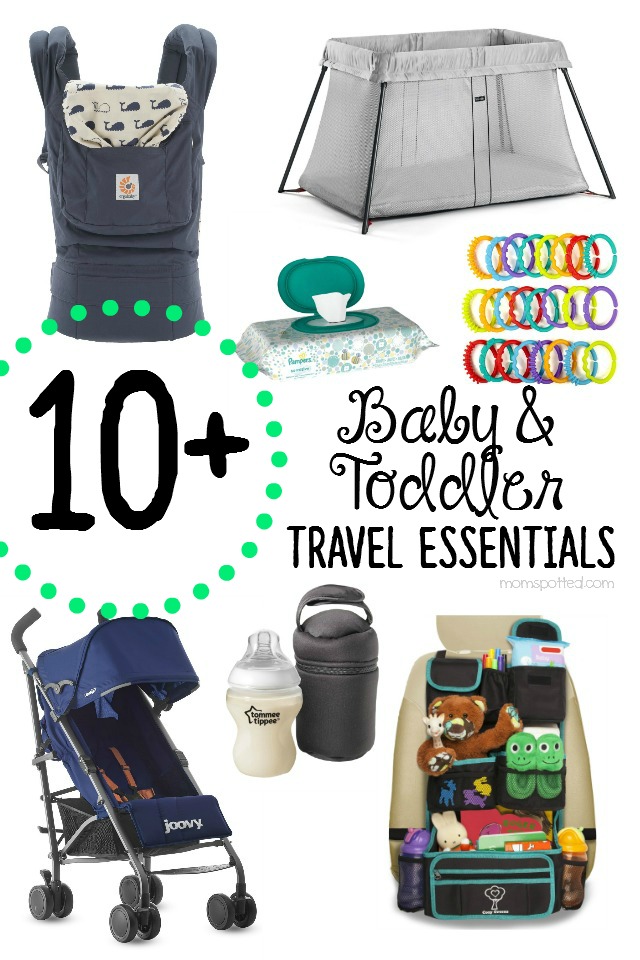 How many times have you gone to leave the house and instead the usual walk over and put your shoes and coat on it is now a 20-minute fiasco. It starts with the five-minute hunt for the missing sock and then trying to make sure your diaper bag is properly packed and your baby is happy and then the moment you're finally ready to walk out the door you cry in defeat as you watch your baby turn red while popping in their diaper and you have to change it and start all over again. Once you finally make it out the door there are travel essentials that make the usual outing just a little bit easier.
Cozy Greens® Backseat Car Organizer – Keeping my car clean and stocked up is helpful. Even as the big kids have grown, they've found it helpful to have a place to keep things like headphones and gloves, as a baby I've found them helpful for things like spare diapers, wipes, books, and more.
Britax USA Advocate ClickTight Convertible Car Seat – Having a car seat you love is important. Finding one that accommodates your needs and your vehicle is important. All seats are rated the same on safety. If you're unsure of what will work for you I highly recommend joining the Facebook group 'Car Seats for the Littles'. It's a great group staffed by American Child Passenger Safety Technicians, Canadian Child Restraint System Technicians, and global child passenger safety advocates.
Carter's Baby Boys' Graphic Terry Footie – Spare clothing in general but we're partial to the soft one piece outfits that can go as daily wear or sleepwear. You never know when someone might get sick, have a blowout, or just fall in a puddle. It's always the time you left your diaper bag behind that disaster strikes. Having spares in my car at all times has come in really helpful over the years. Just make sure to replace them if you use them!
Tommee Tippee Travel Bottle and Food Warmer – Getting my hands on warm water to thaw frozen breastmilk or for bottles was sometimes difficult. I loved having my travel bottle and food warmer from Tommee Tippee. It was definitely one of those 'I didn't think I needed it' products until you actually got it and used it. It would keep the water super hot for hours even in the cold. You can read my review here.
Balboa Baby Shopping Cart Cover – Invest in a shopping cart/high chair cover. Escalators and shopping carts are known for being covered in germs. I like keeping germs as far aways as possible. These are a great way from keeping your baby from sucking on the handle everyone touches.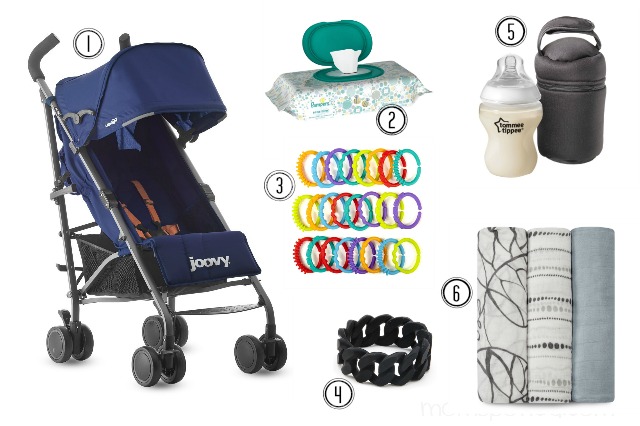 Joovy Groove Ultralight Lightweight Travel Umbrella Stroller – This is a great lightweight stroller that will last from sitting age up until you no longer need strollers. Fully reclines, with a good size basket. Mesh cup holder for the child but none for mom & dad. There is a small mesh pocket to hold a sippy cup or water bottle but can't hold a coffee. Steers well one-handed.
Pampers Sensitive Wipes Travel Pack – We all know we need wipes for diaper changes on the go but they come in handy for everything from hand wiping to nose wiping to cleaning down the stroller. After your kids are grown you'll find yourself still buying wipes.
Bright Starts Lots of Links – A package of links goes into every shower gift because they are one of those small necessities you don't realize are so important. They make any toy or teether secured and available. They snap onto everything including the car seat, stroller, high chair and more!
Chewbeads Stanton Bracelet – When I travel I limit my jewelry. These Chewbeads are great for fashion and baby! They also carry necklaces too!
Tommee Tippee Insulated Bottle Bag – Being able to attach the bottle to my stroller and keep it warm as long as possible is a huge plus. I don't have to keep digging around in my basket and I don't have to worry about my baby throwing it out repeatedly thinking it's cute. Read my full review here.
aden + anais silky soft swaddle blankets – You cannot own enough of these swaddle blankets! They are perfect for swaddling baby but they also make a great blanket, car seat cover, play blanket for sitting on, stroller cover and many, many more reasons. These are great in summer and winter due to being made of breathable muslin. You can read my reviews of their many products here.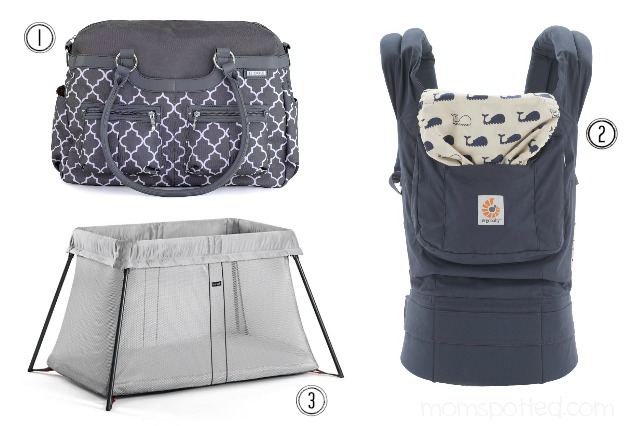 JJ Cole Satchel Diaper Bag – This is the ultimate diaper bag. It was small enough to fit in all the stroller baskets but big enough to fit everything you need including your DSLR! It also has a million pockets to keep it all organized. Read my full review of it here.
Ergobaby Original Baby Carrier – I wish babywearing was more popular when I started having kids. It was such a helpful and great way to keep baby close. I have used a few different styles but the Ergo was the easiest and most comfortable to wear.
BABYBJORN Travel Crib Light – I know this product is a splurge but I promise you, it's worth it. I will never go back to using a regular playard. This travel crib folds down small into a convenient carrying case and the best part is is that it's grandparent-friendly too! Anyone can easily put this up and take it down in under a minute. Read my full review here.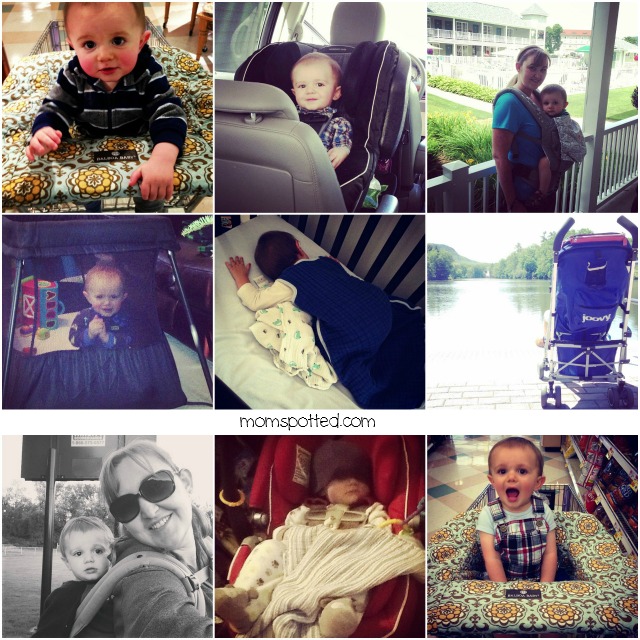 Hope our top travel essentials come in handy for you! Do you have a product you love and rely on when you leave the house with the baby?