Oh the birthday cake. This was my struggle this birthday party and it was almost what got the best of me. I had everything I needed and thought I could be super mom and get 10 million things done by lunch time and thought I'd be on to making the cake already. Wrong!
Se Gavin didn't just want any cake he wanted this SpongeBob SquarePants™ Cake Pan. Um, yeah. To say I was nervous was an understatement but my baby had to have it so by golly I was going to make it.
This is not my first cake.
This is my second.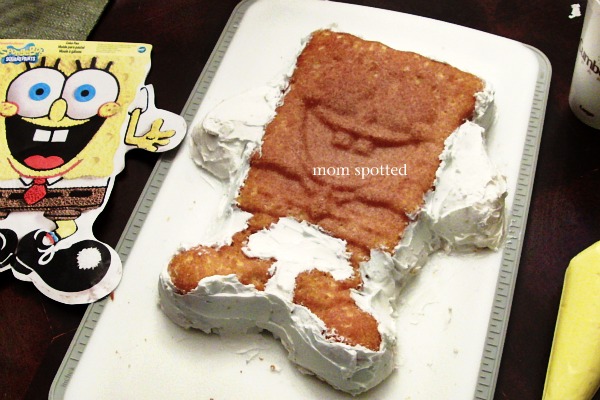 First round completely behind schedule came out at 4pm. When I flipped him out of the pan his feet didn't come out. I also made it in Funfetti and found it incredible distracting so changed it. I did the edges to this one around 10pm. I made all my icings with the SpongeBob SquarePants™ Icing Color Set. I was a little confused as to why there was no black in the set. Luckily I had it on hand or I would have been out of luck. So if you buy the cake and the icing kit- you still need black coloring.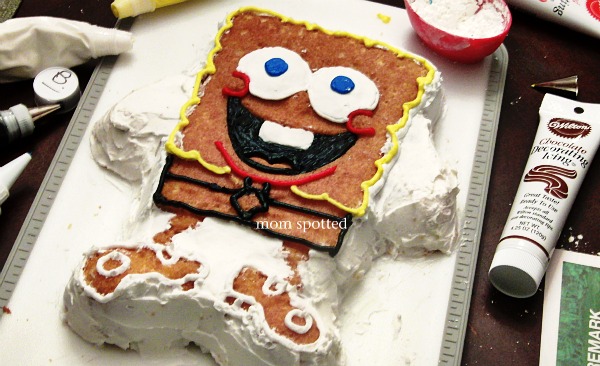 I was a little nervous about my black. It looked charcoal grey and I found out on facebook that it's better to start with chocolate. I didn't have any on hand so I started with white. I put a lot of the coloring in and let it sit on the counter until about midnight and went back to other projects. Believe it or not I was at the convenience store at 11:50pm buying eggs (and coffee!) because I ran out. I knew I was in for a long night.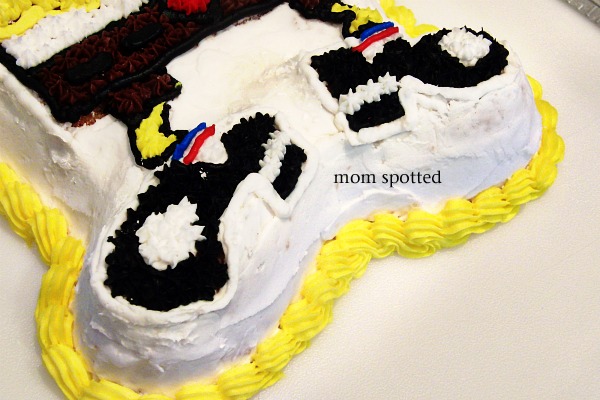 The feet and hands were my biggest concerns because it was hard to see the pattern so I basically free-handed them all. I held on to the picture that was attached in the pan as a guide. I even was daring enough to attempt a border along the bottom and was very impressed with myself.
In the end I was pretty proud of myself even though it was now 5am.
I put it in the fridge until an hour before the party. It was a huge hit.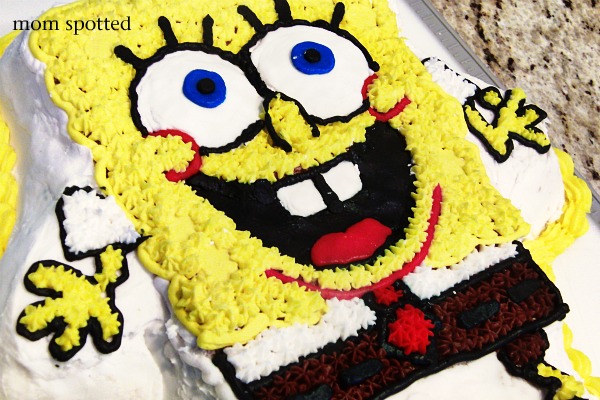 I also made SpongeBob cupcakes and they were a huge hit. The kids loved that they could keep the toppers.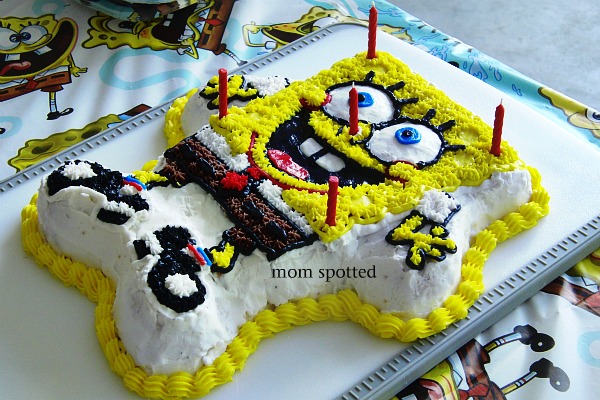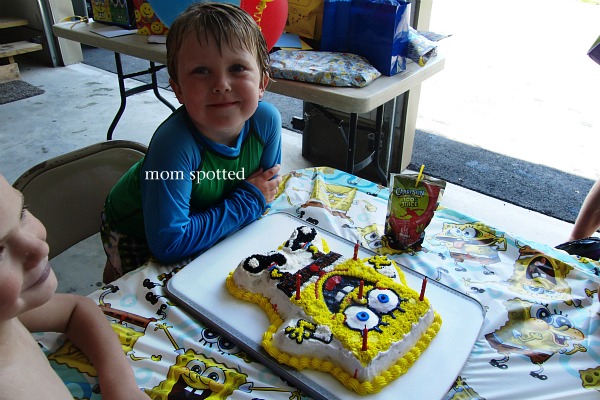 Gavin was SO pleased with his cake. When I pulled it out of the fridge in the morning to show him he jumped and down and I almost dropped the cake. Oy!
ps. stay tuned for a giveaway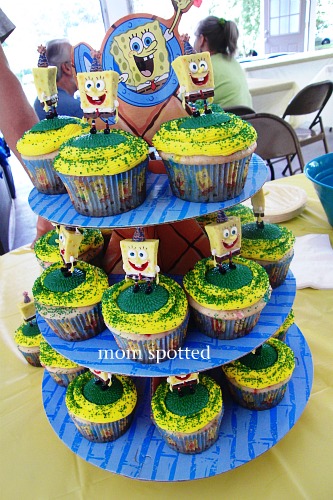 ONLY Wordless/Wordful related posts should be linked here. No giveaways or other posts. It must link directly to your WW post not you main page.
Any links not going directly to a WW post will be deleted.
Mister Linky's Magical Widgets — Easy-Linky widget will appear right here!
This preview will disappear when the widget is displayed on your site.
For best results, use HTML mode to edit this section of the post.