We just had bike trails built over the summer just down the road from us. I was so excited and couldn't wait until they were done. Once they were of course it was so hot that it was hard to find a good time to be out on them. Having a baby under 6 months tough. He was too small for a bike ride by  long shot and the distance I wanted to go was too far to carry him.
When I started looking into jogging strollers I started noticing a trend. Many couldn't be used right away. Many couldn't even be used for the first 9 months. I really didn't wait that long. It was summer and I wanted something then, now. Not just that but my regular stroller was not handling the park ground at all. Then I was on the Joovy website and I saw the Zoom 360 Jogging Stroller I knew it would be perfect for what I needed! Plus, I didn't have to wait until Sawyer was bigger!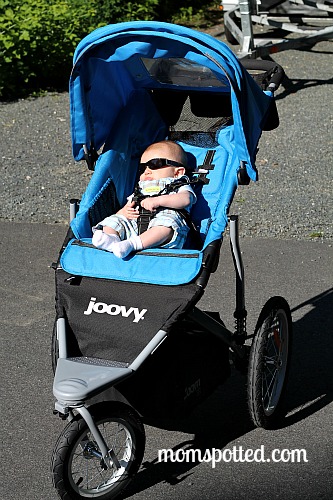 The Joovy Zoom includes all of the high end features you would expect in a Joovy jogger.

Made from 6061 aircraft grade aluminum and 600D fabric the Zoom is ready for tough duty.

The suspension, with 3-inch travel, smooths out the bumps and provides a comfortable ride for your little one while Joovy's signature over-sized canopy provides the best sun protection available. You also get a neoprene parent organizer that holds 2 cups and has a zippered container, plus a rain/wind cover that's custom made for the Zoom. With plenty of storage in the easy access storage basket and mesh pockets, you can bring along all of your necessities.

The Zoom is available with a fixed front wheel for serious runners (Zoom ATS) and in a swivel front wheel version for maximum maneuverability (Zoom 360). The Zoom 360's swivel wheel can lock in a straight position providing a long, stable wheelbase when you run, or walk on long straight paths.
Here Sawyer is at 4 months old and as you can see thanks to the 5 point harness he is safely in place.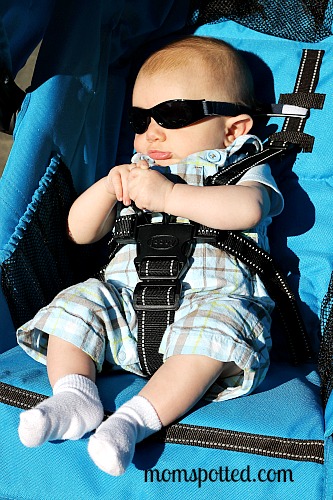 With him being so small I felt better sliding in a seat positioner and it worked perfectly. I personally LOVED using the JJ Cole Seat positioner. Just don't use it in a car seat while driving! See how happy he is!
Seating – Extra wide seat with mesh pockets for toys, gear, etc. 5-point harness with reflective stitching. Multi-position reclining seat with extra high ride height.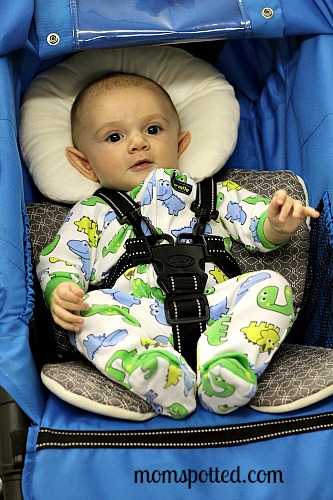 Out of the trails, over grass, well, basically everything and anything I needed to get through. I've tested a lot of strollers over the years and this stroller moved through rocks and grass better than any other stroller.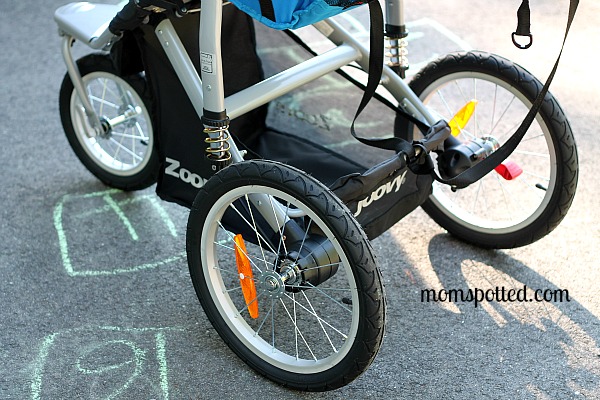 The tires are air-filled and in the 2.5 months I've had it I've only had to put air in it once. They move so smoothly!
Wheels – Swivel front wheel that locks straight on the Zoom 360.

Shocks – Shock absorbing suspension.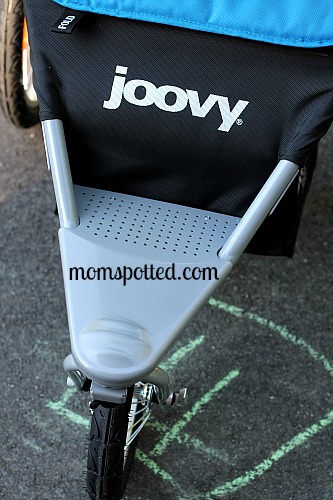 The tray top is perfect. It allows me to carry two water bottles along on my trip and still have a secure place for my phone, keys, and some money. It's not in the way of anything and my drink can't fall. Most importantly when I'm using it casually and not on the trails it holds every kinda of cup I use.
Parent Organizer – Includes a neoprene parent organizer that holds 2 cups and has a zippered storage container.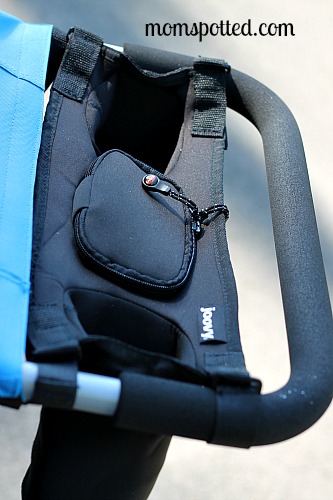 The canopy on this stroller is awesome. The size of it is great but it's not too much. Every morning when we kick off our walk we face the sun. Luckily for Sawyer this canopy keeps him well protected.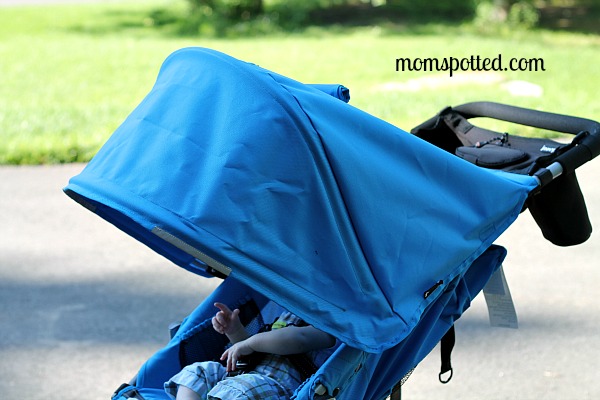 In the back we also have a little window to look through. You can also see here that the canopy extension goes up and still covers well.
Canopy – Huge canopy with covered window & sun visor.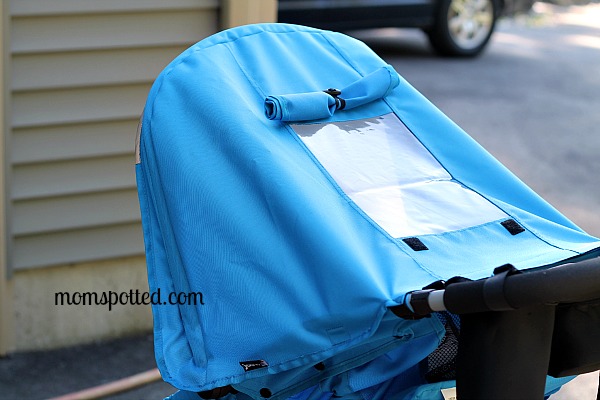 The basket is large and holds everything I need it too! It's easily accessible and has a nice wide opening.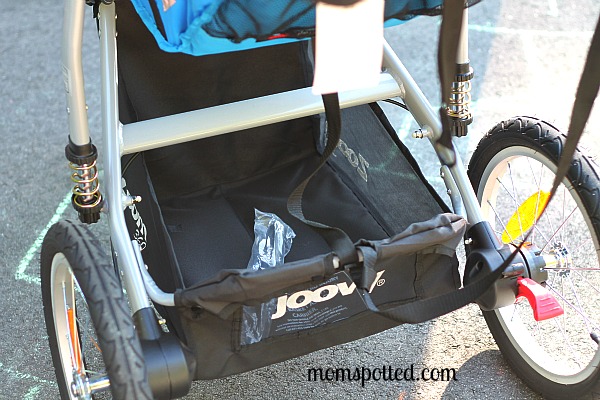 On the back of the seat there is an additional little mesh pouch and here is where you can easily adjust the seat positioning. This stroller even reclines!!!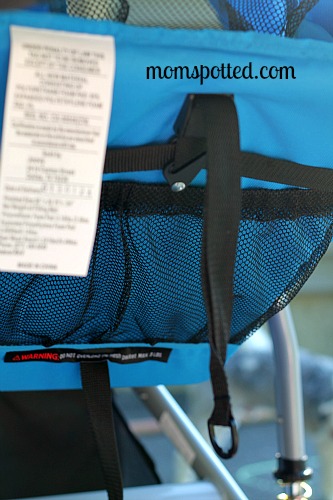 The other strap you see if the safety wrist strap for when you're running with baby. It can stay to the side out of the way or swing around and move easily as you do.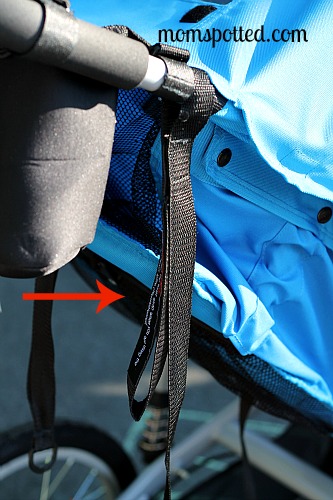 Just so you know with the west nile scare you can easily fit a standard bug net over the stroller keeping baby safe.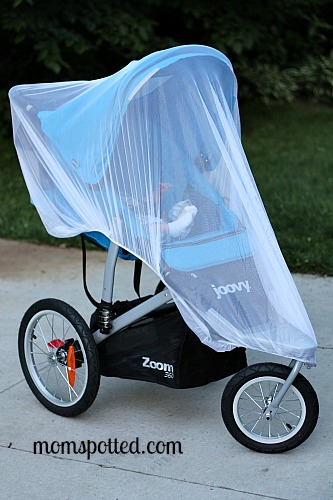 Sawyer just loves being in his stroller!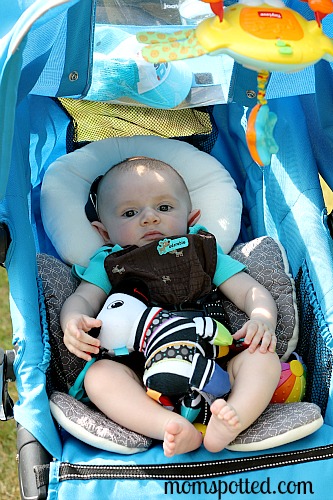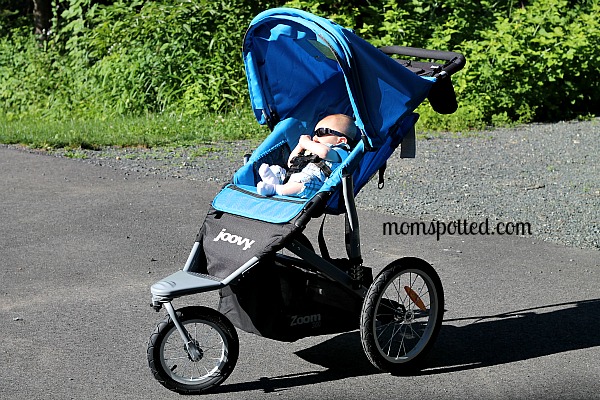 We love hitting the trails and the Zoom 360 make it all possible!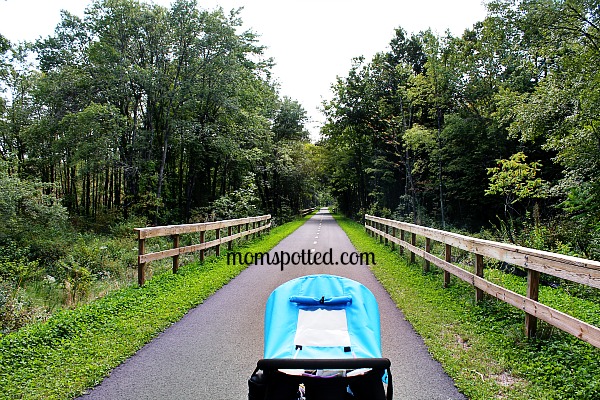 You can purchase the Zoom 360 Jogging Stroller for $269.99 directly from their website! It's also available in red and black! I was even able to find one as low as $209 on Amazon! If you are looking for a good, quality stroller that can take all the places you want to go this is the stroller for you. I promise you will not be disappointed.
Mom Spotted Review Policy: I was provided with the featured item(s) at no cost by the manufacturer and/or its PR agency in order to test the products abilities and give my own personal opinions on it. The opinions I have given are mine and may differ from others but it was not influenced in any manner by monetary means.