Diaper Bags can be so overwhelming when it comes time to decide. Believe me I know. You go to the store and there is an entire wall of all these different bags. Different colors, different styles, and different price points. What drives me nuts is that often the affordable bags aren't the ones you want and the ones you want are so out of your price range you don't even bother trying.
Then there is JJ Cole Collections. They have an amazing collection of diaper bags. I've been lucky enough to review several of them. The winner of them all is the JJ Cole Collections Satchel Diaper Bag.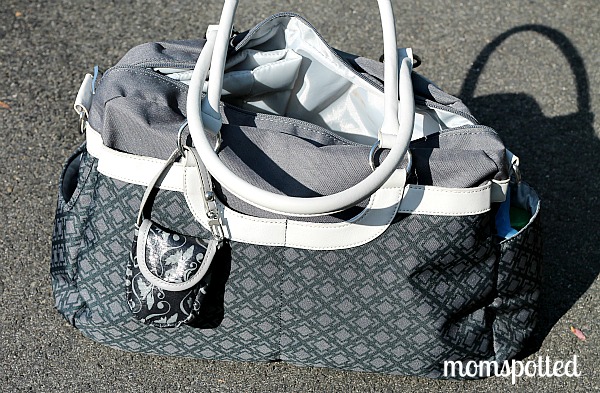 What I loved about this bag is the endless amounts of pockets! As you can see I have  multiple pockets in the front, back, and sides! Everything I need at a quick grab can easily be put on the outside. Generally this usually means my things. Keys, phone, lotion, etc. It all has a place and this makes it easy for me to find what I need right away! The fabrics are quality and I have no concerns with all the abuse I plan on putting it through or have put it through already.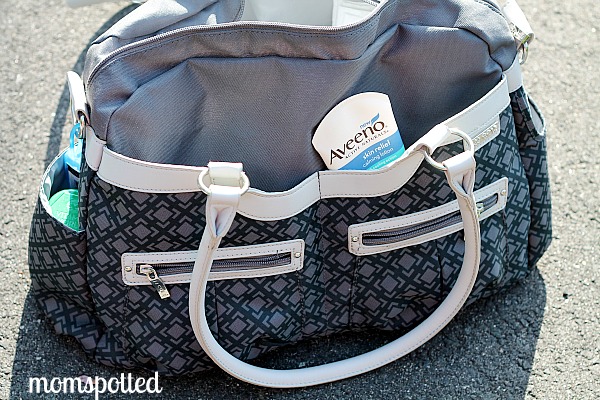 Here's a view from the inside. I've been using this bag since Sawyer was born 8 weeks ago and it's been able to hold everything I've needed at all times. There are four inside pockets that are all the same size. It lets me keep them all organized and still have room in the center for a blanket, spare clothes, and anything else I need. It then zippers closed so nothing falls out.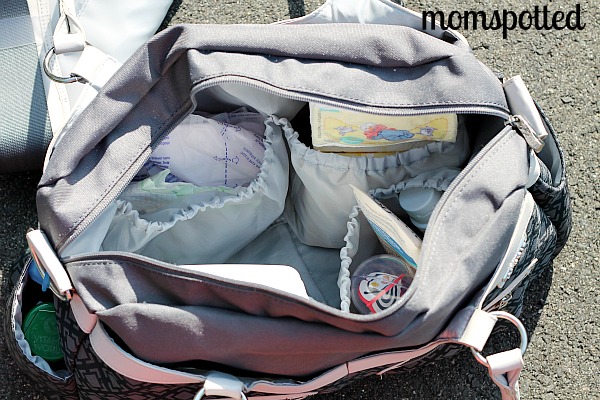 The bag also comes with an extra strap that has a pad to easily swing it over your shoulder. It also has a diaper changing pad as well as their awesome grips™ stroller attachments!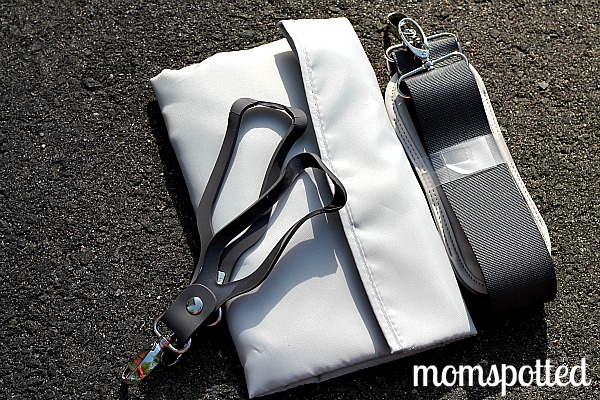 What are grips™ stroller attachments? They are are the perfect solution for attaching your diaper bag to a stroller, designed to fit securely in place to prevent bags from slipping. You can see how they are the perfect match for my stroller as I don't even have a bar to place it over. It also keeps the basket below clear allowing me to make the most out of my storage areas! The grips™ keep the bag low enough so the bag isn't in your way but high enough where the straps won't be dragging on the ground.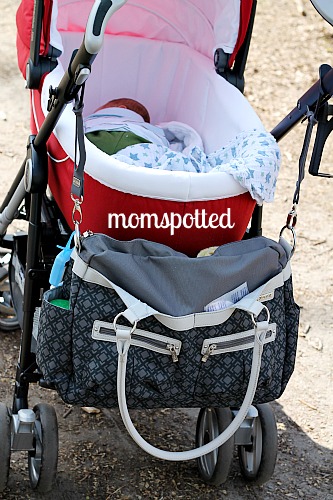 The best part is this bag is affordable at only $69.95! It comes in a choice of colors/patterns and you can even get it in faux leather for just $20 more. If you loved the idea of the stroller grips™ for just $7.95. The little bag attached in the first pic is their pacifier pod that came with another one of my bags from them but you can buy them separately for just $7.95 too! All Available from our affiliate Amazon!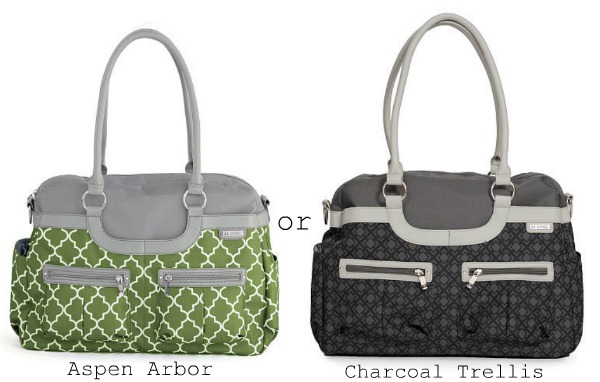 Mom Spotted Review Policy: I was provided with the featured item(s) at no cost by the manufacturer and/or its PR agency in order to test the products abilities and give my own personal opinions on it. The opinions I have given are mine and may differ from others but it was not influenced in any manner by monetary means.