We have been loving making play dough around here. We love how long it lasts when we make it and the boys have really had such a fun time playing with it. We've been wanting to see all the different kinds of ways we can make playdough. In the spirit of St. Patrick's Day around the corner I thought I'd we'd make a fun Leprechaun Gold Play Dough.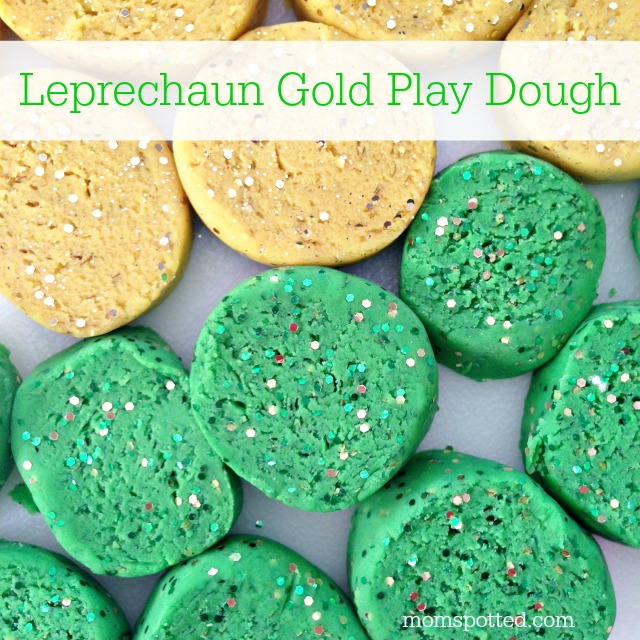 Making play dough is super simple. Way easier than I thought it would be. This recipe doesn't even call for you to cook it on the stove top like many do.
INGREDIENTS NEEDED:
2 Cups of Flour
1/2 Cup of Salt
2 Tablespoons of Olive Oil
2 Tablespoons Cream of Tartar
1 1/2 Cup Boiling Water
Combine flour, salt, cream of tarter & oil in bowl. Then add in boiling water and stir. I start with a spoon but I quickly change over to using my hands to knead it all together. It will come together in just a matter of minutes.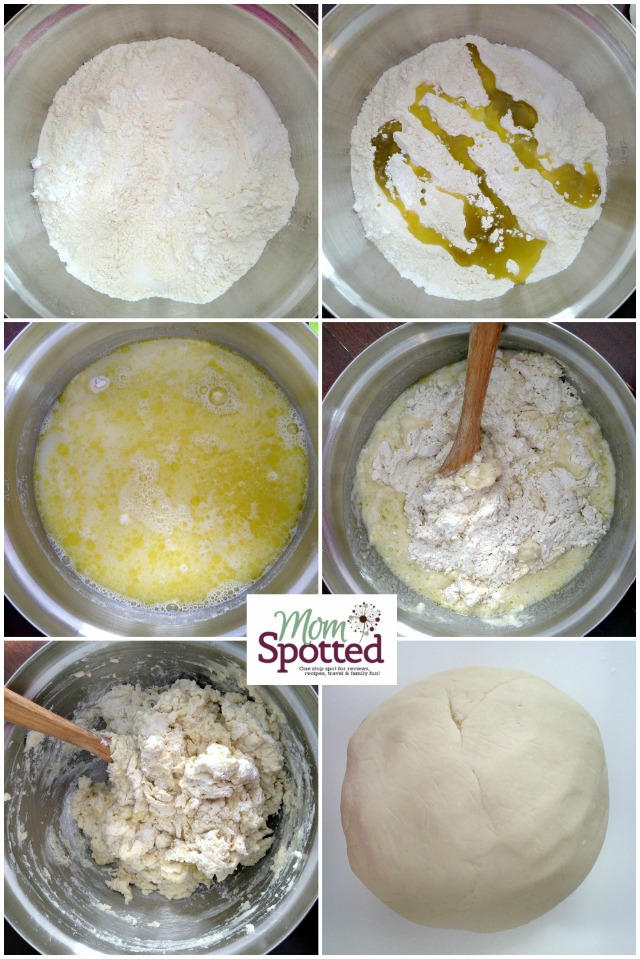 I normally just use food coloring to dye my play dough but I had used all my green food dye when I was making my Rainbow Rice and forgot to buy more. I already had the boys at the table with promises of green play dough and had to come up with something. Luckily, I remembered I had frosting dye and in future I will stick to it. It took very little gel to make a great color and there are so many more color options available.
After I added the green coloring I added the glitter one by one. I found kneading the dough on a cutting board was the very best way to fully blend both color and glitter. I would knead out the glitter and then add what I needed to the center, fold it over, then knead until blended. Repeat until color or glitter consistency reached.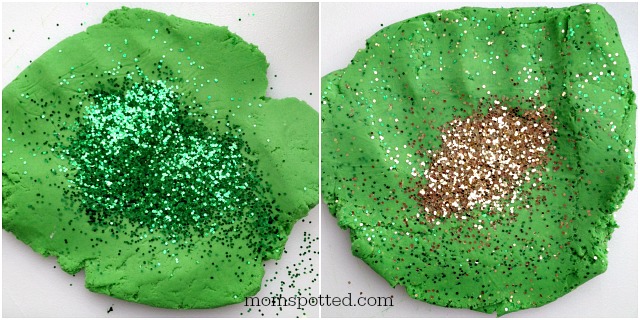 We made pirate play dough a month ago and it's still really nice so we added some chunky glitter to it and together we had our St. Patrick's day colors. We were really happy with how it turned out! Now we have leprechaun gold play dough!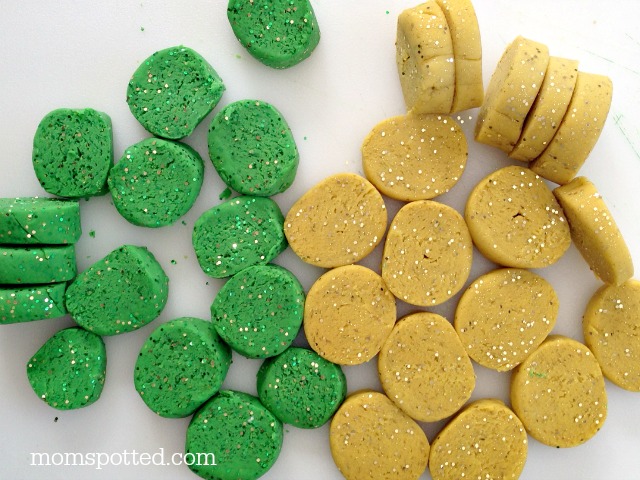 To make Leprechaun gold we rolled the play dough and then used a knife to slice it.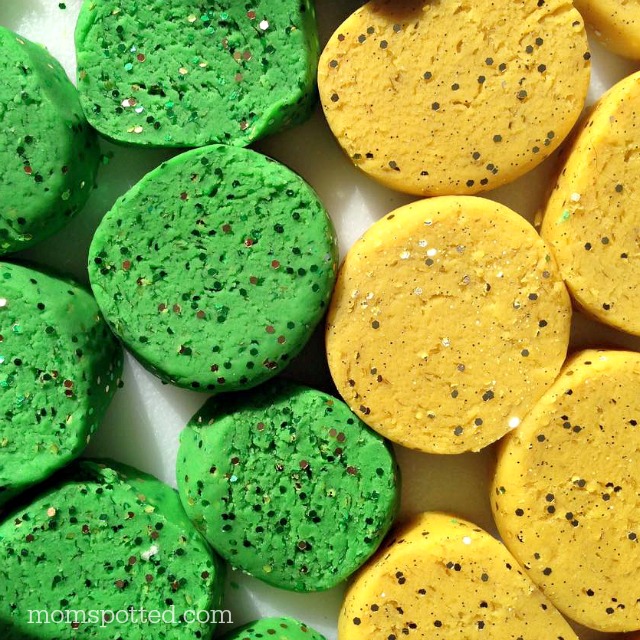 Sawyer is loving how to use a knife and it's currently his favorite play dough tool. With my older boys I always found it hard to teach how to use a knife and the safety of it all while figuring out how to eat too and this has been a great way for him to just concentrate on the use of the knife. Of course, I still stay close and supervise.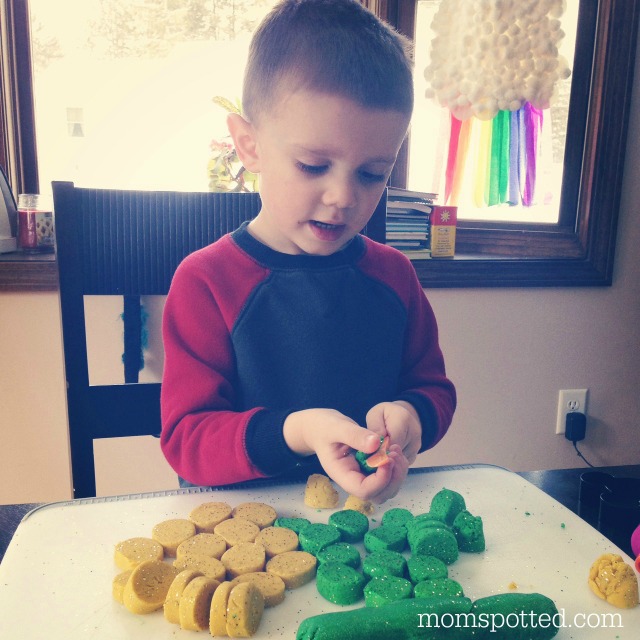 Do you celebrate St. Patrick's Day? What fun ways do you celebrate? Check out more fun St. Patrick's Day craft ideas here.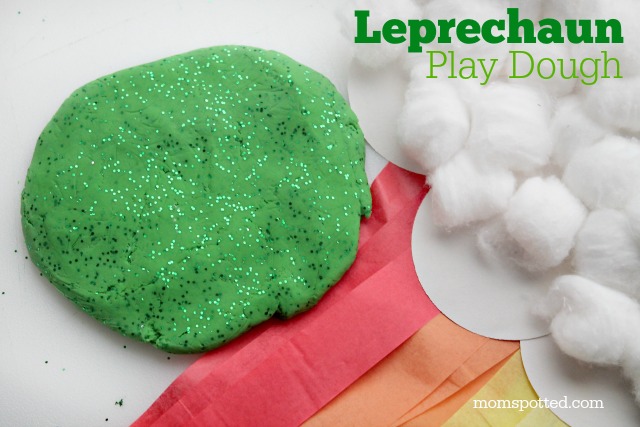 For more fun craft ideas make sure to follow our Fun Crafts with Mom Pinterest Board! You can also check out all the other sensory crafts we've made too.
Follow Jennifer MomSpotted's board Fun Crafts With Mom on Pinterest.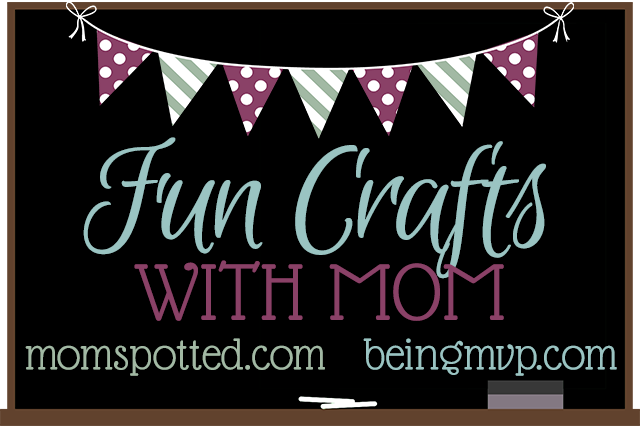 Every Monday we want you to come and link up your latest craft you made with your kids and share here! Now head on over and check out Being MVP's How to Make a Fairy House.