I swear Hayden has loved toy cars ever since he could crawl and push one next to him. Before he could even really talk he could make the sound of a car or truck. Halli is the same way, and she loves pushing cars everywhere with her big brother. Cars are so fun to pretend with, and my kids play super hard on their toy cars. After making huge jumps, and crashing into all sorts of things to stop "the bad guys," Hayden's cars start to fall apart. Wheels fall off, pieces break off, or they are eventually to hard to push around. Once his little toy cars start falling apart we have to throw them away. I don't want little pieces all over the house for someone to step on and get hurt, and I don't want Halli to find them and put them in her mouth.

A new company called ThoughtFull Toys has launched its first toy line, Modarri toy cars. This new company was created by some toy experts and they started a KickStarter campaign to fund this toy line. After securing over 300% of the funds Modarri launched at Toy Fair in February, and now the car line is zooming out to retail stores. Modarri was recognized by Popular Science magazine as one the Best Toys of Toy Fair!  We got to test out the new line and Hayden has loved them. The line is launching with a Street Car "S1," Dirt Car "X1" and Track Car "T1." We also received the DIY model that let Hayden totally customize his own vehicle with his own paint job!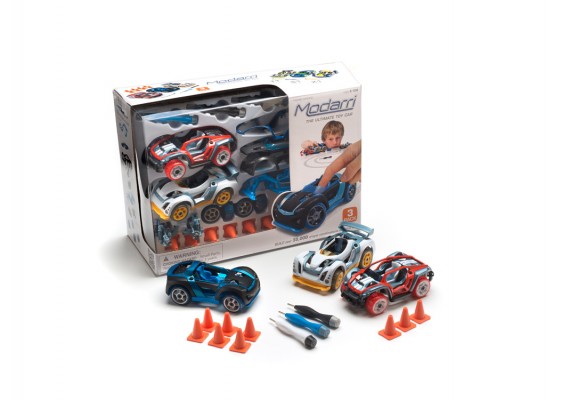 All of the cars are so well-built! Hayden has played pretty rough with them like he does with all of his other cars, and they show no sigh of breaking anytime soon. Which means his imagination and playing doesn't have to slow down!  Modarri cars drive using two fingers, and have realistic steering and suspension. The wheels can bounce along and have a super smooth ride. It is also so easy to turn cars and have them go where ever you want. It is really pretty amazing.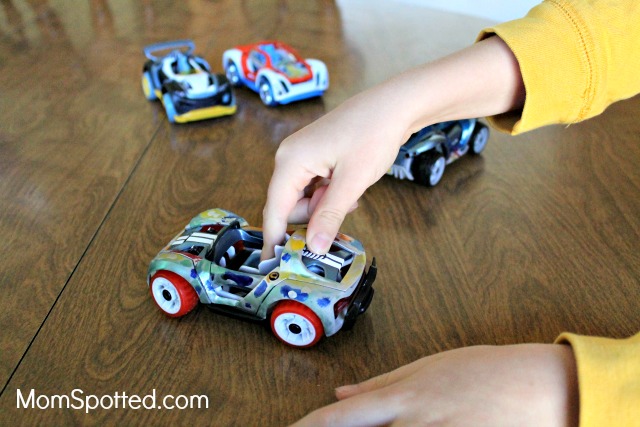 I can tell so much thought and planning went into just the construction of the car so they would be fun, easy to play with, and also be a sturdy little car! They also look so cool! Each design is so sleek and Hayden is obsessed with each type of car.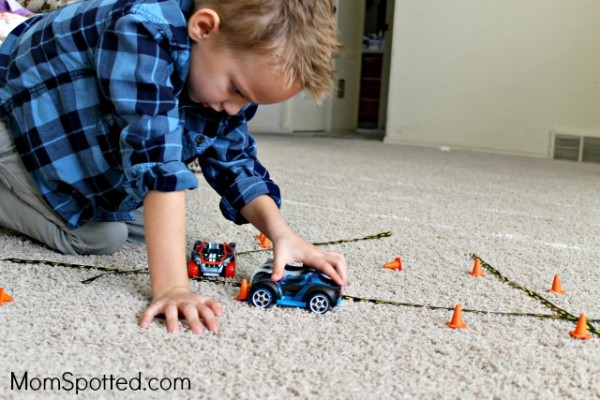 To push his imagination even more each car includes a hex tool for taking them all apart. Then he can put them back together or mix up each of the parts with the other cars. Redesigning the car is really simple. Modarri cars are made for ages 8 and up. At first I had to help Hayden a little to unscrew the cars and put them back together, but he can totally do it by himself now.  After all the screws are loosened by the hex tool all the tiny screws are retained within the toy.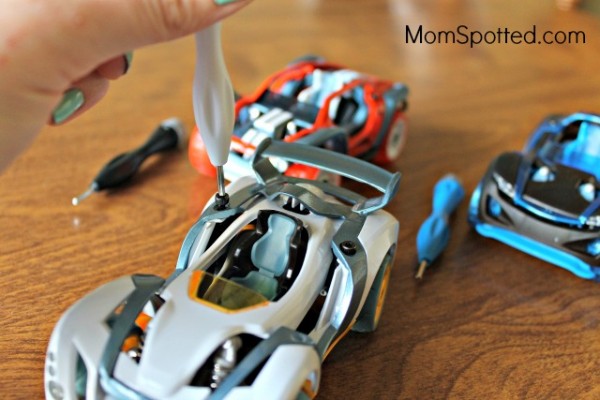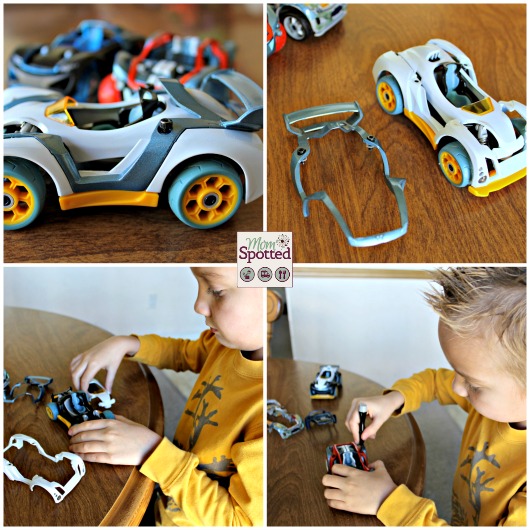 AMAZING! All the tiny screws staying in the car means there aren't any little screws rolling around, I don't have to worry about losing them, or Halli finding one. There are also quite a few parts to take a part, and put together with other cars. Each car is made of a chassis, hood/windshield, seat pan, seat, fenders and frame, four wheels, and front and rear suspensions.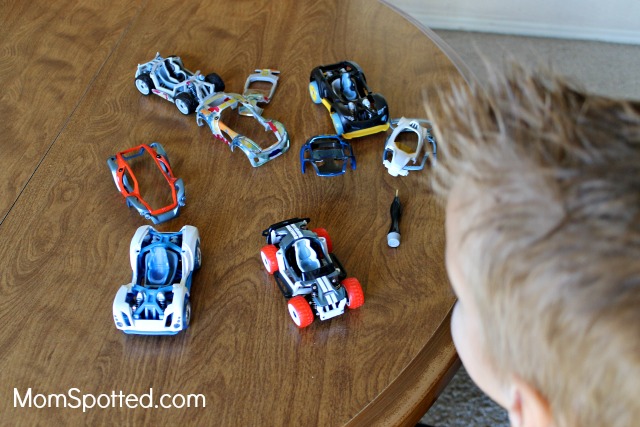 The options for putting cars together are endless! Here are Hayden's cars after his first redesign. He has since switched them at least 20 times. Also once the cars are built they stay built and don't fall apart! There are so many options of different cars to create.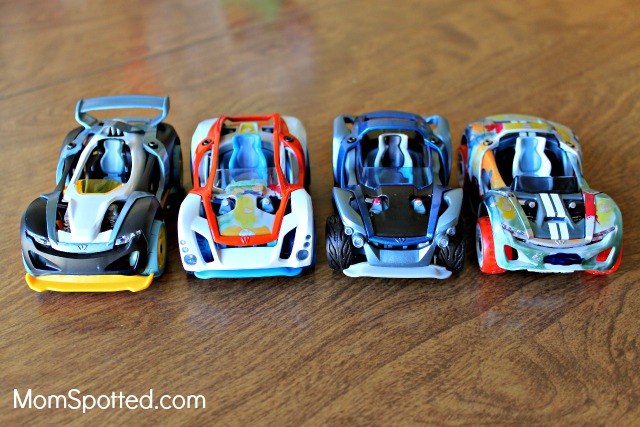 The DIY car gives Hayden even more options to customize and use his imagination for the kind of car he really wants. I busted out my nail polish for him, and the tiny brushes worked perfect for the car. He painted that little car forever! He put so much thought and detail in it.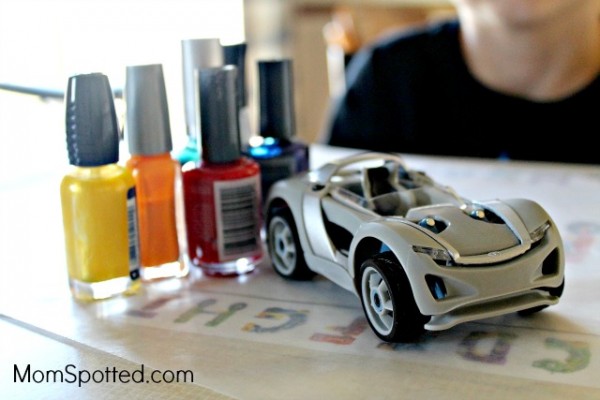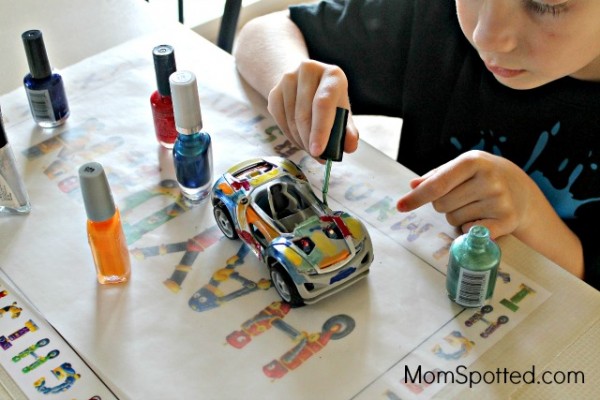 He kept saying "Mom this is so fun!" "Mom this is so cool! Do you like my car?" "I want a car like this when I can really drive!" It was so fun watching him create, and be so excited about it. He is so proud of his custom paint job, and likes to show it off to all his friends that come over to play.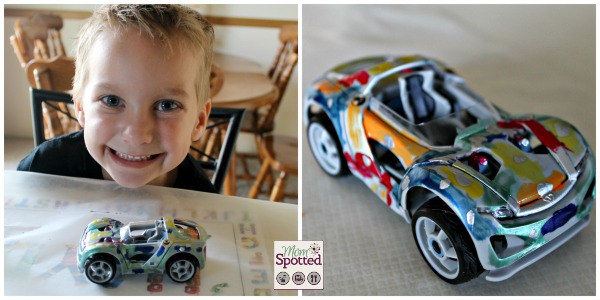 Hayden has LOVED these toy cars, and is already planning on giving one as a birthday gift to one of his friends. They really are so fun to drive around because of the suspension feature, and how easily they turn. Each car is $19.95. The three-pack of S1, X1 and T1 vehicles (all colored differently than the single versions of those cars) are also available at $49.95. Modarri cars would make the perfect holiday gift. Any car lover young or old would love breaking down, rebuilding, and then driving these little cars around.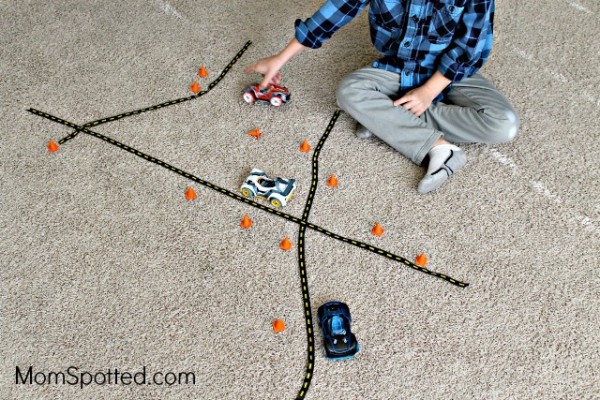 Right now one (1) Mom Spotted readers has the opportunity to win ONE (1) Modarri car(T1, S1, X1, or the DIY car valued at $19.95)!! To enter use the Rafflecopter form below. Good Luck!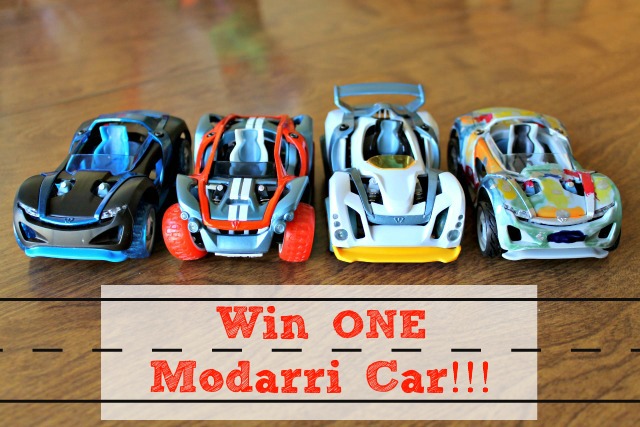 Contest ends 11.24.14 at 11:59pm. For Official Giveaway Rules click here. U.S. Residents Only.