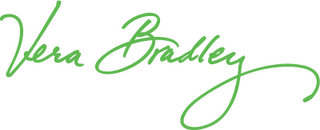 It wasn't until this summer that I started my Vera Bradley Collection. I was in Mystic, CT and walked into this small little store and from top to bottom they had an entire wall of Vera Bradley Bags. It was there when I purchased my first bag in the Purple Punch. From there I wanted more. When I went to BlogHer I was super excited when I found out the The Product Review Place had swag bags and the bag itself was sponsored by Vera Bradley! Ever since then I've been regularly using my Vera in Very Berry Paisley. It has been a great bag since it can easily fit everything I need to bring with me right down to my big camera. I brought this as my only bag when I visited Las Vegas last month and it was perfect for me!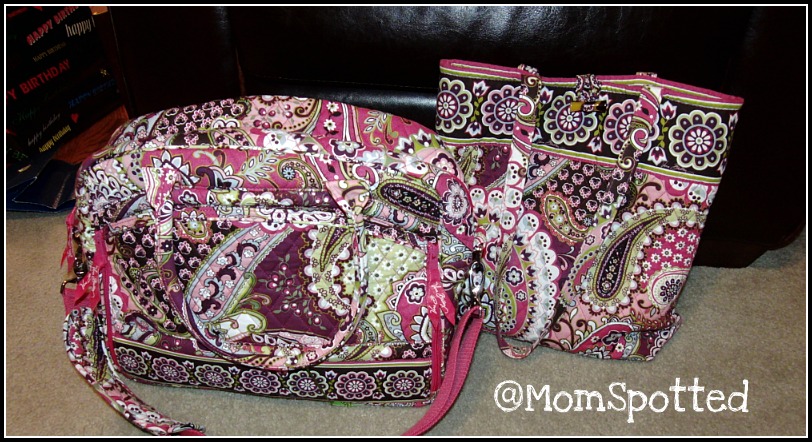 So when I found out I was going to be able to review their brand new Metropolitan Bag I was thrilled!
Our stylish Metropolitan bag is organization on the go. Store your laptop (up to 15″*) in the padded sleeve inside, where there is also plenty of room for folders and notebooks. A front compartment holds pens, your ID and small items while a zippered pocket on the back is great for a wallet or planner. For the true jet setter, a rear open slip pocket allows the bag to slide over the handle of your rolling luggage and go along for the ride. *Laptops are measured on a diagonal, from the bottom corner of one side of the screen to the upper corner of the other.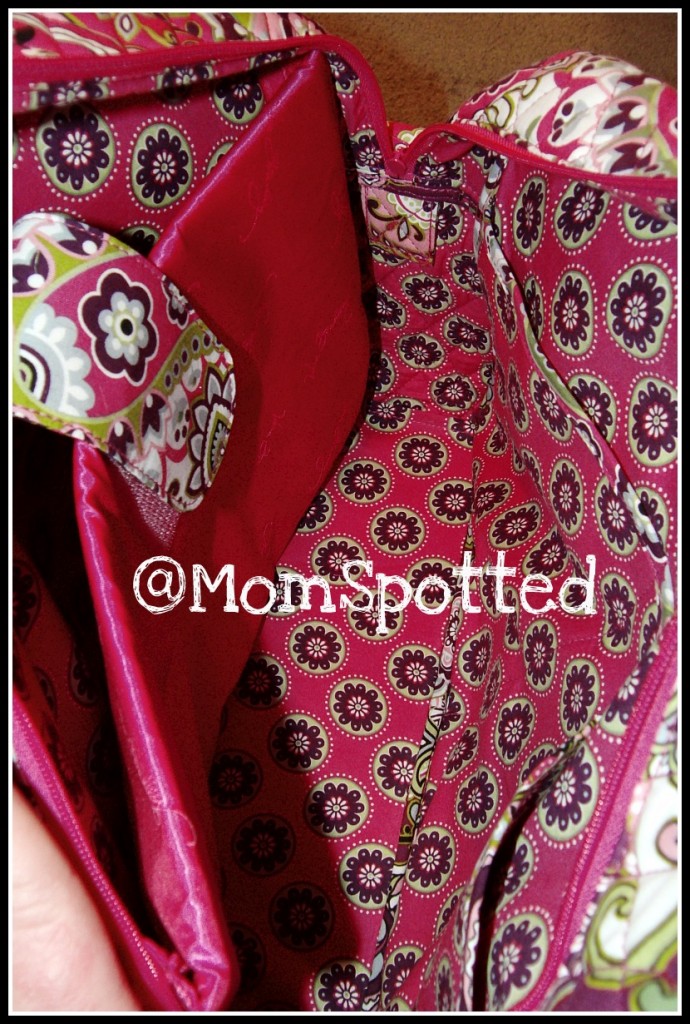 When it came in I was immediately in love. This bag has SO many pockets and organizational spots. What I really loved was that their is a spot to hold a small netbook or perfect for an iPad which is on my Christmas list this year. I even tease my Hubby with the bag that its sad because it is empty right there and it needs an iPad to make it complete! It also has deep good storage area for everything else you need to carry around. It also has two good size pockets on the inside.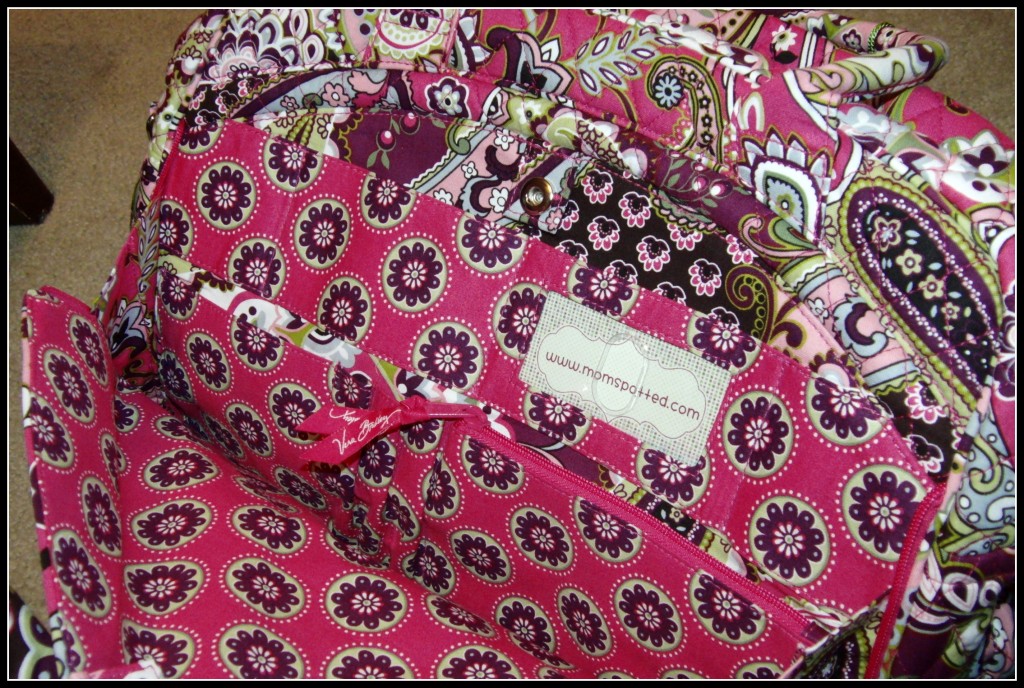 On the front of the bag there is a huge inside "wallet" area. You can store everything you regularly need to take out on a regular basis. There is a spot for your ID, a change purse, pen holders, and two small pockets. I love that is unzips on the side to make it even easier to access by opening it up more. When you're not using it it also can snap close for added security.
If that wasn't enough for the outside there is another huge zippered pocket on the backside! My favorite part about this bag is that it really is the ultimate bag for your carry-on travel bag as it even has a slot behine the zippered pocket to slide over a suitcase handle so you don't even have to carry it if you need your hands to be free for other things. If you look at the picture I wrote "suitcase slide" in that spot.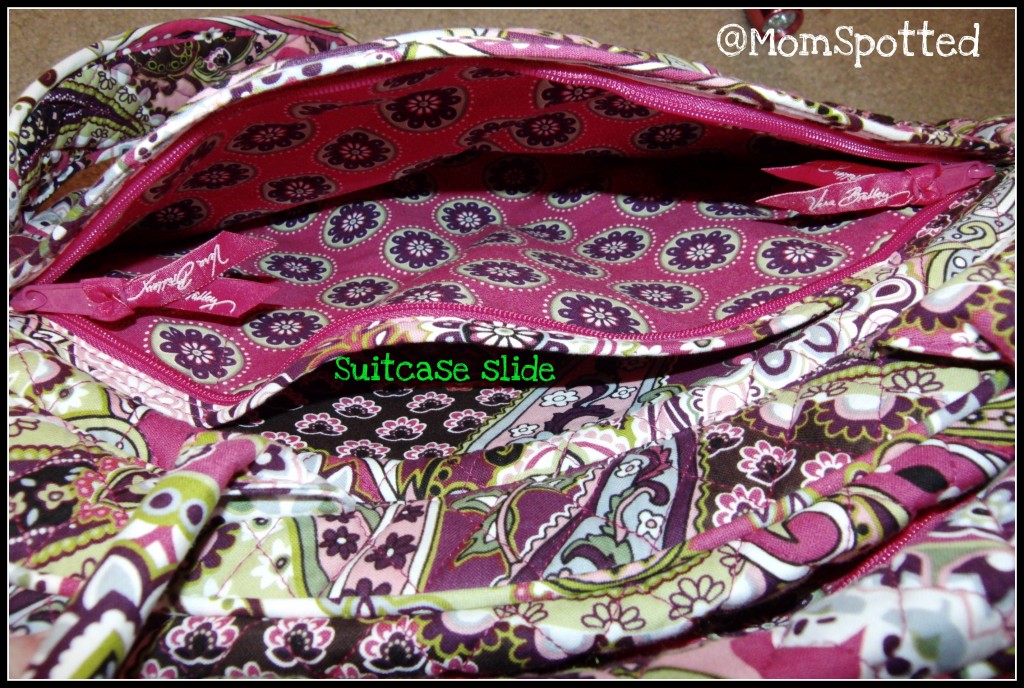 Speaking of carrying this bag you can use the regular hand straps or the 53″ removable strap so you can carry it over your shoulder.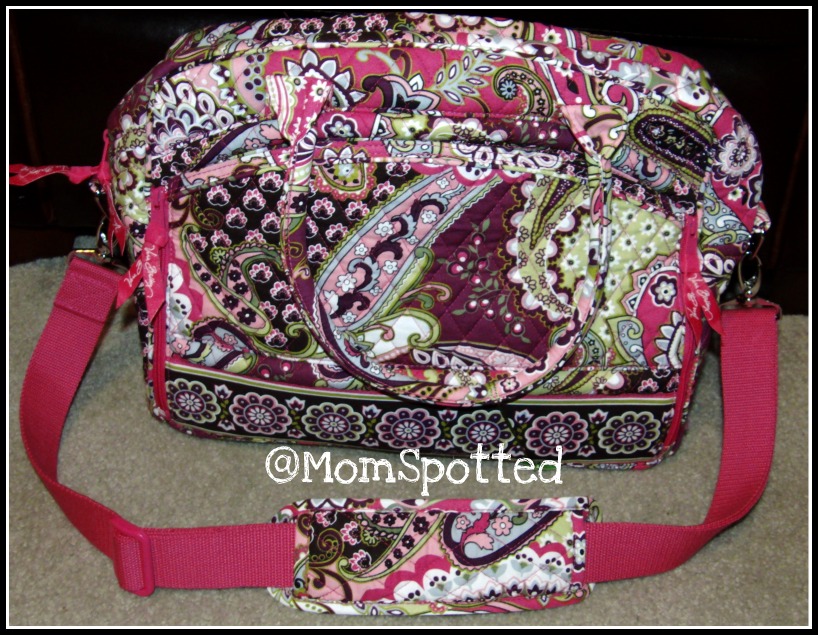 The Metropolitan Bag is really the ultimate bag for travelers, students, teachers, and more! It helps keep all your info organized. I am so happy with this bag! Of course this bag is like all other Vera Bradley bags and every detail is looked over and nothing is left untouched. Every zipper has a signature ribbon too! There are many "fakes" out there but the moment you touch or see an original you know why they could never compare to a true Vera Bradley Bag!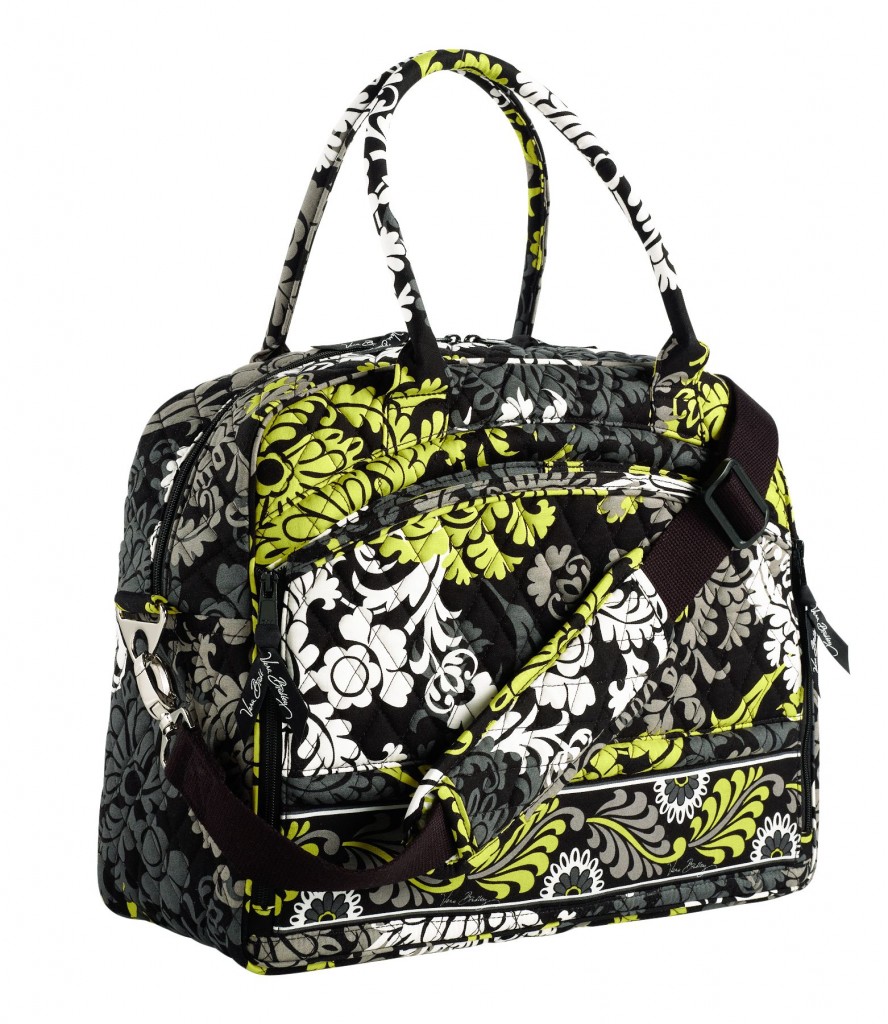 Mom Spotted Review Policy: I was provided with the featured item(s) at no cost by the manufacturer and/or its PR agency in order to test the products abilities and give my own personal opinions on it. The opinions I have given are mine and may differ from others but it was not influenced in any manner by monetary means.