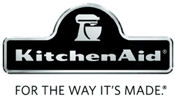 Kitchenaid. Do I really need to say more?
Okay for the sake of this post I do but in general, no. We all know the Kitchenaid brand. We trust the brand. It's a brand that our moms used, and in many cases even our grandmothers used. You can walk into almost any home and see a Kitchenaid Stand Mixer sitting on the counter. If they don't, they want one. I know even when I was still living at home as a kid I always wanted my own Kitchenaid mixer.
When I went to the Real Whirled House in August for Whirlpool was when I first laid eyes on the NEW 7-Quart Bowl-Lift Residential Stand Mixer. The kitchens were graced with the latest and greatest from Kitchenaid and this mixer definitely had us all gawking.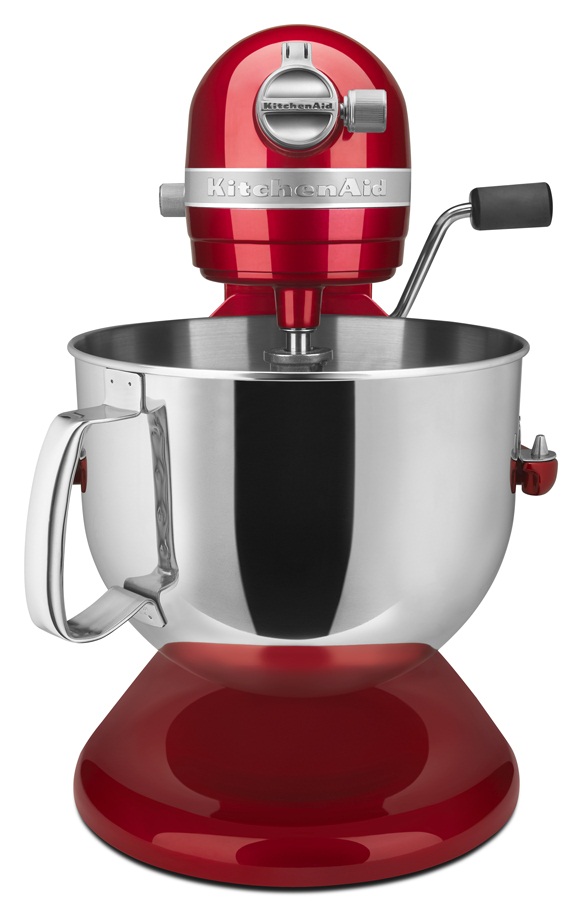 When I found out I was able to review one I about died and gone to heaven. The time it took to get to my doorstep was like a kid waiting for Christmas to come and it was only New Years. But when it came I was thrilled. I even posted this picture on facebook b/c I was jumping up and down with excitement!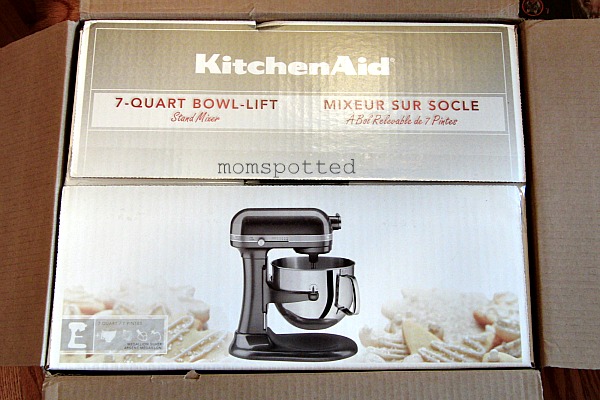 I already had a fairly new Artisan stand mixer that we replaced after the fire. There were only two things I turned to tell my husband that weren't debatable about replacing and my mixer was one of them. I don't use it for all my mixing needs because some things are just easier with a hand mixer but I'm a firm believer in owning both. We recently actually blew our hand mixer because I should have been using a stand mixer and now I have to find a new replacement.
As you can see the 7-Quart Bowl-Lift and the Artisan Tilt-Head are both beautiful but I wanted to take a picture of them next to each other so you could see the size difference. I was expecting the 7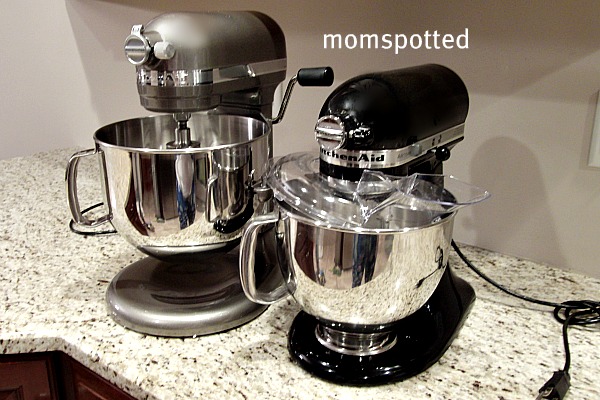 The bowl is clearly a lot bigger. I really like this because while year round I may not need the bigger bowl but this time of year I make a lot of double and triple batches and this is going to be able to handle it all. You'll be seeing me use this on multiple recipes I use throughout the month and just how much it can handle.
KitchenAid's Best Performing Stand Mixer
• Our Most Powerful, Quietest Available – 1.3HP high efficiency DC motor is
designed to run longer and delivers optimum torque with less he at build-up.
Easily handles recipes requiring longer mixing, kneading and whipping times.
The all-metal, precise gear design produces a smooth, quiet sou nd.
• Our Longest Lasting – Designed for long life of high performance;
backed by 2 year hassle-free replacement warranty.
• Our Most Efficient – Advanced feedback control
communicates in micro seconds to the motor
to ensure optimal power is delivered to the bowl.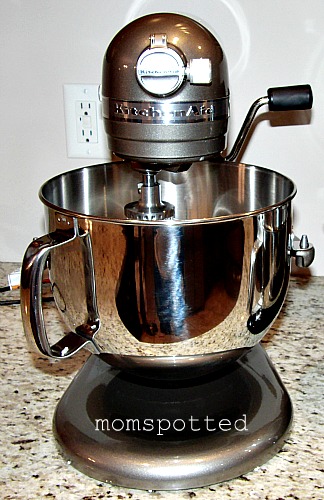 Largest Capacity Residential Bowl-Lift Available 7-Quart (6.6 L)
• Handles 8 ½ lbs of mashed potatoes,
8 ½ loaves of bread, 14 dozen cookies.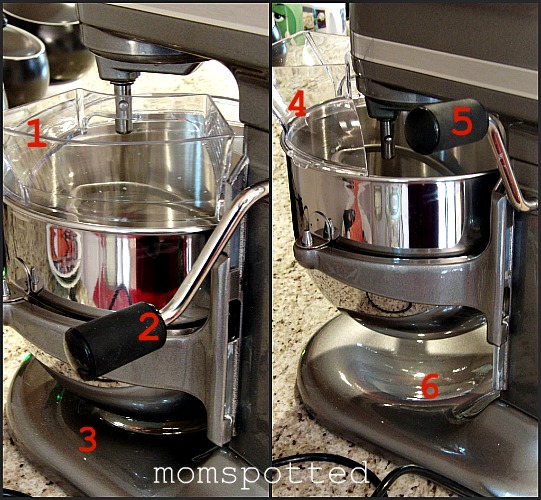 Below you can see this bowl in both the up and down position. The left side is down and the right side is up. When the bowl is in the up position you must have the pouring shield in front (#4). Unlike the Artisan the bowl comes right off and meets the head instead of the head tilting back. I'm still getting use to the difference as I'm used to tossing the head back when down. Bringing the bowl up and down is super easy it's literally just a half turn up or down to move the bowl. The bowl literally just sits in the side pins and you pull to release it. It will take you a minute the first use but you'll quickly learn how to do it.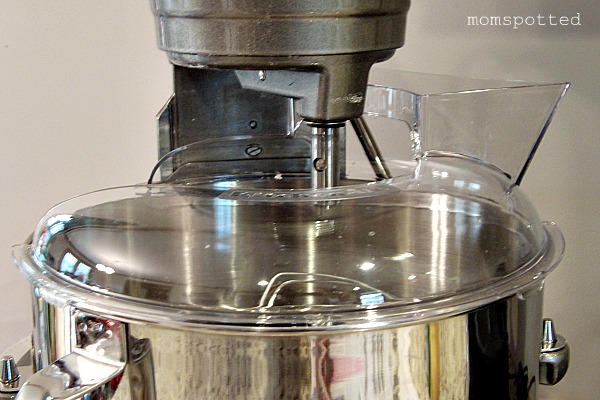 Dishwasher Safe Accessories:
Maximize bowl coverage with the stainless steel 11-wire Elliptical Whip, coated metal Flat Beater and Power Knead™, Dough Hook. Handles small and large jobs equally well.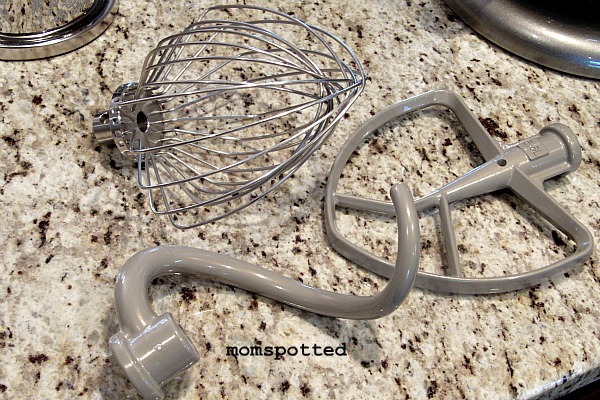 You can decide how fast you want your mixer to go. Remember if you working with your dough hook you can only use it on speed 2. The knob just glides back and forth easily and clicks into place. Super easy.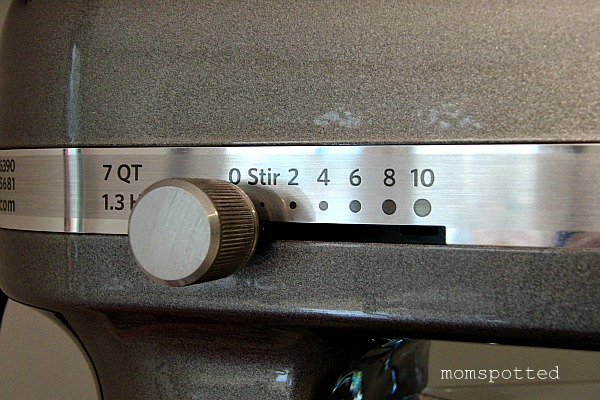 I've never had any attachments for any of my machines but I've been looking at a few recently. I had a chance to really check them out when I visited Kitchenaid at the Chicago Housewares Show. Some of them are incredibly impressive.
Professional-Style Attachment Power Hub
Fits all current KitchenAid® attachments and future larger capacity commercial style attachments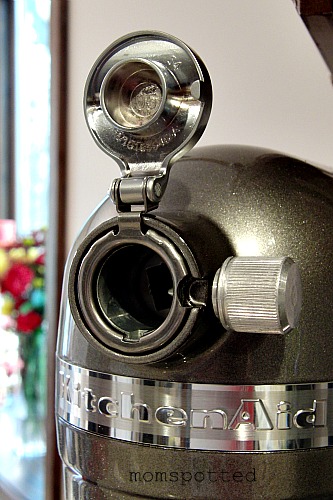 This KitchenAid NEW 7-Quart Bowl-Lift Residential Stand Mixer is rather impressive, wouldn't ya say? It's available in Candy Apple Red, Medallion Silver, and Black Storm. The one pictured here is the Medallion Silver.
How would you like one for yourself?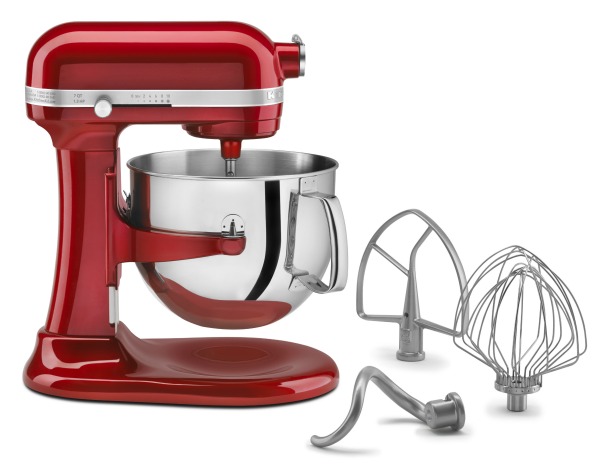 Mom Spotted Review Policy: I was provided with the featured item(s) at no cost by the manufacturer and/or its PR agency in order to test the products abilities and give my own personal opinions on it. The opinions I have given are mine and may differ from others but it was not influenced in any manner by monetary means.