This shop is part of a social shopper marketing insight campaign with Pollinate Media Group® and Sharpie, but all my opinions are my own.  #pmedia  #StaplesBTS http://my-disclosur.es/OBsstV"
I love school supply shopping. I know, I'm a geek for supplies, but there's something about the Back-to-School season that gets me all excited to not only stock up on my supplies and the kid's list but also a time for me to build a stock of supplies that we can donate to the classroom. We usually save it for the holiday season, but since all the supplies aren't on sale anymore, we make sure to stock up on as much as we can now.
This year I grabbed all the same supplies but thought maybe my typical supplies in a milk crate approach needed some work.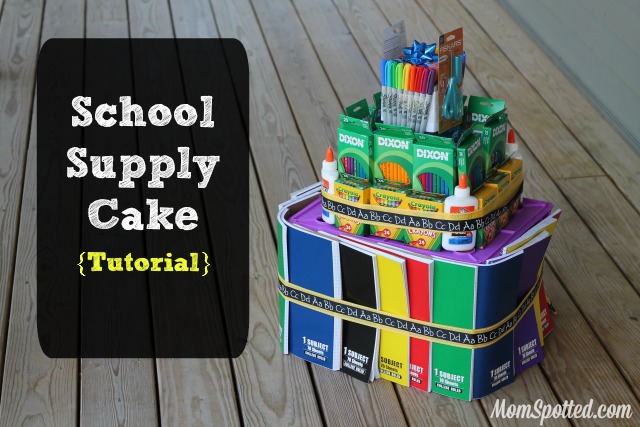 For the base of my School Supply Cake, I wanted something that was still basic and still functional. I always use milk crates since they can be used so many ways. This time I just flipped it over. If I were to do this again, I would also slide in a piece of something sturdy underneath to help commute it later.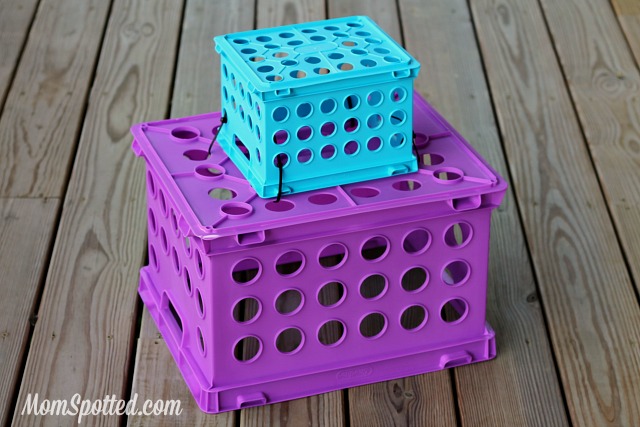 I used zip ties to attach the milk crates.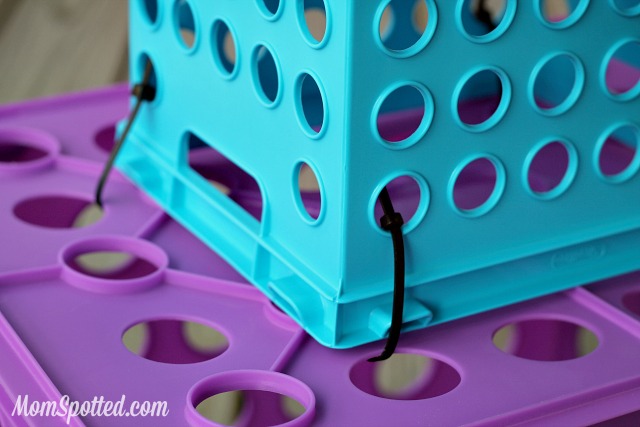 Then began building. You will want to play around and see what fits. I found that I couldn't always use the same number of supplies on each side all the time. For the middle layer, I used ten boxes of pencils, 12 boxes of 24 count crayons, and four bottles of glue. This layer wasn't difficult to build since it was flat and the bottoms of the supplies were too.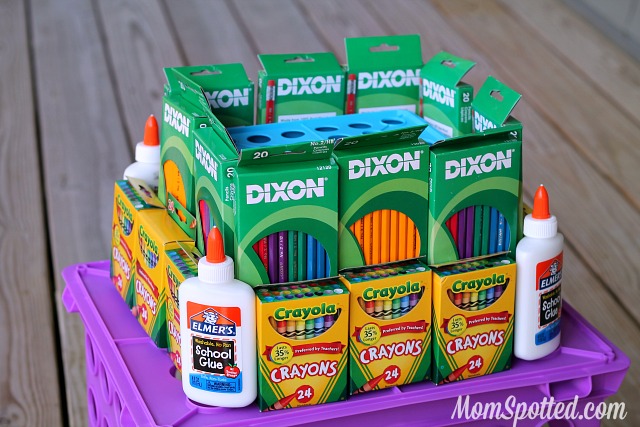 For the lower layer of the School Supply Cake, I used five notebooks per side. I found it was helpful to have someone else help secure the ribbon around once you laid out all the notebooks. I simply stood them up against the crate and then even spaces them out. The 5th notebook then curves around the corner to keep the pattern going. Don't worry about the notebooks being bent. If the teacher puts the four corner notebooks on the bottom of the pile, they will flatten from the weight of the others.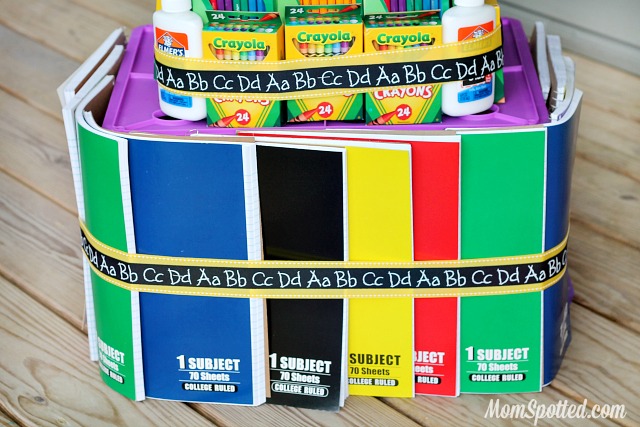 I couldn't find a ribbon that I loved so I took two I liked and stapled them together. I also used my stapler to staple the ribbon together at the ends so it would have clean lines all the way around. This helps so there is no real backside to your project.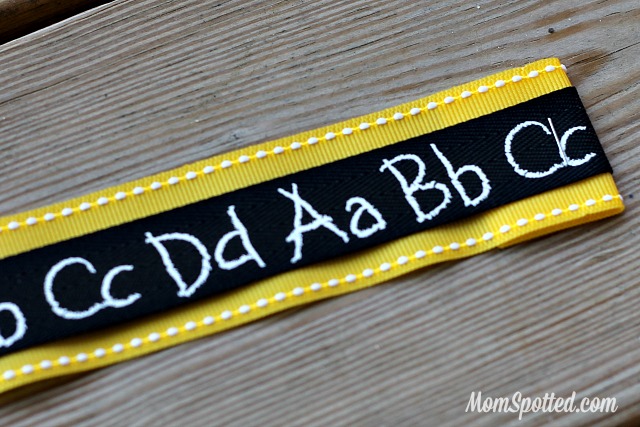 For the final layer, I used tissues, classroom scissors (x2) and Sharpie markers. Originally when I first made this, I use two regular boxes of tissues as I shared here on my Instagram but I just wasn't feeling it and ended up changing my top tier to include on the square box of tissues. I picked out which colors of Sharpies I wanted to include and the laid them out how I wanted them on the box. I laid clear mailing tape over them and then secured the sides over index cards. I did the same with the scissors and then attached them around the tissues. The whole goal was not to make it so the tissue boxes would be damaged when you ripped the tape off.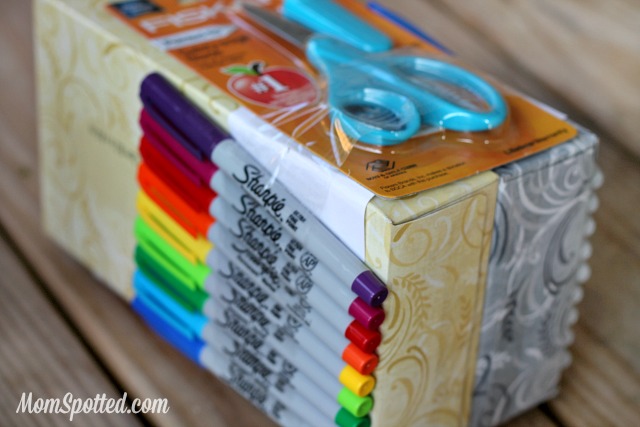 It also made changes super simple. I was able to just slide in a square box of tissues that I thought looked much better!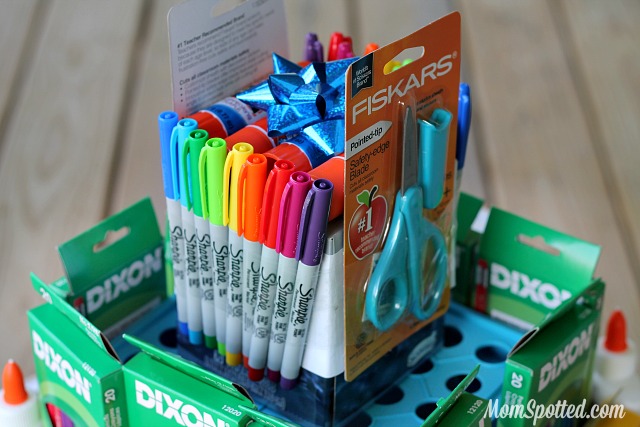 There was space that perfectly fit four jumbo glue sticks across the top. I then grabbed a bow from my wrapping stash and finished it off.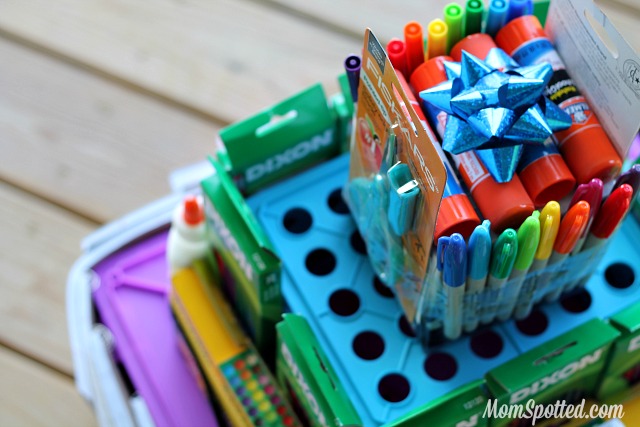 Didn't the School Supply Cake come out great?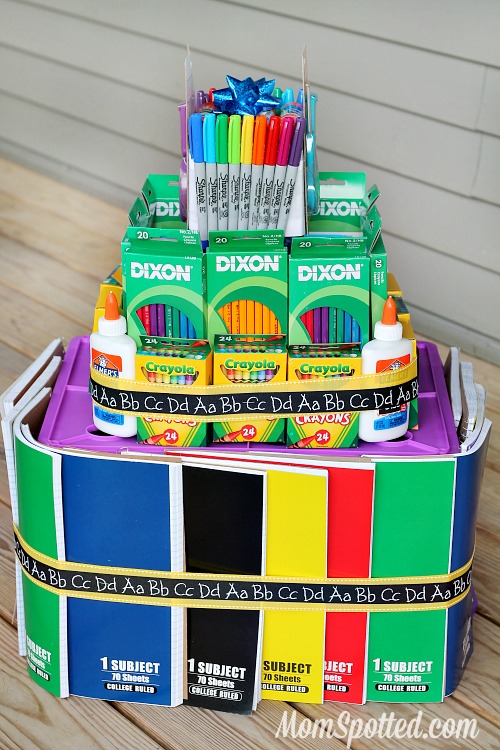 When I built this, I tried to use supplies that were requested already in the student lists. I know these items are already needed in the classroom, so it's a great help. I also wanted to include in items that weren't on the list but I knew would be appreciated.
Like Sharpies. Oh, how I love Sharpies. The other day I stopped in at Staples and stumbled upon this. Have you ever seen such a thing of beauty?
I love Sharpies and use them for everything. I have little hiding spots where toddler hands can't reach them, all over the house, so one is never far. My favorites are the Sharpie Fine and Ultra Fine markers and highlighters, and right now they are on sale while supplies last at Staples!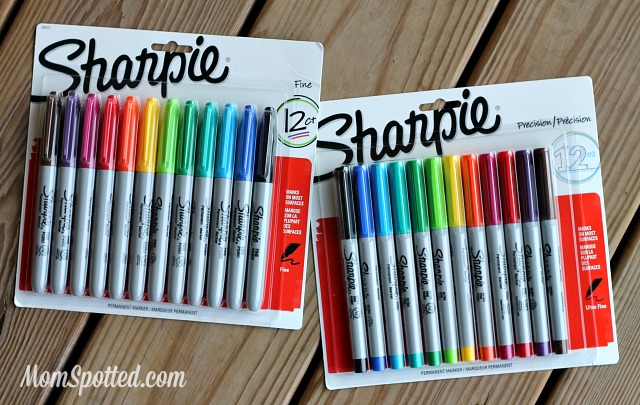 What fun ways do you get in the spirit of school supply shopping?