My kids and I spend the majority of our time outside.  The weather is just to gorgeous not to!  I am always looking for new fun toys, games, and activities for my kids and our family to play outside.  I have really great memories of playing outside and pulling around my little red metal wagon from Radio Flyer.  I loved that thing.  I loved pulling it everywhere with all my stuff, and I loved riding in it.  Now my kids can have their own memories with Radio Flyer.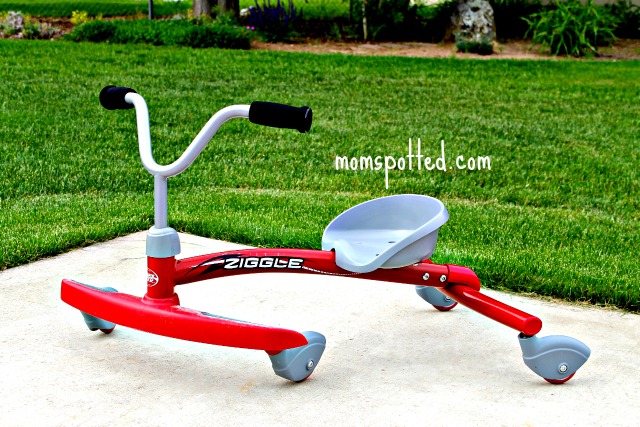 Radio Flyer has a fun new ride-on toy called the Ziggle.  It has been hard to get Hayden off of it to come inside to eat because he loves it so much!  To use the Ziggle all he has to do is sit down, and move the front back and forth.  He uses both his arms to pull, and his legs to help push to make the front wiggle.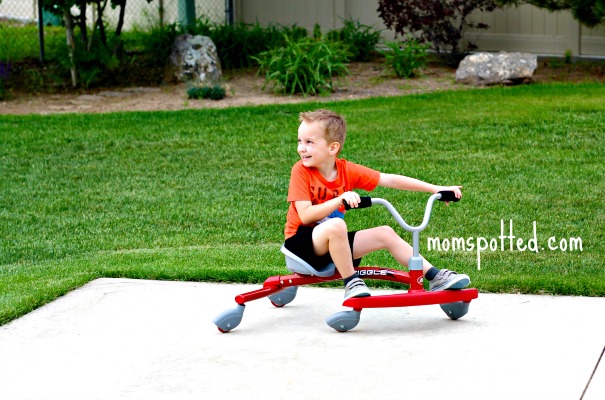 He gets going really fast on that thing!  Also if the Ziggle is pulled quickly to one side it will make a 360 degree spin!  Here is a video so you can see the Ziggle in action:
The Ziggle was really quick and easy to put together.  Hayden helped my husband put it together in about 15 minutes.  The Ziggle rides, and glides really smoothly because of the four caster wheels.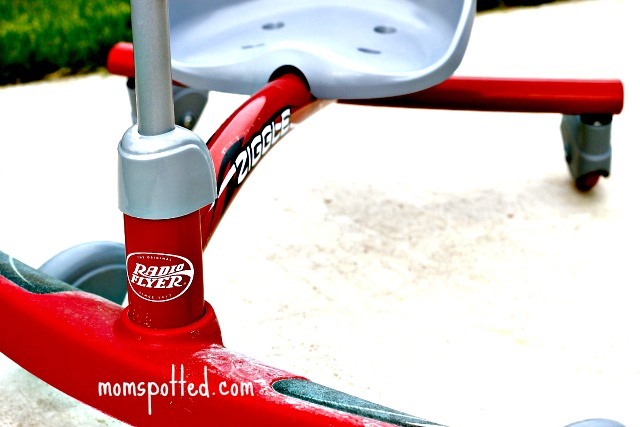 The frame is made of steel and is well made like all Radio Flyer products.  I especially like that the seat is adjustable so it can grow with my kids.  It is made for ages 3-8 years old.  There is grip tape to help keep Hayden's feet from slipping so he can go really fast.  The handle bars also have comfy padding.
Radio Flyer is also a really fun company.  Last week they presented a darling family from Lawrence, KS with a $10,000 check for their winning entry in the "Little Red Story" contest.  Entries from coast-to-coast poured in, sharing moments of joy, laughter, grass stains and outdoor play, but in the end it was the story of three-year-old Amare Dawit of Lawrence, Kansas that clinched the grand prize.  Amare's contest entry was called "Mama Sit!"  You can see the video HERE!
Hayden has had a blast on the Ziggle!  He pretends it is anything from a race car to a horse that he is racing to the finish line.  I love that the Ziggle is such a great form of exercise, and has kept him outside playing and imagining.  He has wiggled his Ziggle on our family walks and we have taken it to the park.  It is such a fun outside toy, and I know it will last us a long time.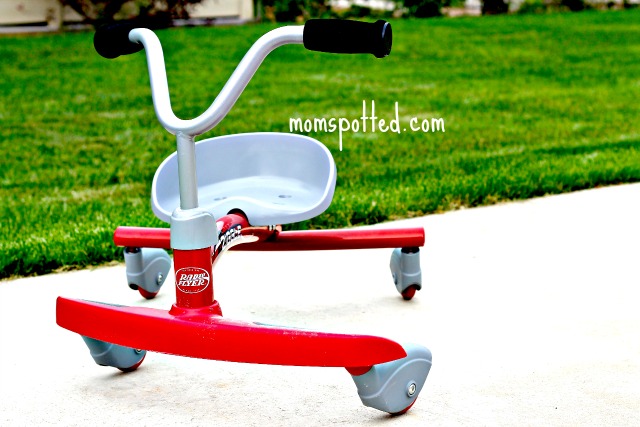 The Ziggle is available at Toys 'R Us, Walmart, Target, and RadioFlyer.com.  It retails for $49.99.  Right now it is on sale through on our affiliate Amazon for $39.99!  This would be such a fun birthday gift and is the perfect outside toy for your kiddos this summer!