In the past two or three years I have been really aware of the chemicals that come into my home.  I try and buy organic food when I can.  I have kicked all processed garbage to the curb.  I make most of my cleaning products or I only use ones with natural ingredients.  When it comes to make up and other body products I don't know why it never dawned on me that they would be full of harmful ingredients as well! 
I was so glad to learn about the company Keeki Pure & Simple.  Keeki also discovered that there are so many harmful chemicals in products that we put on our skin daily.  Keeki provides healthy and safe cosmetic, and body products.  Did you know that our skin absorbs up to 60% of what we put on it?  My skin felt like it was literally crawling when I learned what the ingredients were that I was putting on my skin.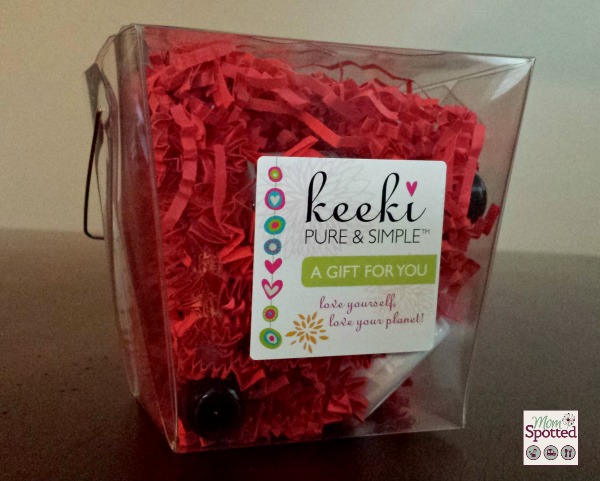 I was so excited to try Keeki's Spicy Gift Pack.  It came with a bright red polish called "cherry pie."  The spicy gift pack also came with a base and top coat nail polish, nail polish remover, and a shimmer stick.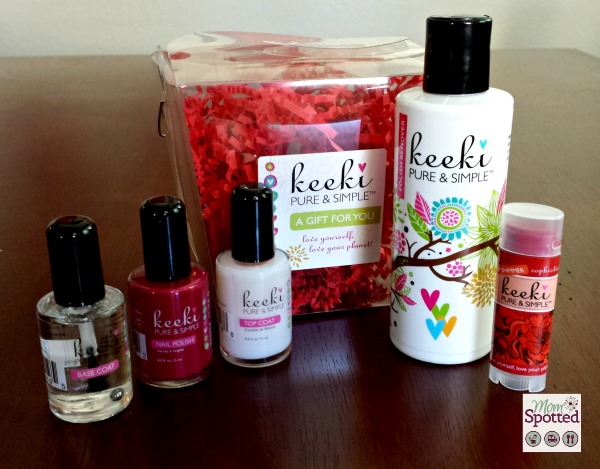 Keeki nail polish is 100% biodegradable and is completely non-toxic, gluten-free, free from phthalates, formaldehyde, and toluene.   I love knowing I am not putting anything toxic on, and it is free from chemicals.  All the nail polishes go on smooth and "cherry pie" is such a fun vibrant red!  It has a little bit of shimmer and was the perfect color for the holidays.  It has lasted a really long time as well!  I thought it might chip easier than other polishes, but it has stayed nice and chip free.  I am officially addicted to Keeki nail polish.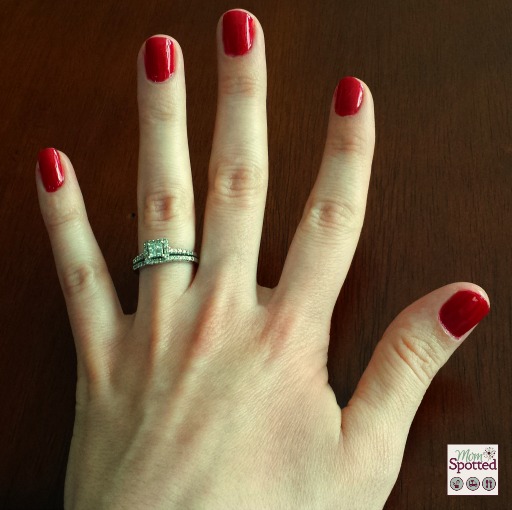 You all know that awful smell of nail polish remover.  I have hated it for years.  I have to be in a big open space if I am ever removing my polish.  But Keeki nail polish remover smells so, so good.  Never in a million years did I think I would find a nail polish remover that smelled good.  It smells like coconut and is free from acetone.  Instead it contains aloe vera and vitamin E to condition and protect my nails and cuticles.
The shimmer stick that comes in the gift pack has been a fun surprise.  I don't wear much lip stick or anything.  Chapstick in the winter or a  little colored gloss every now and then if I'm going out.  The keeki shimmer stick in the spicy gift pack is called "sophisticated."  It is red with a little bit of shimmer just like the polish.  My lips soaked up the moisturizing goodness.  I also really like that it added just the right amount of color and shine to my lips.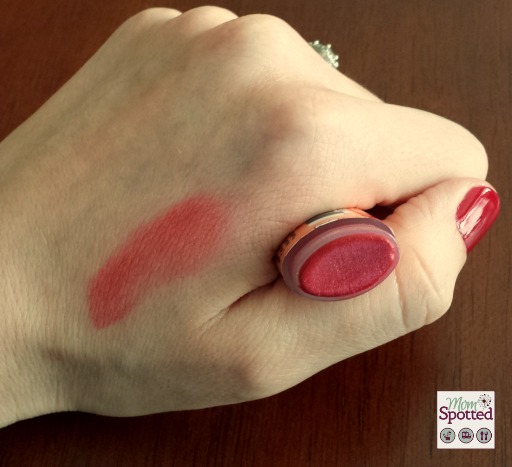 Keeki will now be my go to gift for all the women in my life.  I know my mom, sister, and friends will love Keeki's products as much as I do.  I can't wait to try more colors of both the nail polish and shimmer sticks.  When I was pregnant with Halli I dreamed about about all the fun girly stuff I could teacher her.  I can't wait to paint her nails and have matching mommy daughter toes.  With Keeki's nail polish I won't have to worry about what I am putting on either of us since it is all free from harmful chemicals.

Keeki pure & simple also has body lotions, sunscreen, a cuticle rejuvenator, lip balms and a TON of different colors of lip shimmer sticks and nail polish.  They also have a bunch of gift pack options that would make great gifts.  You and the littlest ladies in your life will love Keeki's products and have peace of mind that they are safe, free of harmful chemicals, earth- friendly and animal-friendly.
Right now one (1) Mom Spotted readers has the opportunity to win a Spicy Gift Pack. To enter use the Rafflecopter form below. Good Luck!
Contest ends 01.27.14 at 11:59pm. For Official Giveaway Rules click here.