We go through a lot of batteries each month. It seems like every toy the kids like requires them by the handful. The problem is that now we have a toddler in the house again and at 19 months old he's hit that stage where he's into everything. We are constantly reminding the boys that they need to be really responsible when it comes to taking them out both before and after.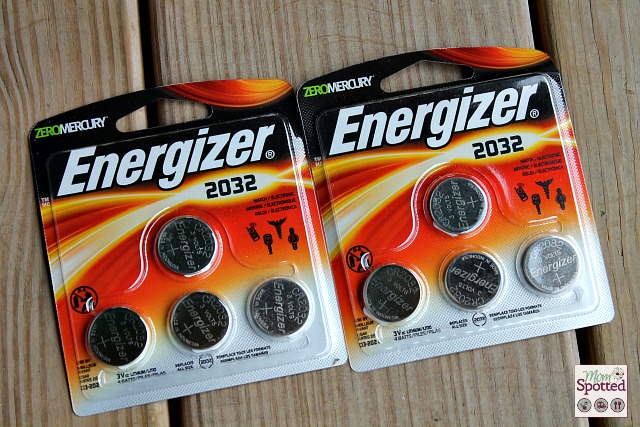 Luckily, Energizer also thinks about our children's safety when it comes to their packaging. They've gone above and beyond to make sure that they have packaging that deters small children from getting into small batteries they could easily choke on if swallowed!
The 4 S's of Coin Lithium Battery Safety
Store devices that use coin lithium batteries out of reach of children
Secure the battery compartments of devices
Select battery packaging that meets federal guidelines for child resistance, such as Energizer's coin lithium battery packaging
Share this information with your friends and family
Energizer led the industry by being the first to voluntarily develop packaging for its 20 millimeter coin lithium batteries that meets the Consumer Product Safety Commission's (CPSC) strict guidelines for child-resistant packaging.  They also developed a national awareness campaign in partnership with Safe Kids Worldwide called The Battery Controlled, which works to alert parents and caregivers to the dangers of swallowing coin lithium batteries. Identifying ways its products can help keep families safe is part of the Energizer commitment to designing its products with people in mind and investing in programs that have a positive impact on the world. that's positivenergy™
If it is suspected that a child has swallowed a coin lithium battery, it is important to go to the emergency department immediately. For more information on child safety and coin lithium battery safety, please visit nsc.org, www.energizer.com, TheBatteryControlled.com and www.poison.org/battery.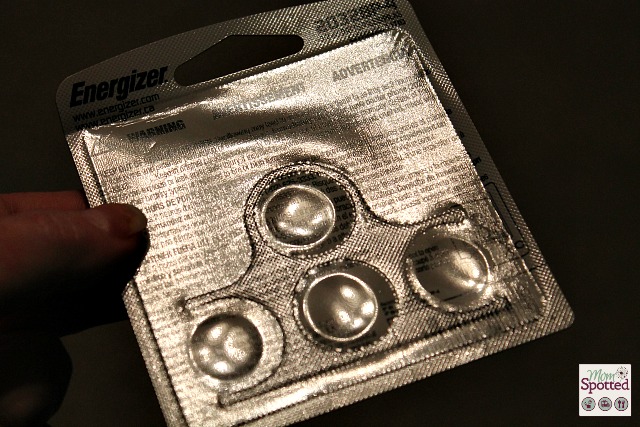 Energizer sent us a package of their batteries and a package of their competitors to see the difference. Energizer was the only one that had plastic on the entire packaging. The other brand? They had cardboard. Cardboard in a child's mouth as we all know easily falls apart. When the cardboard was gone we were left with little plastic circles just as easily be swallowed as the battery. Not Energizer though! Energizer has their packaging set up so that it's one big piece of plastic and you go into the set circles and individually cut out each battery. Even when you are down to your last battery you still have a good sized piece of plastic around it making it so your toddler can't get into it. Energizer definitely won when it came to child safety!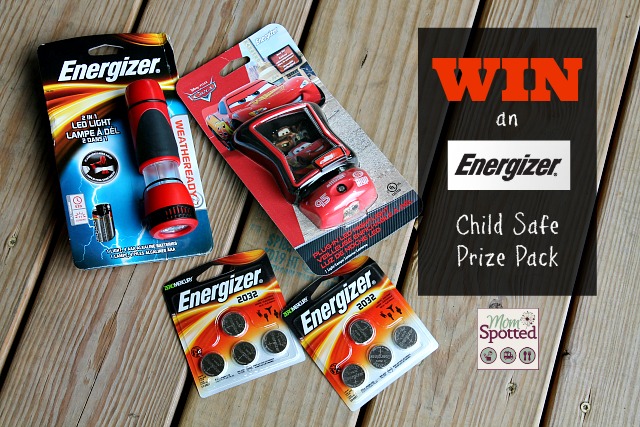 Right now one (1) Mom Spotted readers has the opportunity to win an Energizer Prize Pack. Prize Pack will consist of:
One (1) Energizer LED Nightlight (winner's choice between Sleeping Beauty or Cars)
One (1) Energizer Weatheready 2-in-1 LED Light
Two (2) packages of Energizer Coin Lithium batteries
 To enter use the Rafflecopter form below. Good Luck!
Contest ends 10.28.13 at 11:59pm. For Official Giveaway Rules click here.