We spend a lot of time outside. Even with the cooler temperatures we're enjoying the time we have home. The summers get so busy that it often seems like we're maintaining our yards but never around much to enjoy them. So when September rolls around and the obligations slow down we like being able to putter around the house and finally get a lot of our projects done. One of our newest additions to our yard are this set of 2 LED Solar Lanterns from Plow & Hearth.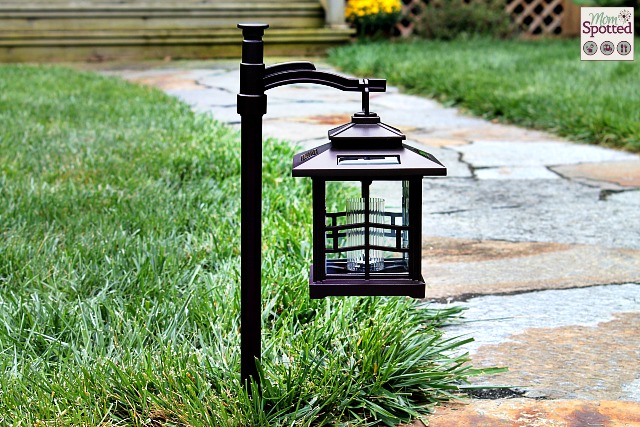 These caught my attention only minutes after poking around on their site. I knew immediately how great they'd look in my yard and knew the perfect spot for them. I really liked the finish and knew it's dark color would look nice against all the stone we have.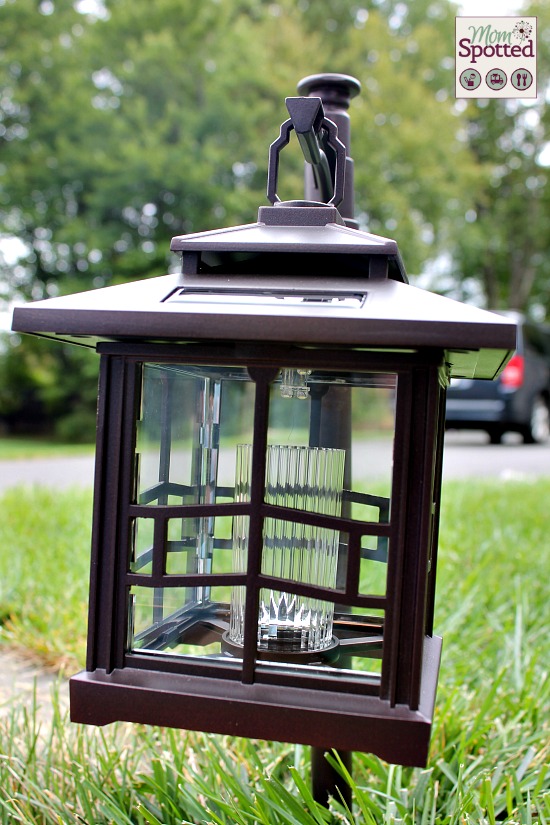 These high-quality LED Solar Lanterns with Shepherd's Hook/Ground Stake can be used three ways: hang them from the included shepherd's hook; mount them on the ground stake portion; or place them tabletop, on stairs and more. So versatile – use them anywhere! Charge them in the sun and then place them wherever you need safety lighting, ambiance or to make a path. These lanterns feature a handsome mission-inspired design, quality-crafted from all-weather aluminum with a rich bronze finish. Bright LEDs shine for approx. 8 hours at night on a full charge.

• Set of 2 LED aluminum solar lanterns with hanger/stake
• Versatile design so you can hang, mount or place on a flat surface
• Handsome mission-inspired design
• Quality-crafted of all-weather aluminum with a bronze finish
• Bright LED lights shine for approx. 8 hours on a full day's charge on sunlight
It has several LED sensors on the top so you know it will grab up all the sun light from every angle possible. The little round dot is the sensor and it has to be pretty dark for them to trigger which I like.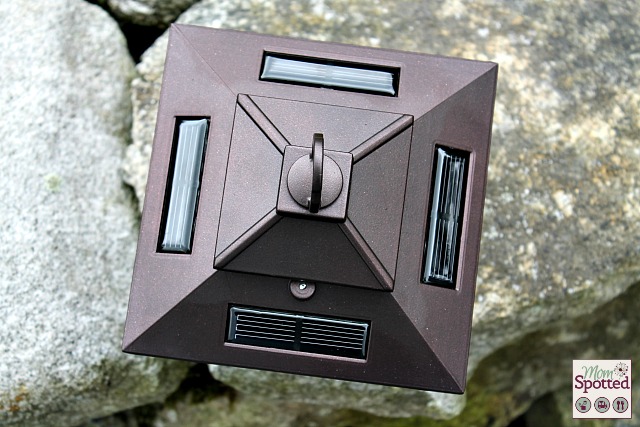 Here's the part that made me LOVE them. You can use them in multiple ways. You can use them as regular lights like on the site by screwing them on the ground stakes or hang them like I have them off the shepherd's hook so you can make them mobile.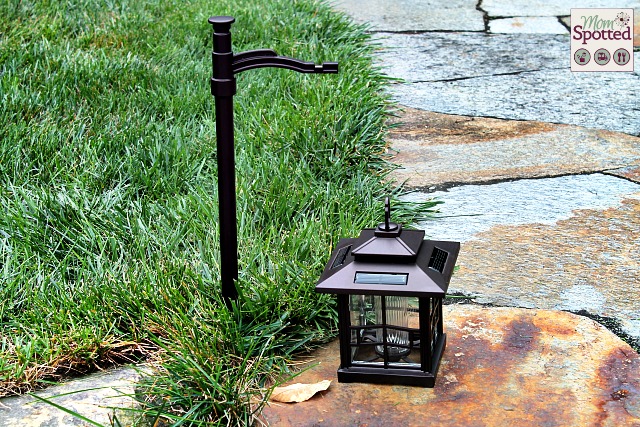 They are super simple to grab off as they just hang in the groove on the hook. I often forget to go check the mail box until it's darker and love that I can just grab a lantern and walk down and have light with me.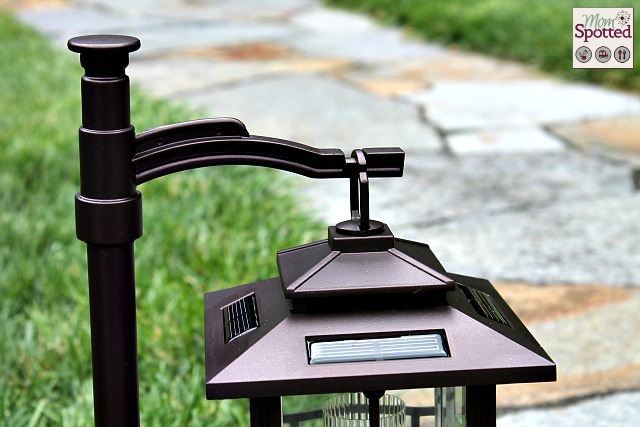 If for some reason the LED didn't get enough light or power for you there is always the option to use a battery.
She how bright these are? Love it!!!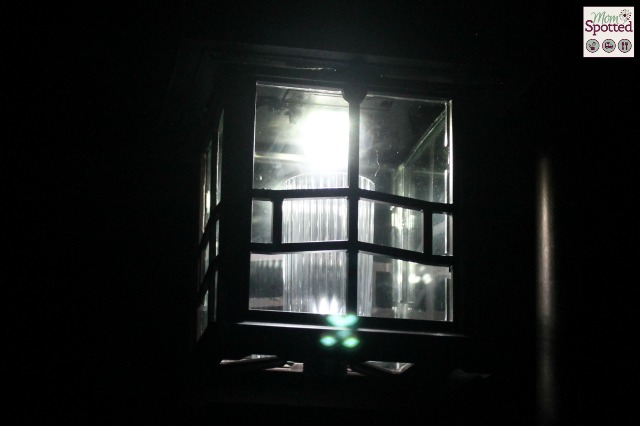 To give you an idea on their size here's a picture of Sawyer messing with them before we had them firmly in the ground.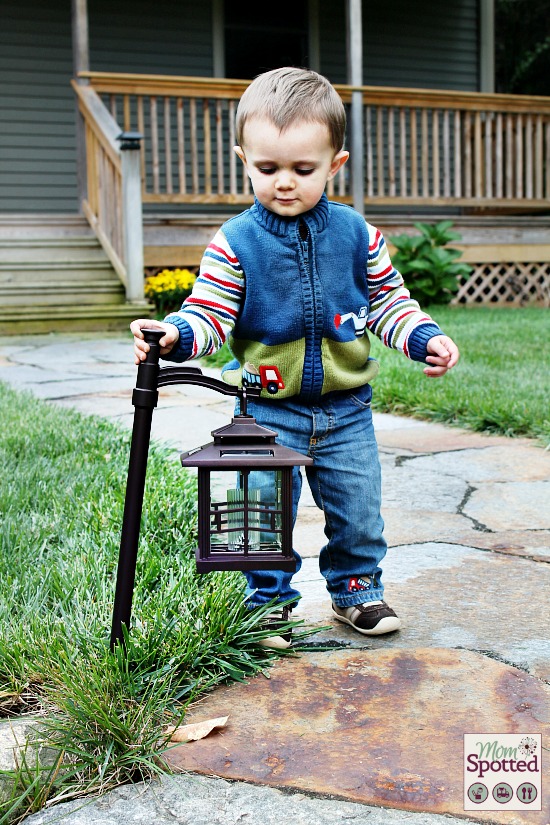 Don't they look stunning next to that stone walkway? I love the final finished look they give. These are gorgeous and the quality is great!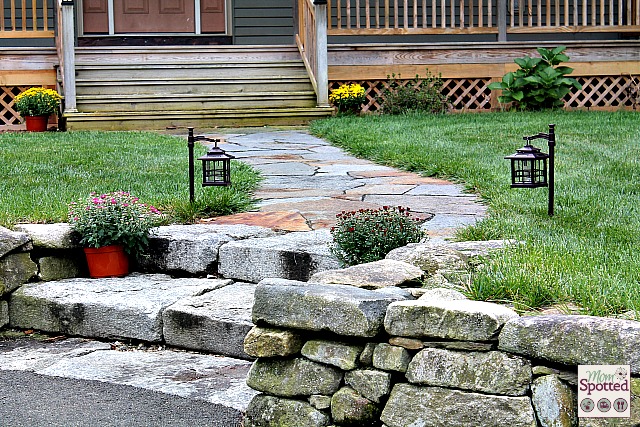 Right now one (1) Mom Spotted readers has the opportunity to win a $50 Gift Card to Plow & Hearth. To enter use the Rafflecopter form below. Good Luck!
Contest ends 10.21.13 at 11:59pm. For Official Giveaway Rules click here.