I can't believe I still haven't shared Sawyer's Birthday!!! Where has the time gone? I was so excited to put together this fun Mickey Mouse 1st Birthday party thanks to Party City. I had a really hard time picking a birthday theme and spent a lot of time on some birthday sites and often found myself on Party City because they had all the themes I was considering in one place. Not only that but they also had the best selection of products in every theme. No one wants to have to hunt all of over the internet ordering for multiple places. Who has time for that?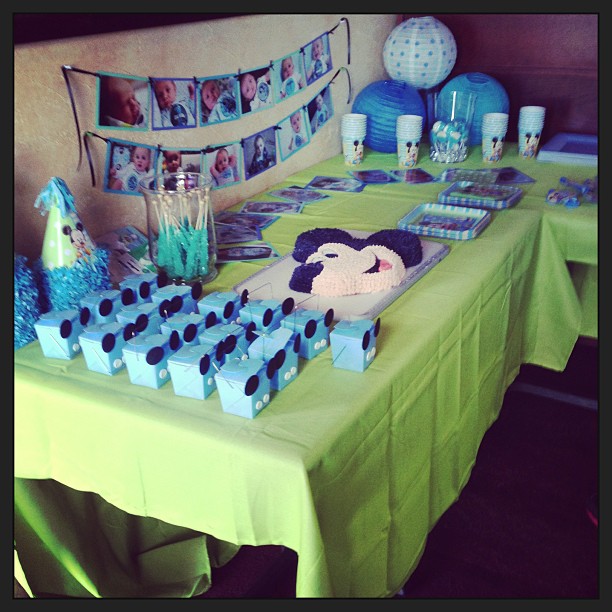 In the end with a combination of themed party supplies and some basic party supplies we were able to pull together a look I was so pleased with! Don't you think?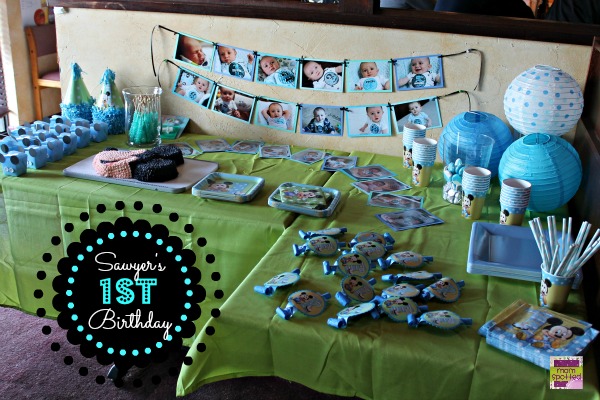 Party City has everything I could possibly need or think of when throwing a party! When you first start your planning make sure to take the time to look over all the themes. Sometimes even licensed characters can have multiple styles out there. Sawyer really loves Mickey Mouse right now but I really wasn't feeling the older theme. I was thrilled when looking in the 1st birthday options that there was a baby blue mickey themed party.

They also had many products that weren't listed with the Mickey stuff but if you looked and explored their site you could really take a simple party to the next level by just adding some simple selections in like these paper lanterns. If I was home I would have hung them from the ceiling but since I wasn't I stacked them in the corner. This was a great way of using unusable space. This corner would have been hard for guests to reach but leaving it empty would have left a sore spot on the table. I used a large plastic container to help elevate the back one so I didn't have to worry about anything tumbling down.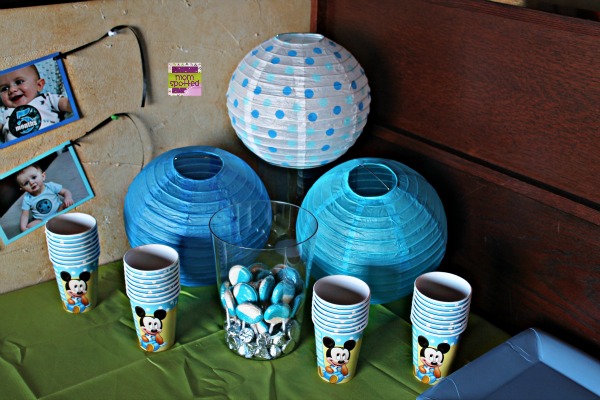 For the little people in attendance I decorated the table with treats like lollipops, rock candy, and chocolate kisses. Sticking to the same color theme I was really able to help it pop in places as well as provide people  sweet treat when they were waiting for food or as they were leaving.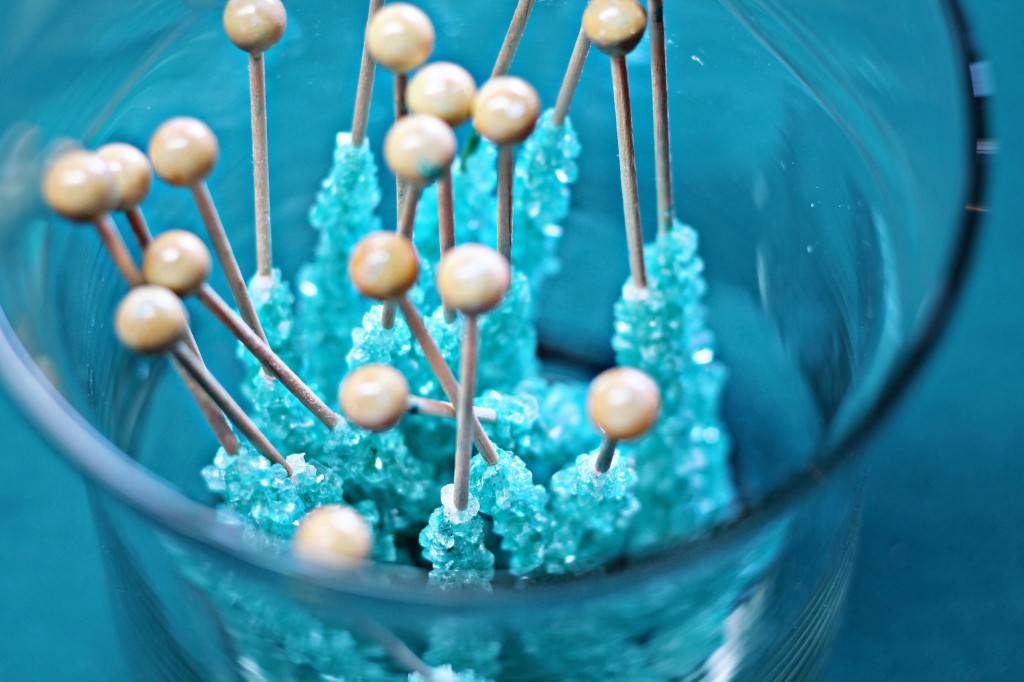 I think added my Monthly Milestone Birthday Banner that I made with his photos from each month. I couldn't chose between his head shot poses and his laundry basket shots so I hung his pretty face and left the other shots on the table as both a space filler and for guests to pick up and look at. The added card stock background helped give the photos some strength too.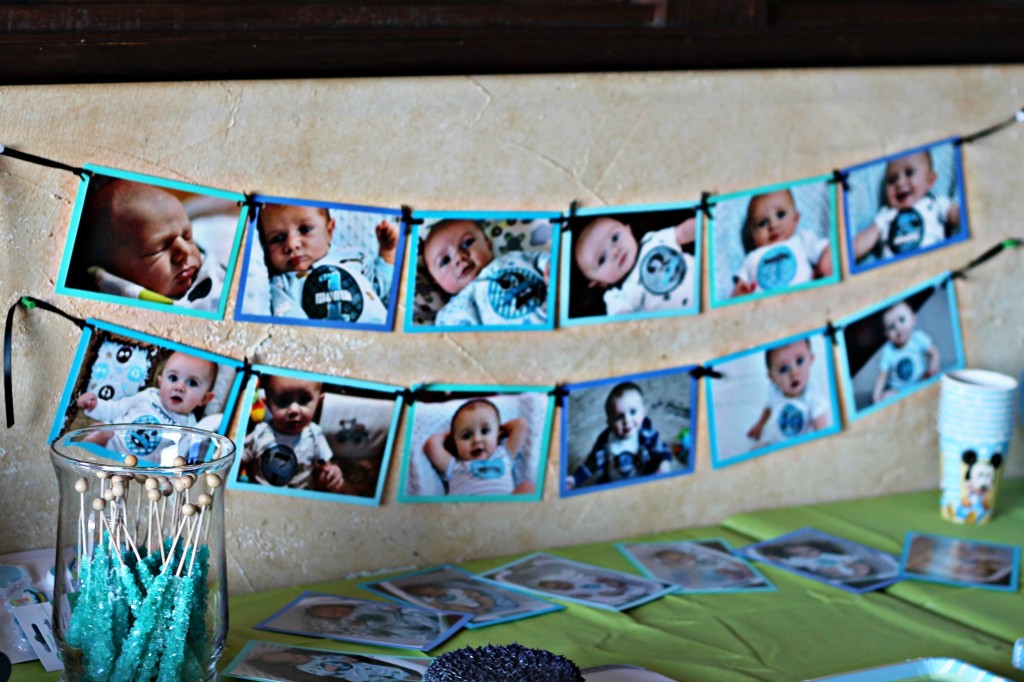 I probably reset the table five times and played around with it for twenty minutes straight. I made sure the hats were closest to the door as well as our favor boxes. Grab as you walk in and grab as you walk out 🙂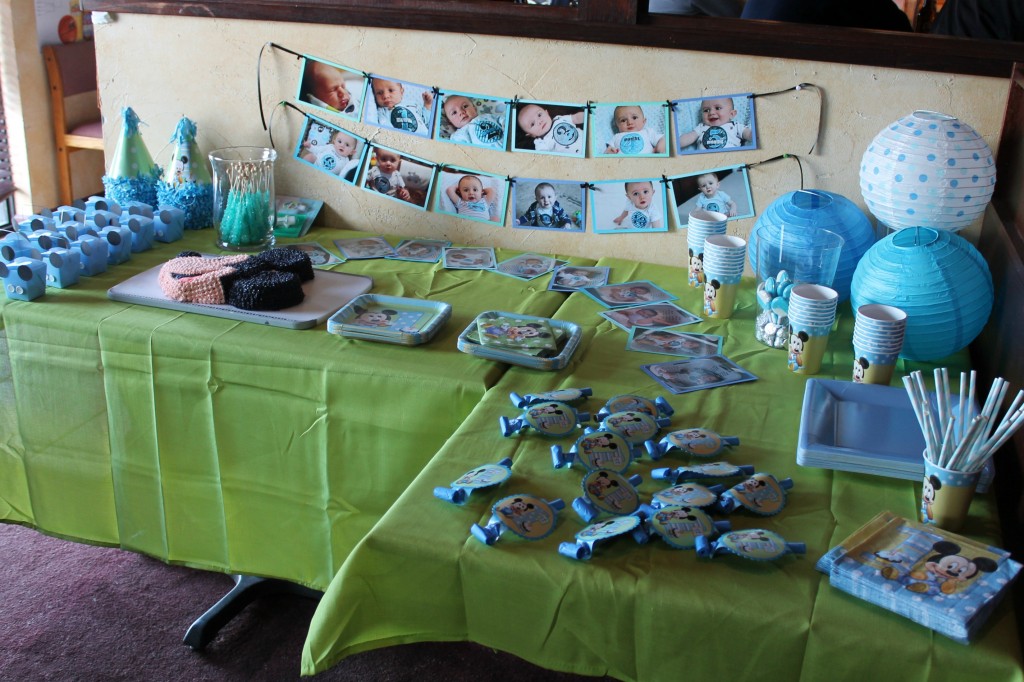 I really liked the Party City provided green fabric tablecloths. It's a color I personally would have never chosen but in the end was the perfect choice and helped it all come together and let the other colors stand out versus blending in. For the Mickey Mouse favor boxes (tutorial coming!) I started out with Blue Mini Favor Pails from the baby shower section. I kept it simple and just filled them with Hershey kisses and when everyone left they left with 'kisses from Sawyer'.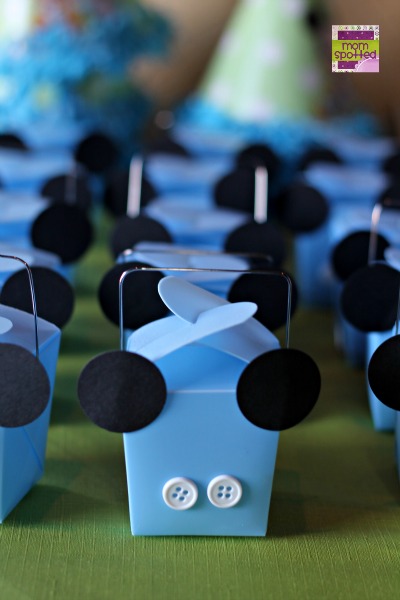 Since Johnny made the really cute Disney's Mickey Mouse Birthday Banner I wanted it to be in a place that it would stand out. Since there was a large window in front of the gift table. We also used a large serving platter as a card holder. This is good as now a days many people give gift cards and I find cards can easily get bumped off the table or fall into other gift bags. Set a place on the table for all lose cards to go.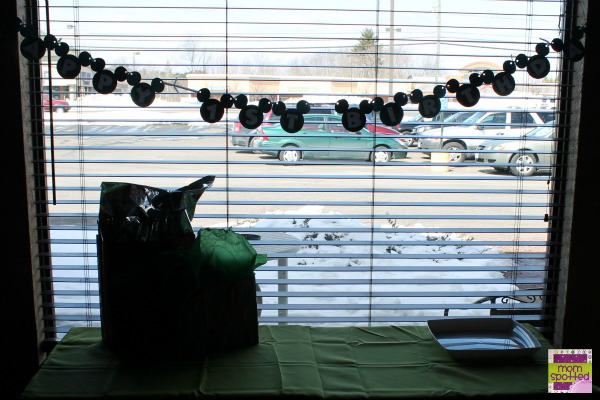 Sawyer was pretty excited about his day and he greeted everyone as they walked in. Since we didn't have a typical high chair for him we used our High Chair Decoration Kit to still go around his area and was able to use the tray banner as another wall banner for photographs. Guests took this as a chance to take pictures of him and with him.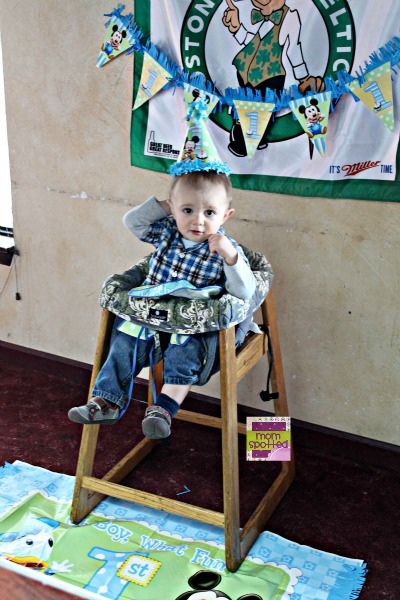 My husband always thinks getting the hats and favors are silly but it never fails that guests use them and I get the best photos with them. I definitely recommend always getting the little things that guests can wear or use so that the these and colors can remain in all the photos.
I just love this photo of Johnny & Sawyer.
I stayed up all night the night before and made Sawyer's Disney Mickey Mouse Cake. I'm not the best cake maker so I was pretty proud of myself. I really wanted the perfect candle and this one was definitely it! It really helped pull in the blue 1st birthday theme again!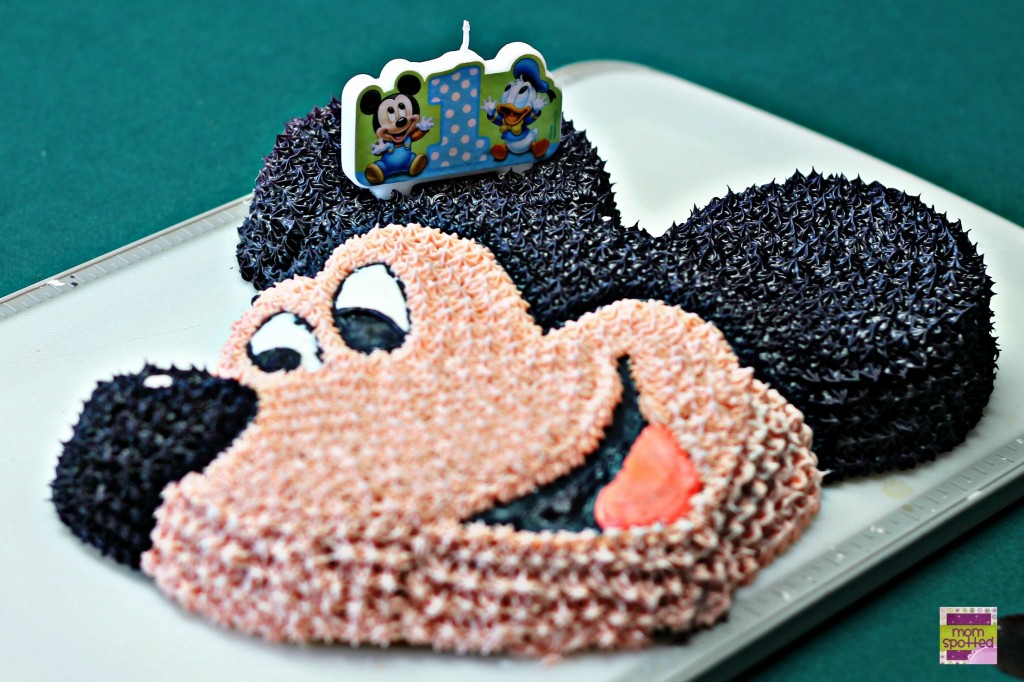 Sawyer decided it was his birthday and he could dry if he wanted too. In the end he wasn't thrilled with the bib but picture time was over.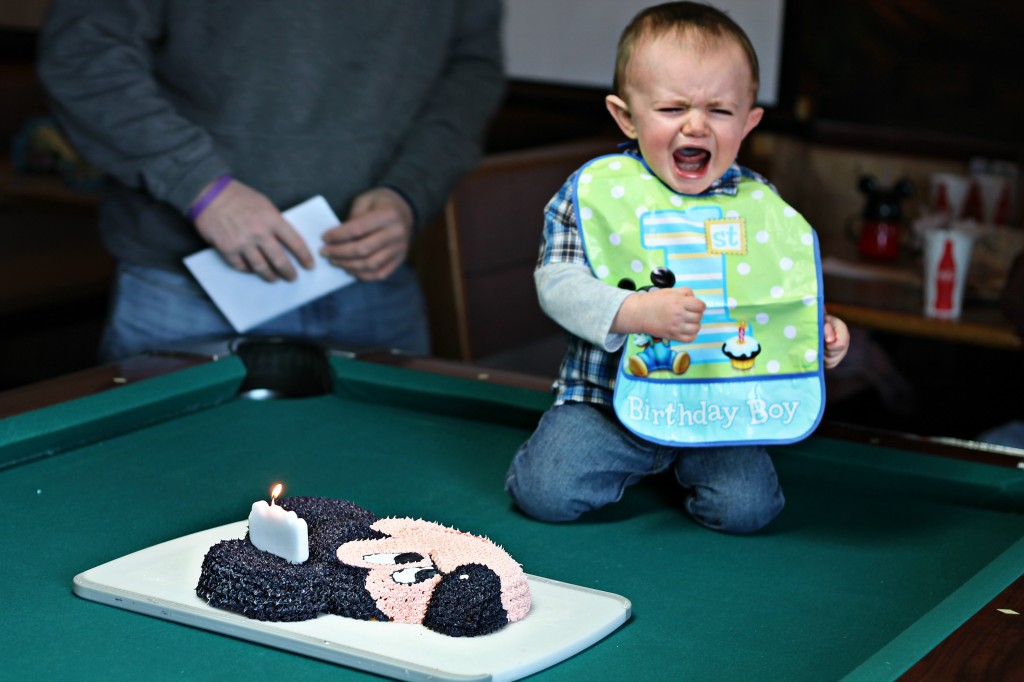 He was definitely down with some cake from his mama though! Isn't my peanut precious?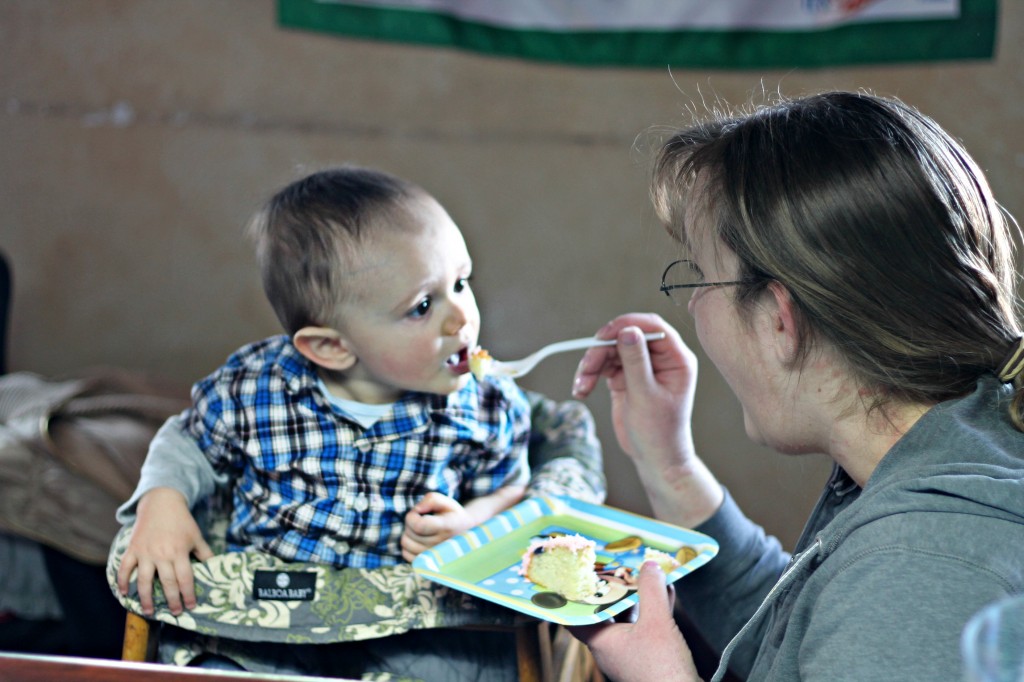 We got this photo while taking pictures from his present opening. He was trying to pull the bow off his head but I think he looks like a little ballerina lol
I had a blast putting this party together and the Party City played a huge roll in supplying everything we used. What I really love is that many of the supplies we used are reusable so we can get the most out of money spent. We have several parties over the summer and we will be using many of the tableware again. Sawyer had a wonderful day as did our family and friends.
Do you enjoy throwing birthday parties for your children? Do you go crazy on themes like I do?