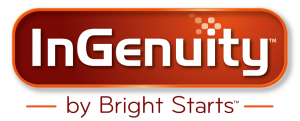 Since having Johnny back in 2000 the baby gear options have just become so much more then they once were in such a short time frame. Even the options that are available now that weren't back in 2006 when I had Gavin. I can't even begin to fathom what my grandkids will have with all the improvements they've made in just over 10 years.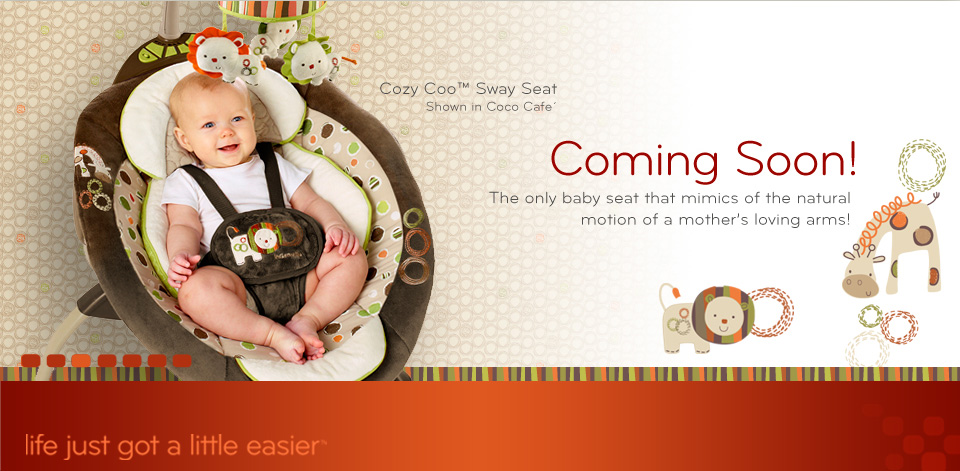 Well, now there is another piece of gear that's all new hitting the scene. It's called the InGenuity Cozy Coo Sway Seat and I was lucky enough to receive it in the Coco Café print.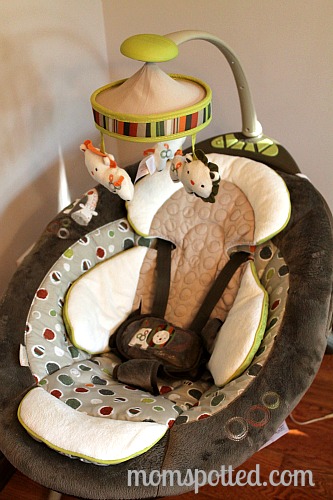 I have to admit when it was all put together I had to go over all the directions again to make sure we did it right.  It was so tall. I had Sawyer in his Pembrook InGenuity Baby Cradle & Sway Swing just several feet away and this was much higher off the ground. Here it is next to a typical chair.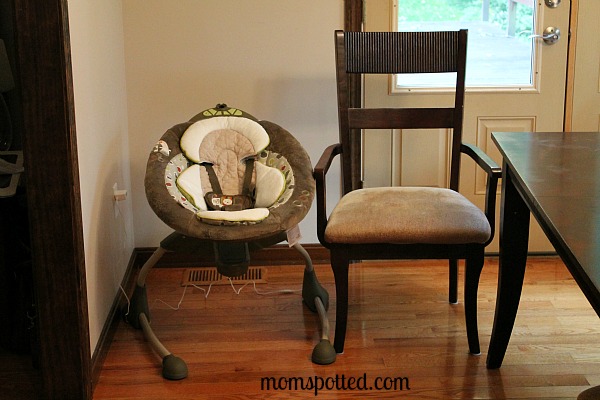 Overall it was really sturdy though. The build definitely supports the baby safely.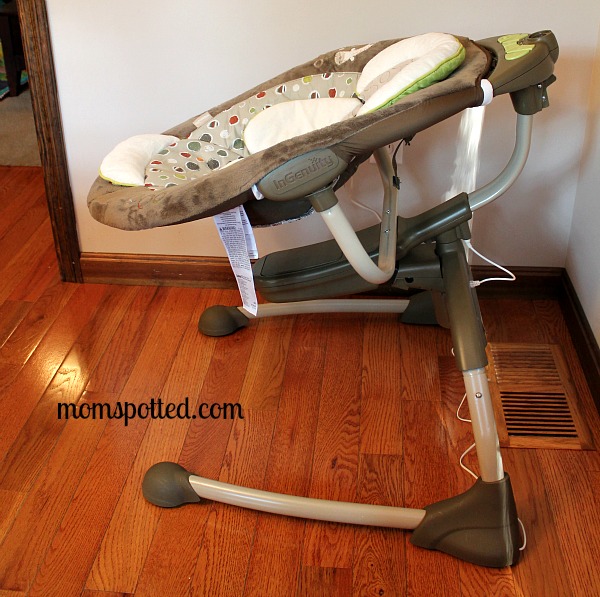 There are three different height options. The padded head rest that we love is removable should your not want it. When I had to size it to Sawyer I found it incredibly difficult. I asked to other moms I know that have them and they agreed. Getting the straps long enough was the most difficult part. Once you have it sized though the daily in and outs are a breeze. Even taking the cover off to wash is fairly simple.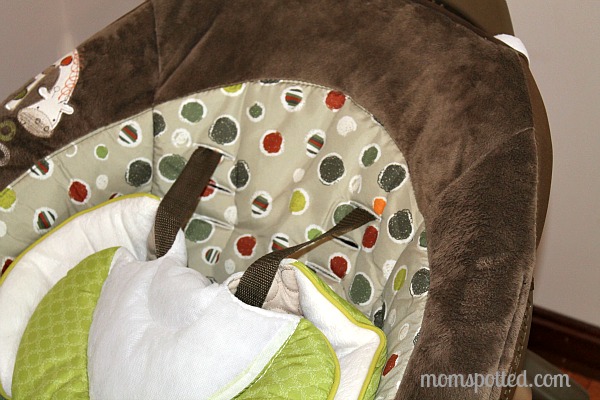 I love that is has a little padded foot area too. I love the softness of this whole seat.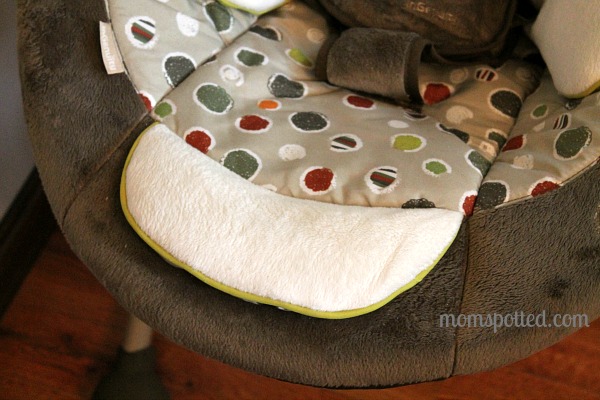 The straps don't just go around the waist but the shoulders too. They connect together in a 5 point harness with this sturdy buckle and are covered by more cute soft fabric. I do wish they had the little toy hook and toy like the swing has.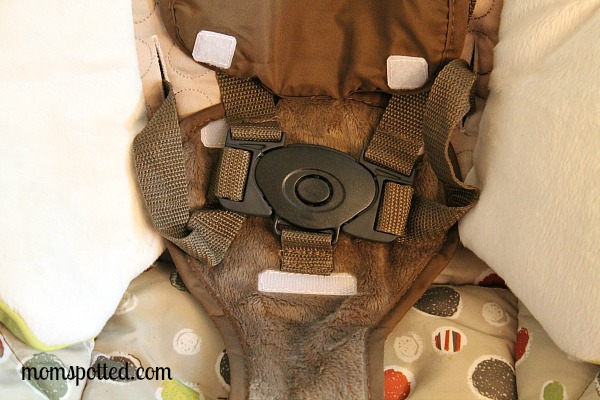 There is also a cute little mobile. If you don't want it it is easily removable. I wish I could move t up a little higher so we just removed ours. Our swing has this and when Sawyer was a baby he loved having it there.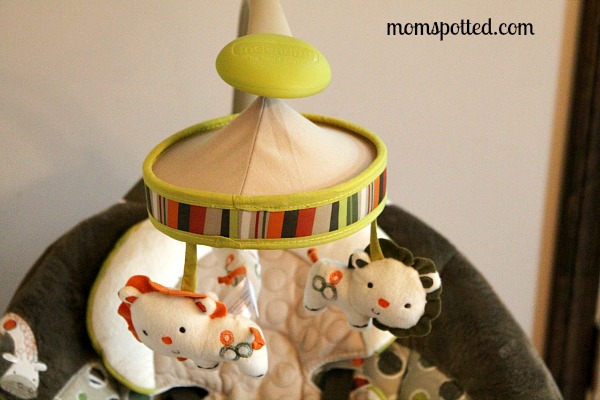 The control panel is located at the top of the swing at the base of the mobile. It's super easy to use and figure out. I love that they have the timer so I can set it for 60 minutes. Next to the timer is the vibrations, then the saying, volume control, then music or nature sounds.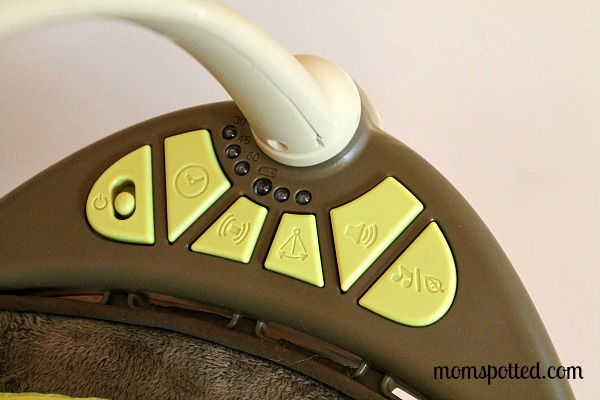 Best part! You can plug it in. No more batteries (well unless you want to, because it can do that too)!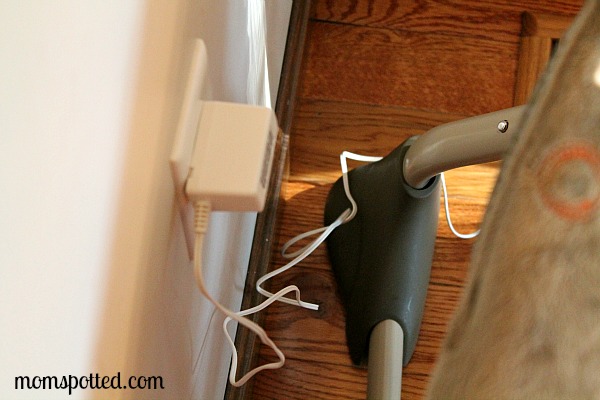 At first I didn't like how upright it was. He loved it but when he fell asleep he was landing like this: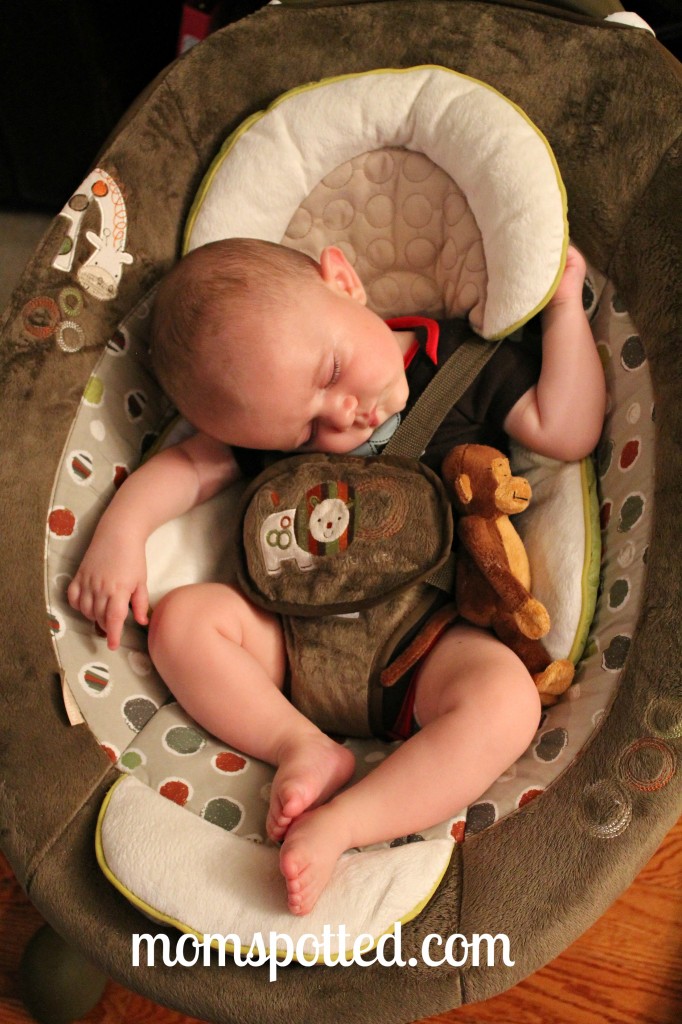 I was SO glad to find that you can recline it and put it back up with the little knob under the controls. I never would have noticed this unless one of the mom's I asked about the straps pointed it out. This rocks. He loves sitting up while it's on vibrations when he's alert, but once he gets tired he wants to lay back and get swayed to sleep.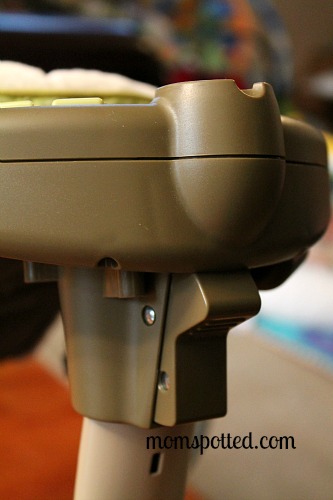 See him in his Cozy Coo Sway Seat! He loves it. We love it. I have both their bouncer and their swing and this is the best of both.  If you have less space this would be great! I do like how low the actual bouncer is to the ground.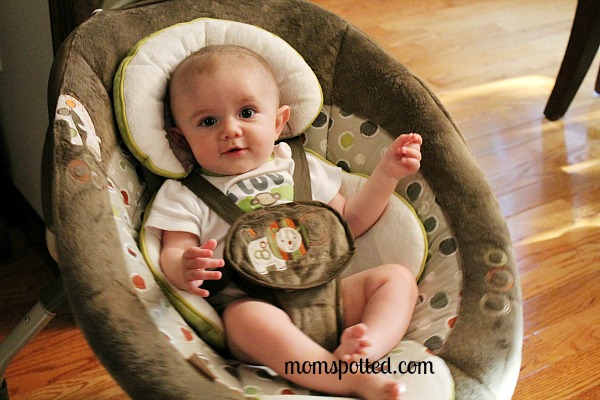 Here he is enjoying his new seat. I thought I'd show you him using it. It doesn't move like a regular swing. Not even a cradle swing.
The InGenuity Baby Cozy Coo Sway Seat is available a Target.com and Amazon.

"This review was made possible by Double Duty Divas and Kids II, Inc. I was provided the featured product free of charge to facilitate my review, but all opinions are 100% mine."