The dreaded cell phone conversation. I knew it was coming. Afterall he is almost 12 years old. have been tossing the idea around for around a year on when and if my boys will have cell phones. See, Im not a big cell phone user myself. I don't have a smart phone and I don't have any of the bells and whistles. BUT it has definitely saved me when I'm out and definitely comes in convenient.
The older Johnny gets the more things he has been participating in. He's really big into soccer and has practice twice a week as well as games twice a week. Once school starts next month that means more extracurriculars like guitar, drum lessons, and other sports. Telling him I'm going to be 15 minutes late picking up or that someone else is coming would be great. Plus, there are lots of times where he needs to reach me to let me know things have changed, he's forgotten things, etc.

A few years back we reviewed a kajeet™ Cell Phone. We loved how kid AND parent friendly they were. I was able to go online and into our account and see what he was doing with it, when he was using it, and who he was calling with it. I was able to see how much money was still in the account and how much we had used. I could add money at any time and easily make changes. This was a great way as a parent to see what he was up to and see if he was using it the way I wanted him too.
What is kajeet™?
The only prepaid wireless service that meets the needs and concerns of kids and parents.

How does kajeet™ work?
Kajeet allow parents to manage their kid's cell phone usage with phones that come installed with kajeet's free parental controls. These controls allow parents to set limits on their kid's cell phone texting, picture messaging and websites accessed via the cell phone, as well as manage what phone numbers calls/text can be made to and received from.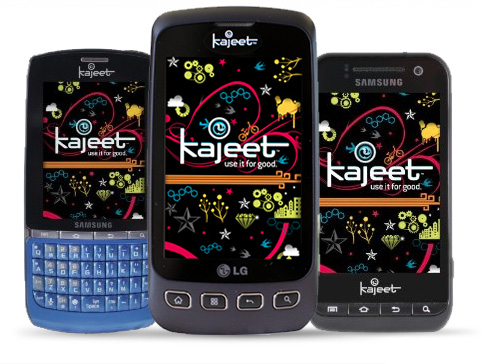 Now when I look at the kajeet™ website I'm blown way by the looks and styles that they have. Sure, they aren't the iphone but these are definitely phones that my son wouldn't be embarrassed to have and he'd be able to do all the things he wanted while giving me the parent side that I want still.
It seems like a perfect fit. For both of us.
I see having a cell phone as both a responsibility and as a privilege.
Some of our rules would and include:
No use during regular school hours unless approved by a teacher
GPS tracker ON at all times
No accepting calls/texts from people we don't know
(and letting us know when they happen)
Taking care of phone
Staying within the agreed plan time limits.
No internet use (for now)
Of course we would also make it so that our conditions were subject to change and the phone would be lost if he could not prove he was responsible enough for it. That's also another great thing about the kajeet™- you're not locked into a plan if you don't want one but you are still welcome to all the amazing parental features!