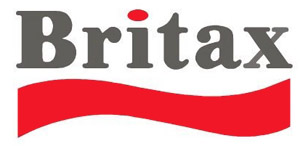 Britax. The name stands on it's own. Their car seats are top of the line and if you've ever owned one you know just how great they are. Picking out a car seat can be over whelming even to an established parent. There are so many choices, so many brands. Even so many choices within the brands. It's easy to see how one would struggle with the process.
When I first started blogging I would have told you a car seat is just a car seat. It didn't bother me that my husband walked in to the store found the least expensive and bought that one. It didn't dawn on me that they could be so incredibly different- but they are.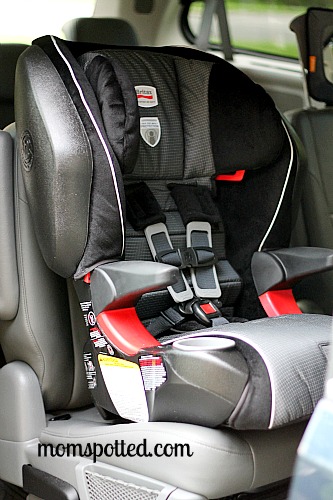 Let me introduce you to the FRONTIER 85 SICT Combination Harness-2-Booster Seat. This is a great seat to take you out of your infant car seat to the end of your car seat/booster seat needs.

 Designed with advanced technology to keep children protected and in a five-point harness for as long as possible, the
FRONTIER 85 SICT Combination Harness-2-Booster Seat
helps safely graduate children who are at least two years old and weigh at least 25 pounds from their convertible car seats. By removing the harness, the FRONTIER 85 SICT is easily converted to a booster seat for older children who are at least 4 years old and 40 pounds.
The FRONTIER 85 SICT has all the safety, comfort, and ease-of-use features that the FRONTIER 85 has to offer. In addition, this seat is equipped with Side Impact Cushion Technology (SICT) for advanced side impact protection, and an Easy-Remove Cover that can be removed for cleaning without disassembling the harness or uninstalling the seat from your vehicle.
Product Features
Side Impact Cushion Technology features energy-absorbing cushions on the exterior of the child seat to reduce side impact crash energy by 45% by diverting crash forces away from your child and providing extra protection for the adjacent passenger
True Side Impact Protection offers a head restraint creating an extra layer of energy-absorbing foam, keeping the head, neck and spine "in true" or aligned, and deep side walls lined with energy-absorbing foam to distribute crash forces, shield from vehicle intrusion, and contain the head, neck and body
85-pound Five-Point Harness Seat Capacity allows your child to remain harnessed up to 85 lbs or in booster mode to 120 lbs
Energy-Absorbing Versa-Tether features a staged-release tether webbing to slow the forward movement, reducing the crash forces reaching the child, and a two-point attachment to minimize forward rotation while anchoring the top of the child seat
Tangle Free, Five-Point Harness with 10 harness height positions (up to 20″) and three buckle positions for a snug and secure fit as your child grows
Harness Ultra Guard System (HUGS™) provides resistance to forward movement in the event of a crash
Compatible with SecureGuard which works with the vehicle safety belt in booster mode to prevent the child from sliding under the lap-belt portion of the safety belt during impact, thus minimizing the risk of abdominal injury (accessory sold separately)
Energy-Absorbing Foam Liner (EPS) absorbs and distributes crash forces
Energy-Absorbing Base deforms in the event of a crash to absorb impact forces
High Density Comfort Foam provides an extra layer of padding to gently cushion your child
Easy-Remove Cover allows easy cleaning without disassembling or uninstalling the car seat
Armrests help provide a secure fit and a comfortable place to rest tired arms
Quick-Adjust, No-Rethread Harness repositions the harness shoulder height without disassembling the harness straps
Premium Lower LATCH Connectors for a quick and simple installation featuring a push button for easy release
Color-Coded Vehicle Belt Guides indicate the path and positioning of the vehicle lap and shoulder seat belt
Integrated Cup Holders are designed to fit common beverages such as 20 oz reusable water bottles
Harness-2-Booster converts to a belt-positioning booster seat
Certified for Aircraft Travel in Harness Mode
Made in the USA with global components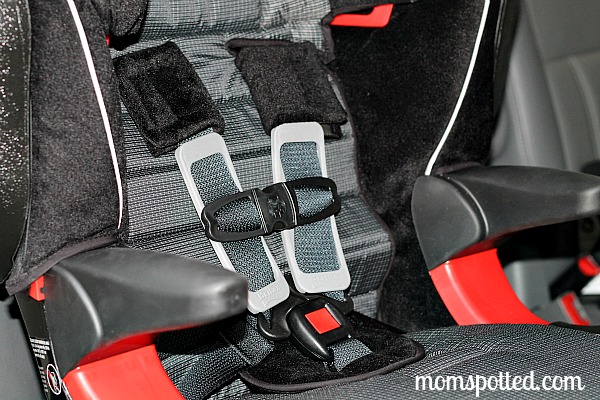 This sear has a great 5 point harness for your child to be safely held until they are forty pounds and able to switch over to the booster option. Or if you are like me and it's until you are comfortable. There are arm rests on both sides as well as two cup holders. I also like that there is good padding on the seat too. Our cheapo I was telling you about looked comfy but when it came down to it was hard as rocks. The cup holder that came with it fell off to the point that it wasn't worth having. I love how these are built in and that there are TWO.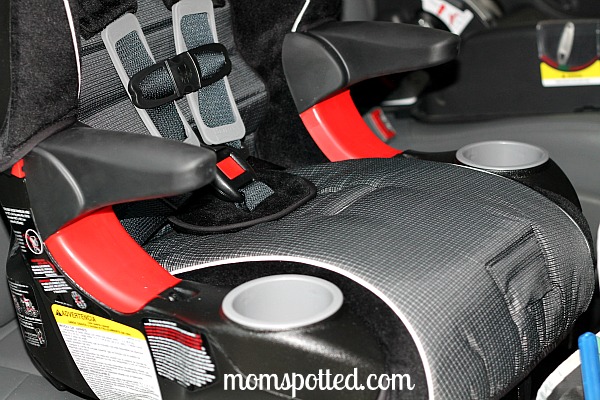 I have had the Parkway SGL in my van for Gavin but hubby has had this ridiculous piece of plastic he calls a booster for him in his SUV. It was killing me to know my child was using it. When we received the FRONTIER 85 SICT Booster Seat I quickly traded his out for the Parkway and took the Frontier.
 Another thing I wanted to show was the size. When I announced I'd be giving one away on my site several of you went over to their site and check out it's specs. You all pointed out how big and heavy it was. It's really not and I wanted to show you it side by side my Parkway. Hubby originally installed it and then I uninstalled it, dragged it out, and re-installed it no problem.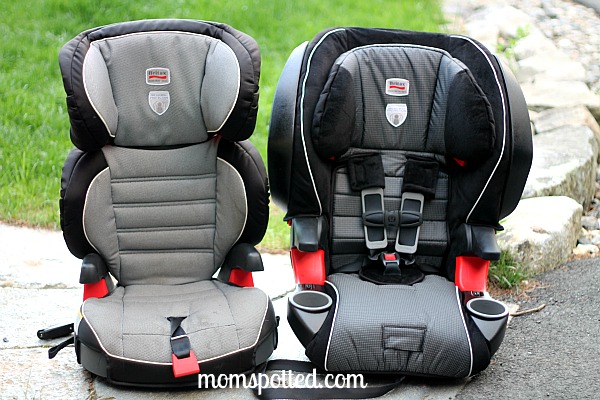 Safety is very much of a priority to Britax. As you see from behind all the needed safety features are on this bad boy. You can see both the harness and the latches here as well as the clean structure of the seat.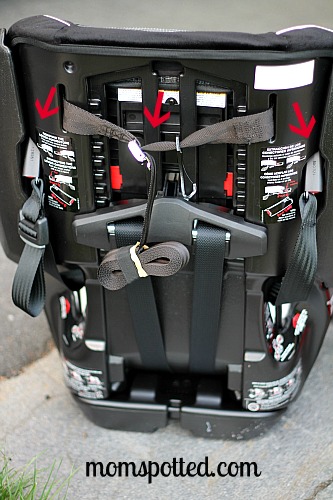 I love the latch system. I will never own another seat that doesn't have it. These little latches will attach to the seat and make sure your car seat is going no where.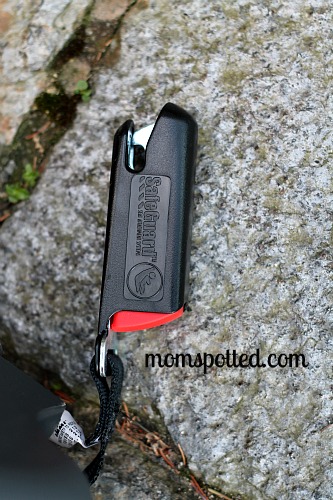 See the clips? Those are a part of my seat. Those latches clip onto them.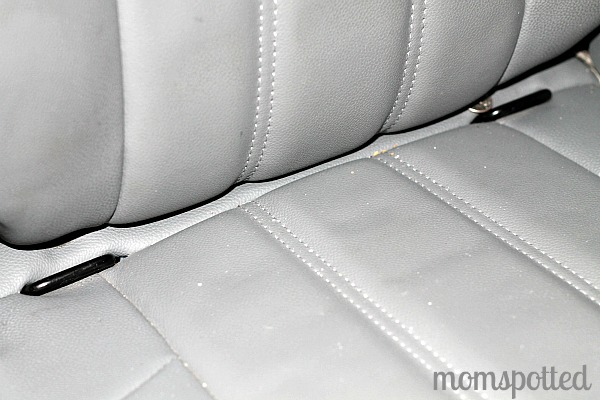 Another feature I really love is the side impact cushioning! See that curve? That goes around your child's head and down the side providing the best coverage possible for your child and actually reducing the crash energy by 45% by diverting it away and actually providing extra protection for the adjacent passenger!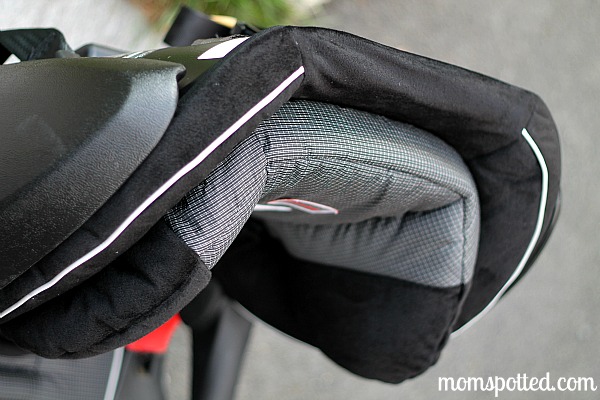 The Frontier 85 SICT has a MSRP (USD) $339.99 and is available at Babies R US and many other retailers. You can visit Britax.com to find a retailer near you. It's also available from our affiliate Amazon for as low as $202!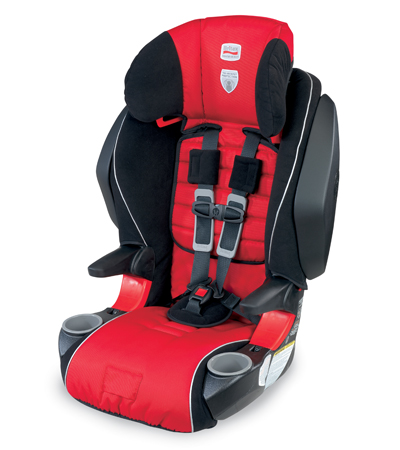 Mom Spotted Review Policy: I was provided with the featured item(s) at no cost by the manufacturer and/or its PR agency in order to test the products abilities and give my own personal opinions on it. The opinions I have given are mine and may differ from others but it was not influenced in any manner by monetary means.