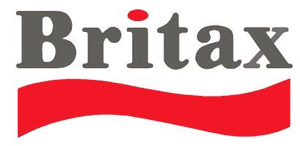 Britax. We all know the name. Its one the most trusted names when it comes to providing safety in car seats. It was a no brainer to me when Gavin was approaching 40 pounds on where to look for his booster. So when I was asked to do another review with Britax I thought the Parkway SGL would be perfect! I saw it when I was at the ABC Expo and I was able to try installing it in the car when I was there. I was impressed with it's ease of just clicking it in the car and being ready to go.
BRITAX has been a leader in mobile safety for more than 70 years, with a legacy of leadership in developing innovations that enhance the safety of child car seats and improve their ease of installation and use. Our uncompromising focus has made BRITAX the best-selling child car seat in Europe and one of the brands most trusted by American parents and caregivers since entering the U.S. market in 1996. Our commitment to improving child safety is unparalleled, as evidenced by the fact that our products undergo the most rigorous testing in our industry at five BRITAX testing facilities worldwide. We also work closely with vehicle manufacturers to encourage design improvements that enhance the performance of child car seats. In addition, we maintain an ongoing dialogue with consumers, child passenger safety technicians and other child safety advocates to ensure proper installation and use of child seats and develop new ideas to improve their safety and ease of use.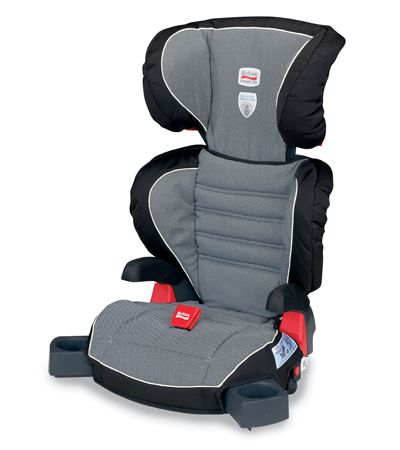 Isn't she pretty? The Britax Parkway SGL is full of so many amazing features.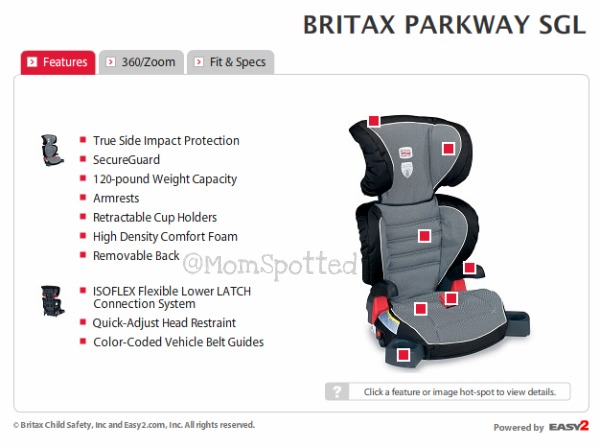 The Britax Parkway SGL is available in four different fabric options.

120-pound Weight Capacity for safety and comfort as your child grows
Quick-Adjust Head Restraint easily adjusts the head restraint for a more comfortable fit and enhanced safety
High Density Comfort Foam provides an extra layer of padding to gently cushion your child
Armrests help provide a secure fit and a comfortable place to rest tired arms
Retractable Cup Holders are designed to hold children's cups and snacks
Color-Coded Vehicle Belt Guides indicate the path and positioning of the vehicle lap and shoulder seat belt
Removable Back allows the booster seat to easily convert to a backless booster while maintaining safety of SecureGuard
Durable and Washable Cover in mature fashions for the growing child
MSRP (USD) $149.99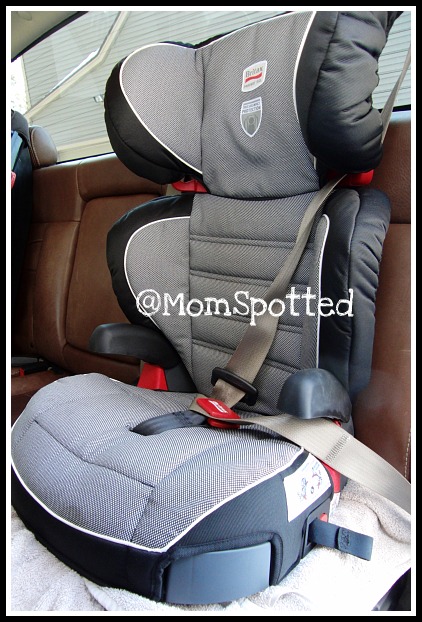 The head rest has true side impact protection. The extra protection makes sure that ensures that if you get in an accident your child won't flail around. Instead the seat will help keep the body aligned and keep them from getting whiplash or worse injuries.
True Side Impact Protection distributes crash forces, shields from vehicle intrusion, contains the head and body, and keeps the head, neck and spine "in true" or aligned, to limit injury
120-pound Weight Capacity for safety and comfort as your child grows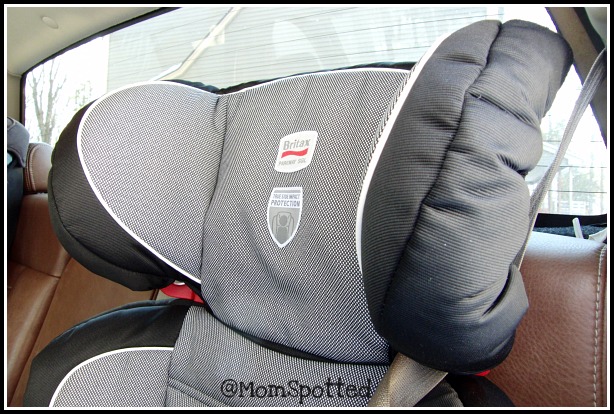 Both sides of the neck rest have a slot for the seat belts so that regardless if you place the seat in any position it will fit properly.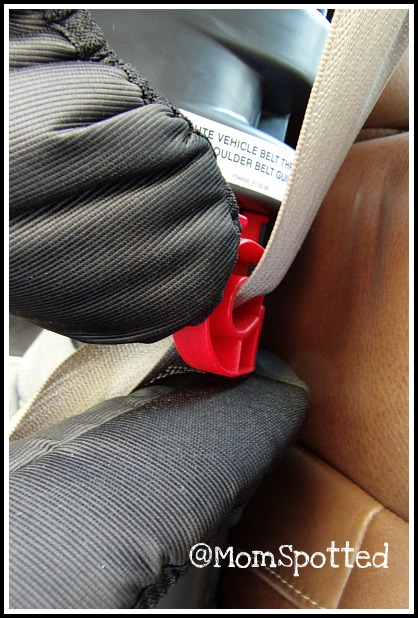 There are arm rests on both sides too. Here you can also remove the back if you choose and make it just a regular booster seat. The seat itself has extra cushion to make sure their butts don't hurt for extended rides.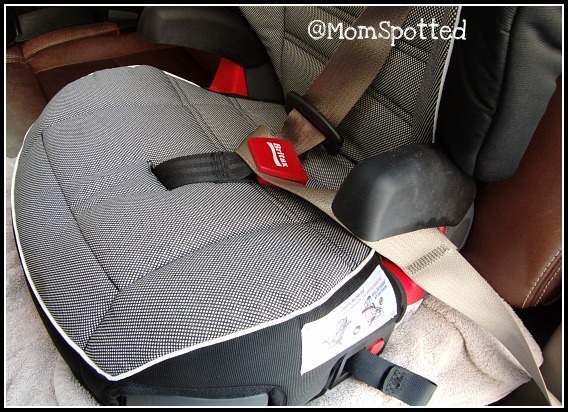 This is the first booster sear that I've seen with the SecureGuard feature. Moving your child out of the safety of a five point harness brings up so many worries. I love that this little device can help bring me more of a sense of security then other boosters. I love that it works regardless if you keep the back on or not.
SecureGuard works with the vehicle safety belt to prevent the child from sliding under the lap-belt portion of the safety belt (submarining) during impact, thus minimizing the risk of abdominal injury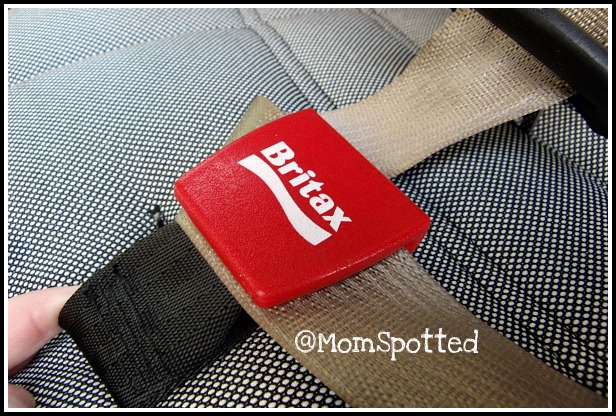 Of course it still comes with the things you need like a retractable cup holder on both sides of the booster seat that can hold your child's drinks and snacks.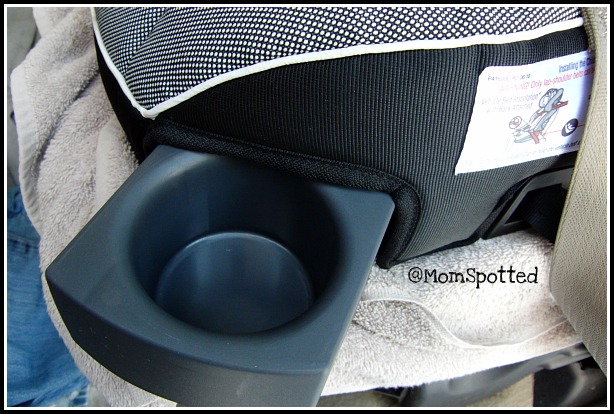 Now I saved the best part for last. When I say this booster is unlike any others I mean it. With most booster seats what happens if you get in an accident and your child isn't in the car? Their booster seat will most likely go flying right? Well, not the Parkway SGL. This booster is secured right to the seat. With two clicks and a pull (literally!) this booster ain't going anywhere!!!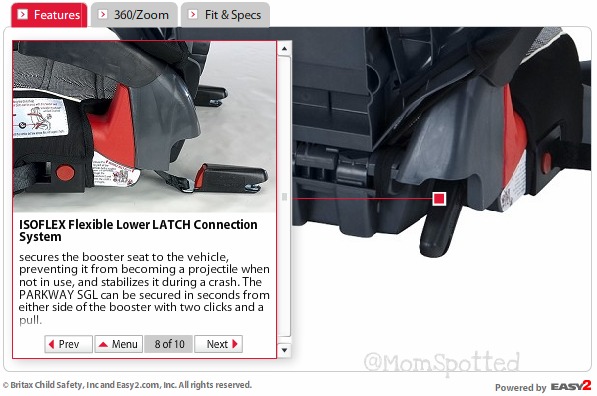 ISOFLEX Flexible Lower LATCH Connection System secures the booster seat to the vehicle, preventing it from becoming a projectile when not in use, and stabilizes it during a crash. The PARKWAY SGL can be secured in seconds from either side of the booster seat with two clicks and a pull.
If for some reason you feel its loosened in any way the "pull" feature is right on the side so you can check it any time!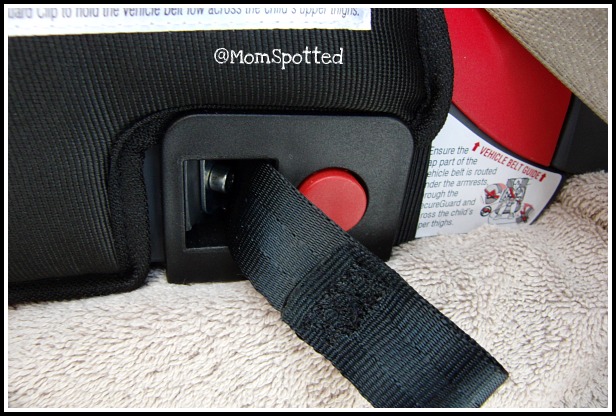 Gavin just loves his new "big boy" seat. It fits him perfectly! I love it because he is happy and because the Parkway SGL takes all my fears away going from a five point harness over to a booster.
You can purchase from many baby chain sites such as Babies R Us and Target fro $149 or from our affiliate Amazon for as low as $89.99
Mom Spotted Review Policy: I was provided with a Parkway SGL Booster Seat at no cost by the manufacturer and/or its PR agency in order to give my own personal opinions their website . The opinions I have given are mine and may differ from others but it was not influenced in any manner by monetary means.