As you know we left last week struggling and fighting a weight loss that was leaving us with a threat of having to start supplementing with formula! We had an appointment set up for yesterday so I had five days to get his weight up. We left off at 6 lbs 6 oz and he needed to regain his birth weight of 6 lbs 13 oz and I didn't know what to do.
I started the weekend following the advice of his doctor. I pumped every two hours with my pump so that I could track how much he was taking in and how often. Problem? The more I was pumping the less I was getting. I started by getting around 5 ounces each time I pumped but by Sunday morning I was barely getting 3 ounces and that was roughly what he was wanting. If I pumped any less I was going to be in trouble and forced to use formula which I had spent so much time avoiding.
So I picked up the phone and called a lactation consultant from the birthing center. They are free and available at all hours. I told her what we were up against and she told me the first thing I needed to do was cut down on the pumping and start getting Sawyer back to nursing. That the lack of stimulation from him was causing a decrease in my supply. She told me that I needed to start working with him again and even though we were struggling with the whole latching on process that nothing was going to get better if we weren't even trying.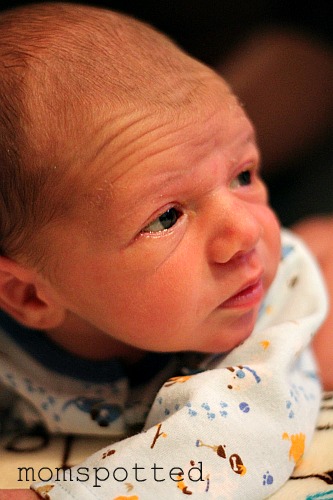 I was so exhausted and felt so defeated that I started her plan immediately.
While we got back into trying I stopped being able to tell what he was getting and grew concerned that I was going to for certain cause more of a weight loss by the time Wednesday came. I really didn't have a choice though. I felt I was going to lose the fight no matter what since by pumping I was going to lose my supply and not have enough whereas with him nursing I at least had a chance.
To try an ensure a victory I also purchased Mother's Milk Tea and Fenugreek Vitamins. Both are used to help with milk production. In truth the tea was disgusting and I couldn't stomach it. I tried several times but there was just no way I could drink it several times throughout the day so that is when I bought the vitamins. Many of the stores didn't carry them like CVS, Rite-Aid, Walmart, Target so don't bother trying to find them there. I ended up purchasing them from Vitamin World.
Results?
Well, we did it! Sawyer didn't just gain a little- he gained a LOT! In just 5 days he gained 8 ounces and weighed in at 6 pounds 14 ounces and we reached his birth weight as needed at the 2 week marker and had an extra ounce as well!
I don't know what did it as I tried several things and I started the Fenugreek just 24 hours beforehand but I can tell you that I went from pumping 2.5 ounces on Sunday to 4.5 ounces yesterday and got my first "stock" bag in the freezer without missing a feeding! I also still have 3.5 ounces in the fridge for daddy to feed at night.
We're still getting there and it's still a struggle but it is getting easier. I'm glad that through the late nights, fights, and tears that I've stuck with it and hope that by sharing my struggles I help someone else who is ready to give in to hold on just a little longer.