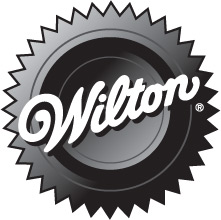 Finally things have started to slow down around here and I don't feel like I have to bake like a machine but now I can bake for the fun of it. My kids really had fun getting into the baking the holiday brought. They've been asking to get back into things and I've just been trying to get my home and blog back in order so I haven't done much baking around here. With Valentine's Day coming up though I want to have some fun with them.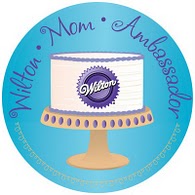 Being a Wilton Mom Ambassador you know you can count on me to bring you fun ideas to use all of Wilton's products as long as info and giveaways on all the latest products. With the holiday coming up I knew you would all be interested in some great options from Wilton. I didn't go with any of the awesome new products this time around because I saw that there were still some older pieces I needed for some great fun.
My kids have been super excited about the Giant Heart Cookie Pan since the moment it arrived. I told them tonight was the night they could help me make it and I can't wait to see how it comes out. Believe it or not I've never made a cookie cake either and can't wait to see how we do. We're going to use the recipe right on the back of the paper that comes with it and you'll see our cookie cake next week!
Our Giant Cookie Pans help you create a jumbo pan cookie in a shape that will be a big hit for any occasion. Specially designed for one package of refrigerated dough, they are also great for brownies and pizza!

Recipe included. Approximately 11-1/2 x 10-1/2 in. x 3/4 in deep. Can be used with recipes that call for a standard 13 x 9 in. pan. Aluminum. Retails $7.99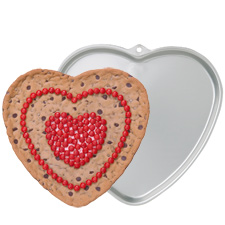 I've never used their Striped Icing but the idea of it seems really cool! I thought that the Red/White Striped Icing would be the prefect icing to use on the cookie cake. I'm actually a big fan of these 4 oz tubes of colored icing and always have a selection on hand. They are great for last minute projects or when you have projects that need just a touch of one color. They are easy to use and my kids prefer using them over a bag for right now as they are easier to handle.
Double the color, double the decorating excitement! Create fun 2-tone decorations in colors perfect for the Christmas season. Tubes can be used with our Tip and Nail Set or Coupler Ring Set and any standard size Wilton metal tip. Colors match Wilton Icing Colors.

4.25 oz. Certified Kosher. Red/White. Retails $2.49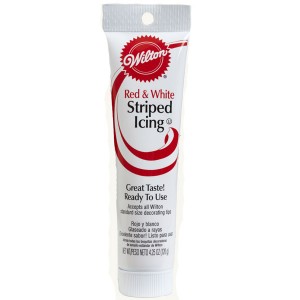 If you are a regular reader her you know that I can't make a sugar cookie to save my life. I've tried, really. It is okay though as I've learned to accept it. It doesn't mean that I don't like cookie cutters though. Wilton products aren't just good for eating projects but I've been sharing with you ways to use them in your crafting lately as well. I have a fun craft recipe coming up and I find the cutters like this Heart Comfort Grip™ Cutter is perfect for smaller hands like Gavin. They are also my favorite cutters for my own personal use.
This easy-grip stainless steel cutter with extra-deep sides is perfect for cutting many favorite foods into spectacular shapes. Ideal for brownies, biscuits, sandwiches, sheet cakes, cheese, crispy treats, fudge and much more. The cushioned grip gives you comfortable control even when cutting into thick desserts. Recipe included.

Approximately 4 x 4 x 1 3/4 in. deep. Retails $3.19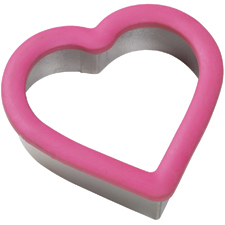 I have also wanted to make whoppie pies for almost a year now. Basically ever since I saw the little bunny pans that Wilton came out with last spring for Easter. I'm going to finally give them a try with this Heart Shaped Whoopie Pie Pan and if they come out good I'll try them again at Easter. I know that these will be such a hit in the classroom this school year!
Make fun, heart-shaped whoopie pies perfect for your valentine!Retails $11.99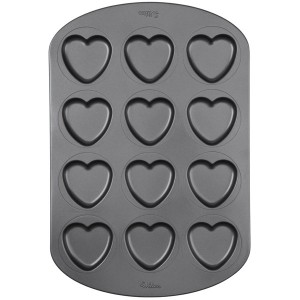 dfgd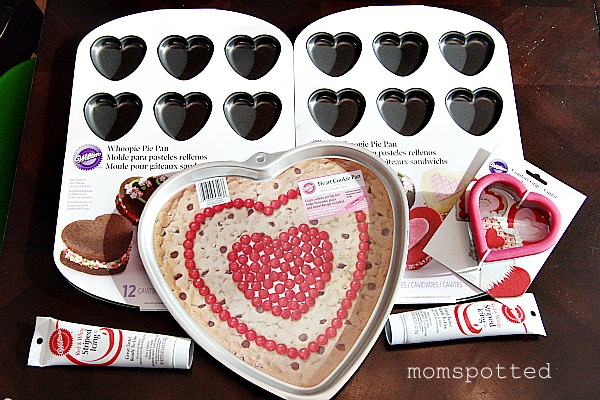 Wilton has offered one Mom Spotted Reader a Wilton Valentine's Day Prize Pack!!!

How to earn additional entries:
2.) Become a follower on my blog (publicly- privately does not count)-leave another comment (or let me know if you already are) – 2 entries
3.) Subscribe to my blog by EMAIL (not feed) – 2 entries
4.) Blog about my giveaway- with a link back to here AND
Wilton
4 entries (get two more if you include a photo of the giveaway).
Post YOUR blog entry first and then the comment (please include the link directly to it not to your front page, and make an additional comment then the ones above.)
5.) Add my Mom Spotted button to your blog
6.) Follow
Wilton
on Twitter
7.) Follow
Mom Spotted
on Twitter AND Tweet about this giveaway-
Copy/Paste:
Win a Valentine's Day Prize Pack from @WiltonCakes & @MomSpotted #Giveaway Ends 2.6 http://wp.me/p18qpn-4xj
~this can be done once daily (leave link in comment)~
8.) Become a Fan of Mom Spotted on Facebook– leave me a comment
9.) Become a Fan of Wilton on Facebook! – Tell them what you love at their site
10.) Post on your facebook home page (1x daily):
Win a Valentine's Day Prize Pack from @Wilton Cake Decorating & @Jennifer MomSpotted Giveaway Ends 2.6 http://wp.me/p18qpn-4xj
(Make sure it links to me and Wilton Cake Decorating & put link in comment)
11.) Leave a relevant comment on any non-giveaway post (reviews are ok)
(Make sure to check out all my other giveaways!
Check the side bar to the right for list!)
That's many chances to win a Valentine's Day Prize Pack!!!
Contest ends February 6th at 11:59pm!
***USA Only***

Mom Spotted Review Policy: As a Wilton Mom Ambassador I was provided with the the same bundle package at no cost from Wilton in order to test the products abilities and give my own personal opinions on it. The opinions I have given are mine and may differ from others but it was not influenced in any manner by monetary means.