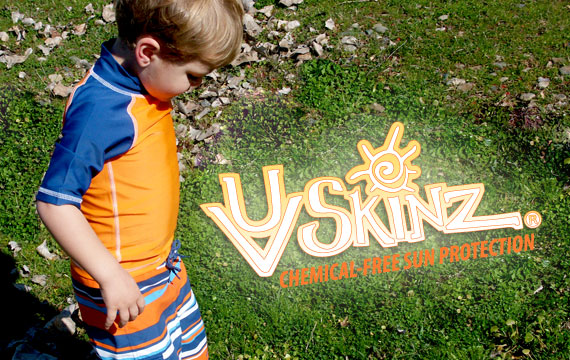 UV Skinz sun protective swim shirts are stylish and carry a UPF rating of 50+, which blocks out over 98% of the sun's harmful rays, protecting delicate skin from damaging sunburns. Sunscreen isn't always enough, is often not used correctly and some folks have skin allergies or sensitivities to chemicals that sunscreens can contain. UV Skinz are sun shirts that are not made with any chemicals or lotions. The UV protection is in the tight weave of the fabric. Wearing UV protective clothing, such as our fun, cool UV Skinz sun protective swim shirts, is an important step in preventing sunburns, premature aging of the skin and skin cancer.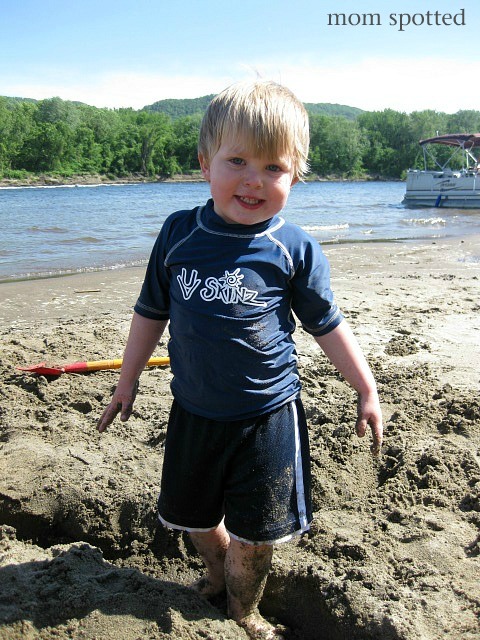 I have been using UV Skinz with Gavin for the past 2 year and I am extremely impressed with their shirts. The first year Gavin tried their Devin Shirt in Navy and it was great. See, Gavin has extremely fair skin and I was struggling to keep him from burning even with an SPF of 50. Having him covered up with this shirt was a great help not only for his skin but my nerves as well. My only problem was that I was noticing the tops of the bottoms of his arms were still burning- even with sunscreen. So when I had another chance to work with UV Skinz last year I went with the Sun Protective Long Sleeve Shirts for both boys. This was perfect for Gavin! I noticed that neither of my boys fought me on them either. The shirts didn't ride up or squeeze them and since they weren't bothered by them I know make it required.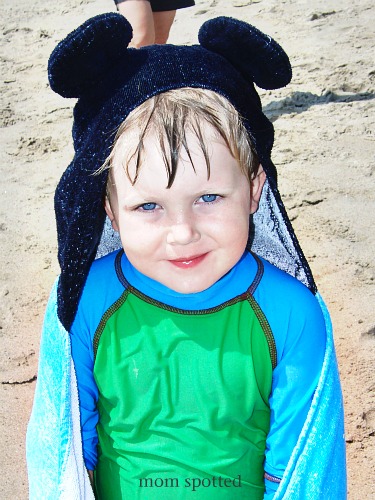 Last years shirt still fits Gavin well so when I had another chance to work with this amazing company I decided to go with one of their Combos! The selection has grown over the years and I love the choices! Now that Johnny's 10 I want him in a swimsuit that protects him and doesn't look like it's for a five year old. I wanted to get him away from the characters and the Navy Stripes Combo is a perfect fit. His skin isn't like Gavin's so I wasn't as concerned about the short sleeve versus long sleeve. He really likes this suit and brought it on our recent trip to Florida. His only complaint was that sometimes it felt like the built in underwear was tight. He said the rings around the leg holes were a little small so I plan on just snipping them a little for  continues use.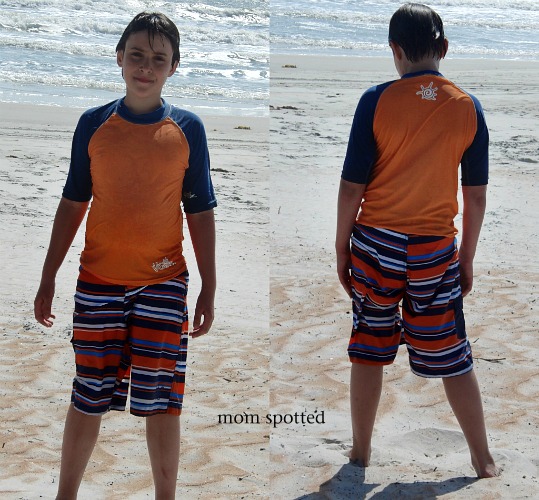 UV Skinz has offered one Mom Spotted Reader a choice of ANY UV Combos!!!
(3 Piece Not Included)

How to Enter:
1.) Visit
UV Skinz
and tell me what combo you'd pick!

Mandatory
How to earn additional entries:
2.) Become a follower on my blog (publicly- privately does not count)-leave another comment (or let me know if you already are) – 2 entries
3.) Subscribe to my blog by EMAIL (not feed) – 2 entries
4.) Blog about my giveaway- with a link back to here AND
UV Skinz
4 entries (get two more if you include a photo of the giveaway).
Post YOUR blog entry first and then the comment (please include the link directly to it not to your front page, and make an additional comment then the ones above.)
5.) Add my Mom Spotted button to your blog
6.) Follow
UV Skinz
on Twitter
7.) Follow
Mom Spotted
on Twitter AND Tweet about this giveaway-
Copy/Paste:
Win a UV Combo Swimsuit from @UVSkinz & @MomSpotted #giveaway ends 6.12.11 http://wp.me/p18qpn-3ba US & CAN
~this can be done once daily (leave link in comment)~
8.) Become a Fan of Mom Spotted on Facebook– leave me a comment
9.) Become a Fan of UV Skinz on Facebook! – Tell them what you love at their site
10.) Post on your facebook home page (1x daily):
Win a UV Combo Swimsuit @UV Skinz & @Jennifer MomSpotted Giveaway Ends 6.12.11 http://wp.me/p18qpn-3ba US & CAN
(Make sure it links to me and UV Skinz & put link in comment)
11.) Leave a relevant comment on any non-giveaway post (reviews are ok)
(Make sure to check out all my other giveaways!
Check the side bar to the right for list!)
That's many chances to win a UV Combo Swimsuit!!!
Contest ends June 12th at 11:59pm!
***USA & Canada Only***

Mom Spotted Review Policy: I was provided with the featured item(s) at no cost by the manufacturer and/or its PR agency in order to test the products abilities and give my own personal opinions on it. The opinions I have given are mine and may differ from others but it was not influenced in any manner by monetary means.