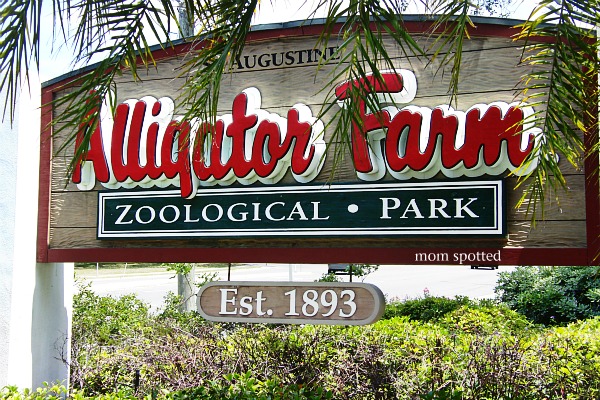 Remember my recent trip to Daytona Beach, FL for my cosuin's wedding? Well, we ended up with one day that we didn't have anything scheduled. We went down to the hotel lobby and looked through 101 different pamphlets to try and decide. My Dad happened to call me while we were looking and said don't bother with those. Take a drive about an hour north to St. Augustine and visit the The Alligator Farm Zoological Park that he really liked and was pretty sure the boys would too.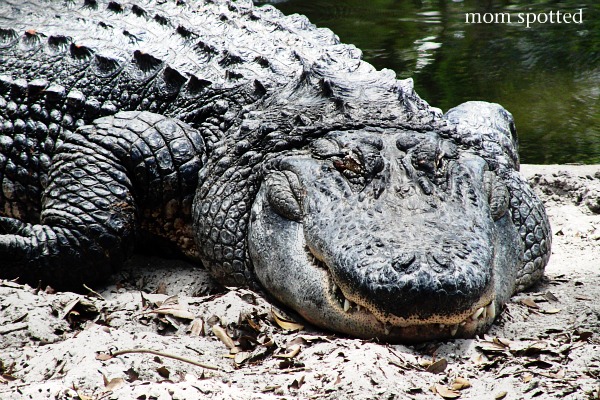 From the moment we walked through doors the kids were in awe. There were alligators everywhere. These gators weren't far off and hard to see either. Sometimes the only thing separating you from these scary guys was a piece of plexiglass.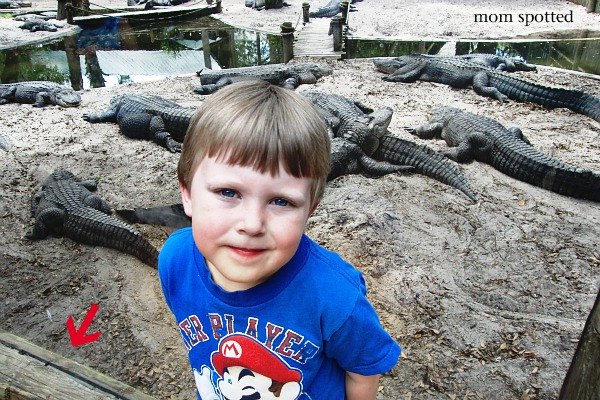 They even have this cool albino alligator as well as all different kinds of alligators!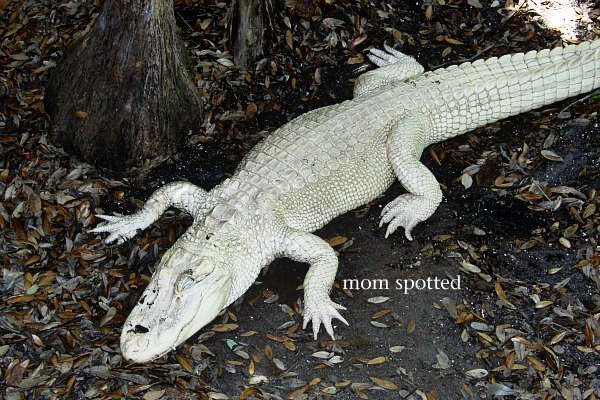 The boys were super excited when we told them that they could hold a baby alligator! I was impressed that it only cost $5 to take a photo with my own camera! To me I'd rather have a photo with my camera any day over a formal print I can't duplicate (or post online). Of course if the formal photo is more your style for a few dollars more you could have one of those too. The mouth of the alligator is taped shut so he can't snap at the boys.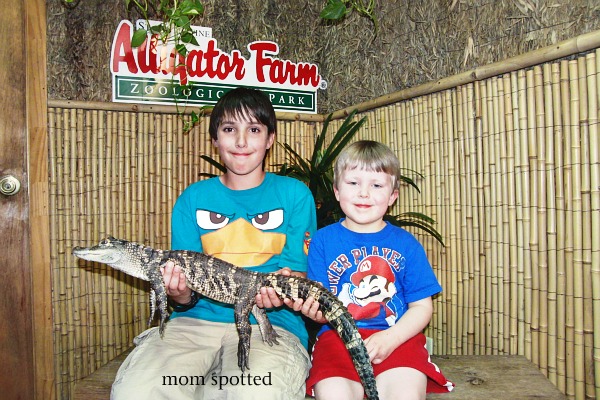 They have little shows all throughout the day and we had a chance to see several of them. One we really liked was their feeding. This guy goes into the den and walks right up to these alligators!!!Isn't he crazy!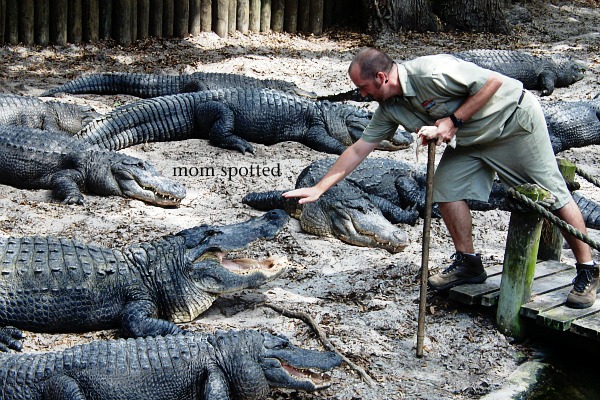 I mean, seriously??? Don't you just want this approaching you?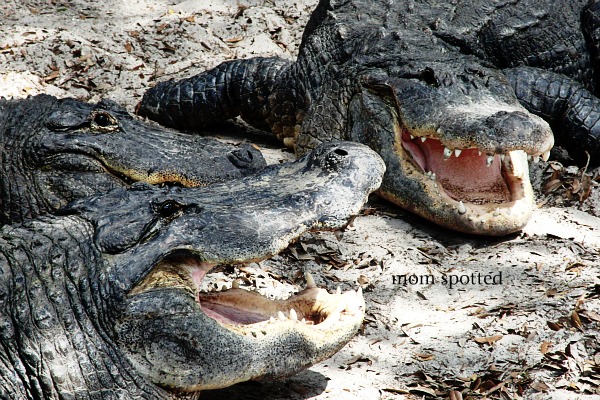 I guess though if you want to dangle a big fat rat you're asking for it. Check that mouth out!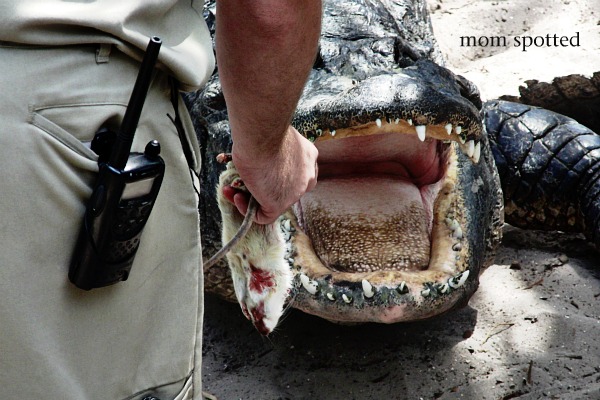 Personally, if I had to go in there I'd be chillin' near this dude. He looked relaxed while all this was going on and definitely had no interest in eating.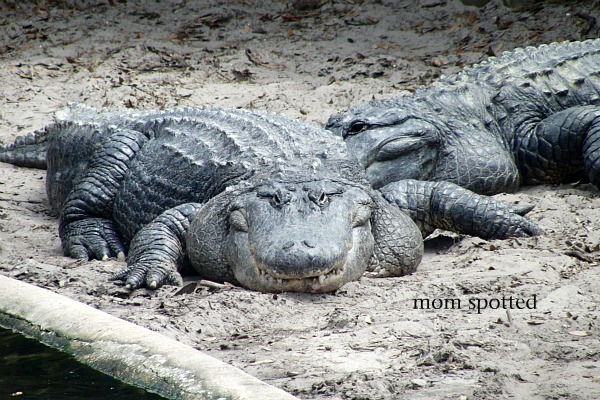 On top of all the cool alligators they have there they have this amazing bird rookery! The pictures can't do this justice. The boys took off on me here because I was just mesmerized. I think I took 100 photos along the bridges alone.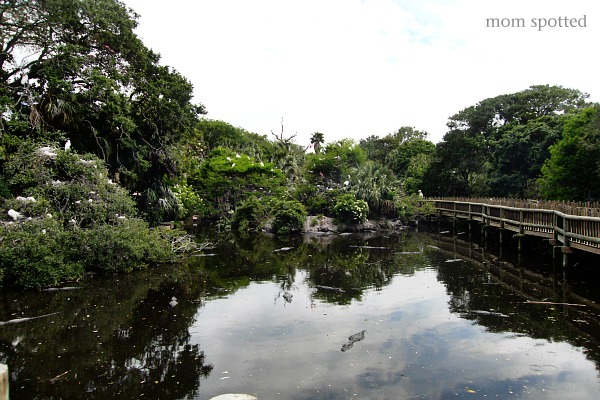 The trees are just filled with all different species of birds. The alligators swim in the water below and I swear they are just waiting for one of them to fall out of the trees.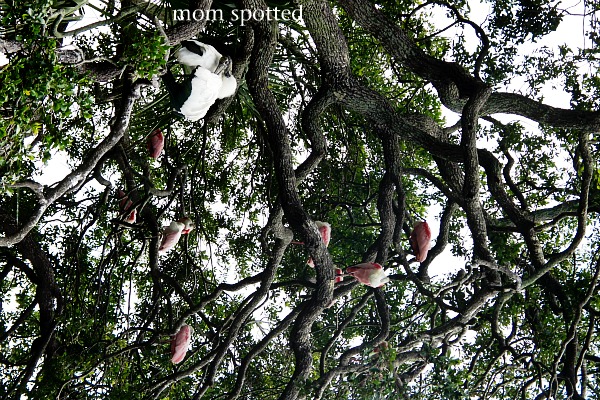 So many of the birds had little babies in their nests. I was so nervous watching this little one. There were about 5 alligators below and I thought for sure he was going to fall out. He kept sticking his head of the nest and getting just a little to close to the edge.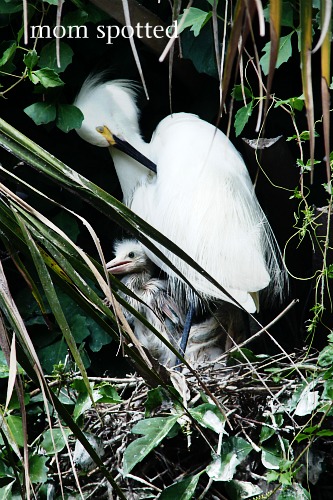 They also have a ton of little pit stops along the way to take photos. This big turtle is actually right next to a little playground which made for a good little rest stop. As usual I rarely got in the photos and this is one of the only pics of me from the entire vacation.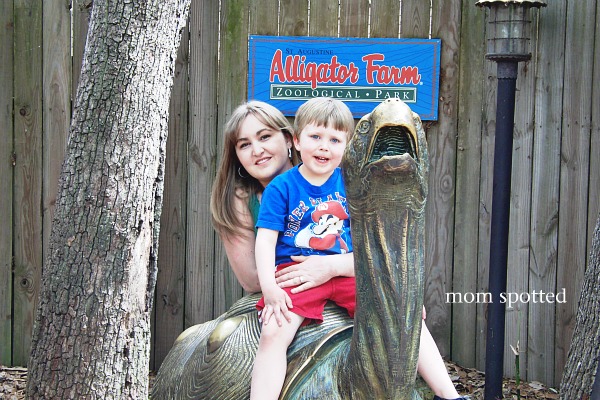 I definitely recommend visiting the St. Augustine Alligator Farm Zoological Park it was worth every penny. If you are all over the age of 10 and wear sneakers you can even zip line through the park along the tree tops. Johnny was very upset we couldn't do this but we didn't find it fair if Gavin couldn't. We told him maybe when Gavin is older we can go back and visit next time we're visiting my family.
Also, if you like them on Facebook you can buy your tickets ahead of time and even save $1 on each ticket!
This post was not paid or sponsored.