Need to get your coupons in order? These coupon binder category labels will help you find them all quickly! As you know I was laid off from my job only 4 days before Christmas. Not wanting to have to go back to work until I HAVE to I made the decision to do whatever I could to let me wait until September to return. Since my living expenses aren't going down anytime soon I needed to find somewhere to make the most out of my money that I do have. One thing I began doing was couponing. Of course, I'm no Extreme Couponer but I get what my family needs and have a reasonable stockpile that serves us well. I have more stock of non-edibles as it's more of what I can store easily but if the deal is good enough I'll deal with some clutter for a bit. I don't have a Shaw's, Publix, or any other grocery store that those kinda deals come from anyways.
The key to couponing for me has definitely been being organized. Since starting I've also helped both my best friend and stepmother put together their own binders and taught them some tricks so that they too can reap the rewards. I get asked questions from people all the time and one of the most popular questions I hear is 'What categories do I put in my coupon binder?'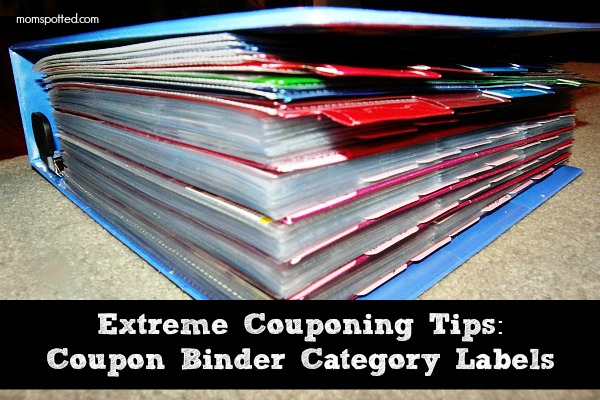 Here is a complete list of all my coupon binder category labels after almost 6 months of use. This list has been modified through the months and while I probably have more than others I never have a problem quickly finding my coupons. I don't mind spending a bit more time in the beginning then fumbling in the stores trying to figure out where I stuck it or going through pages of coupons.
Coupon Binder Category Labels
Air Fresheners/Candles
Baby
Baking
Beauty
Bread
Breakfast
Candy/Gum
Cleaning Supplies
Cold, Allergy, Medicine
Condiments, Salad Dressing
Dairy
Dishwashing
Drinks
Eye Care
Feminine Hygiene
First Aid
Food (Other)
Freezer – Dessert
Freezer – Food
Fruit & Vegetable
Granola Bars & Fruit Snacks
Hair Care
Laundry
Lotion
Meat
Misc.
Oral Care
Outdoors
Paper
Pasta
PB & J
Pets
Pillsbury
Prepared, Sides, Rice
Refrigerated
Reynolds, Zip Lock, Trash Bags
Salty, Snacks
Shaving, Deodorant
Soap, Bodywash
Soup
Toys
Vitamins
Yogurt
In the back, I also have a tab for restaurants. This isn't organized the same and is in a sleeve that has 2 4×6 slots.
When it comes to setting up your binder definitely purchase good tabs. The paper ones will rip after a while but plastic ones are hard cardboard ones will last longer. I got a great deal in the Walmart clearance isle on these cute Carolina Pad tabs but every bottom tab is actually a folder and with several in there it takes up space I don't really have. I bought the baseball card inserts

really cheap on Amazon. I compared them from Walmart, Target, Staples, etc and it was much cheaper this route for the number I needed.
If you're curious about what the first 10 tabs are those are my store sections. They keep all the flyers, rainchecks, savings cards,  etc for each individual store I frequent. You can check out both my Pre-Coupon Binder Organization Tip and my Store Tabs Section too if you're just getting started or looking for ideas.