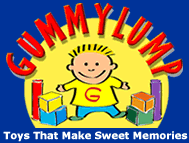 I love the Gummy Lump website and I love it even more since I've gotten to know her more through their social networking sites. If you've been following Gummy Lump on Facebook or their blog you know all about their 300 crafts for kids project this year. They have been having so much fun with it all that not only have they inspired me to do more crafting with my boys but they also inspired a recent visit to the Eric Carle museum after seeing her series of kids crafts on the author. I feel like their are so many sites out there just pushing products on you but not with Gummy Lump. Instead they are a wonderful company that really just wants to see a child capture their imagination with fun products and ideas.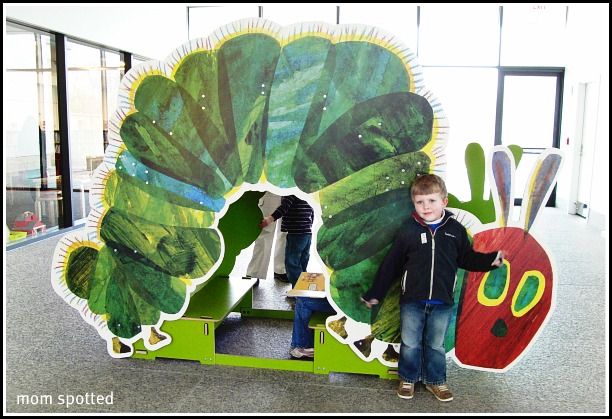 Gummy Lump is also an online retailer that has one of the best supplies of Melissa & Doug Toys. Often times we forget that Melissa and Doug make so much more then just wooden toys but they have antire collections of fun outdoor toys for kids and I really want to take a moment to share some of them that we love with you.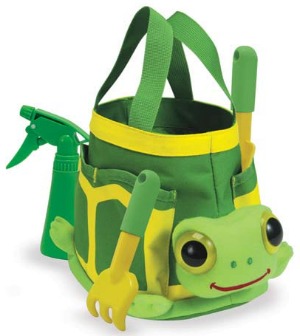 The Tootle Turtle Tote Set is an adorable totebag with a cute turtle's face on the front. This tote set stores your inspiring gardeners tools and includes a Trowel, Cultivator, and Spray Bottle! Part of the Sunny Patch Collection.
We do a lot of gardening here and the kids love getting their hands dirty with me. Johnny helped me a lot last year but now that Gavin's getting a lot older I want him to get a section and start helping. Now that I have a large herb garden too I need all the help I can get. This totebag is great and will not only be fun for him but be really helpful too! I love that it even included the handy tools!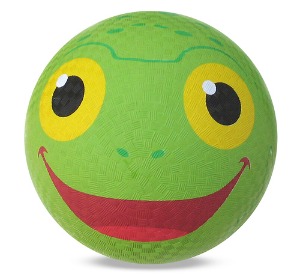 This bright green Froggy face kickball will encourage everyone to hop into good times in your backyard or on the playground! Made of durable rubber, this ball is ideal for early catching and kicking games.
Are you looking for a fun, durable ball for your child? This is definitely it! The texture is thick and makes the perfect kickball. I like it because its fun, bright, and cheerful. Even though it's green it's really easy to find in the yard. This ball has already provided tons of hours for my boys and the warm weather is just beginning.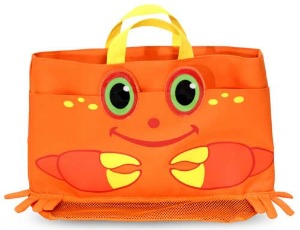 Clicker Crab Beach Tote Bag has exterior pockets and a roomy interior to pack everything you need for a day of adventure at the beach. This generously sized, super-bright, red-orange tote bag also has mesh panels in the bottom so you can "sift" out the sand!
I so wish I had this bag years ago. The fast that the mesh panels allow all the sand to get out of the bag as we walk back to the car instead of it ending up all over our car or garage floor when we get back. I also like all the handy pockets to tuck all your shovels in or all the treasures you find in your shell searching.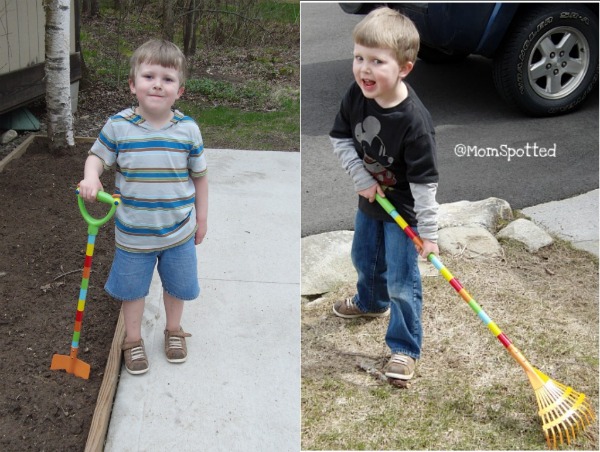 Plant a flower or dig for treasure with this colorful, child-size metal Happy Giddy Shovel. With a brightly painted wooden shaft and an easy-clean handle, your child will "dig" this kid-friendly shovel.
Your child will be waiting for the leaves to fall so that raking fun can begin! Child-size metal Happy Giddy Rake has a brightly painted wooden shaft and an easy-clean handle. Young gardeners will be delighted with real tools they can use! Child sized and made to last, these tools feature durable construction and bright, Sunny Patch colors.
Gavin loves the rake and shovel. As you can see it the photos they are sized perfect for him. These are actually much better construction then I expected for their value pricing. I've been looking for something similar for about two years and it was always the unreasonably priced ones that weren't flimsy. Not at Gummy Lump though! These handy tools are affordable and quality made. I have no fear that these will last years longer then Gavin will be playing with them.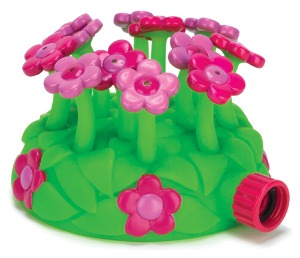 Fun will bloom in an instant when this beautiful bouquet of flowers is connected to your garden hose. It's easy to keep cool when this Blossom Bright Sprinkler goes into action! Sprinklers featuring Sunny Patch Friends will keep children cool and entertained for hours!
The only product we haven't been able to use yet is the sprinkler. Daddy is being strict getting the grass ready before we run all over it and it hasn't been warm enough yet either. We can't wait though. It's size and fun look make the boys super excited about getting wet.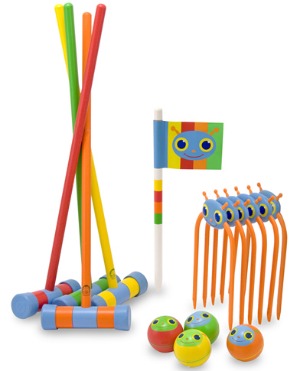 Family fun is guaranteed with this Happy Giddy Croquet Set, a delightfully buggy version of a classic game. Unpack the carrying case, set up the wickets and goal stake, and you're ready to play croquet! Classic backyard fun for the whole family! Comes with 6 wickets, 4 mallets, 4 buggy balls, 1 goal stake, complete instructions and carry case with handle.
We have had a lot of fun with this croquet set and I was surprised at how quickly Gavin caught on. We started with only half the stakes so he could get used to hitting the ball and understand the object and then we moved up to using all of them. Sometimes it's just the fun of setting it all up. As a mom I love that it comes with a carrying case. I don't know if I'll be taking it anywhere other then our yard but in the heap of tons of summer toys I know that all the pieces will stay together and easily found for whenever they want to use it.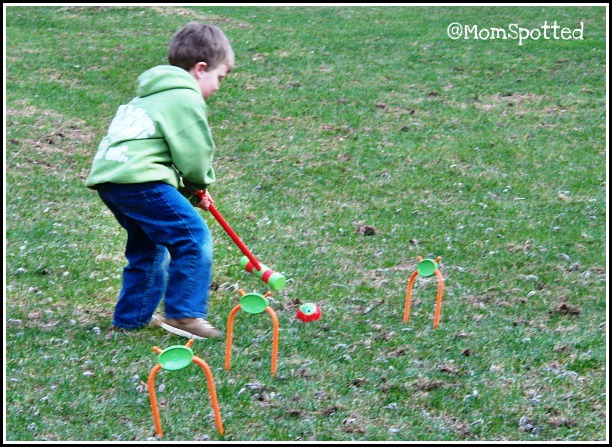 I'm also super excited to announce that I've been asked to be an official GummyLump Brand Ambassador! I'll be bringing you lots of fun from them so make sure to stay tuned!

Gummy Lump has a huge selection of Melissa & Doug Outdoor toys that I didn't even get to mention. I highly recommend heading on over and finding all they have to offer. You'll be pleasantly surprised with all they have to offer and at how affordable everything is too!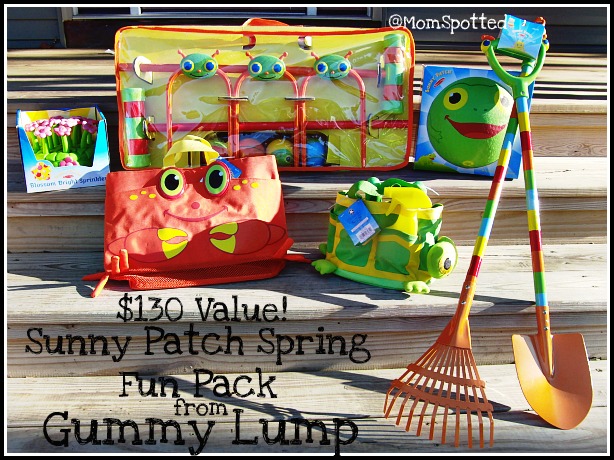 Gummy Lump has offered one Mom Spotted Reader the $130+ Sunny Patch Spring Fun Pack pictured above!!!

How to Enter:
1.) Visit
Gummy Lump
and tell me what other outdoor product you like.

Mandatory
How to earn additional entries:
2.) Become a follower on my blog (publicly- privately does not count)-leave another comment (or let me know if you already are) – 2 entries
3.) Subscribe to my blog by EMAIL (not feed) – 2 entries
4.) Blog about my giveaway- with a link back to here AND
Gummy Lump
4 entries (get two more if you include a photo of the giveaway).
Post YOUR blog entry first and then the comment (please include the link directly to it not to your front page, and make an additional comment then the ones above.)
5.) Add my Mom Spotted button to your blog
6.) Follow
Gummy Lump
on Twitter
7.) Follow
Mom Spotted
on Twitter AND Tweet about this giveaway-
Copy/Paste:
Win a $130+ Sunny Patch Spring Fun Pack from @gummylump & @MomSpotted #giveaway ends 5.22 http://wp.me/p18qpn-31c
~this can be done once daily (leave link in comment)~
8.) Become friends with Mom Spotted on Facebook– leave me a comment
9.) Become a Fan of Gummy Lump on Facebook! – Tell them what you love at their site
10.) Post on your facebook home page (1x daily):
Win a $130+ Sunny Patch Spring Fun Pack from @GummyLump.com & @Jennifer MomSpotted Giveaway Ends 5.22 http://wp.me/p18qpn-31c
(Make sure it links to me and GummyLump.com & put link in comment)
11.) Leave a relevant comment on any non-giveaway post (reviews are ok)
(Make sure to check out all my other giveaways!
Check the side bar to the right for list!)
That's many chances to win a $130+ Sunny Patch Spring Fun Pack!!!
Contest ends May 22nd at 11:59pm!
***USA Only***

Mom Spotted Review Policy: I was provided with the featured item(s) at no cost by the manufacturer and/or its PR agency in order to test the products abilities and give my own personal opinions on it. The opinions I have given are mine and may differ from others but it was not influenced in any manner by monetary means.