When I had to decide what to get for a review from Plow & Hearth it took me much longer then normal. Plow & Hearth is one of those sights that until you actually start going through the pages do you realize that you want one of everything and narrowing down a selection is nearly impossible- and I didn't. I narrowed my choices and let the PR rep pick because I couldn't. I will definitely be back for future purchases. In the spring I plan on doing some decorating for our house. We haven't really decorated since we moved in and I'm ready to my house to be a home. I saw so many things that would help with the process on Plow & Hearth.
This time of year though I'm getting ready to entertain! Actually my entertaining has already started! I actually have entertained twice so far! This is the first year that we started decorating the day after Thanksgiving and I can't wait to let it continue. The hardest part about having lots of people over is making sure everyone is well taken care of. In the winter you entertain inside so there aren't big coolers laying around that people feel comfortable going into, our fridges seem to make people uncomfortable it seems. Even for closer family. I knew when I saw the Cold Drink Dispenser it would be great to fill, leave, and let guests fill as needed.
Fill This Drink Dispenser And Forget It
Park our three-gallon Drink Dispenser in any convenient spot – indoors or out – and let family and guests help themselves to refreshing drinks. Great for tea, lemonade, fruit drinks or your favorite crowd-pleasing beverage.  Unbreakable polycarbonate dispenser will withstand hot summers outdoors as well as holidays and other indoor celebrations. Single handle dispenser keeps things sanitary. Hand wash.
Size 3 gallon capacity
10-1/2″ dia. x 18″H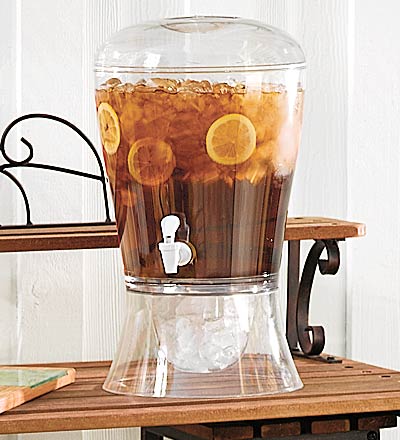 Hand wash all the pieces by hand. Make sure to fill the base up with ice before you start. Once you fill it up you won't be able to life it. Make sure it's level. I recommend moving it around and go under versus over. The top doesn't screw in it just rests on so you don't want to give it any excuse to tip.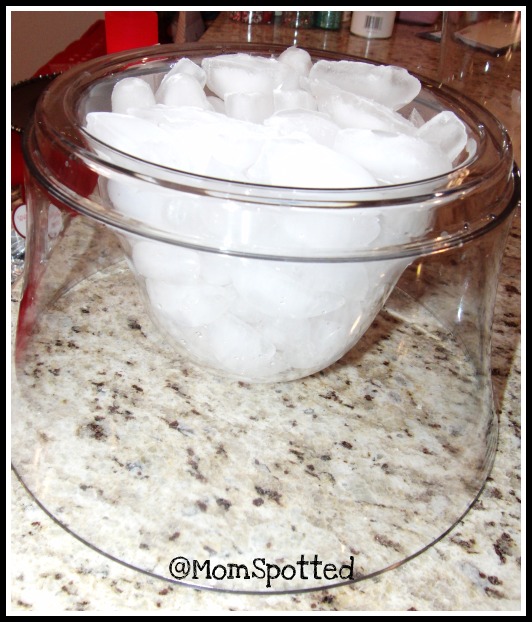 I had a bunch of people over last Wednesday night and this was a great way to leave a drink out for everyone to help themselves too. It did end up leaking all over my counter and I needed guests to help me empty it and get it over to the sink as quickly as possible while others grabbed towels and tried catching it as it poured out. The problem isn't actually the device but the valve. You have to install the washers just right and the only directions were on the plastic bag I had to rip open to get the pieces out of that was smaller then a snack baggie. Before I realized I didn't have paper instructions they were gone and I put them on wrong which caused the leaking. I played with it once guests left and realized it was due to my error but more clear instructions that could stay with it would be great. Since you don't use it often I'd forgot by the next time I'd use it. Now that I know what I did wrong this will be perfect for our summer parties!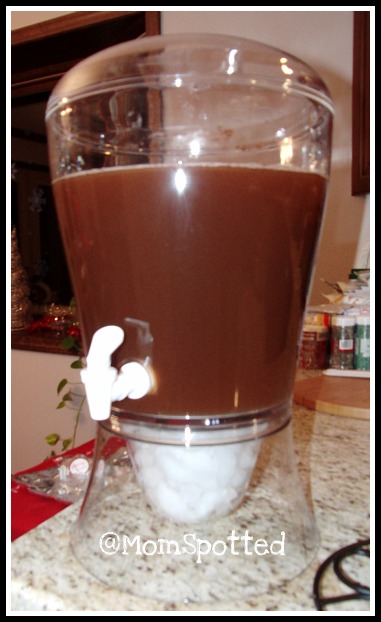 This season the main thing that has gotten me so excited to actually entertain is because I am decorated. I loved the Reversible Snowflake Table Runner the moment I saw it.
Runner Is Reversible
On one side, this table runner features a festive green and red plaid that strikes the holiday spirit; on the other, it's decked with snowflakes, snow-mittens and a snowman. A versatile addition to your holiday décor, and a great gift idea for the holiday hostesses on your list. Polyester. Machine washable. Imported.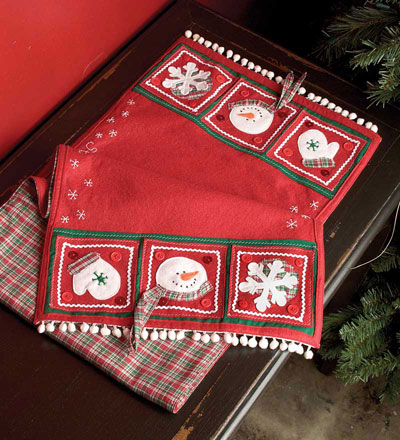 Look how bright the colors are in this runner! When I saw it I may have known I loved it but I hadn't a clue as to where I was going to actually put it. I really wanted to make sure it had the best possible spot it could. The details are perfect and the top isn't forgotten. It's not so bust that it over takes the area either!
This year I've really been into my dining area. It's by far my favorite room right now. I needed some storage space and hubby was against getting a hutch so we settled and agreed on a sofa table. Sounds odd but works perfectly.Don't mind the frames, I couldn't find a good spot to put them while I used their hooks for Christmas decor. The Reversible Snowflake Table Runner is the perfect finishing touch for this room. It lets me put items I don't normally put on the wood since I know the soft material will protect it.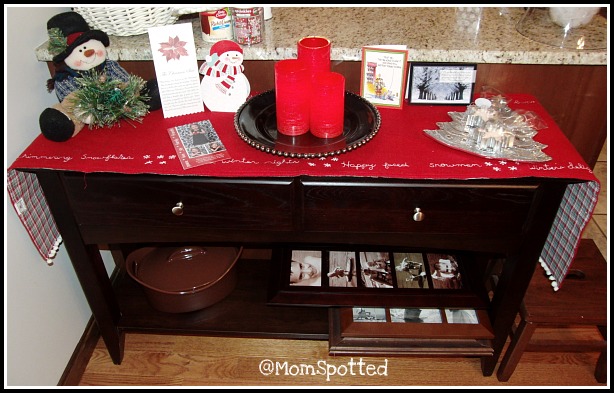 Plow & Hearth has offered one Mom Spotted Reader a $75 Gift Certificate!!!

How to Enter:
1.) Visit
Plow & Hearth
and tell me what product I didn't mention that you also like!
Mandatory
How to earn additional entries:
2.) Become a follower on my blog (publicly- privately does not count)-leave another comment (or let me know if you already are) – 2 entries
3.) Subscribe to my blog by EMAIL (not feed) – 2 entries
4.) Blog about my giveaway- with a link back to here AND
Plow & Hearth
4 entries (get two more if you include a photo of the giveaway).
Post YOUR blog entry first and then the comment (please include the link directly to it not to your front page, and make an additional comment then the ones above.)
5.) Add my Mom Spotted button to your blog
6.) Follow
Plow & Hearth
on Twitter
6.) Follow
Mom Spotted
on Twitter AND Tweet about this giveaway-
Copy/Paste:
Win a $75 Gift Certificate from @PlowandHearth & @MomSpotted #giveaway ends 1.3.11 http://wp.me/p18qpn-1EO
~this can be done once daily~
7.) Become a Fan of Mom Spotted on Facebook– leave me a comment
8.) Become a Fan of Plow & Hearth on Facebook! – Tell them what you love at their site
9.) Post on your facebook home page (1x daily):
Win a $75 Gift Certificate from @Plow & Hearth & @Jennifer MomSpotted Giveaway Ends 1.3.11 http://wp.me/p18qpn-1EO
(Make sure it links to me and Plow & Hearth & put link in comment)
10.) Leave a relevant comment on any non-giveaway post (reviews are ok)
(Make sure to check out all my other giveaways!
Check the side bar to the right for list!)
That's many chances to win a $75 Gift Certificate!!!
Contest ends January 3rd at 11:59pm!
***USA Only***

Mom Spotted Review Policy: I was provided with the featured item(s) at no cost by the manufacturer and/or its PR agency in order to test the products abilities and give my own personal opinions on it. The opinions I have given are mine and may differ from others but it was not influenced in any manner by monetary means.