When Gavin was little he didn't talk. We had to put him into speech therapy to work on it. One of the tools that they recommended us purchasing were wooden puzzles. So, of course being the parents we were we went out and bought a ton of puzzles – all of course from Melissa and Doug. The therapists said that repeatedly doing them with him it would encourage him to speak the words when he placed them in their spots. Not only did the puzzles help him with his speech but by the time he turned three he not only knew his entire alphabet, all shapes (even difficult ones), animals, and more. Because of all of this he was also spelling and reading small phrases at that age and I, personally, owe a big thank you to Melissa and Doug for how smart he's become. The wooden puzzles made a huge difference and were something that made learning fun and engaging for him!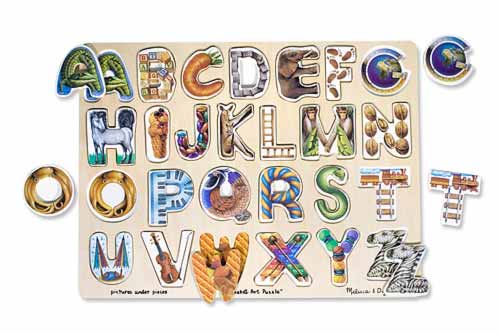 A new item I've recently noticed on their site is the Trunki! Don't you just love them? In the past couple of years we have been doing a lot of traveling. The boys will be going to Florida twice this coming year alone and in the past it has always been a struggle with their luggage. This would definitely make the airport experience that much easier!
The greatest travel innovation since the wheelie bag! Trunki allows children to scoot along on their luggage through the airport or train station. This lightweight, sturdy, carry-on sized suitcase serves as luggage, riding toy, and transport for kids on the go! At home, Trunki may be used as a convenient kid-friendly storage bin too! Features include a tow strap, carry handles, secure catches, integrated wheels and stabilizers to prevent toppling over. Holds up to 100 lbs.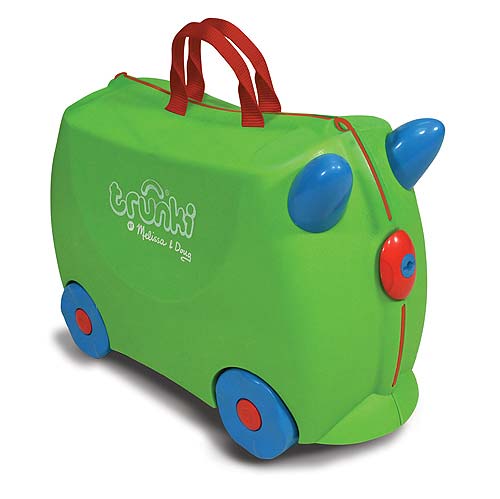 One item I absolutely love from Melissa & Doug is the Wooden Project Workbench. You can read my review on it here. It has been a strong favorite of Gavin since we gave it to him for his birthday over the summer. Not only does it entertain my four year old but his big brother has lots of fun playing along with him on this.
Keep that little builder busy with this sturdy wooden workbench that's just the right size. Right down to the nuts and bolts, this set includes a functioning vise, tool rack, wooden tools and hardware and a storage shelf. Ideas to spark imagination are included!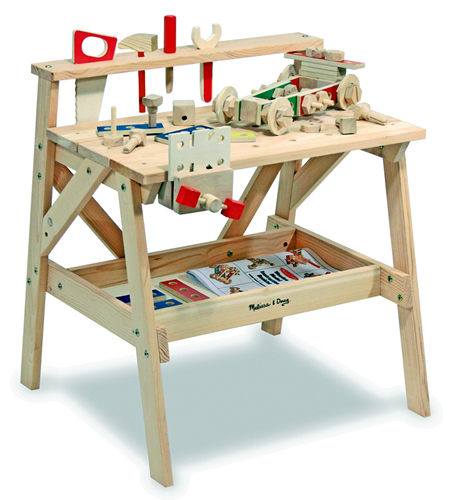 If we didn't already have a kitchen set this would definitely be a perfect fit for us! The Cook's Corner Wooden Kitchen is a great fit for both boys and girl with its bold primary colors and multiple playing areas. The fact that this kitchen is wood and not plastic makes it an investment as it will last years and years!
A removable sink, a 3-burner cook top and oven with clicking knobs, a refrigerator, storage shelves, a "cutting board" and a real, working, timer… Everything a young chef needs is furnished in this compact and efficient kitchen. Sturdy wooden construction to satisfy every appetite for pretend house and restaurant play!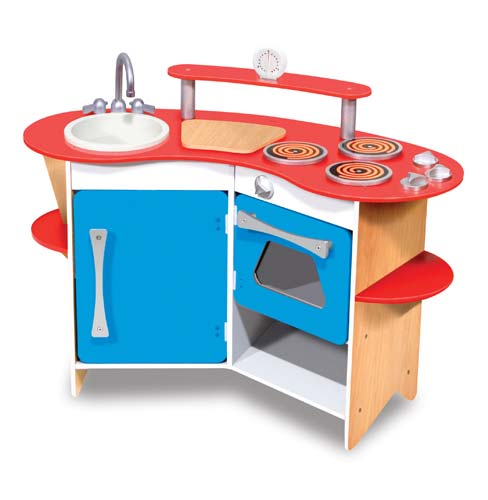 I don't have a little girl but in the past year I have had multiple readers ask my about this doll house. It's the Multi-Level Solid Wood Dollhouse. These are the type of products I loved as a child myself. Sometimes I wish I had a little girl just so I could still get away with playing with them. I still remember the doll house my father built for me when I was little. I believe that every little girl should have her own doll house. This Christmas make that dream possible with a Melissa & Doug Dollhouse!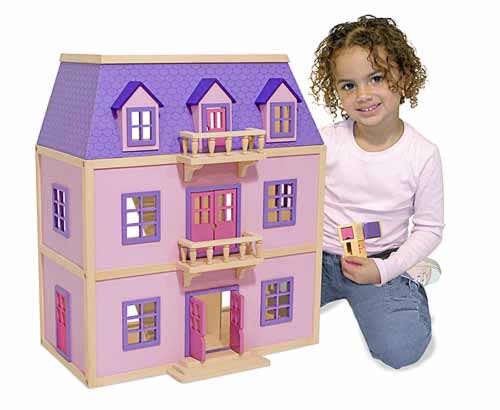 What I especially love about this doll house it that it comes with furniture! You can make the one purchase it and start playing the moment you put it together. I love all the pinks and purples and that not only are the colors nice on the outside but on the inside as well! They carry all the same colors along with the natural wood into the decor and furniture on the inside. This dollhouse comes with all the furniture you see in the picture below. I don't know any other dollhouse that has this quality and this price that actually included matching furniture pieces!
This three-level wooden house is easy to assemble and in move-in condition. Five spacious rooms feature two movable staircases and five working exterior doors. Nineteen pieces of hand painted furniture with working doors and drawers provide the finishing touch. Perfect for home or school.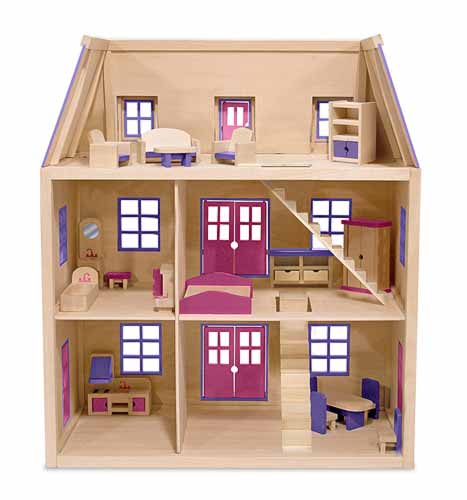 Melissa & Doug has offered one Mom Spotted Reader a Multi-Level Solid Wood Dollhouse !!!

How to Enter:
1.) Visit
Melissa & Doug
and tell me what product I didn't mention that you also like!
Mandatory
How to earn additional entries:
2.) Become a follower on my blog (publicly- privately does not count)-leave another comment (or let me know if you already are) – 2 entries
3.) Subscribe to my blog by EMAIL (not feed) – 2 entries
4.) Blog about my giveaway- with a link back to here AND
Melissa & Doug
4 entries (get two more if you include a photo of the giveaway).
Post YOUR blog entry first and then the comment (please include the link directly to it not to your front page, and make an additional comment then the ones above.)
5.) Add my Mom Spotted button to your blog
6.) Follow
Melissa & Doug
on Twitter
6.) Follow
Mom Spotted
on Twitter AND Tweet about this giveaway-
Copy/Paste:
Win a $150 Multi-Level Solid Wood Dollhouse from @MelissaAndDoug & @MomSpotted #giveaway ends 12.14 http://wp.me/p18qpn-1zo
~this can be done once daily~
7.) Become a Fan of Mom Spotted on Facebook– leave me a comment
8.) Become a Fan of Melissa & Doug on Facebook! – Tell them what you love at their site
9.) Post on your facebook home page (1x daily):
Win a $150 Multi-Level Solid Wood Dollhouse from @MelissaAndDoug & @Jennifer MomSpotted Giveaway Ends 12.14 http://wp.me/p18qpn-1zo
(Make sure it links to me and Melissa & Doug & put link in comment)
10.) Leave a relevant comment on any non-giveaway post (reviews are ok)
(Make sure to check out all my other giveaways!
Check the side bar to the right for list!)
That's many chances to win a $150 Melissa & Doug Multi-Level Solid Wood Dollhouse!!!
Contest ends December 14th at 11:59pm!
***USA Only***

Mom Spotted Review Policy: I was provided with the featured item(s) at no cost by the manufacturer and/or its PR agency in order to test the products abilities and give my own personal opinions on it. The opinions I have given are mine and may differ from others but it was not influenced in any manner by monetary means.