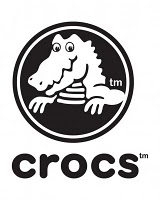 Crocs ugly? What's that you say? I have loved Crocs from the start. No matter what anyone would say to me as I walked around in my fuzzy pink crocs. However, those that knocked them never tried them. They were the most comfortable and warm shoes I've ever worn. And I wore them, til they could be worn no more. I've never worn out a pair of shoes until I owned those. I will forever love Crocs and if you don't then I bet you've never tried them. If it's been awhile since you've visited the site I suggest you take another look around because they have some shoes (especially in the YOU! Collection) that are definitely not your average Crocs shoe!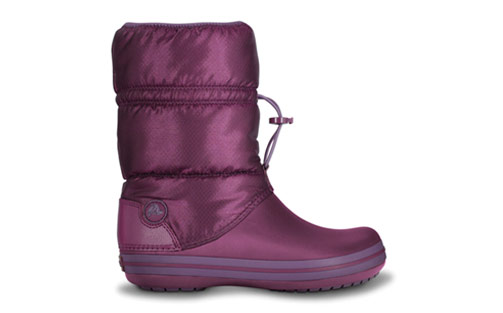 I've been looking into warm outerwear this year because now that both boys are bigger I want to be able to get out in the snow with them. I don't want to stand from the sidelines because my jeans and sneakers are limiting me. That's where the Crocband Winter Boots come in. Aren't they cute? They are available in five different colors: Black, Oyster, Espresso, Plum, and Canary.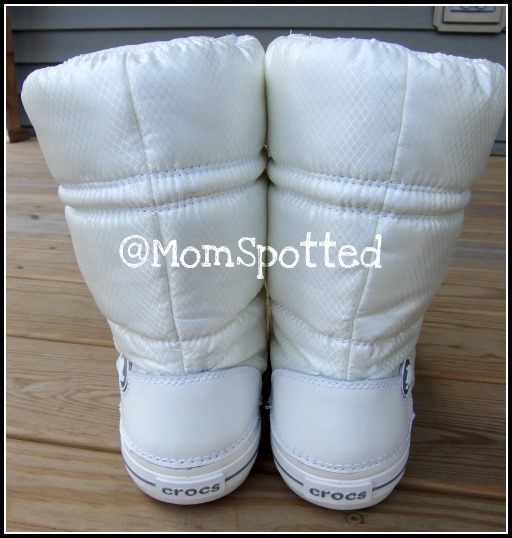 I went with they Oyster color. Did you know white is in this year for winter? No more waiting until summer to sport this lovely color, rock it all year round! I love that they come up high so the snow won't fall back in and I love that its very much like a shoe at the base providing the support you need where you need it. The walls of the boot are insulated and waterproof for added warmth and comfort!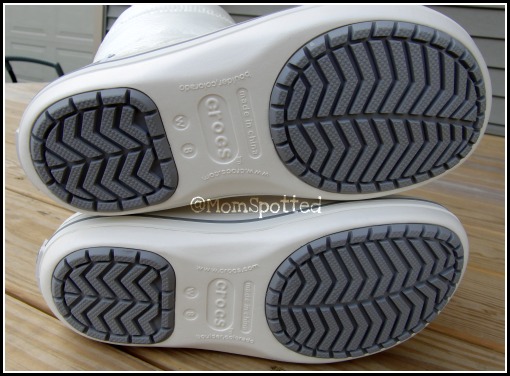 One step I love that Crocs has been doing is the better soles. Remember those fuzzy pinks I was telling you about? The only reason they had to be thrown out was that I completely wore out the bottoms and now that they have these great rubber outsole pods they will last longer. When wearing them out I could feel the traction under my feet and I love that. Our garage is cement floored and when it gets wet from tracked in snow its a death trap if you don't have any traction. I love being able to run down the stairs and not worry if I'm going to kill myself when I reach the bottom.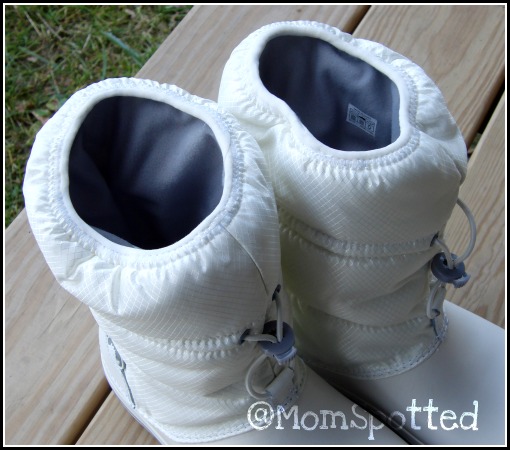 I also really like the elastic tops. I know it seems silly and I guess until you wear them you don't understand the importance of them. No matter what kind of pants you are wearing you can stuff them into the tops and it holds without doing anything extra. Plus, since its elastic and your pants can't get out- that also means the snow can't get in!
I absolutely LOVE these boots! They are warm, comfy, and fashionable!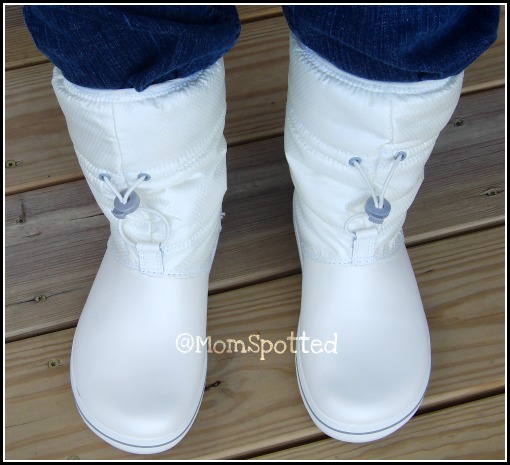 Crocs has offered one Mom Spotted Reader a Pair of Crocs™ Crocband Winter Boot– Winner chooses color!
FOUR WINNERS!!!

How to Enter:
1.) Visit Crocs and let me know what other shoe of theirs you love!
Mandatory
How to earn additional entries:
2.) Become a follower on my blog (publicly- privately does not count)-leave another comment (or let me know if you already are) – 2 entries
3.) Subscribe to my blog by EMAIL (not feed) – 2 entries
4.) Blog about my giveaway- with a link back to here AND
Crocs
2 entries (get two more if you include a photo of the giveaway).
Post YOUR blog entry first and then the comment (please include the link directly to it not to your front page, and make an additional comment then the ones above.)
5.) Add my Mom Spotted button to your blog
6.) Follow
Crocs
on Twitter
6.) Follow
Mom Spotted
on Twitter AND Tweet about this giveaway-
Copy/Paste:
Win a $70 Pair of Crocs™ Crocband Winter Boots from @Crocs & @MomSpotted #giveaway ends 11.29 FOUR WINNERS! http://wp.me/p18qpn-1oi
~this can be done once daily~
7.) Become a Fan of Mom Spotted on Facebook– Say Hi
8.) Become a Fan of Crocs on Facebook! – Tell them what you love at their site
9.) Post on your facebook home page (1x daily):
Win a $70 Pair of Crocs™ Crocband Winter Boots from @Crocs & @Jennifer MomSpotted Giveaway Ends 11.29 US & CAN – FOUR WINNERS http://wp.me/p18qpn-1oi
(Make sure it links to me and Crocs)
10.) Leave a relevant comment on any non-giveaway post
-EFFECTIVE IMMEDIATELY-
You must have your email in your comment or in your profile in order to win.
(Make sure to check out all my other giveaways!
Check the side bar to the right for list!)
That's many chances to win a $70 Pair of Crocs™ Crocband Winter Boots!!!
Contest ends November 29nd at 11:59pm!
www.crocs.com
***USA & Canada Only***

Mom Spotted Review Policy: I was provided with the featured item(s) at no cost by the manufacturer and/or its PR agency in order to test the products abilities and give my own personal opinions on it. The opinions I have given are mine and may differ from others but it was not influenced in any manner by monetary means.