I am preparing to have a brand new baby here in just a few days! I am definitely a "clean freak" by nature. I enjoy cleaning, I enjoy sanitizing, and I especially love finding chemical-free ways to do it. There are a few things around the home that can be tricky to sanitize. I forgot what a pain breast pump accessories are to clean, and all the tiny little baby knick-knacks like pacifiers, bottle pieces, or toys. Coral UV's 3-in-1 Home Sanitizer has been such a dream product in helping me sanitize, dry, and clean so many things throughout my home. I have been using it to major prep for baby but it can be used for so many things around the home.
Coral UV's 3-in-1 sanitizer is so super easy to use and uses zero chemicals, water, or heat! It kills 99.9% of harmful bacteria and viruses in just 10 minutes! It is so nice to have the peace of mind that I don't have to rewipe anything down or worry about chemical residue that might have been left behind from a harsh cleaning product. The UV-C sanitizer uses high energy, artificial UV-C rays that break down the DNA of bacteria and other germs. Because it uses lights to sanitize it is a perfect chemical-free solution making it awesome to clean all those tricky things around your house. I have been using it to get ready for baby, but we have also sanitized keys, cell phones, small stuffed animals, makeup brushes, remotes, or my kid's little water bottle pieces.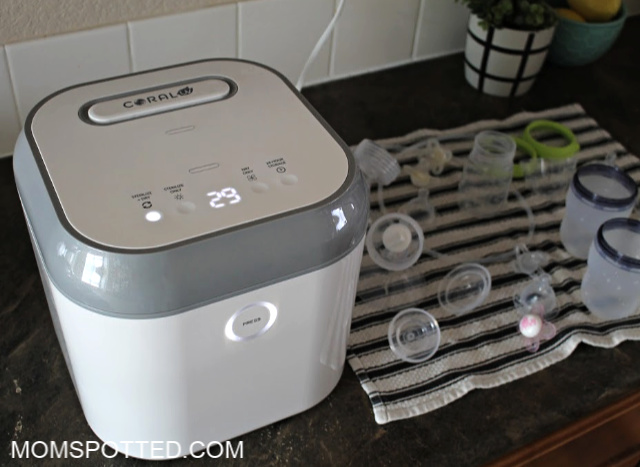 The Coral UV 3-in-1 will not damage materials over time like steam sanitizers. It also only takes 10 minutes to sanitize with the "sterilize only" function! In 10 minutes and you can feel confident that your items have been sanitized. For my breast pump accessories, baby bottles, and other items that I have first washed the UV-C sanitizer also has a drying function. I push "sterilize and dry" that can be set for 40, 50, 60, or 70 minutes. The first 10 minutes sanitize and the rest of the time you can customize for drying depending on how wet your items are.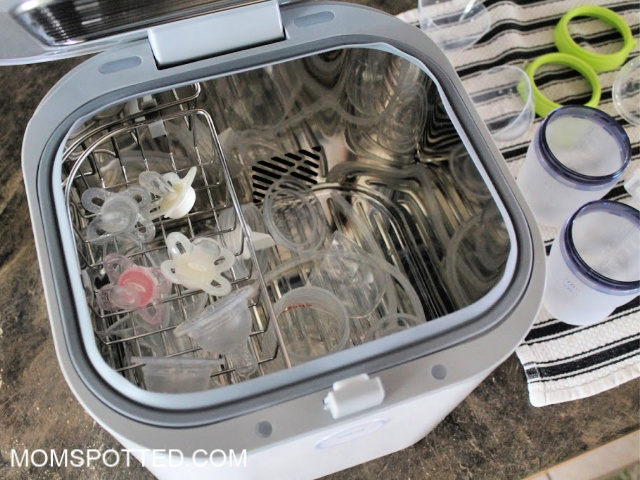 Once my baby arrives the UV-C sanitizer has a function that allows for "24 hr storage" sanitizing. This will be perfect for keeping bottles, bottle nipples, and pacifiers sanitized with basically no effort on my part. There is also a "dry only" function if you just need to quickly dry wet items without sanitizing. I was so impressed with how user-friendly the Coral UV 3-in-1 is. It is seriously so easy to use and clean! I have just wiped down the inside with a microfiber cloth. It requires basically no maintenance and comes with bulbs and filters to replace every few months depending on how frequently you use the machine. It is also so compact, and a little smaller than my instant pot for comparison making it easy to store.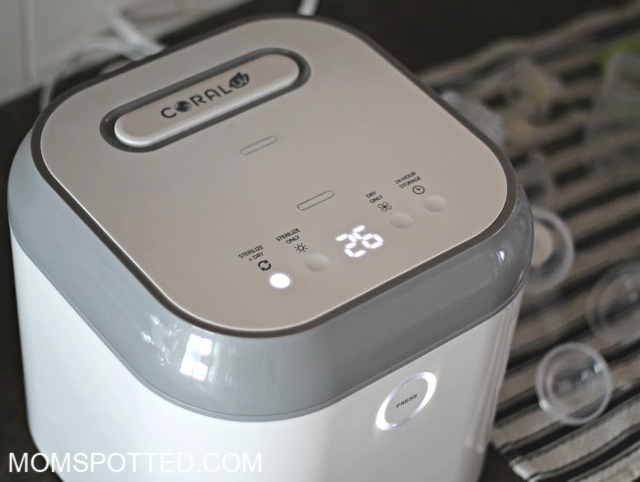 I have absolutely loved this sanitizer! I keep finding more and more things for it to sanitize and cannot say enough good things about it. Every home needs one of these to help sanitize all the trickier things around the home to clean and sanitize. You can find the Coral UV 3-in-1 on the Coral UV website and on Amazon.
Right now (1) ONE Mom Spotted readers has the opportunity to win (1) Coral UV 3-in-1 sanitizer!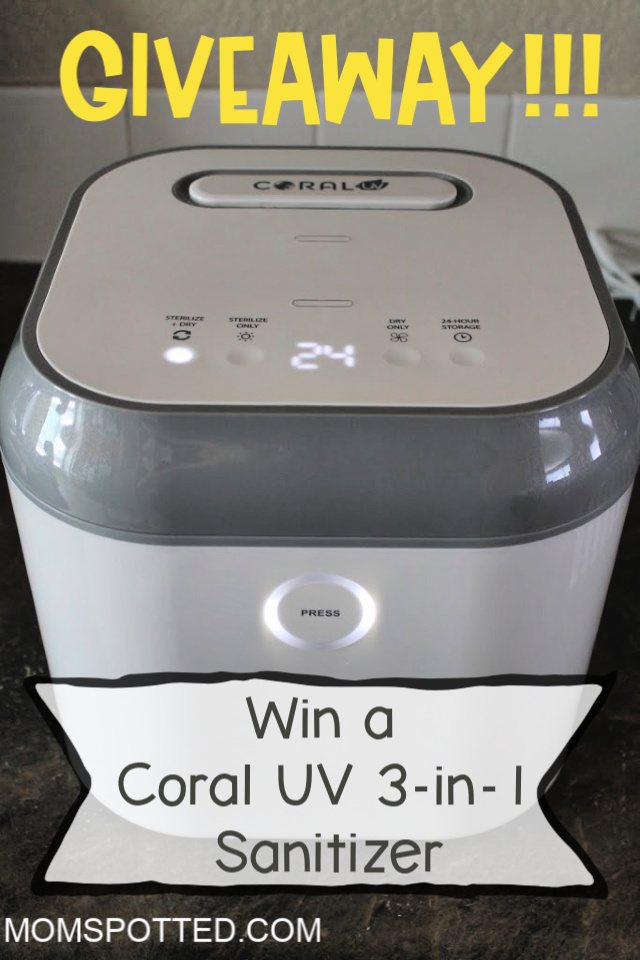 To enter use the Rafflecopter form below. Good Luck!
Contest ends 8.3.20 at 11:59 pm. For Official Giveaway Rules click here. U.S. Residents only.