"This is a sponsored conversation written by me on behalf of 7UP®. The opinions and text are mine."
One of my favorite things to do is entertain. I love having friends, other couples, and new families over to our home. It is always so much fun to meet new people and enjoy the weekend together. My kids love playing with other kids and making new friends as well. Entertaining also gives me the opportunity to cook and bake. I enjoy cooking, being in the kitchen and trying new recipes. But cooking and baking for lots of people can be tricky. It can be stressful knowing how much food you need, making sure you haven't forgotten an ingredient and making food everyone will enjoy. 7UP is my go-to secret ingredient when I am entertaining or throwing a party. 7UP is so versatile; I can use it from the start of the meal all the way to the end at dessert.
7UP is delicious on its own and is my family's favorite soda, but it can easily be mixed up to make it extra special. My husband always requests I make 7UP Raspberry Lime Floats when we are having a date night in or if we have friends over. It is so delicious and refreshing that I always think of summer when we have it. Best of all it only needs three ingredients! It is enjoyed as a punch drink with dinner, we like to have it with meals that we grill, or it can be a sweet dessert.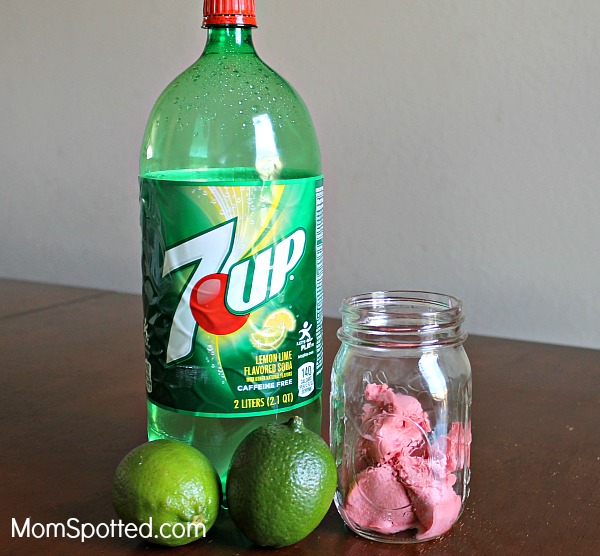 To make your own 7UP Raspberry Lime Floats you will need classic 7UP, raspberry sherbet, and limes. First, put a few good size scoops of softened raspberry sherbet into your glasses. I like using mason jars when we entertain. They are just so cute and kids always really love drinking out of them. Then fill your jar with 7UP. I also like to slice up some limes to put on the side of our glasses. Using a lime slice on the side looks really pretty, and I also love squeezing just a little fresh lime into my drink. Then serve the floats immediately and enjoy. The sherbet slowly melts into the 7UP making a yummy punch. This recipe is so beyond easy and it is always a hit with our guests.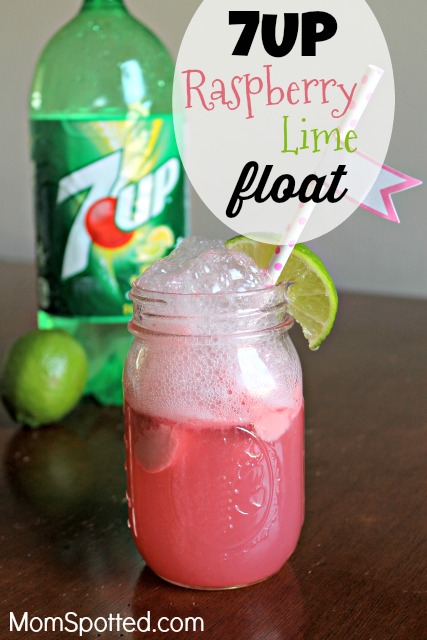 Cooking and baking with 7UP is something I have grown up with. My grandma often baked and made yummy punch recipes with 7UP. One of my favorite recipes of hers is 7UP Apple Dumplings. I always think of her when we eat them. They come together really quickly, and they are good to feed to a good size crowd.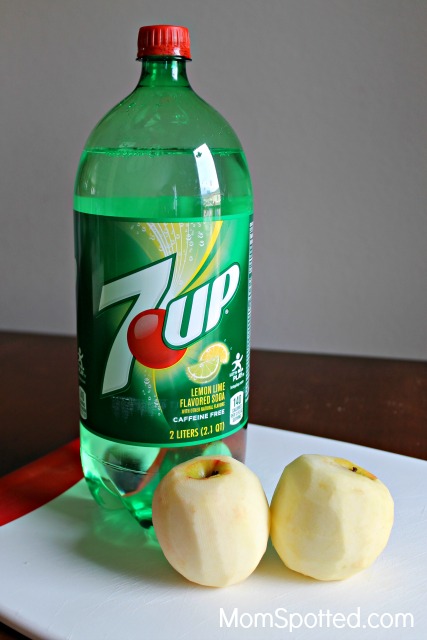 First, you peel two apples and slice each apple into eight pieces. Each apple slice is sprinkled with a little cinnamon and then wrapped into a crescent roll. Each crescent and apple roll is placed into a buttered 13×9 pan and topped with a yummy sugar, cinnamon, and melted butter mixture. Then the secret ingredient of 7UP is added.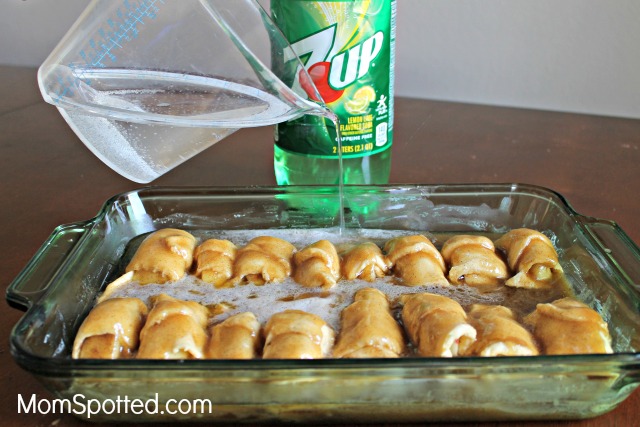 The 7UP takes the sauce to the next level and helps brown up the crescent rolls. After it is baked I just let it cool for a few minutes so I can plate them hot. They are perfect with a nice scoop of vanilla ice cream and the sauce drizzled on top. The sauce is so yummy I could drink it with a straw. It has been one of my favorite desserts since I was a little girl. I love that I can share it with my family now and friends we love.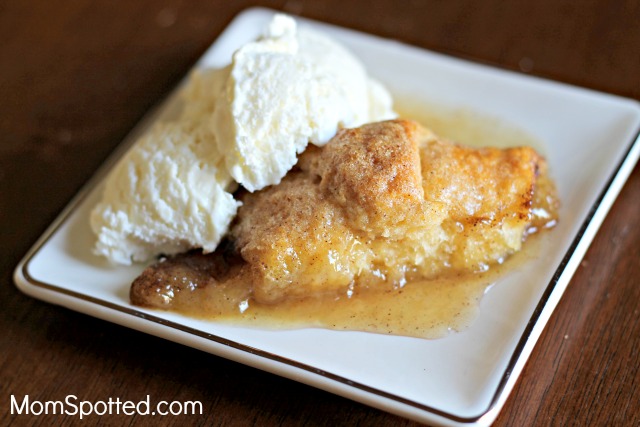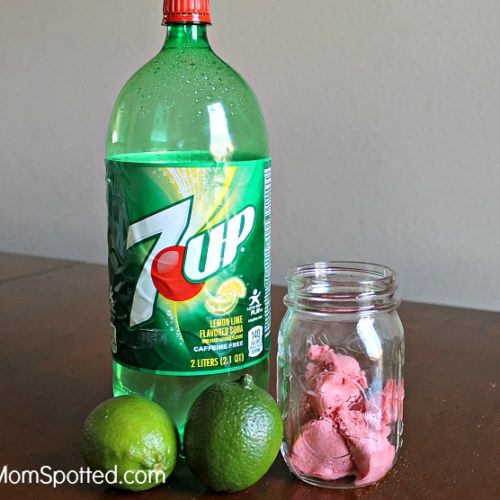 7UP Apple Dumplings
These apple dumplings are delicious served warm next to a scoop of vanilla ice cream. They are quick and easy to make, and great to serve to a crowd.
Ingredients
2

large apples

I prefer Granny Smith

2

cans of refrigerated crescent roll dough

2

sticks of butter

1/2

Cup

brown sugar

1

Cup

white sugar

1

teaspoon

vanilla extract

1

teaspoon

cinnamon plus some sprinkled on apples

1 1/2

Cups

7UP
Instructions
Preheat oven to 350 degrees F and butter a 13x9 dish.

Peel and cut apples into eight equal slices.

Unwrap the crescent roll dough and separate into triangles.

Place an apple slice on the wide side of the crescent and then roll.

Place each rolled crescent and apple roll into buttered dish.

In a saucepan over low heat melt together the butter and sugars.

Then add cinnamon, sugar, and vanilla, mix until combined.

Pour 7UP between rolls (but not over) and bake for 35-45 minutes, or until golden brown.

Cool a few minutes and serve warm with vanilla ice cream.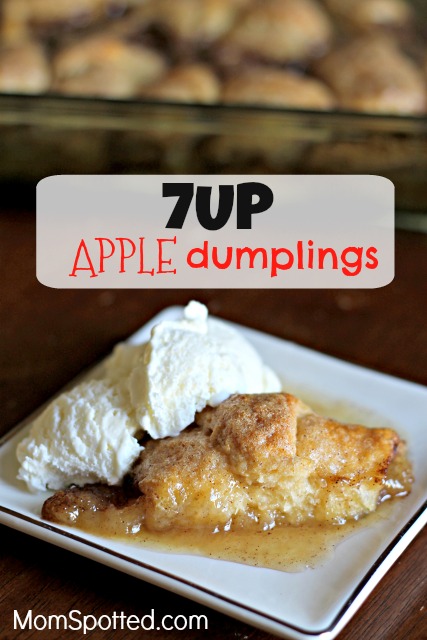 7UP is such a great beverage but it is also a great ingredient to keep in your fridge. It can be used from marinades to mixed beverages, and desserts. Right now you can find a coupon in Savory Magazine in the "New Flavors" edition until 3/30 to save $1.00 when you buy two 7UP 2-Liter bottles. You can also find lots of other delicious recipe ideas and inspiration on the 7UP website. I purchased mine at Giant Landover but you can also purchase at Giant Carlisle and Stop & Shop!
While the weather is slowly warming up make plans to have some friends over and entertain. Stock up on some 7UP and make apple dumplings, raspberry lime floats, or other great 7UP recipes.  #7WaysTo7UP