This summer, I was determined to give my kids some new healthy habits. We were screen free from 8:00 am to 8:00 pm and outside most of the day. I poked around in my garden while the kids enjoyed their bikes, inflatable water slide and our trampoline.
While my kids were out having a classic 1980's summer, I started brainstorming new healthy habits I wanted to start for fall and back to school. I knew that by the time school rolled around, my kids would be used to playing outdoors. So I shifted my focus to my pantry.
My biggest goal was to find something that felt like a treat but was still great for Gavin, Sawyer and Johnny. All three of my boys are in afterschool activities, which means I'm on the go a lot as their cruise director / taxi driver.  Johnny is in honors jazz band and soccer, Sawyer plays soccer and has swim lessons and Gavin has swim lessons and a playdate calendar that I can hardly keep up with! In other words, grab and go snacks are the name of the game.
Snack healthy with Musselman's Squeezables Sours!
Not only did I find a great tasting grab and go snack, I also found something that tastes fun. I don't know about your kids, but my kids love sour things! These Musselman's Squeezables Sours are available in Sour Lemon, Sour Raspberry and Sour Cherry as well traditional flavors such as Strawberry, Honey Cinnamon and Unsweetened Apple.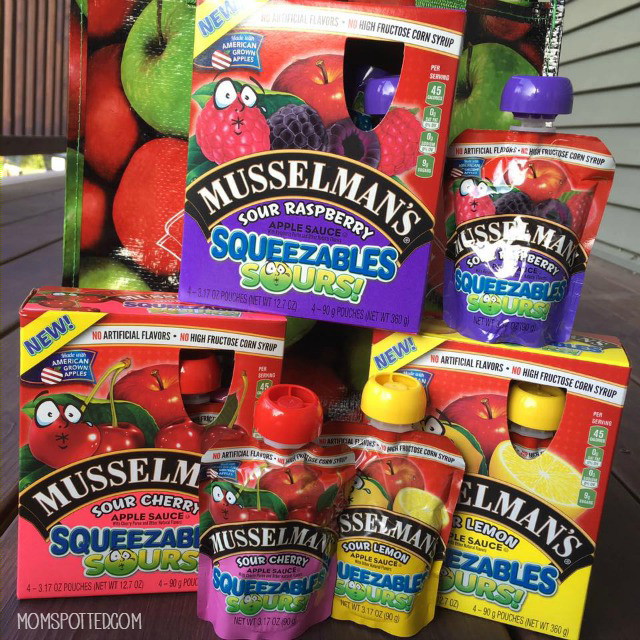 Gavin was my taste tester for these GMO free snacks and his opinion of them is that they're very sour! He said that they're as sour as some of his favorite sour candies, but he likes them better because he knows it's a healthy choice. I think it is so important to teach our children about healthy eating habits and how to make great decisions at snack time.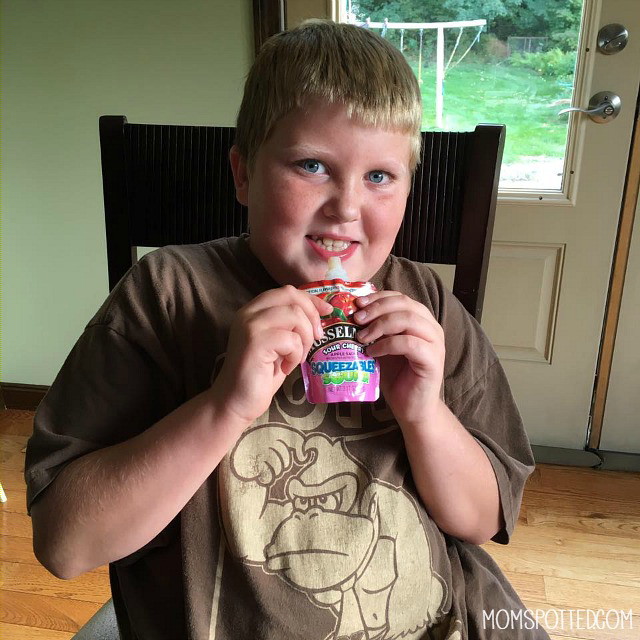 He likes to have a Musselman's #SqueezablesSours pouch after school when he's looking for a healthy snack! As a mom, I love knowing these don't contain any high fructose corn syrup. The convenience of a pouch is also great! It's so easy to throw a few of these in my bag as we're walking out the door on the way to our after school activities!
These new great tasting sour flavors are only available from Musselman's and you can find them in the apple sauce aisle at most local grocery stores.
Connect with Musselman's on Facebook, watch their new commercials on their YouTube Channel or grab this awesome coupon!