One thing I really like doing for my family is menu planning. I love planning out healthy meals that we can all enjoy throughout the week. I love knowing that my kids are being well fed and getting the things they need to keep growing up healthy and strong. My biggest weakness with eating healthy is snacks. I have a tricky time finding snacks that are healthy, can be taken on the go, and that is delicious so my kids will eat it. Big Slice has a new snack that has solved all my snacking wishes. They have a delicious snack made of slow cooked fresh apple slices. The apples are GMO-free, and are USA-grown. Then they mix in pure whole fruits and superfoods in with the apples to make a really amazingly yummy snack. Each snack is around 100 calories per pouch and provide protein, fiber and energy.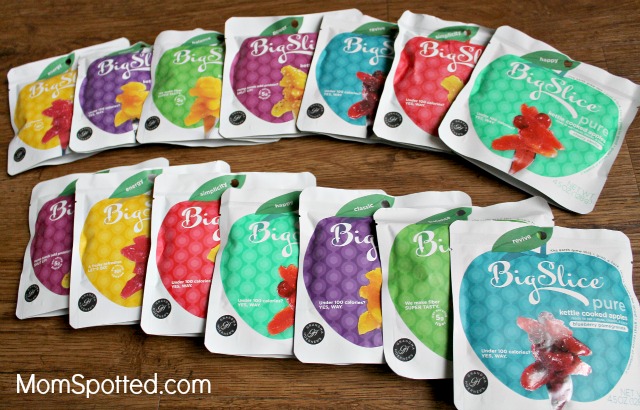 Each Big Slice apple pouch flavor has its own delicious and unique flavor. The pouches are also really easy to throw into my purse or diaper bag with my Big Slice Spork. They easily pop open to stand on their own. I can rip one open in the pick up line at Hayden's school and have a delicious quick and healthy snack. All of the fruit combinations come from whole ingredients and I love being able to share them with my family. They are all naturally gluten and fat-free.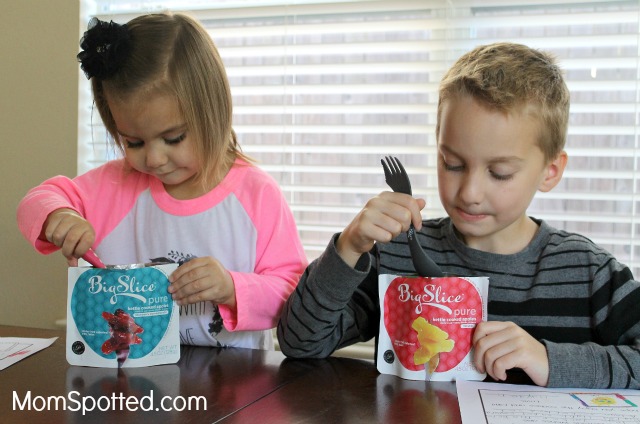 My kids also really love Big Slice kettle cooked apples. They make the perfect after school snack and have no high fructose corn syrup. Hayden always comes home from school starving and Big Slice apples are the perfect thing to fill him up. All of the Big Slice flavors are delicious but we each have our favorite flavor. Hayden loves the Cinnamon French Toast flavor. It smells so good and he loves finding a pack of them in his lunch box. Halli's favorite flavor is Blueberry Pomegranate. I can't blame her it is one of my favorites too.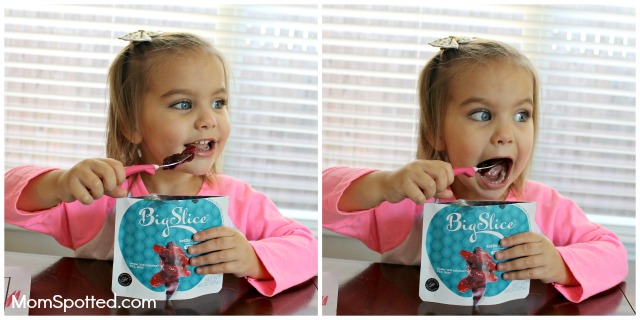 I have also been adding Big Slice apples to some of our meals. They are so delicious stirred into warm oatmeal or topped on a hot waffle! They will be something I always keep in my pantry. The packaging is BPA free, and they are shelf-stable with a 2 year shelf life!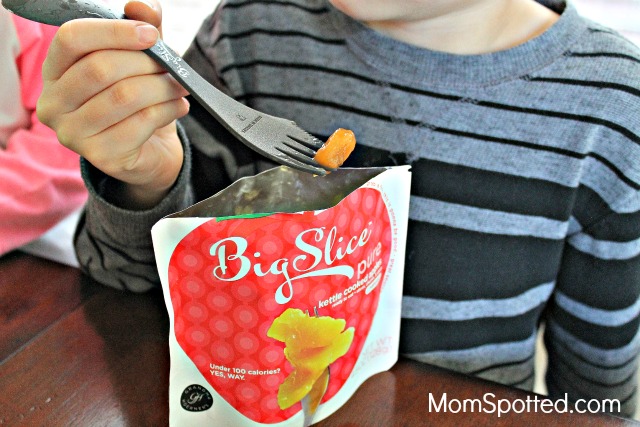 Your whole family is sure to love Big Slice apples and they are the perfect snack to kick off all your new healthy eating goals for the new year.
Right now one (1) Mom Spotted reader has the opportunity to win (1) Big Slice Prize Pack, which includes:
 12 sample pouches, assorted flavors
Big Slice Tumbler
Spork (or jars)
Total retail value: $50
To enter use the Rafflecopter form below. Good Luck!
a Rafflecopter giveaway

Contest ends 12.28.15 at 11:59pm. For Official Giveaway Rules click here. U.S. Residents only.