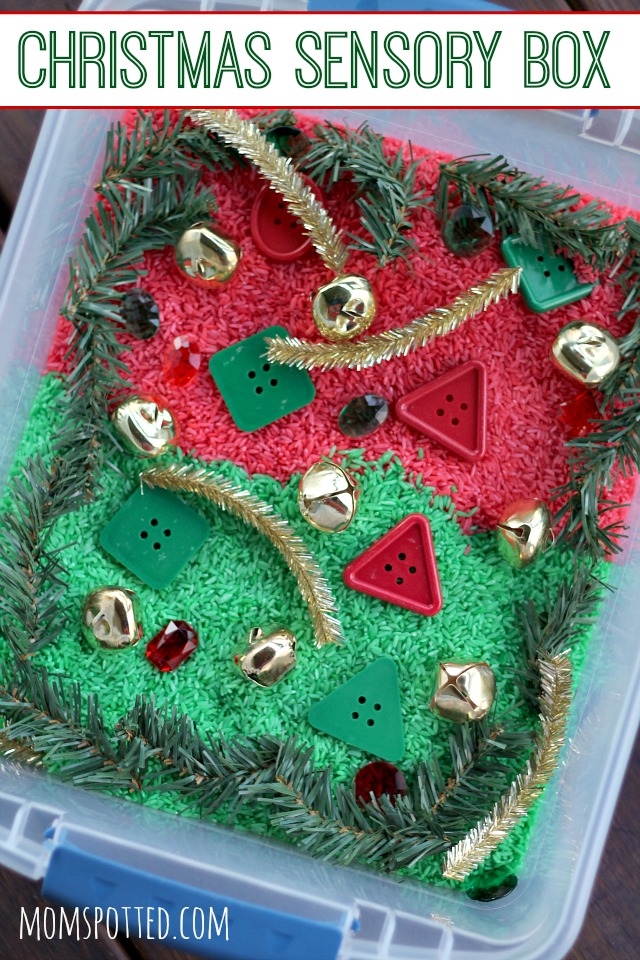 The weather has changed and we've shifted from playing outside for hours on end to only short periods for play. I keep screen time very limited around here so keeping the boys occupied is key so they don't end up bored. It's been awhile since I made a new sensory bin so we thought we'd make one that was Christmas themed. Here's our Preschool Christmas Sensory Bin: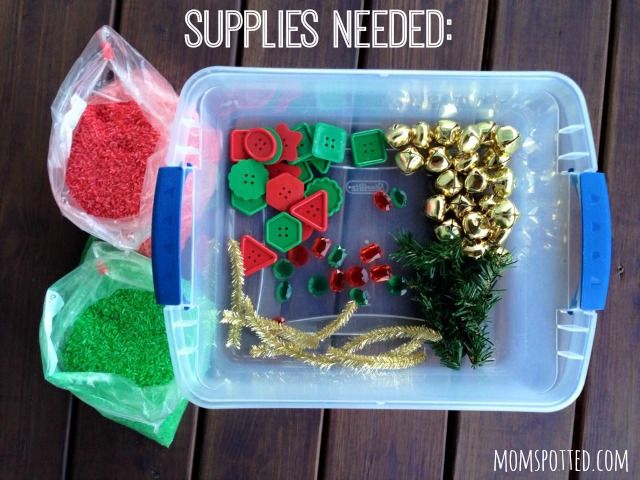 SUPPLIES NEEDED:
rainbow rice in green & red
plastic tub
tinsel
evergreen pieces (fake)
Many of the sensory items we have on hand didn't come in just red & green; we just picked out the specific colors from all the bags. I get most of our sensory pieces from Oriental Trading. The selection is excellent and the prices are definitely hard to match.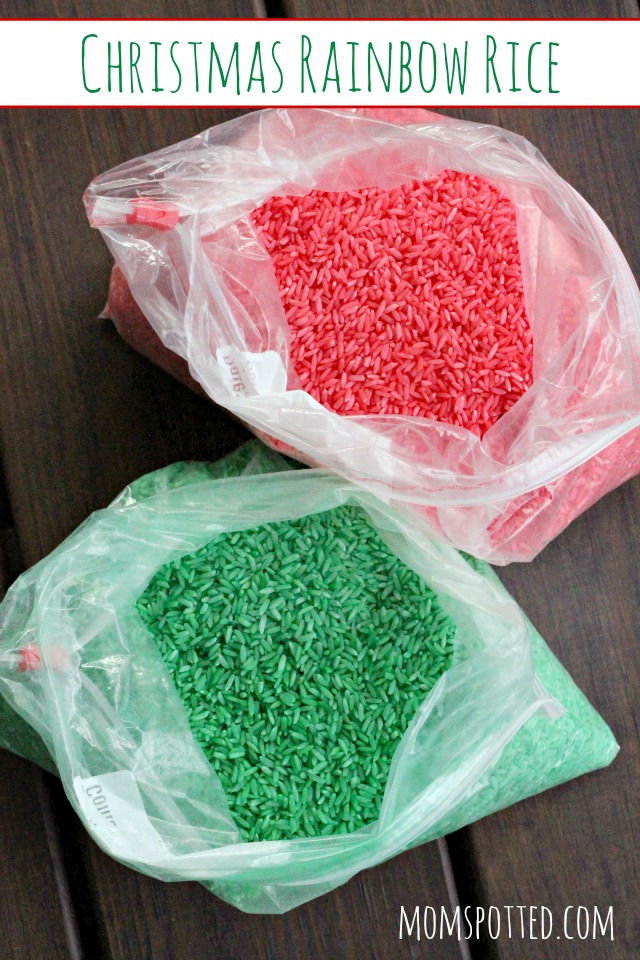 To start you'll need two bags of rainbow rice totaling 10 cups of rice. If you've never made rainbow rice before I have a really easy rainbow rice recipe you can try. When I first start our sensory boxes I like to keep the colors separate and set it up pretty for when Sawyer digs in.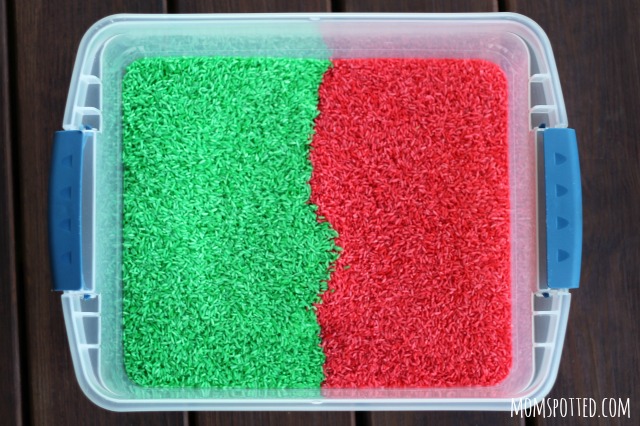 Then take all your sensory pieces and layer them in. I like to hide some pieces under the rice as well. I try to stick to specific number of items (like 10 buttons, 10 bells, etc) so that we can also use it to practice our counting. I cut the pieces of Christmas tree off an old wreath so Sawyer can see how it feels and play with the pieces without touching our actual tree.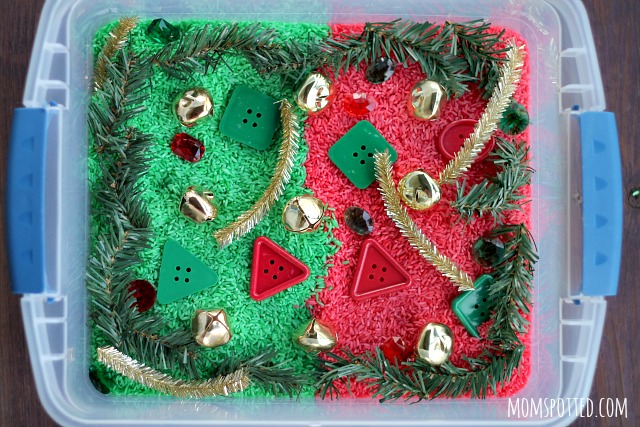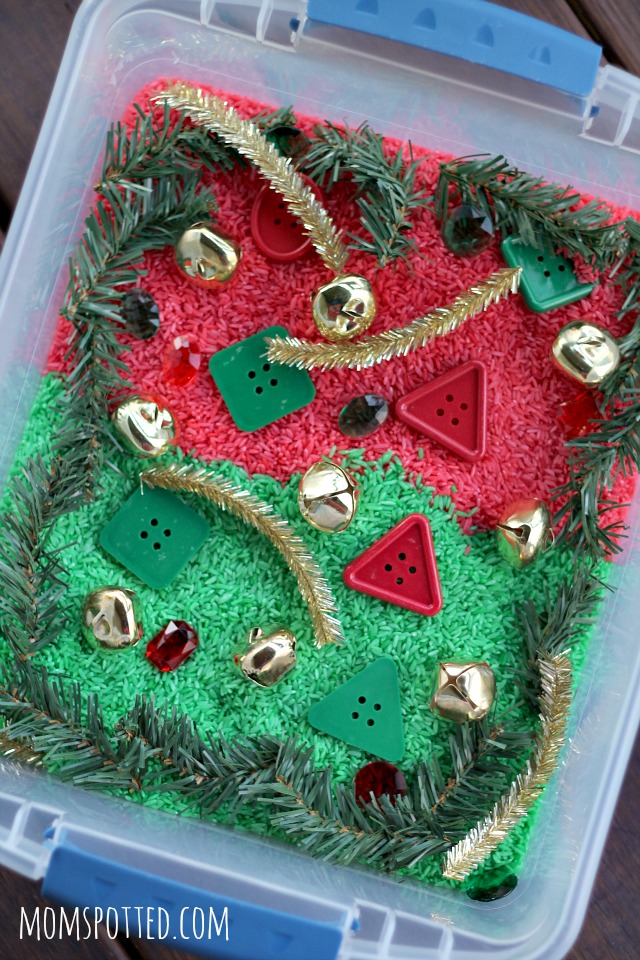 To keep in the red & green spirit I only pulled out our measuring tools that were also those same colors.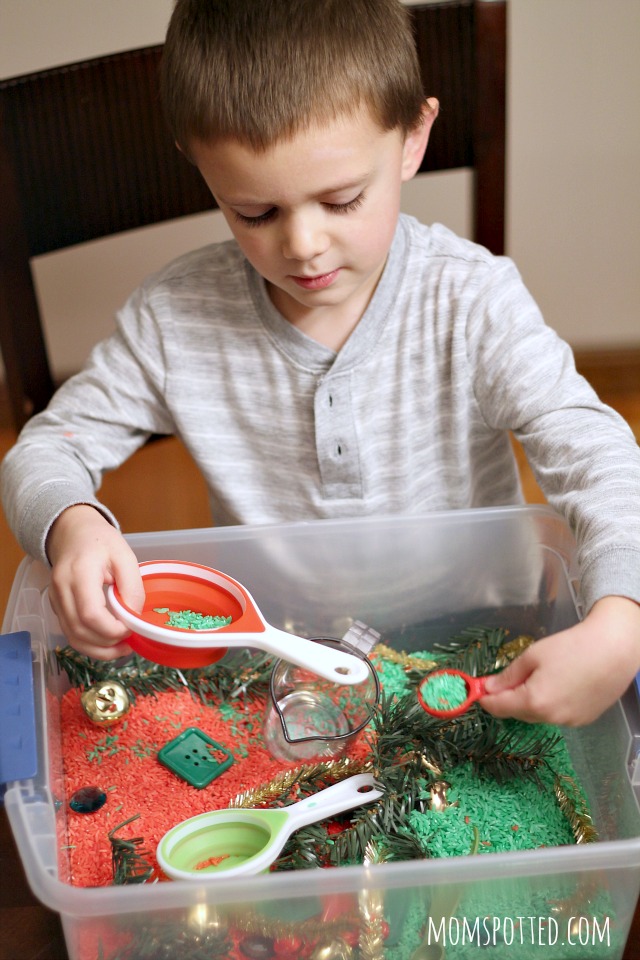 He just loved his new sensory bin! He plays with it regularly and it's one that he plays well independently too. Of course the younger the children the more mess they likely make if you're not close by. Sawyer often plays with his while I do the dishes. To keep the rice spillage at a minimum I find Sawyer does best right at the kitchen table sitting upright. If I let him play in the living room on the floor half the rice always manages to fall out.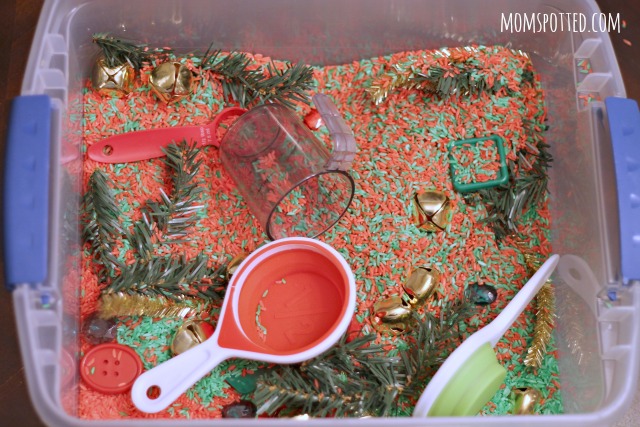 For more fun craft ideas make sure to follow our Fun Crafts with Mom Pinterest Board! You can also check out all my other great Sensory Play Ideas here.
Follow Jennifer MomSpotted's board Fun Crafts With Mom on Pinterest.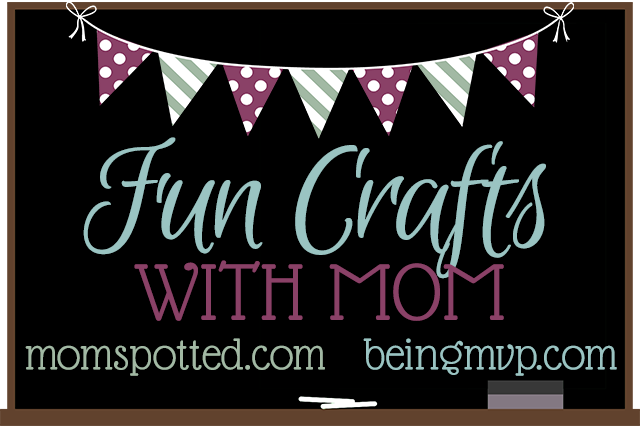 Every Monday we want you to come on over and check out our latest craft! Now head on over and check out Being MVP's DIY Burlap Christmas Tree.