It is always so amazing to me how much my kids learn everyday. Kids really are like little sponges and soak up every little thing around them. Halli is 2 years old and is learning dozens of new words a day, and I am always amazed at the things she knows. During those early years of preschool when my kids are so curious I want them to learn as much as they can. Halli loves to learn especially if learning is fun and also a game. Hayden is 6 and in kindergarten. He is so ridiculously smart and remembers everything. He loves getting his hands on anything that will help teach him new things. He especially loves learning new facts that he can tell everyone. It can be exhausting and really hard finding new ways to encourage the both of them to learn.
CHALK Preschool Online has been such a fun way to help my kids learn. CHALK Preschool Online is a comprehensive curriculum, and has over 500 entertainment and learning videos.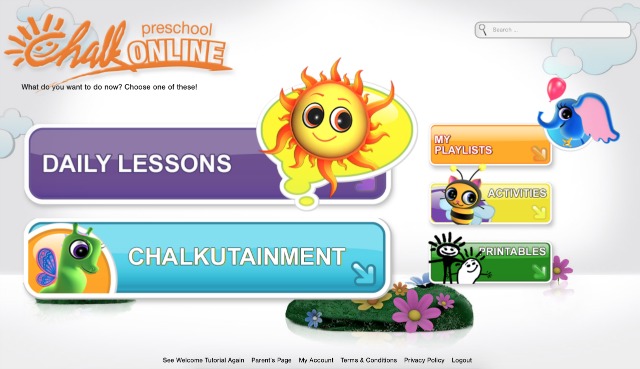 We only have half day kindergarten where we live so I have been using CHALK first thing in the morning with my kids. They first watch the CHALK Daily Lessons. The Daily Lessons are 30 minute lesson plans that have been developed by preschool educators. The lessons teach literacy, shapes, math, colors, science, geography and much more. Halli is fascinated by all of it. She loves the music and dances. She also repeats a lot of the things being taught like letters and their sounds. Hayden also really likes the daily lessons. He thinks all the characters are pretty funny, and he of course absorbs all the facts.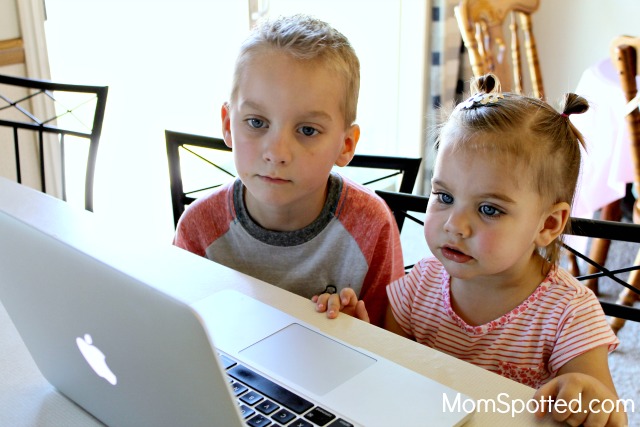 CHALK Preschool Online also offers CHALK-U-Tainment, "CHALK-Lets," and "What Do I Want To Be When I Grow Up," hosted by young star Wyatt Oleff (Guardians of the Galaxy). There are also lots of ideas for hands-on activities like art projects, healthy cooking ideas, exercise demos and more. I love that there are dozens of ways to have something new to teach my kids everyday. There is zero chance they will get bored or tired of the same old things.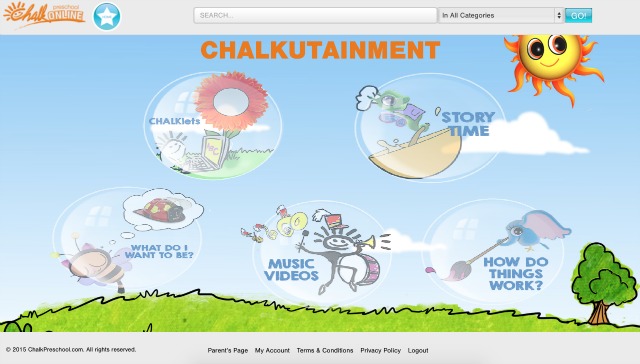 CHALK-U-Tainment has tons of different high-quality videos that are all child friendly. There are web series, music videos, kid talk shows, story time, how-thing-work videos and more! I can hurry and get ready for the day while my kids are having fun and also learning!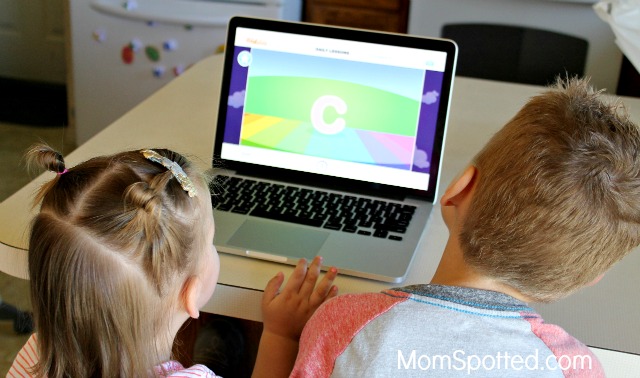 While I can have my kids learning new things everyday my kids do have their favorite songs and videos. They both love the hello song and Halli loves singing about the color pink!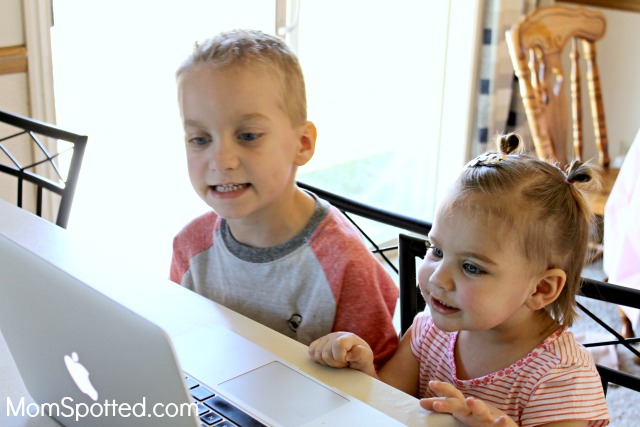 I can go to our custom made playlist, and browse through a huge library of educational and entertaining videos from CHALK Preschool.  I have lists for my kids favorites, and also subjects I want to focus on. Right now we are really working on colors for Halli and Hayden likes the videos about the state capitals.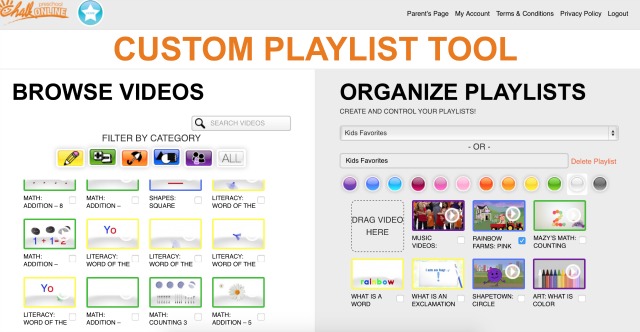 There are also tons of ideas for hands-on activities to do with my kids. Most of them are really simple and I usually have the supplies on hand. Hayden went on a play date so Halli and I did an art project. I try to make a craft with her a few times a week when Hayden is at school. CHALK has so many great ideas for easy toddler friendly crafts. It is such great one on one time for her and I. We both have fun and sometimes get a little messy. She has a blast!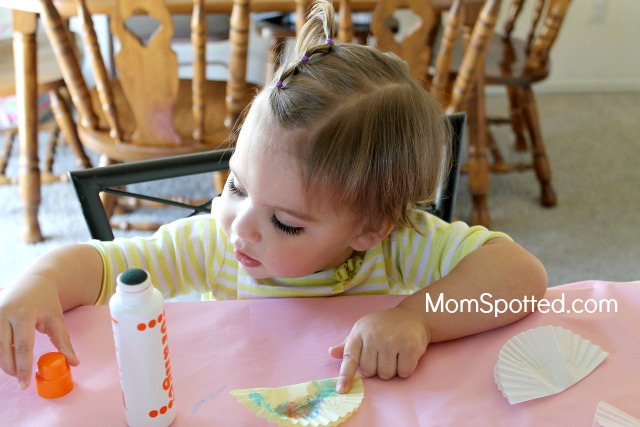 We made the "rainy day umbrella" preschool craft. Halli loves her do-a-dot paints and we talked all about rain. What rain feels like, what color our umbrellas were, what color to use next, why it rains, etc. It was so much fun and she loved! She was so proud to hang their art work up. The CHALK activities section puts hundreds of inspiring ideas and projects at your finger tips, complete with step-by-step instructions and exclusive how-to videos!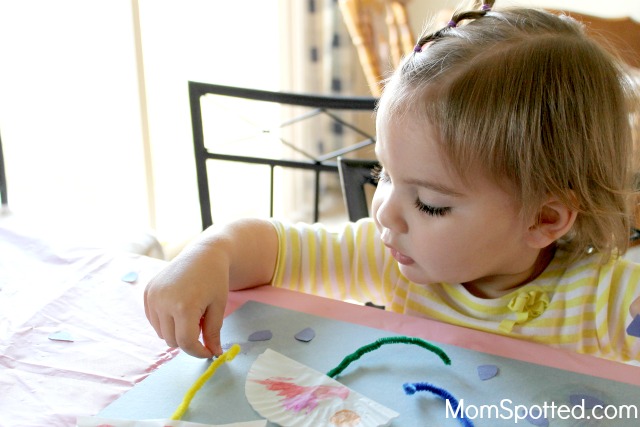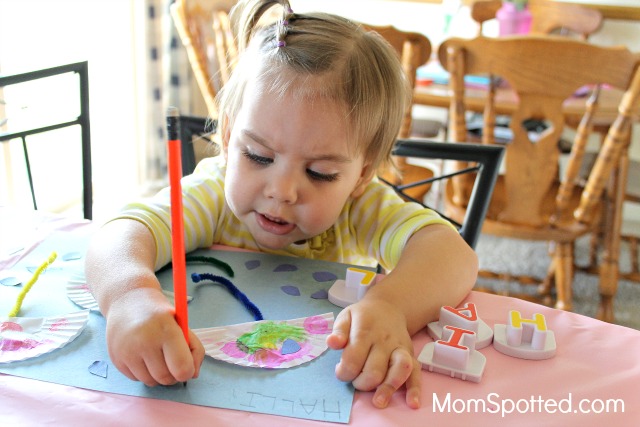 CHALK also has exclusive printables that are designed for hands-on fun and to reinforce early learning fundamentals. All I have to do is click and print! Then Hayden is practicing writing his letters or numbers,  and Halli is coloring in a letter. There are also really cute coloring pages that they both enjoy coloring for fun.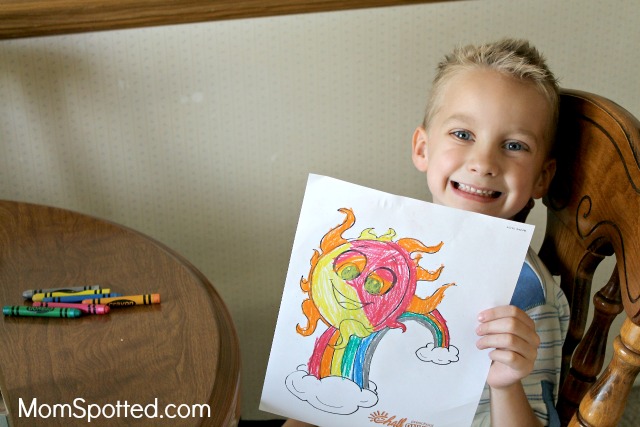 I cannot say enough good things about CHALK Preschool Online. It is such a great resource as a parent to help teach my kids. CHALK is perfect for both of them and they both really enjoy it. Because CHALK is so easy to customize and change our preferences I can make it the perfect learning experience for both of my kids even thought they have a pretty big age gap, and learn differently.
For a limited time you can get your first two weeks of CHALK Preschool FREE!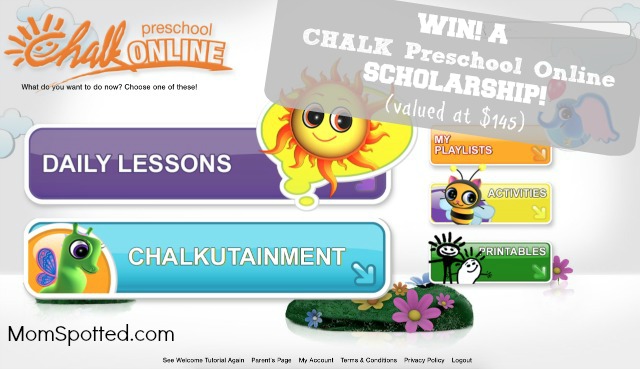 Right now one (1) Mom Spotted readers has the opportunity to win ONE (1) Scholarship to CHALK Preschool Online which is valued at $145!
To enter use the Rafflecopter form below. Good Luck!
Contest ends 4.27.15 at 11:59pm. For Official Giveaway Rules click here. U.S. Residents