Easter is by far one of my favorite holidays. It might even beat Christmas as my favorite holiday. I really love the time I spend with my family, and remembering our Savior. I brought Halli home from the hospital on Easter Sunday. Easter is a really special holiday for me. I also really love all the Easter candy and all the cute Easter decorations. One my favorite Easter family traditions are that we make a big yummy breakfast before we head off to church. I am always in charge of making the bunny bum pancakes! Bunny bum pancakes are so fun and my kids love them! Hayden looks forward to them every year and thinks they are pretty silly. Below is Hayden's bunny bum pancakes from last year!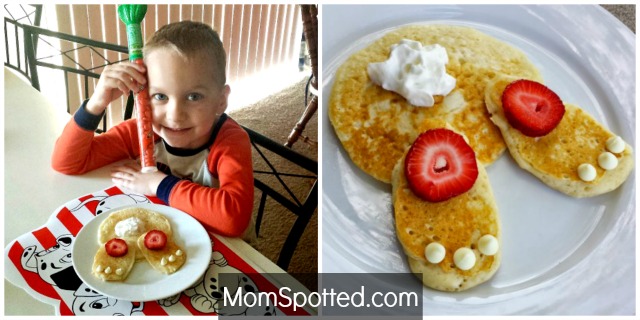 Halli had a bunny birthday party last weekend, and her favorite meal is pancakes and cheese eggs. You can read a little bit about her birthday HERE. I also made her a bunny cake! So I knew bunny bum pancakes would be perfect to have for her birthday. All of our guests loved making their own little bunny bum.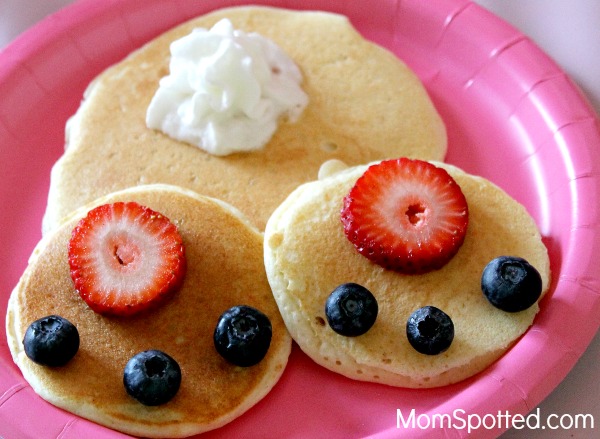 Bunny bum pancakes are so easy to make and they turn out really cute. I make my favorite fluffy pancake recipe and then make one big circle and two little ones. The two little ones I usually try to make them more oval-shaped. Then I layer the two smaller pancakes at the bottom of the bigger one.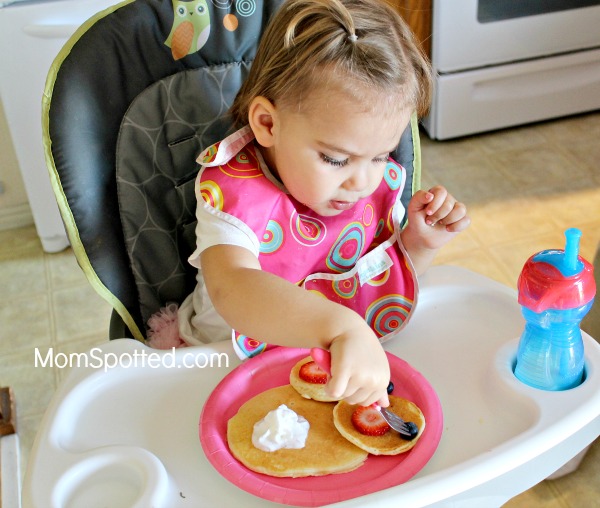 The bunny feet are made out sliced strawberries and blueberries for the toes. I have also used chocolate chips or m&m's, but Halli chooses blueberries over chocolate every single time. She's a funny little thing. The bunny tail is made out of whipped cream. I just buy a can from the store and squirt it on. Done! You have bunny bum pancakes. Cover them with your favorite syrup, I love THIS buttermilk caramel syrup from Our Best Bites. It's to die for!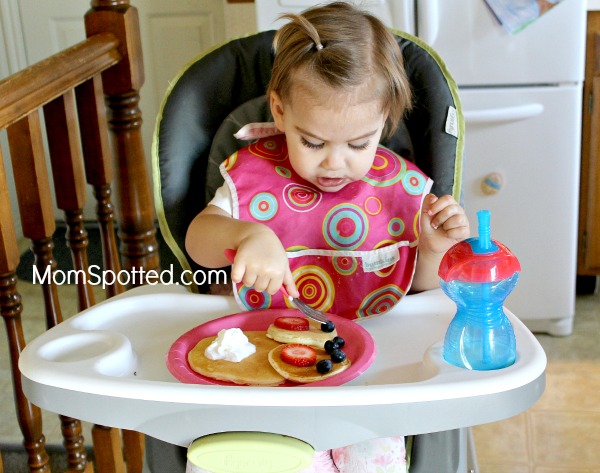 I hope y'all have a Happy Easter and enjoy the time you get to spend with your families!  Here is the recipe for my very favorite fluffy pancakes so you can start making your own bunny bum pancakes!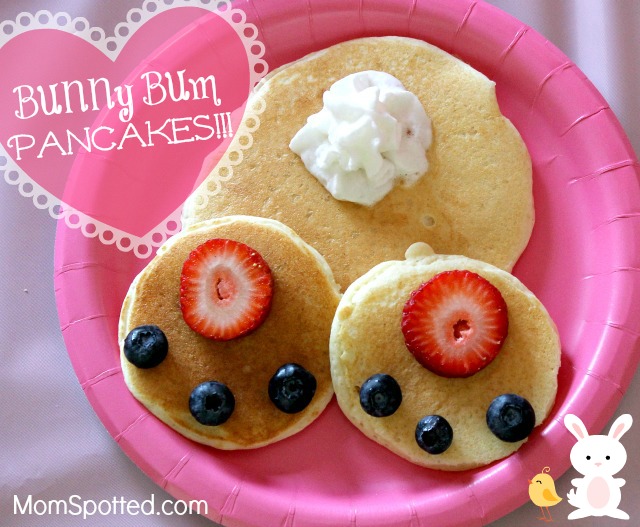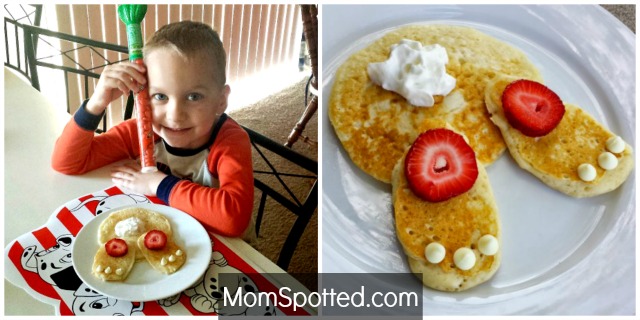 The Best Sunday Morning Pancakes
These pancakes are so light and fluffy! They are my family's favorite breakfast. Fluffy pancakes are best eaten when covered in syrup and yummy fruit!
Ingredients
1 3/4

Cup

buttermilk

or 1 1/2 C of milk and 1/4 C of vinegar mix them together for a buttermilk substitute

2

Cups

all-purpose flour

1/4

Cup

sugar

2

teaspoons

baking powder

1

teaspoon

baking soda

1

teaspoon

salt

1/2

teaspoon

vanilla

2

eggs

1/4

Cup

melted butter

Cooking spray to spray on the pan or griddle
Instructions
Combine flour, sugar, baking powder, baking soda, and salt in a large mixing bowl.

In a separate bowl whisk together the eggs, butter, vanilla, and buttermilk.

Pour the wet ingredients in with the flour mixture and whisk until all the clumps are gone.

Heat a large skillet over medium heat, and coat with cooking spray.

(Do NOT re-stir the batter it will start to get bubbly and foam up a little. This is what makes the pancakes fluffy)

Pour batter into the skillet, and cook until bubbles appears on the surface.

Flip with a spatula, and cook until browned on the other side.

Cover pancakes with your favorite toppings. Syrup, fruit, whipped cream, or all of the above! Enjoy!
Notes
adapted slightly from allrecipes.com