Does anyone ever have alone dates? I like to call them a "me date." I just recently started going out or doing things just for me. All by myself. No kids, no husband, just me. It is wonderful! Sometimes some peace and quiet is a beautiful thing. I was feeling really burnt out and needed a "Me date." I have also been fighting a cold so going out wasn't an option. I got myself a bowl of ice cream, my husband put our kids to bed for the night, and I watched Disney's Into The Woods. It was amazing and perfect for my "Me date."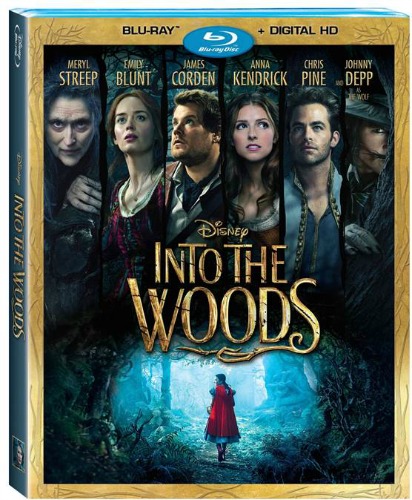 Disney's Into The Woods is now available on Blu-Ray Combo Pack, Digital HD, and Disney Movies Anywhere. I absolutely love the musical "Into the Woods." It is by far one of my favorite musicals so I was really looking forward to Disney's version of it. Into the Woods is directed by the same director from "Chicago" and has the producer of "Wicked." It is a modern twist on the beloved fairy tales you thought you knew. There are iconic characters and stories such as Cinderella, Little Red Riding Hood, Jack and the Beanstalk and Rapunzel. All of their stories are intertwined as a humble baker and his wife are trying to reverse a witch's curse to they can have a child. They all have a wish and go into the woods to help them get their wish.
It is an amazing movie! I was singing a long with every song and was swooning at all of the beautiful costumes. Into the Woods has an amazing cast including Academy Award®-Winning actress Meryl Streep  who plays the witch. Into the Woods also stars Johnny Depp, James Corden, Anna Kendrick, and Chris Pine. Everyone is fantastic in their roles and it is so fun seeing the musical come to life in movie form.
After I had my "me date" I wanted to watch it again because I loved it so much. I made my husband watch it with my the second time and he was pleasantly surprised how much he liked it! It is so fun watching all of your favorite fairy tale characters lives collide. Into the Woods is packed with great music, adventure, and also some humor.
Disney's Into the Woods Blu-Ray Combo Pack also has some really great bonus features:
Never-Before-Seen Sondheim Original Song: "She'll Be Back"
Meryl Streep performs a compelling new song that sheds a little more light on the Witch's relationship with Rapunzel. This never-before- seen composition was penned especially for this movie by Stephen Sondheim and James Lapine, and is seen here exclusively on Blu-ray and EHV. With introduction by Director Rob Marshall.
There's Something About The Woods
Journey into this mysterious forest to discover how this compelling, new musical was made. Meet Director Rob Marshall and his award-winning team of artists and craftspeople, see how the woods were brought to life…and what they represent to the story…and to all of us.
The Cast As Good As Gold
Emily Blunt. Anna Kendrick. Chris Pine. James Corden. Johnny Depp. Meryl Streep. Meet the remarkable cast of this musical movie, and hear of their affinity for this Broadway classic.
Deeper Into The Woods
Journey even further into the development of the film in these 4 segments
– From Stage To Screen
– Magic of the Woods
– Designing the Woods
– The Costumes of the Woods
 Filmmaker Commentary
Film commentary with Director Rob Marshall and Producer John DeLuca.
Music & Lyrics
Get direct access to the musical song segments from the film, with optional sing-along lyrics.
5 Golden Eggs (Easter Eggs)
I love when Disney throws in "Easter Eggs." They have been fun to hunt for. I also really loved watching Meryl Streep sing "She'll Be Back." Meryl Streep is gorgeous and so talented. It was really great seeing another side of the Rapunzel story.
Disney's Into The Woods is a fantastic movie. It would be a great addition to your Disney Library.
You can find Disney's Into The Woods on Blu-Ray Combo Pack, Digital HD at Amazon, Walmart, and Target.