"This is a sponsored conversation. All opinions, text and experiences are my own."
Soon the snow is going to melt and then Spring and Summer sports will be in full swing! We have already signed Hayden up for a few things. Right now he goes to gymnastics, piano, and karate. He is signed up for soccer and baseball in the spring. Then we are going to Texas for the entire summer! We will be at the park, the swimming pool, swimming lessons, gymnastics, play dates, and other outdoor adventures. I am so excited for all the fun and memories we are going to make this year! 
Since we are such an active family and always on the go I have my diaper bag packed with everything we could possibly need. I always have a bunch of extra snacks and drinks, sunscreen, an extra set of clothes for both Hayden and Halli, and minor first aid supplies. With all the things we do outside there are sure to be a few scrapes, burns, cuts, insect bites and other "owies" along the way.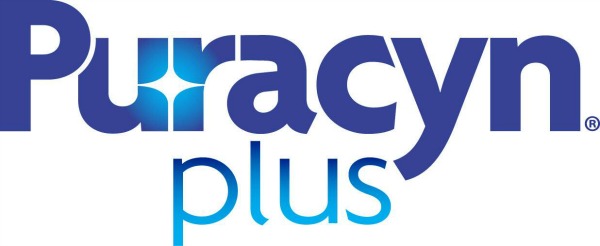 Puracyn® Plus Duo-Care™ Wound & Skin Cleanser is the next generation first step in first aid for cleansing, debriding and hydrating wounds, and is formulated with a pH balanced, hypochlorous solution, designed to improve the most essential part of the wound treatment process – preparation of the wound bed. It is much more effective than soap and water, and is less irritating than peroxide and alcohol. Doctor-tested for wound treatment, Puracyn® Plus is non-stinging, non-irritating, and free of antibiotics, steroids, and alcohol, and completely safe for use virtually anywhere on the body (even the eyes, ears and mouth!). It also won't sting like many other methods will!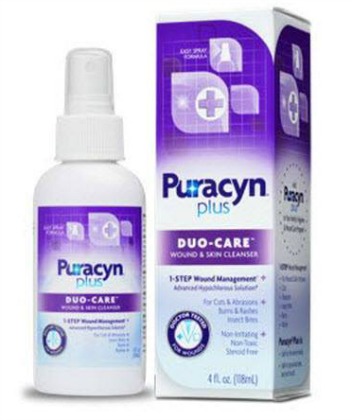 When my kids get hurt I like to treat their cuts and scrapes as soon as I can. Then they won't get infected and worse later. The easy, hands-free spray application of Puracyn® Plus thoroughly cleans minor wounds, eliminating the need for running water in the critical first step of cleaning a wound. I especially love that Puracyn® Plus Duo-Care™ Wound & Skin Cleanser doesn't sting and can be used anywhere on the body! It is also the perfect size to throw into my diaper bag or Hayden's sports bag. I can quickly pull out Puracyn® Plus Duo-Care™ Wound & Skin Cleanser and treat my family's wounds or injury.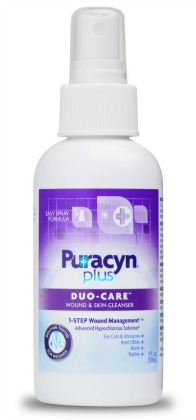 Puracyn® Plus is available in a 4oz. plastic, spray bottle at Rite Aid and Walgreens for $14.99.
Puracyn® also has another great product called Puracyn® Plus Foot Wash & Skin Cleanser. With all the sports and running around we do I want my family to have clean and healthy feet! Hayden's feet get down right gross after they have been all sweaty at his sports practices and games. Puracyn® Plus Foot Wash & Skin Cleanser is the safe, effective, FIRST step in first aid for foot sores and irritations, blisters, dry and cracked feet, and rashes. Similar to Puracyn® Plus Wound & Skin Cleanser, its advanced hypochlorous solution is non-irritating, non-toxic, steroid free, and won't stick to bandages.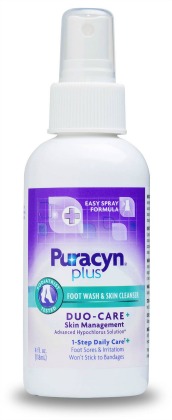 Puracyn® Plus Foot Wash & Skin Cleanser is a highly effective cleansing solution for healthier feet and wound care management. It is available at your local Walgreens and Rite Aid.
Now through March 27th, enter the Play to Win with #TeamPuracynPlus Giveaway on the Puracyn® Plus Facebook page for the chance to be one of three randomly selected winners to receive a Puracyn® Plus Sports Emergency Kit, including a $50 gift card to a sporting goods store of your choice and Puracyn® Plus product.
All the outdoor season sports and activities are right around the corner. Make sure you have everything you need for your on-the-go active kids by having Puracyn® in your diaper and sports bags! When you are able to quickly treat those sudden cuts, scrapes, lacerations, burns and insect bites with Puracyn® Plus Duo-Care™ Wound and Skin Cleanser you can get back to having fun, having a good practice, and a great game. And remember to enter the Play to Win with #TeamPuracynPlus Giveaway! To learn more about Puracyn® visit their Facebook and Pinterest pages.
To learn more about the Puracyn® Plus, LIKE the brand on Facebook and follow the brand on Pinterest.
This is a product-sponsored conversation written by me on behalf of Puracyn® Plus Duo-Care™ Wound & Skin Cleanser. The opinions and text are all mine.