We just had Sawyer's 3rd birthday over this past weekend and it was so much fun! This year's theme was a fun pirate party! When it came time to decide on what to make for the goody bag I decided I wanted to do something different this year. We've been having lots of fun with Sensory Kits lately and I wanted to make them for all the kids under 5 attending the party. So we made Pirate Sensory Box as our goody bag!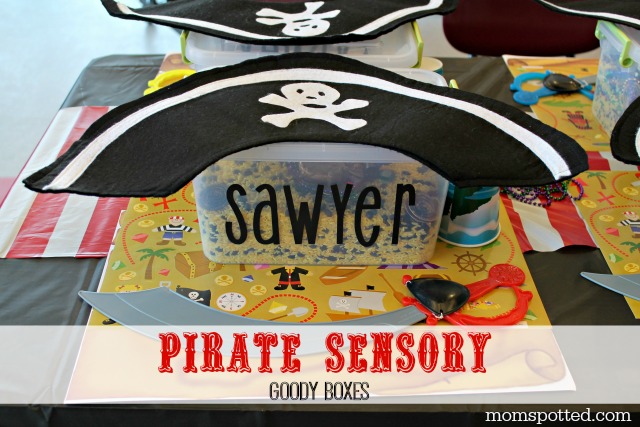 I bought the plastic containers I wanted to use at Walmart. Then I used my Silhouette Electronic Cutting Machine to cut all the names of the kids going. (Try promo code SPOTTED to see the latest discounts get applied!)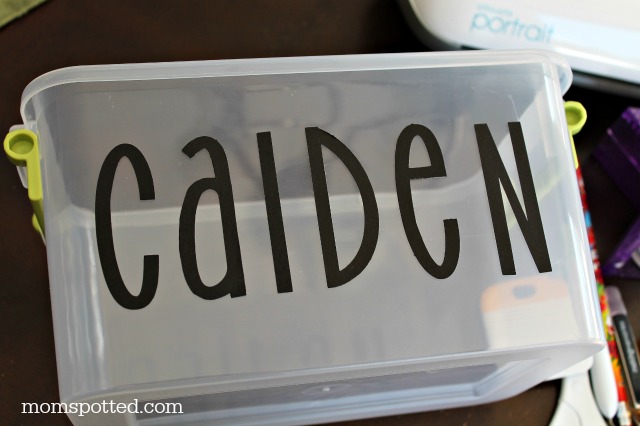 I chose the font lw simple font by Lori Whitlock to download and use to personalize all the totes. I just used regular cardstock and then ran the cut outs through my Xyron Create-a-Sticker Machine. If I was to do this again I would purchase vinyl for the names to make them more washable. I love my Xyron and actually own it in two separate sizes.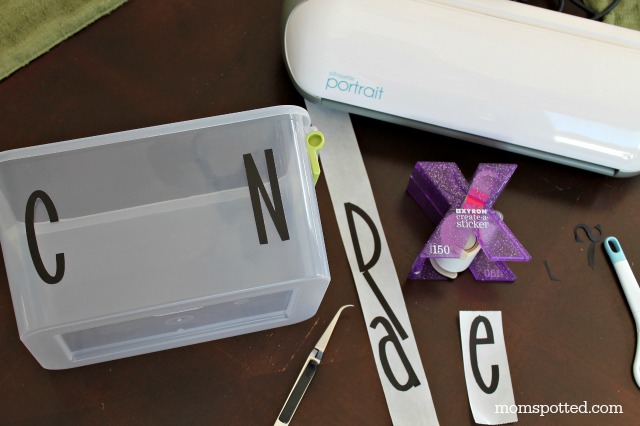 Then I used a pair of craft tweezers and transferred the letters over to the containers. To make them as centered as possible without actually pulling out a ruler I started with the first and last letters and worked my way in. I didn't fully attach the letters until I was certain on placement. Once I had it how I wanted I just pressed along the letters and was done.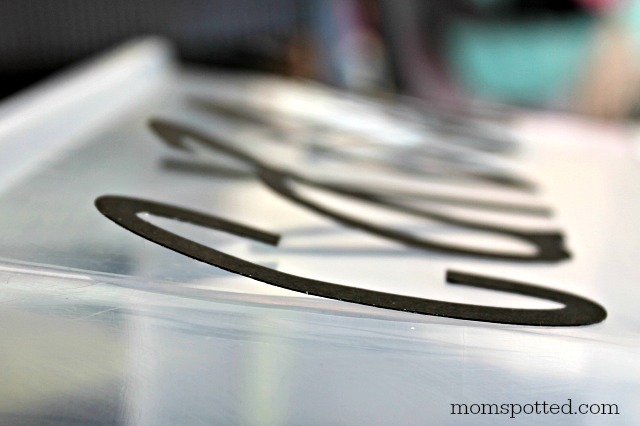 I was so pleased with how they all came out. I also loved that I was able to do all this one night and have this as a stopping point. I always take on too many projects and have to start early on.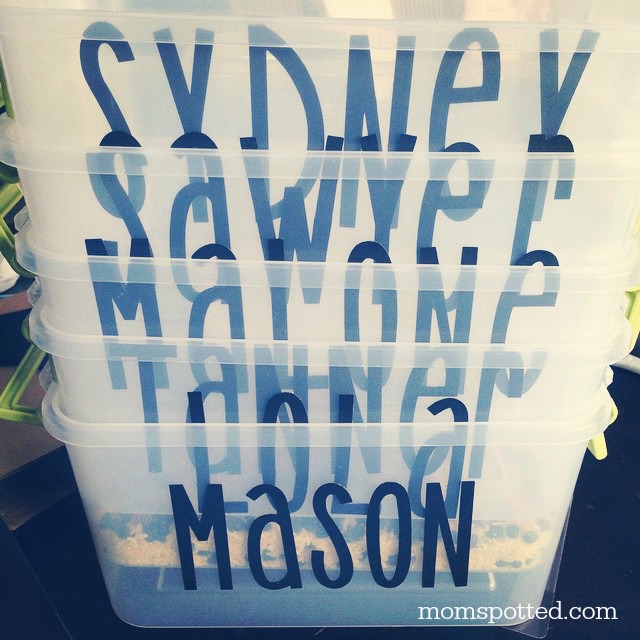 Next I had to dye the rice. In total, I dyed 40 pounds of rice yellow using the recipe I shared earlier when we made Rainbow Rice. In the end, you will need roughly 30 pounds of rice to make 8 ten cup containers.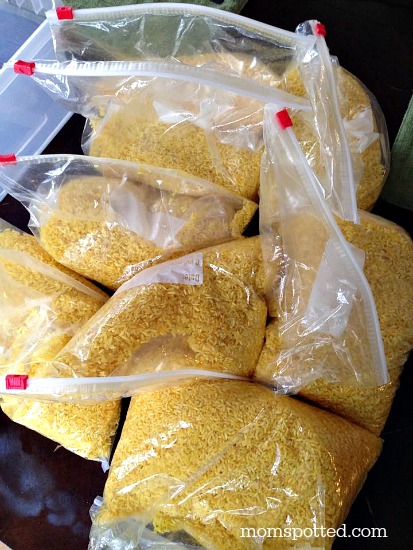 I combined it after with dried black beans.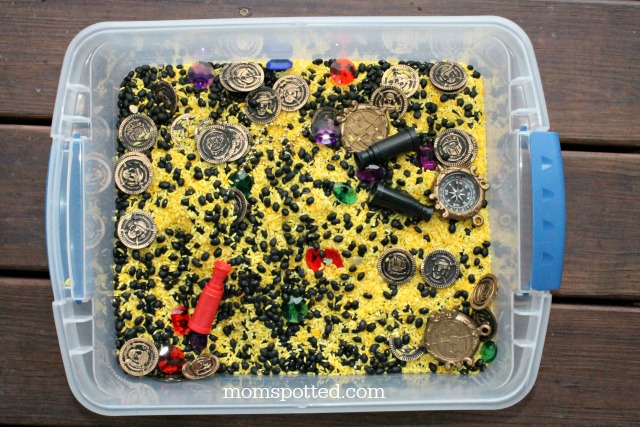 To give it a fun pirate theme I ordered some fun additions from Oriental Trading like jewels, pirate coins, and telescopes. I also got these cute little compasses from Hobby Lobby that the kids really liked.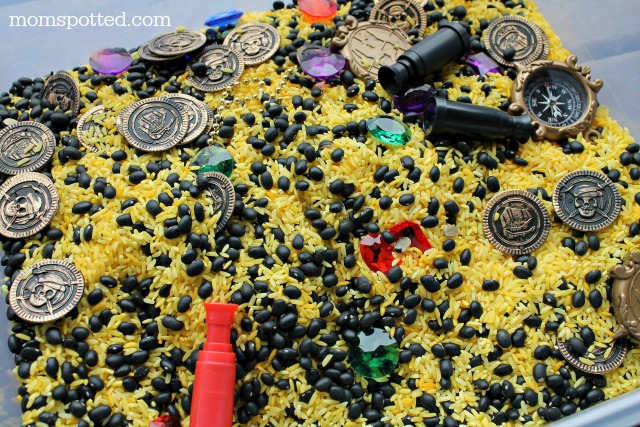 Sawyer finds them to be so much fun. When he plays with his we pour it into a larger container to play in and then offer hm measuring spoons and cups to play with it.
Getting him to stay out of them all while I was making them was nearly impossible. He thought they were so much fun!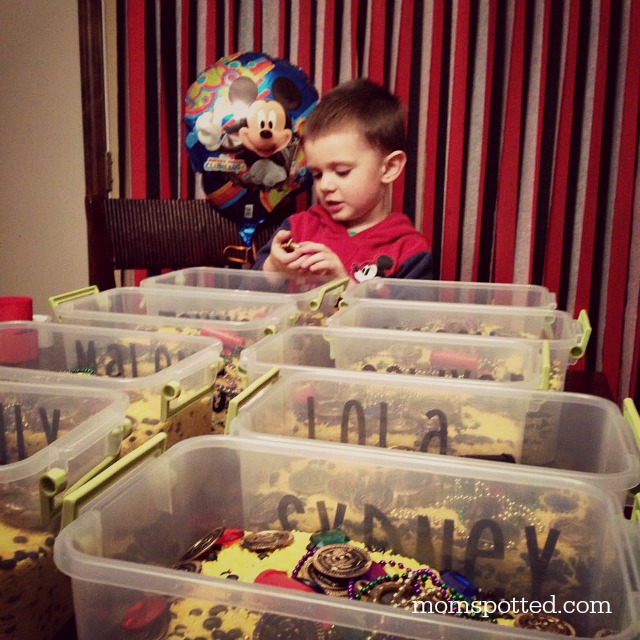 Then when I set up at the party I placed each one at each seating along with a pirate hat, Pirate Sword with Eye Patch, and a Make Your Own Treasure Map!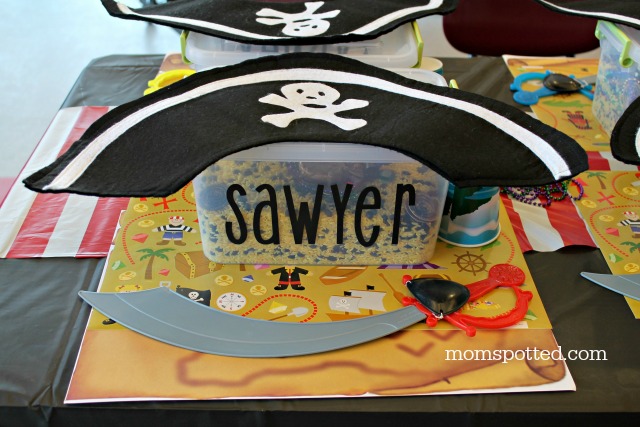 I was so pleased with the finished look!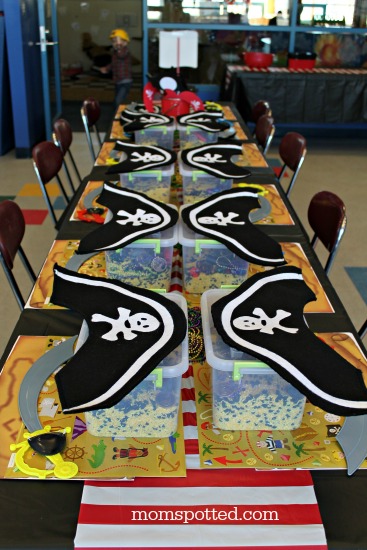 Have you thrown a pirate party before? I'll be sharing more about Sawyer's 3rd Birthday Party so make sure to stay tuned! For more fun craft ideas make sure to follow our Fun Crafts with Mom Pinterest Board! You can also check out all my other great Sensory Boxes here.
Follow Jennifer MomSpotted's board Fun Crafts With Mom on Pinterest.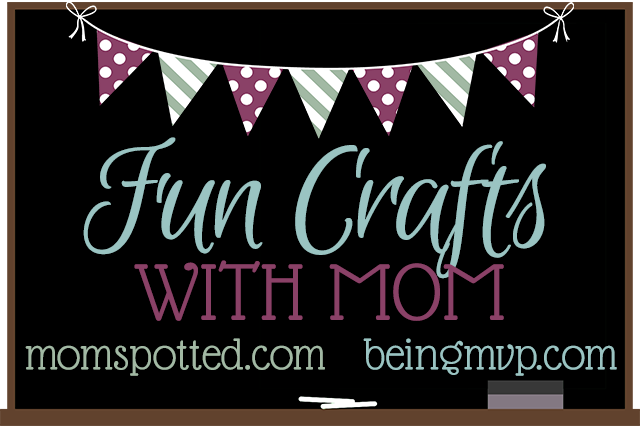 Every Monday we want you to come and link up your latest craft you made with your kids and share here! Now head on over and check out Being MVP's Treat Filled String Eggs for Easter.