Halli is almost 2 and is really into dress up right now. Especially if the dressing up includes a crown, bracelets, and a necklace. Princess Sofia is her absolute favorite. It happens to come on tv at the perfect time at our house. It is right before Hayden goes to school so she can be distracted while we finish up homework and he practices his piano. She sings right along with Sofia and dances. I loved pretending to be a princess and twirling about my living room. It is fun to watch Halli do the same thing now.
If you haven't heard of Princess Sofia before, she is on Disney Junior's "Sofia the First." Princess Sofia is a young girl who is learning how to adjust to royal life after her mom marries the king. Along the way, she discovers that the inner character of kindness, generosity, loyalty, honesty and grace is what makes a real princess.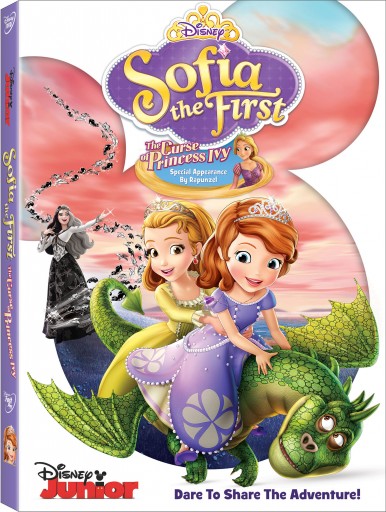 Sofia the First: The Curse of Princess Ivy is another magical adventure with Sofia. The full length feature also has a special appearance from Rapunzel! Sofia wears a magical Amulet of Avalor that lets Sofia talk to animals. When Sofia is sleeping her sister Amber snatches it.  Unfortunately, Amber unwittingly unleashes a curse that summons evil Princess Ivy, who threatens to destroy the amulet, seize the crown and turn the entire kingdom black-and-white!  Amber and Sofia soar through the skies on a flying dragon – aided by special guest Rapunzel – as they embark on a daring quest to defeat Ivy, break the curse and save Enchancia.
Sofia the First: The Curse of Princess Ivy is such a wonderful movie. It shows how important it is to be honest, love, trust, and unselfishly putting others' needs first. The Curse of Princess Ive is really magical and my kids have loved it! It is packed with great music and lots of excitement. It would be a great addition to your kids Easter Baskets this year.
You can find Sofia the First: The Curse of Princess Ivy DVD at Amazon, Walmart, and Target.
Right now one (1) Mom Spotted readers has the opportunity to win ONE (1) Disney's Sofia the First: The Curse of Princess Ivy DVD!
To enter use the Rafflecopter form below. Good Luck!
Contest ends 03.16.15 at 11:59pm. For Official Giveaway Rules click here. U.S. Residents Only.