"This is a product-provided, sponsored conversation written by me on behalf of FeverAll® Infants' Strength Acetaminophen Suppositories. The opinions and text are all mine."
This winter has been one of the worst cold seasons for my poor kids. Halli especially has had it rough this winter. I know that in the long run colds are only boosting her immune system and making her body stronger, but it doesn't make it any easier in the middle of the cold. She has had a few fevers this cold season and fevers are always extra miserable. Halli isn't usually sick and she isn't quite two yet so when she gets sick I panic a little bit. I forget how high is too high for a temperature. I question if I let the fever run its course or do I give her some medication? When do I need to call her pediatrician? Fevers can be so overwhelming as a mom!
It seems like when Halli has a fever it is always in the middle of the night. I am exhausted, a little delirious, and a little stressed. I hate seeing my kids sick, and especially when they have a fever. Halli is the worst at taking oral medications. She is super strong willed and very stubborn. Now with  FeverAll® in my medicine cabinet I can be prepared for her fevers when she is refusing to take oral medications.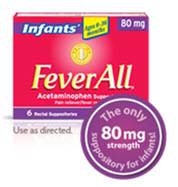 FeverAll® is the only national brand of acetaminophen in suppository form and is available in three strengths for children from 6 months to 12 years of age. Acetaminophen is one of the most recommended non-prescription medications by healthcare professionals – including pediatricians and pediatric nurse practitioners – for temporary fever reduction and relief of minor aches and pain in infants and children.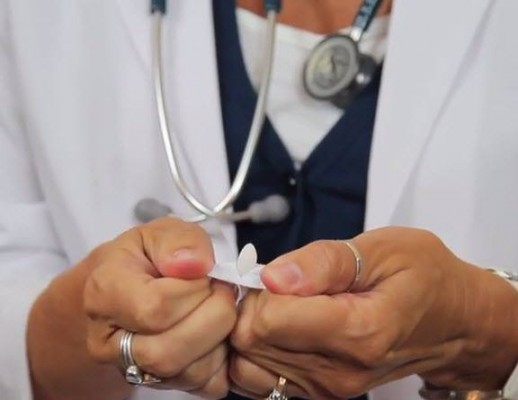 I always like to be prepared for colds and fevers before they happen. It is so comforting to have a acetaminophen suppository from FeverAll® in my medicine cabinet. FeverAll® is another great tool in my fever fighting tool belt. When a fever strikes I don't have to worry about bringing Halli's fever down because she won't take anything orally. Halli is also my "puker." She had a really upset tummy as a baby and she gets car sick easily. When she is sick with anything we can always count on her randomly vomiting. With FeverAll® suppositories I don't have to worry about her vomiting or spilling it on her clothes, and then wondering how much medicine she really got. FeverAll® helps give me peace of mind knowing that she is getting the right amount of acetaminophen and that she is on the way to feeling better.
FeverAll® is having a Fever Ready educational campaign about babies and fevers so you can be prepared for your babies next fever. According to the American Academy of Pediatrics, fever in babies begins at 100.4 degrees Fahrenheit. I always forget what qualifies for an actual fever so I will be writing that down so I can remember for the next time Halli has a fever. Of course, call your physician about any concerns with fever in your child.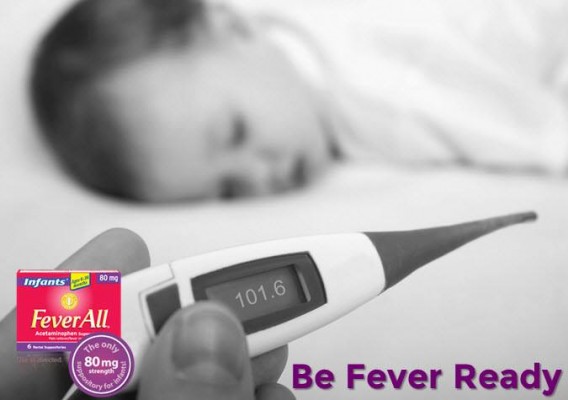 Also using a digital rectal thermometer will provide the most accurate reading of a baby's temperature. But just because your child feels warm doesn't mean they have a fever. Sometimes caregivers can overdress babies, even in colder weather, which can actually make them hot and fussy. Always confirm with a rectal temperature reading before administering any fever-reducing medication.
Fever isn't something to fear. It simply means the body is doing its natural job of fighting off an infection.
You can find more information, great tips and facts on fevers at the FeverAll® website, Facebook page and YouTube channel. On the FeverAll® YouTube channel there is a growing series of FeverAll® Hot Topic videos featuring Tracy Kramer, pediatric nurse practitioner, mom of three and member of the Mommy MD Guides team (www.mommymdguides.com). FeverAll is a Mommy MD Guides recommended product.
FeverAll® is also having a FeverAll®Fever Ready Giveaway!
You can enter the FeverAll® Fever Ready Giveaway for your chance to win a $250 retailer gift card and a FeverAll® Fever Ready Prize Pack. Seventy-five additional winners will receive the FeverAll® Fever Ready Prize Pack which includes a box of FeverAll® Infant's Strength Suppositories, a digital thermometer and a dry-erase decal that caregivers can use to post and share their children's emergency medical contacts and important health information. Winners chosen on Friday, March 6, 2015 at 12:00 p.m. ET. Enter HERE!
Use FeverAll® only as directed. If you have specific questions about fever, acetaminophen or using FeverAll®, speak with your child's pediatrician. FeverAll® is available at major retailers and drugstores across the U.S, such as Walmart, Rite Aid, CVS and Walgreens. For more information and to print the current coupon offer, visit www.FeverAll.com. You can find a coupon for FeverAll HERE.
This is a product-provided, sponsored conversation written by me on behalf of FeverAll® Acetaminophen Suppositories. The opinions and text are all mine.