My boys are all excited about the holidays and being just 10 days out I'm looking for lots of fun, easy things to do with them to keep them from being bored but still in the spirit. This fun holiday craft makes Paper Plate Christmas Trees that are great for all age groups from toddlers, preschool, and even older kids!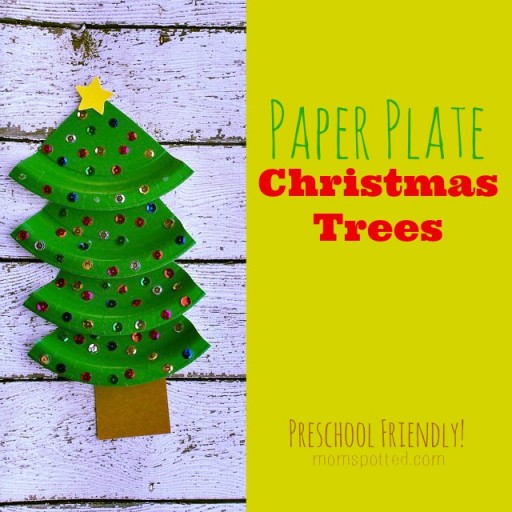 Supplies are minimal and if you craft often probably already have on hand. I used green paper plates but you could add a step of painting or coloring white plates to make them green. We already had these from a past party so it worked great.
SUPPLIES NEEDED:
Scissors
School Glue
Brown Cardstock
Tape
First, cut the plate in quarters. Cut in half, then in half again. When you are done you should end up with four pieces.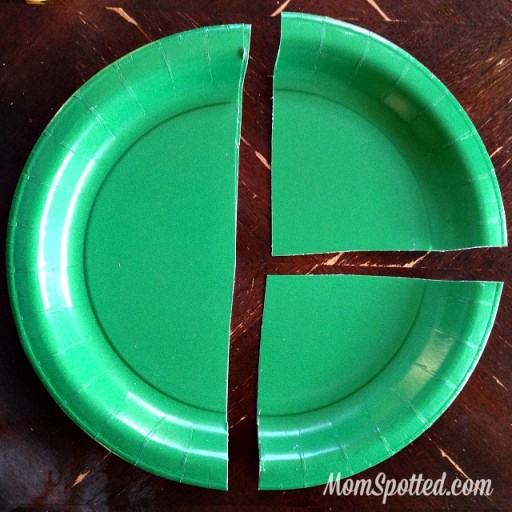 Tape the pieces together so that they form a tree shape. If you are working with little ones they will need assistance with this part. If you have older kids teach them by placing the tape on the bottom piece (so it's sticky side up) and then press the other pieces on top of it. Continue by working your way up.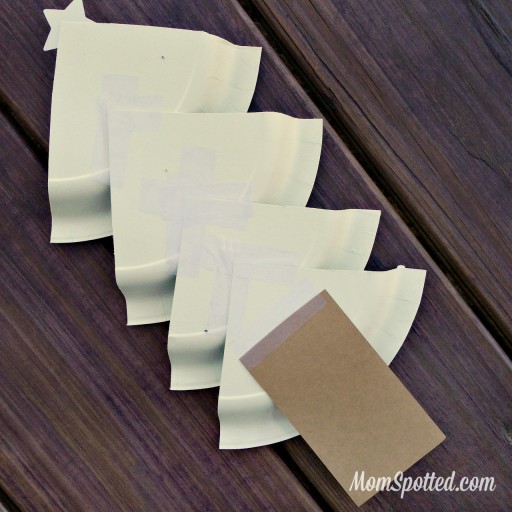 I forgot about the tree stump until later but I would also cut a chunky piece of brown cardstock and attach that at this point too.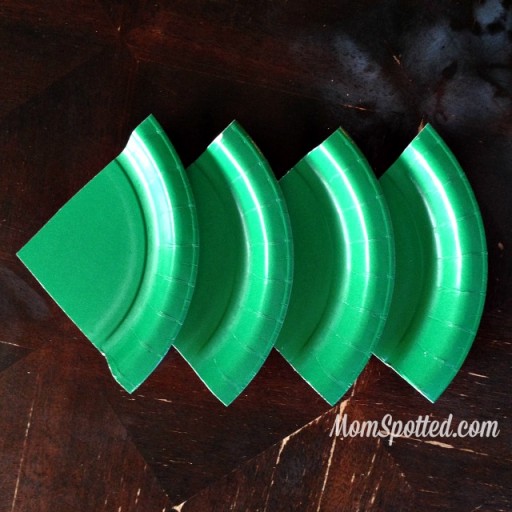 Next punch your star.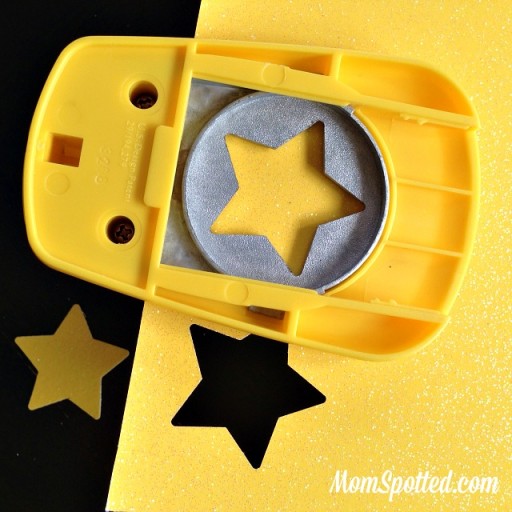 Place small dots of glue all over the plates and then attach sequins on the dots.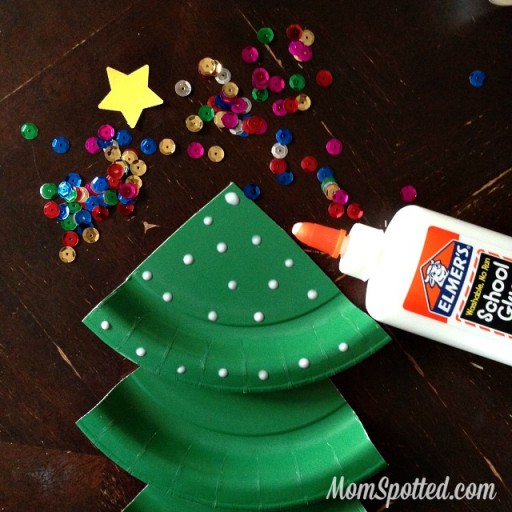 Gavin really enjoyed this part. Set aside over night to air dry.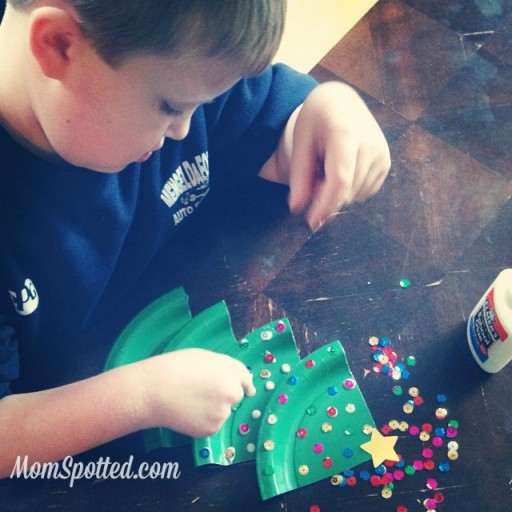 How cute are these?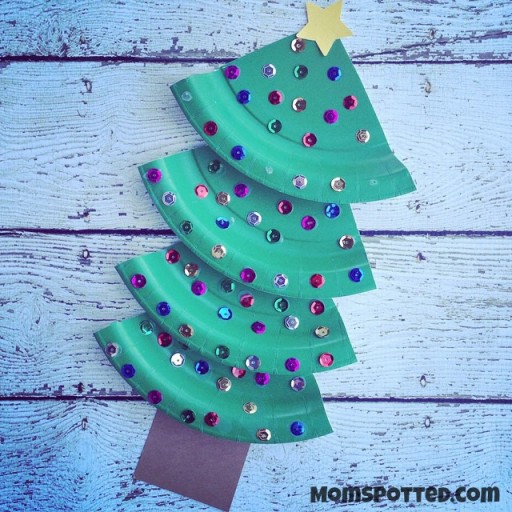 These would make a great classroom project too! Perfect festive craft for the front of a big present for Grandma or smack in the middle of the fridge for all to enjoy!
Follow Jennifer MomSpotted's board Fun Crafts With Mom on Pinterest.
For more fun craft ideas make sure to follow our Fun Crafts with Mom Pinterest Board! You can also check out all my other great Paper Plate Crafts here.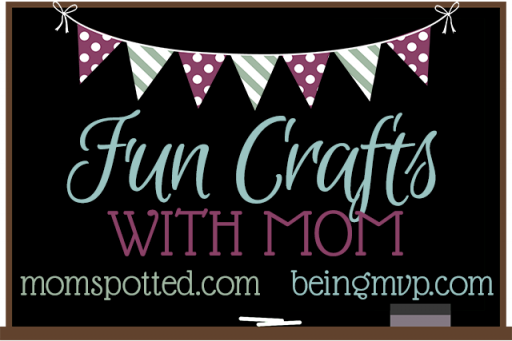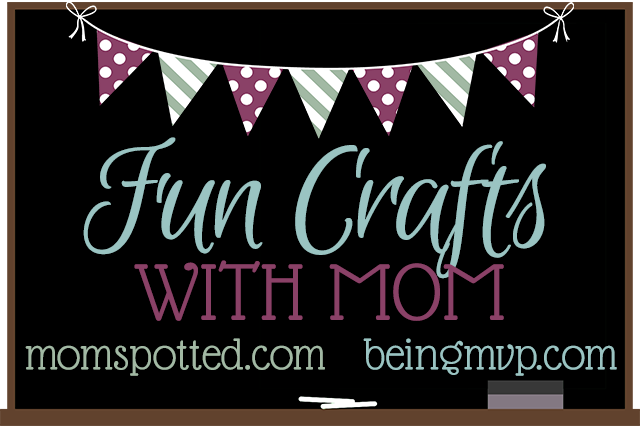 Every Monday we want you to come and link up your latest craft you made with your kids and share here! Now head on over and check out Being MVP's awesome Rustic Ornament Holiday Garland.