There are a few go to mom tricks that I use daily. Vegetables are usually turned into something more exciting, like peas are green basketballs Hayden "shoots" into his mouth. Carrots are cars driving into his garage mouth… For Halli during diaper changes I sing "Wheels on the Bus" 7.5 times to keep her laying still but her hands busy. I have competitions to see who can pick up the fastest, or who can put toys away the quietest. But my most favorite go to mom trick is to play music. We have dance parties all.the.time. It could be 9 in the morning, or lunch time, or right before bedtime…there will be music, and there will be dancing. Music immediately seems to change everyone's mood. My kids love listening to music while they eat meals, or helping me around the house. If they are a little cranky nothing works better than a little Mickey Mouse radio on Pandora.
Playing my phone is only so effective though. Everyone wants to see it and be able to hear it. I have tried putting my phone in a bowl to amplify the sound, and that kind of works but it distorts the sound. LuguLake Portable Bluetooth Speaker is the perfect solution for all of our dance party needs and more.  It is a small set of speakers that fits nicely on the counter, and looks pretty sleek. It is super durable and made out of aluminum that is finger print resistant.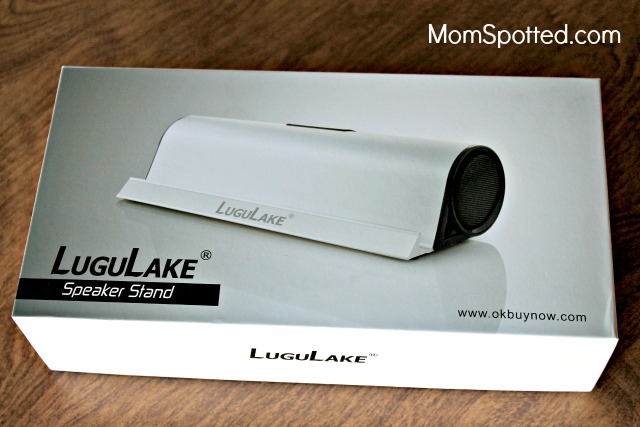 The LuguLake Portable Bluetooth Speaker easily paired up with my phone, and it synced up in just seconds. It remembers it has synced up so I have only had to pair it one time. Now I just turn the speakers on and start listening to whatever is playing on my phone. Even though it is a small speaker and has such a great sound.  The sound is so clear and plays from 2 3-watt single speakers. The sound is honestly amazing! It also works as a stand to hold my phone or whatever I maybe playing wirelessly.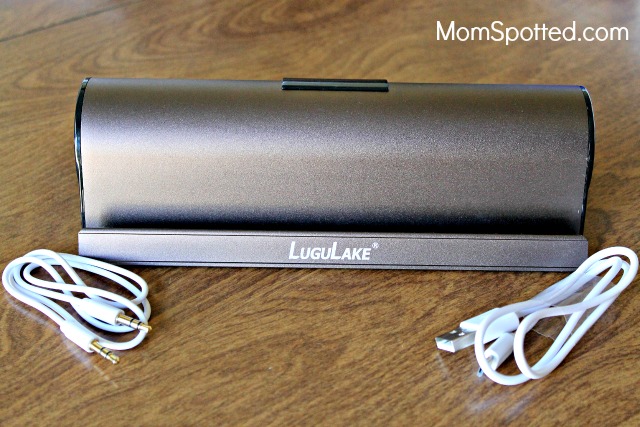 It comes with 2 different cords. The first cord is a USB cord that I use to charge it. After it has a been charged the battery lasts for hours and hours! When the battery does start to die a woman's voice comes over the speaker and says the battery is getting low. I also love that I can charge it while also listen to music. The second cord plugs into my laptop and will play whatever I am listening to. I am also going to school right now online. I have hooked up the speakers to my laptop and then listened to my professors videos for the week while I clean or make dinner.
My whole family has loved this speaker. My husband listens to sports on it and has taken outside while he weeds and does yard work. My kids love cleaning up to music("I Like To Move It Move It" is the current favorite).  I use it for school, listen to music while I am cooking, and I know I feel 5 times more glamorous scrubbing bathrooms while I am listening to my girl Beyonce! On Saturdays I let my kids watch cartoons from my iPad and eat breakfast, they think it is a really fun treat. The LuguLake speakers make watching Saturday cartoons so much easier for everyone to hear and see because it syncs up and then holds my iPad. It would also be perfect for family parties, pot lucks outside, really anything and everything you could think of. It is lightweight, easy to use and you can really take it anywhere.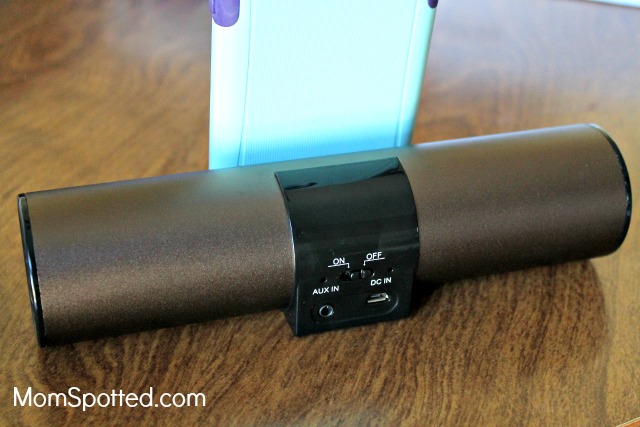 This would be such a great gift for the holidays that are quickly approaching. You could slip it right into a stocking or under the tree. The LuguLake Portable Bluetooth Speaker retails on Amazon for $89.99, but is on sale right  now for $39.99! That is a savings of $50! Hurry and grab one for your family to have dance parties of your own!