It's not a secret that I love shopping for Sawyer's clothes. Some might even say I'm a bit obsessed. Not only do I love shopping for all the latest and greatest kids fashions for Sawyer to wear right now but I'm constantly watching for great deals that I can stock up on for later. With all the clothes that Sawyer has I've been asked many times how I organize and store it all. I've finally managed to get a system that works for us and it's keeping us pretty organized and we're about to wear everything, well, at least once…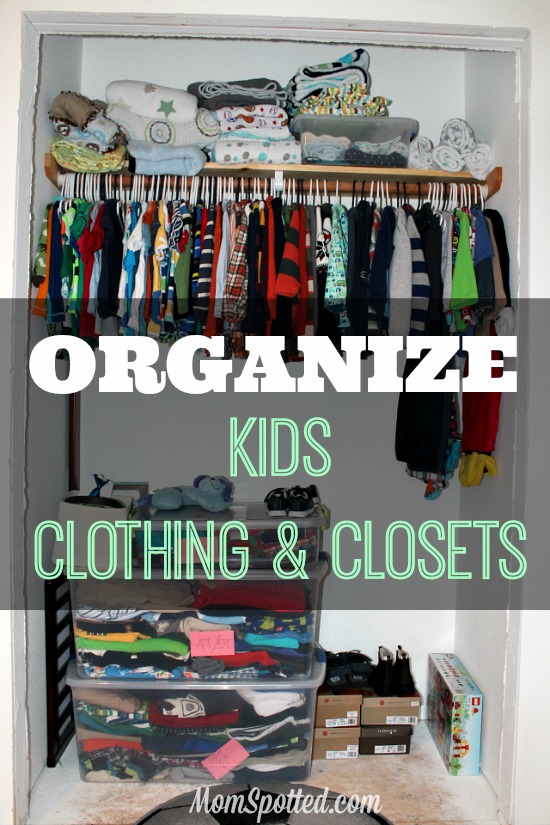 THE CLOSET
My biggest rule of thumb is hang everything when possible. I just find it super easy to do and you can find things quickly. Right now the weather can go anywhere between 40-80 degrees so I haven't packed up any of his summer clothing but it's coming. Technically, we have both seasons currently out. I start his closet with summer and then it goes into his winter clothing.
Starting from the left to right the order goes: Swim, tank tops, tee shirts, collared tee shirts, long sleeve tees, long sleeved collared, sweaters, zip up sweatshirts, pull overs sweatshirts, then overalls and sleepwear. His Halloween costume is ready at the end too! The sleepwear are ones we aren't using regularly because I have no room in his pajama drawer. As if that wasn't bad enough they are then broken down by brand. We own a lot of Carters, Gymboree and OshKosh.
I also use the shelf above the clothes for blankets. Twice a year I go through everything and get rid of the things we are no longer using, don't fit, or have become ruined. I've really tried down grading the blankets as much as possible and this is what remains. Sawyer sleeps with an aden + anais dream blanket every night combined with his (softest ever) "special" blanket that we have three of. Whatever isn't in use or dirty goes here. I also store a small tote of my favorite newborn memorabilia.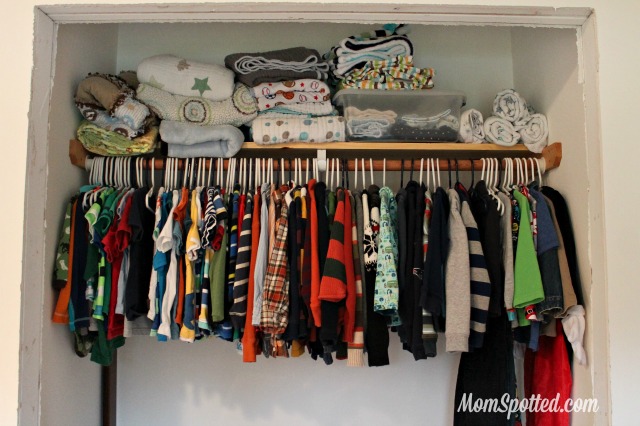 I don't waste the space at the bottom either. I've struggled with this area but I bought new containers and it's much easier the way I've been doing it now. The top container is his current size for the next season. I buy in advance so when I'm placing an online order I often want take a quick inventory of what needs are coming up. Having those easily separated makes the task a lot less daunting. The two larger containers hold bigger sizes. The middle is the next two sizes on deck and the bottom one is anything bigger. Then mark an index card and place it so I can see what sizes they are at that moment so when new stuff comes in I can easily store it away. I pack everything new with the tags still on if it's new. The bottom container also has a lot of great hand me downs from Gavin. He's super picky about clothing and he really only wears half the clothes we buy him each season so there are lots of hardly worn clothes being saved.
I also store any shoes that I've been able to get. I use to keep them in a different spot and I was forgetting about them. That odd looking wood thing behind the containers is just the toddler bed railing for his crib. We have yet to make the change….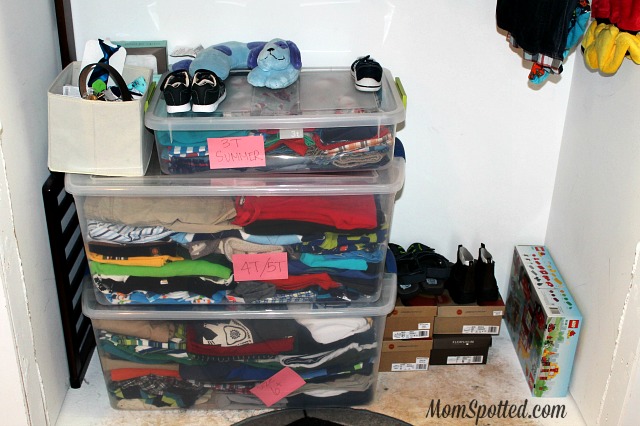 The storage box on top holds all the odds and ends like socks, belts, underwear, etc. Basically any kind of accessory. Every time I pull out a new size I go through this box too.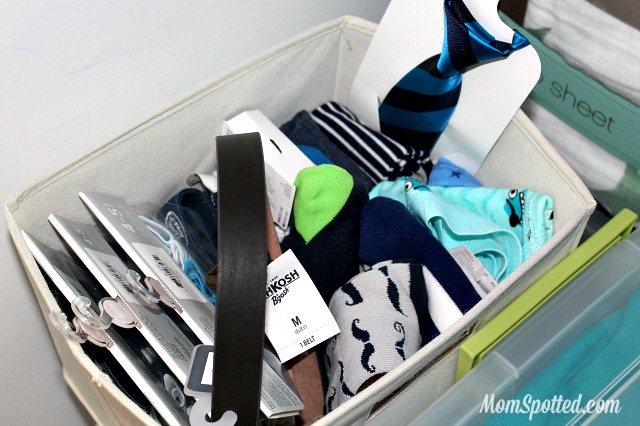 Oddly enough even with all that stuff in his closet it stays nice and neat. He doesn't have doors on his closet since he's in a temporary room but he never messes with any of it.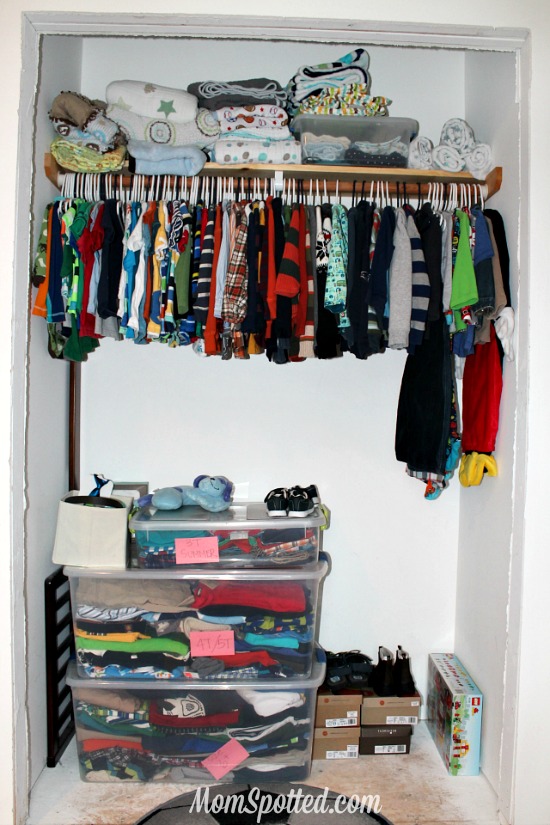 You're probably thinking- Where's all his pants?? Well he also has a full dresser for the things we can't hang easily or at all.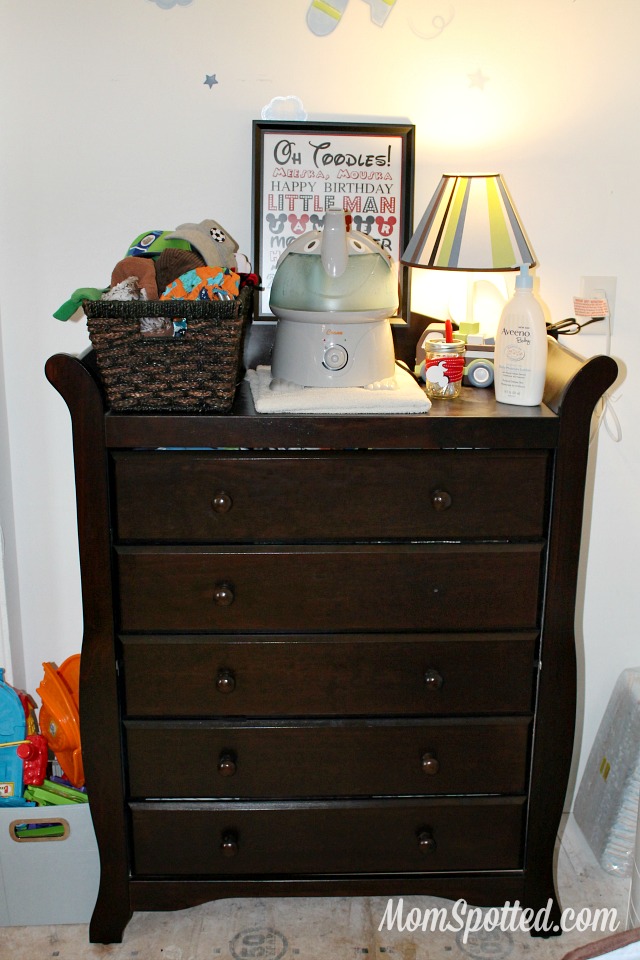 DRESSER
I thought I'd share his drawers. He has five drawers in total and from top to bottom they go: pajamas & socks, favorites, shorts, pants, and sheets. Favorites are our go-to's. When laundry is slim this drawer is usually empty. This drawer is often my favorite pieces but it's also the best fitting. Sawyer has a really small waist and it makes it really hard to find pants long enough that stay up. We have lots of 3T pants that don't stay up even though they are the length that we need. Those end up in one of the drawers below.

On top of his dresser I have a basket filled with all his current fitting accessories. It's mainly filled with hats, gloves, sunglasses, etc. I also have his swimsuit bottoms and cloth swim diapers in there (winter only).
THE CHANGING STATION
We're two so while I'm really eager to get rid of the changing table the hard reality is we still use it daily. We did get rid of all the supplies downstairs so this is everything. We do all his diaper and clothing changes here. I have been trying to stop using this for storage. I try to keep it to only the things I need when we're using the changing table. The shelves hold other changing pad covers and wipes. The bottom shelf is where I often put things I don't use often and if it sits too long it's gone. The drawer holds our lotions and similar items. We also have a diaper stacker on one side to hold diapers and a diaper caddy on the side to hold night time diapers, powder, wipes, and general daily needs. Then of course his hamper.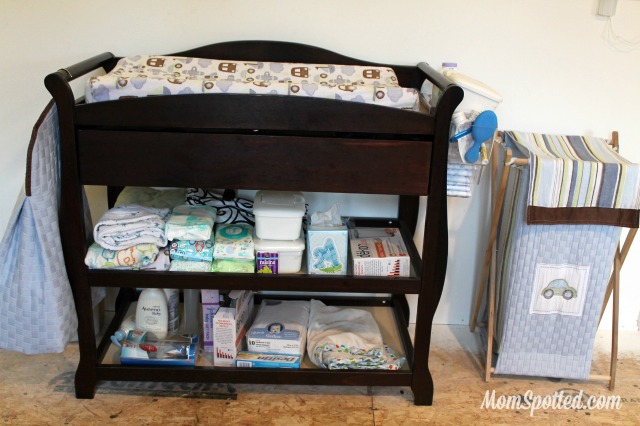 If you need more inspiration here are some other posts from the other ladies that participated in this closet organization. Make sure to check them out!
Embracing Homemaking shares how she organizes her baby's nursery closet and Pepper Scraps shares how she organized her older boys closet too!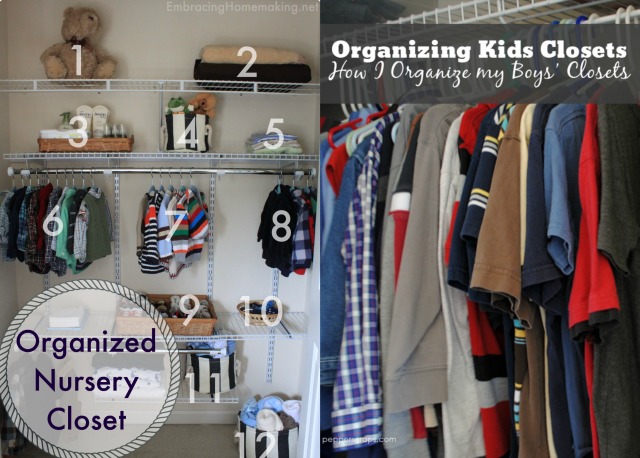 What do you think? Are you ready to go tackle your kids closet?