Ever since school started I feel like we have been going a million miles an hour.  Hayden not only started Kindergarten, but I am back in school! I am finally going to knock out my degree! Woot Woot! It is exciting but homework, reading, studying, and quizzes add to my already list of things to do can be super overwhelming. Hayden is in a few different extra curricular activities, plus keeping up on his homework, Halli is still a crazy toddler lady and thinks she runs the world, then the regular dinner, laundry, cleaning, etc…. It is madness.
I know a lot of you are in the same boat. Maybe it is you have a few kids all with different schedules so you live in the car. Or maybe you work part or full time on top of being a mommy! Or maybe you are back in school like me. Hang in there mama…. Know your probably doing a better job than you give yourself credit. I know it is all exhausting and I would give just about anything to go for a relaxing day at the spa. Unfortunately I don't have the time nor the funds to take a nice relaxing trip to the spa.  There are a few things I do to help me unwind and relax though. Taking a long relaxing bath is pretty much one of my favorite things to do. I prop up my iPad, run the tub water super hot and soak my cares away. Making a little relaxing time for me helps me recharge. I am a happier better mommy and woman when I have a little "me time."
Suave sent me a few of their Suave® Professionals Body Care products to help me bring the spa home.  I have super dry skin and I couldn't wait to try the Moroccan Infusion body wash, lotion, and dry body oil spray. So I went through my normal relaxing "me time" bath. I got my favorite show up on my iPad(have y'all seen Blacklist?! I mean…it's amazing), dimmed the lights, made myself some lemon and honey tea, and was ready to relax! All of the Moroccan Infusion products have light perfumey scent that I love! My husband even mentioned how good I smelled after using the body wash and then slathering on the lotion. My skin was also buttery soft afterwards! The lotion absorbs really quickly and it did not leave a greasy residue.  I have used the lotion everyday on my hands and arms, and I can really tell a difference in my skin. It is so soft and smooth!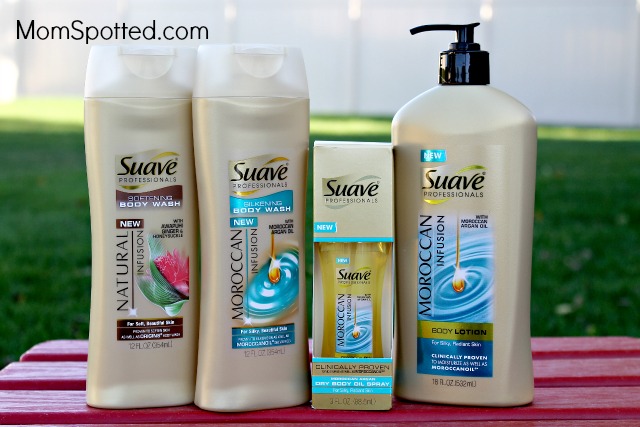 One particular day I was in a major rush to get ready for the day. The kids were eating breakfast and I grabbed the Suave Natural Infusion softening body wash on my way to the shower. On the bottle it says it is with "Awapuhi Ginger and Honeysuckle," but for real… they might as well just say "this smells like heaven in a bottle." Even though it was the fastest shower of all time, it was so nice to relax and breathe just for a second. The Awapuhi Ginger and Honeysuckle smells so so good! I am seriously obsessed with it.
Take a little extra time for yourself to unwind from the day! It is hard to take care of everyone else sometimes, especially if you aren't taking care of yourself first. Run to the store, grab your favorite treat, and some of the Suave® Professionals Body Care products they are amazing! Then go take a super long shower or bath, and have a little me time. You deserve it!