Sawyer is getting so big. He is wanting so much to be like his big brothers and Daddy. Often when he plays he mimics the behaviors of one them in the way that he plays. This summer several of the toys we received to review from Little Tikes were huge hits in our house. Summer is my favorite season and I love to be outside. Sawyer shares that love and from the moment he wakes up he wants to be out there playing.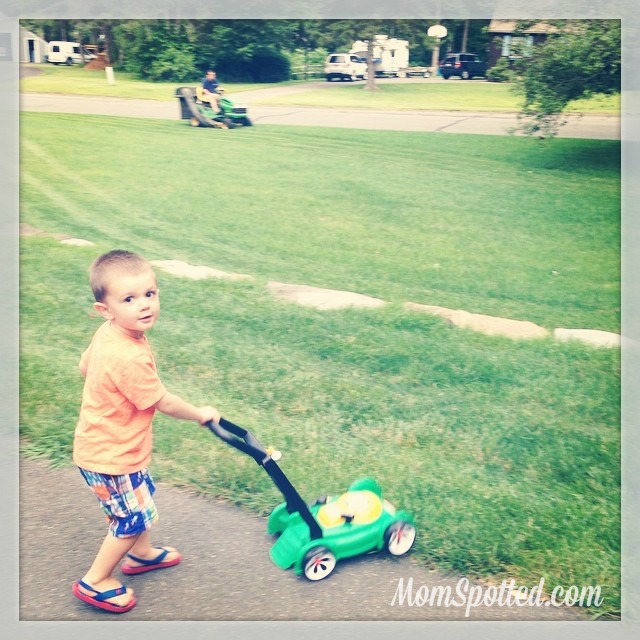 Sawyer's Little Tikes Gas 'N Go Mower is pulled out every weekend when his Daddy mows the lawn. Sawyer thinks it's so fun and goes up ad down the side of our lawn while Daddy does the same across the yard. This toy is fun, lightweight, and easy to keep clean. If it gets covered in clippings you can just hose it down. It came pretty much all together with very little assembly.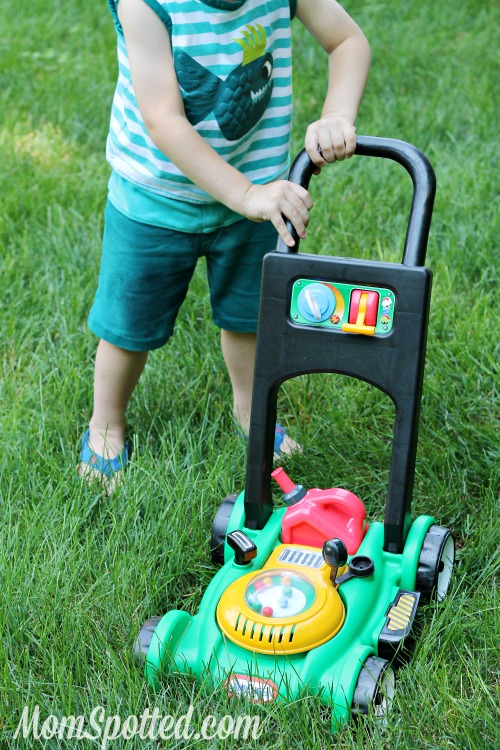 If the grass starts to get long he will even go into the garage and get his mower and start it up and fill it with gas. He'll even use his gas tank to fill his Little Tikes Cozy Coupe. Here's a little video of him in action with it!
The Little Tikes Gas 'N Go Mower allows children to mimic the activity they see every day in the world around them and encourages pretend play. The mower provides cool mechanical sounds, including popping beads and engine sounds, and also features a removable gas can.
Encourages pretend play and movement
Designed to model a real lawn mower
Mechanical sounds when the mower is pushed and the cord is pulled
Removable gas can with a tethered cap included
Our favorite toy of the summer though was the Little Tikes Cook 'n Play Outdoor BBQ™. Sawyer just loves this BBQ grill and plays with it every day. You will see if often on my Instagram when I share photos of Sawyer as he is always playing with it. I love that it comes with everything you need to play with such as food, utensils and even condiments and dishes. It's all included!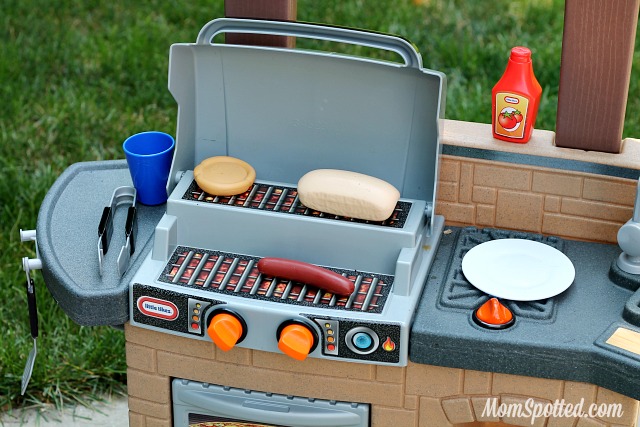 Sawyer loves his kitchen in his room which is why we considered getting the grill for outside. Not only has it been fun for Sawyer but it's also helped us teach him that fire is on it and that it is hot, all while being a great distraction from just keeping him away from the main grill.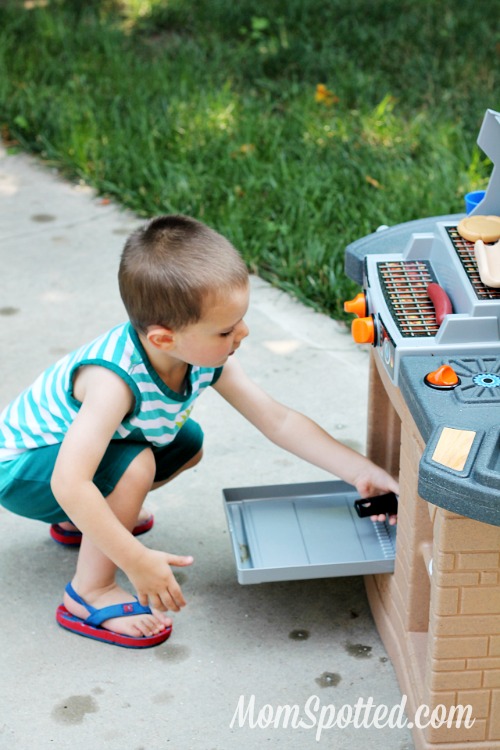 There is really so much we can say about this grill so we thought we'd do just that! Check out the video below that shows all the details while Sawyer plays along! You'll notice that when Sawyer goes into the oven and then closes it- the door stays closed! He's so cute and even scrubs his hands before moving on! So cute!
The traditional play kitchen gets a new twist as an outdoor toy grill – the Cook 'n Play Outdoor BBQ! Kids can have their own pretend cook out – a great way to develop social and sharing skills in an active play format. The play food set includes a hamburger, hot dog and grill utensils. Imaginations will grow with this featured filled BBQ!
These two toys have been so much fun for Sawyer! I'm so glad we have them and know that next year he'll love them as much as he did this year too!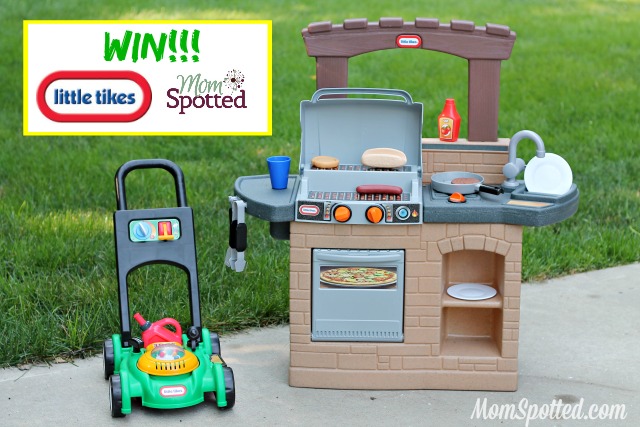 Right now one (1) Mom Spotted readers has the opportunity to win ONE (1) Little Tikes Gas 'N Go Mower and ONE (1) Little Tikes Cook 'n Play Outdoor BBQ™!!! To enter use the Rafflecopter form below. Good Luck!
Contest ends 8.25.14 at 11:59pm. For Official Giveaway Rules click here. U.S. Residents Only.