One of my kids most favorite places to go is the zoo!  All kids love the zoo, right?  There are so many fun, silly, and interesting animals all in one place.  In all honesty, I love the zoo as much as my kids do.  I never tire of watching the giraffes or the monkeys swing around.  The zoo is such a fun place to visit!  When I was a kid I always thought I would be a zoo keeper… I think most kids dream about being a zoo keeper at least for a minute right?  Their job looks so fun taking care of all those interesting animals.  But being a zoo keeper is a big job!  Now as an adult I realize how much work (and messy!) it is being a zoo keeper.  There is even a National Zoo Keeper Week from July 20-26 to celebrate zoos and recognize those special people who are so dedicated to animal care, conservation, and education.
Peter Pauper Press sent us 2 great books that we have had so much fun with this summer.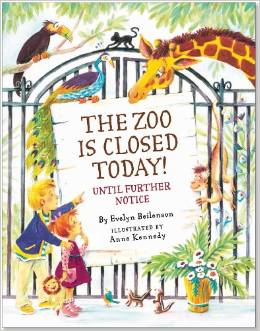 "The Zoo is Closed Today" written by Evelyn Beilenson, illustrated by Anne Kennedy
"It was a warm sunny day
with not much to do.
So Sue and John walked
to the Kalamazoo."

But when John and Sue arrive at the zoo, they are in for a big surprise! What is wrong with all of the animals? From Edward the elephant to Marcel the monkey, the animals have tummy aches and toothaches, runny noses and sore throats. Pete the zookeeper can barely keep up with taking care of them and has to close the zoo. And the next day, John and Sue are in for an even bigger surprise! This charming tale, illustrated with humor and warmth, demonstrates the value of sweet friendship.
My kids are obsessed with this book!  The pictures are so darling.  Halli is always point out all the different animals and funny things on each page.  The story literally made Hayden laugh out loud.  It is such a great book and is so fun to read before we go on our zoo trips.
It is so fun going to the zoo and then hearing Hayden talk about each animal like they are one of the sick animals from the zoo.  My mom is a first grade teacher and kind of a book expert.  She has asked me if she can borrow this book before she takes her school kids on zoo field trips.  We love this book!!!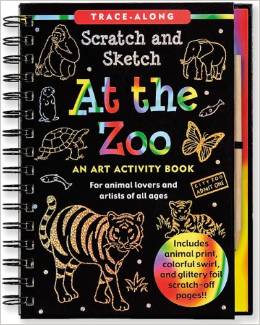 "At The Zoo Scratch & Sketch: An Art Activity Book for Animal Lovers" by Lee Nemmers, illustrated by Martha Day Zschock

This fun and easy Trace-Along art activity book allows budding artists (5 and up) to use the wooden drawing tool enclosed to trace the white outlines of favorite animals on black-coated scratch art pages. Kids will be delighted to see lions, tigers, bears, seals, and more come alive in swirls of colors and glittery foil! They can also use the sketch pages in the back to draw their own pictures of favorite animals. "At the Zoo Scratch & Sketch Art Activity Book" includes a wooden stylus for drawing on black-coated paper to reveal glittering, gleaming colors beneath, wire-o-bound hardcover binding and 20 scratch off, 20 illustrated and 20 sketch pages.
Hayden is my little artist.  He is constantly drawing, sketching, and doodling.  We have several notebooks of his creations that we have saved of all of his beautiful artwork.  My mom happened to randomly find a Scratch & Sketch book a few weeks ago.  Hayden was in artist heaven!  I knew I had to find more Scratch and Sketch books and then when Peter Pauper Press it was meant to be.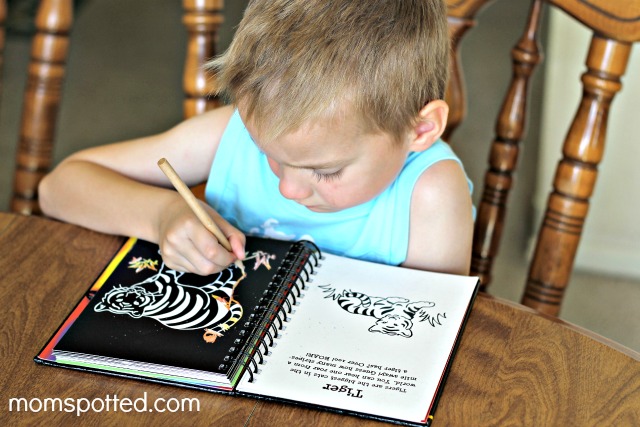 Hayden will sit forever carefully tracing and scratching away at the white outlines of all of the animals.  He loves to scratch and sketch to revel the fun patterns and colors underneath.  I love that each page also has a few great facts about the animal.  The extra sketch pages are super fun for our zoo trips.  He loves to draw all of his own pictures of the animals we see.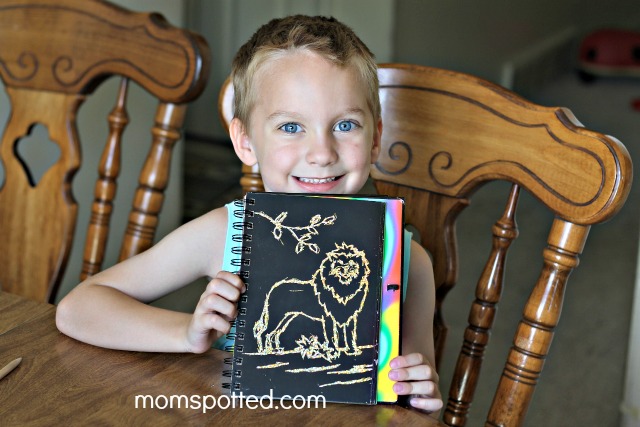 These books are so fun!  You and your little zoo lovers will adore them.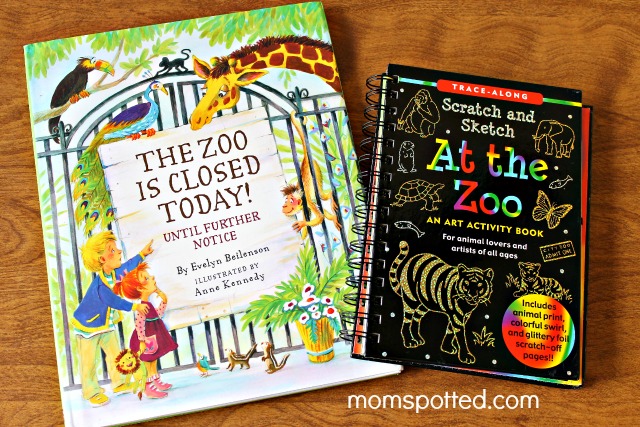 Right now one (1) Mom Spotted readers has the opportunity to win ONE (1) "The Zoo is Closed Today" book and ONE (1) "At The Zoo Scratch & Sketch: An Art Activity Book for Animal Lovers" book! To enter use the Rafflecopter form below. Good Luck!
Contest ends 8.25.14 at 11:59pm. For Official Giveaway Rules click here. U.S. Residents Only.