Partnered post on behalf of Glam Media.
Check out Fresh Fruit Summer Desserts!

by Jennifer MomSpotted at Foodie.com
I love how in the summer a lot of our produce comes locally. Here in New England many of the regular fruits we eat are just coming into season and I stop buying produce from our local grocery store and start stopping at the local farm stands. I buy pounds and pounds of fresh fruits and vegetables this time of year and I love finding new ways to use them! Going into August kicks off the popular summer picnic parties and I'm always looking for fun desserts I can bring! Here's 15 Summer Desserts that use Fresh Fruit in them that are sure to be a huge hit!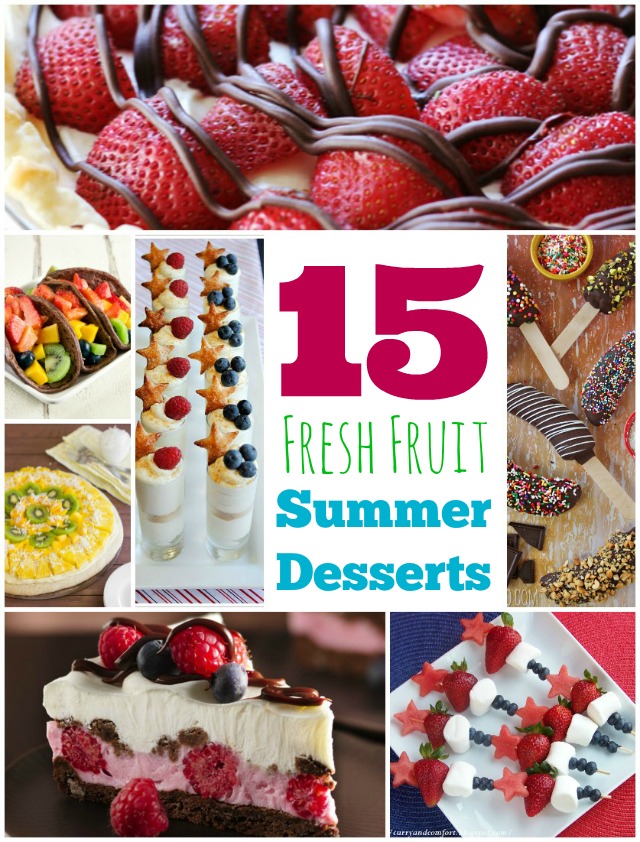 I don't know what it is about a dessert covered in fresh fruit but it's always the first one I reach for and I know my kids are the same way. Of course the fresh fruit dessert doesn't always mean it's good for you but at least I can tell myself that for the moment I'm trying them all!

FRESH SUMMER STRAWBERRY DESSERT RECIPES
Easy Strawberry Cream Pie
Patriotic Fruit Skewers

RASPBERRY & BLUEBERRY SUMMER DESSERTS
Remember to check out the FULL COLLECTION of all 15 Summer Desserts that use Fresh Fruit over on my Foodie profile. Make sure to stock up on your favorite fresh fruits and remember they are freezer friendly for later too! Just cut & dice them up before freezing!
What's your favorite summer dessert that uses fresh fruit?