This is a Sponsored post written by me on behalf of Subway. All opinions are 100% mine.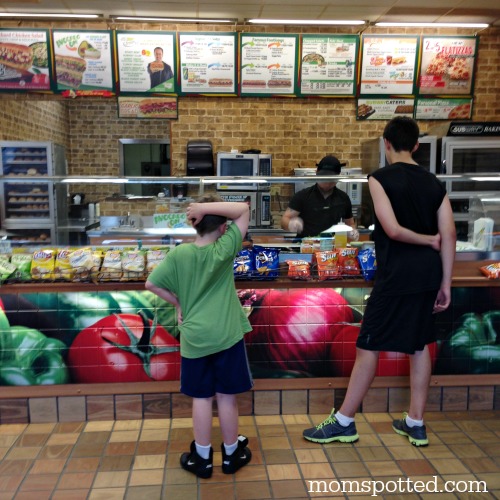 I love that summer vacation is here and my kids are home with me. The age gap sometimes leaves me scratching my head on what to do to keep them all occupied and from ending up in front of the TV. Luckily, we have the bike trail so close so we've been using it every chance we can. One fun thing we love to do is ride our bikes to Subway! We have one only a few minutes by bike off the trail and the boys love the excuse to head on out.
One of the easiest ways to #PileOnTheVeggies at SUBWAY is with the Fresh Fit menu; featuring tasty, heart-healthy choices for all ages.  Kids get a special meal of their own, complete with a Fit Mini Sub (piled high with fresh veggies such as cucumbers and spinach), apple slices, and low-fat milk.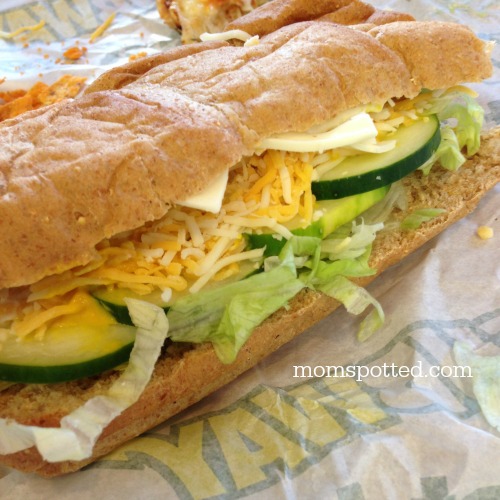 We are huge fans of pretty much everything on the menu so deciding what to eat isn't hard. If you haven't tried their pizza, you must! It's so good and we love it for Sawyer who isn't quite ready for handling a sandwich. Johnny will eat pretty much everything and anything and does. Gavin on the other hand is my super picky "I want to be a vegetarian" child. He won't put any meet on the sandwich no matter how much you bribe him. This makes the Veggie Sandwich a great option for him! He can pile on any and every vegetable they have PLUS two different kinds of cheese! Gavin loves his American Cheese but being able to also add some shredded cheddar just made his sandwich complete.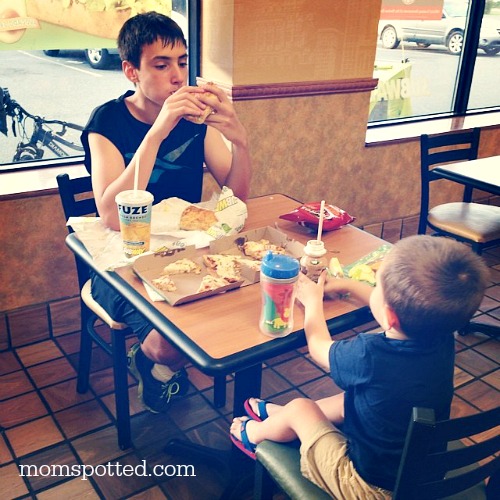 Summer is hot though and after a long sweaty bike ride I like to be able to cool off and relax in a nice dark movie theater. The boys have been dying to see the new Disney's Maleficent that is out in theaters RIGHT NOW. If you still have yet to check it out- here's the official movie trailer:
It won't be in theaters long so go fill your bellies and get your magically cool backpacks and then chill while watching a great giveaway! Your kids and you will thank you! I promise!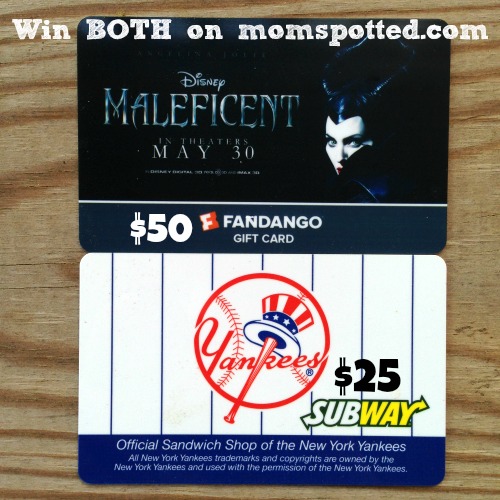 Right now one (1) Mom Spotted readers has the opportunity to win ONE (1) $50 Fandango Gift Card and ONE (1) $25 Subway Gift Card!!! To enter use the Rafflecopter form below. Good Luck!
Contest ends 7.28.14 at 11:59pm. For Official Giveaway Rules click here. U.S. Residents Only.